Dear returns, you've officially met your match: quizzes.
If there's one pain point for founders and marketers of direct-to-consumer apparel brands, it's returns. And the primary reason is due to purchasing the wrong size.
Other factors that lead to high returns for apparel brands are the following:
The customer chose the wrong size.

The customer wasn't happy with the fit on their body type.

The customer didn't like the material when it arrived.

The customer expected a different color or shade.
Luckily, there is a solution. Brands are discovering how an ecommerce quiz can combat a high return rate by using them to offer virtual consultations that direct quiz takers to the right products, styles and sizes.
The best part? It requires minimal effort to create this type of interactive content.
---
Quiz types you'll look at today:
---

5 quiz examples for apparel brands
Apparel brands can benefit from a variety of quiz topics and question types. As long as you—the marketer—understand the goal you're trying to achieve, you can structure your quiz to make sure it asks the right questions, gathers the right data and directs customers to the right products.
Some of the most common and beneficial types of quizzes are customer surveys, fit finders, style finders, gift finders and shade finders. Let's dive into 9 examples of apparel brands with each type of interactive content.
1. Customer surveys
The goal of a customer survey is simple: to get direct feedback from your customers.
Whether you're trying to understand their happiness level, collect market research or understand your customers' motivations, the primary purpose of a survey isn't to sell but to gather and leverage zero-party data.
But wait, what the heck is zero-party data?
I'm glad you asked!
Zero-party data is personal information that a customer intentionally shares with a brand, including preferences, shopping habits, and other personal context. The expectation is for customers to get a personalized shopping experience by sharing this information.
Evelyn and Bobbie's color survey is a great example.
Evelyn and Bobbie - 2021 Color Survey
Source: Evelyn and Bobbie
Starting with a quick explanation, Evelyn and Bobbie sets the stage for the purpose of their survey, stating what customers will get from sharing their opinions (getting to help select the 2022 colors and free underwear with their purchase).
Next, they dive into collecting the customer's purchase history:
Source: Evelyn and Bobbie
The next several questions are for collecting direct feedback. The quiz shows snippets of new colors and styles, and they ask customers to select their most favorite to least favorite. A few questions even include a text block for customers to type in any feedback or thoughts they have.
These questions help Evelyn and Bobbie understand more about the styles their customers prefer, informing their future product innovations. It also shows customers that their opinions are welcomed and appreciated.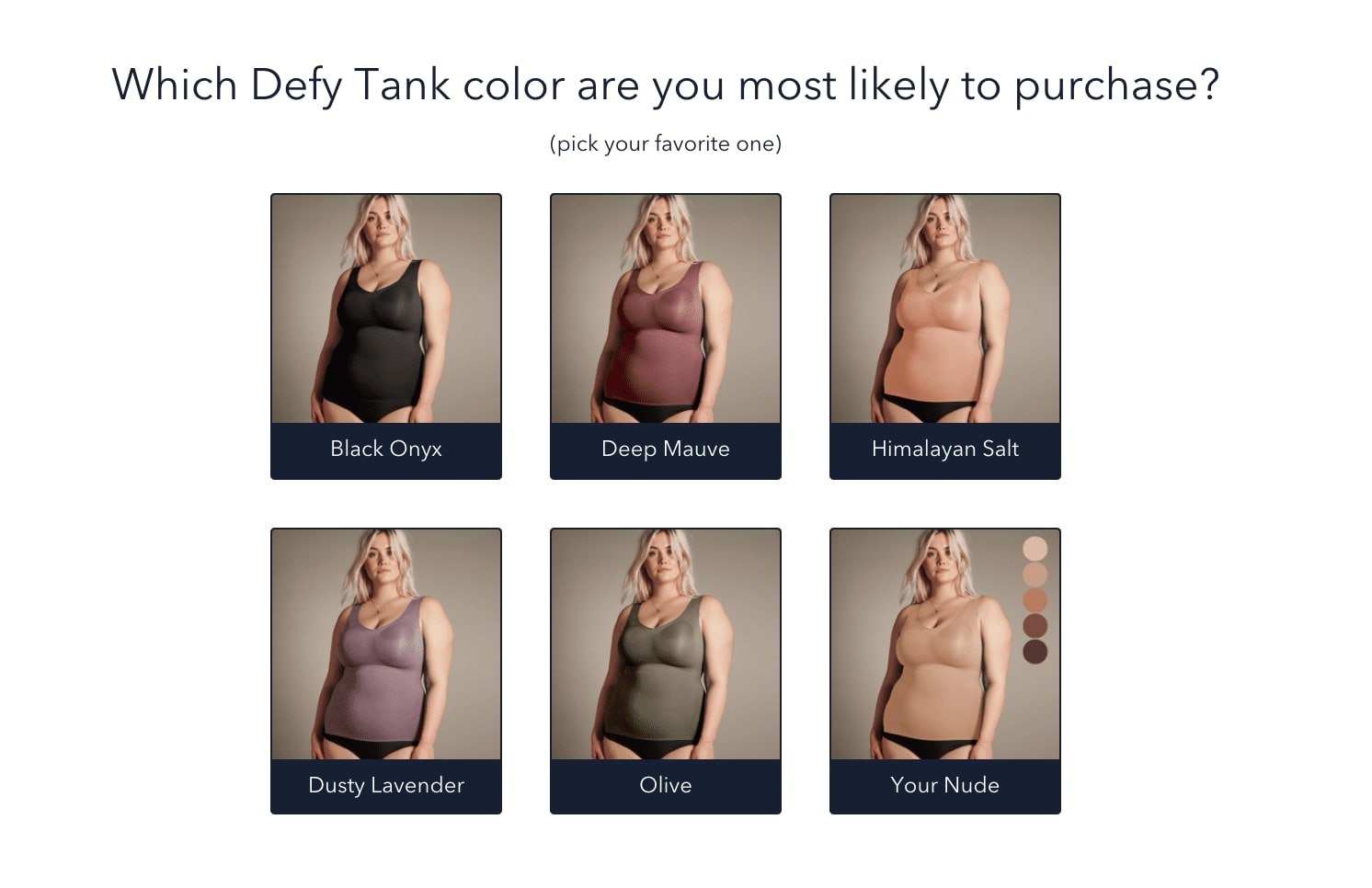 Source: Evelyn and Bobbie
After collecting all the product feedback, Evelyn and Bobbie tells customers they want to get to know them. This leads into the next series of questions, which asks customers about their age, sizes, contact information (email opt-in) and more.
Source: Evelyn and Bobbie
Now, Evelyn and Bobbie can engage with customers by sharing personalized product, style and color recommendations, which are based on segments they create from customers that took the survey.
Key takeaway: Not all ecommerce quizzes have to be about driving immediate conversions. Take the opportunity to get to know your customers and what they like most about your products, so your future decisions are guaranteed to help you scale long-term.
---
Interested in learning what other best-in-class strategies ecommerce brands are using today to drive conversions? Download our DTC strategy bundle, which features 6-hours of video content and 8 guides!
---
2. Fit finders
As you're already aware, choosing the wrong size is the top reason apparel brands see a high number of returns. Sizing charts differ from brand-to-brand, and customers aren't sure how to measure themselves in the first place (come on—we've all been there). This leads to a level of uncertainty when shopping for apparel online.
In order to build customer confidence, some apparel brands have created fit finder quizzes that walk customers through sizing and measurements, preferred styles and body shapes to be able to recommend products and the best sizes for each type.
Let's look at three examples.
Le Mystère - Perfect fit quiz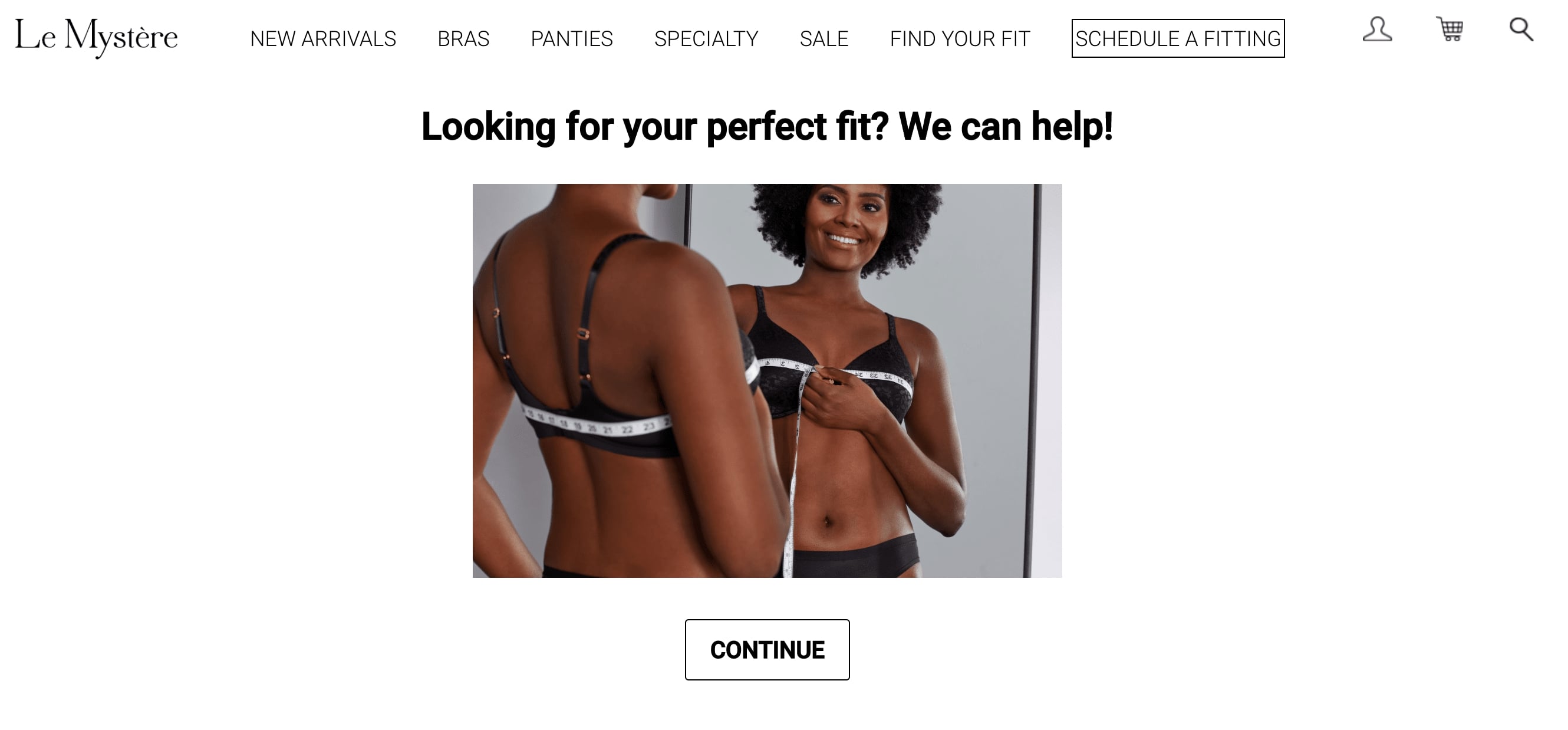 Source: Le Mystère
T-shirts, pants and shoes are difficult to size online, but they don't compare to the difficulty of purchasing bras, lingerie and swimsuits without sizing support.
Le Mystère is paving the way for the online bra industry by making it super easy for customers to size themselves before purchasing a bra.
The quiz starts by asking customers what size of bra they're currently wearing, then it asks if they're comfortable with their bra or want help getting sized.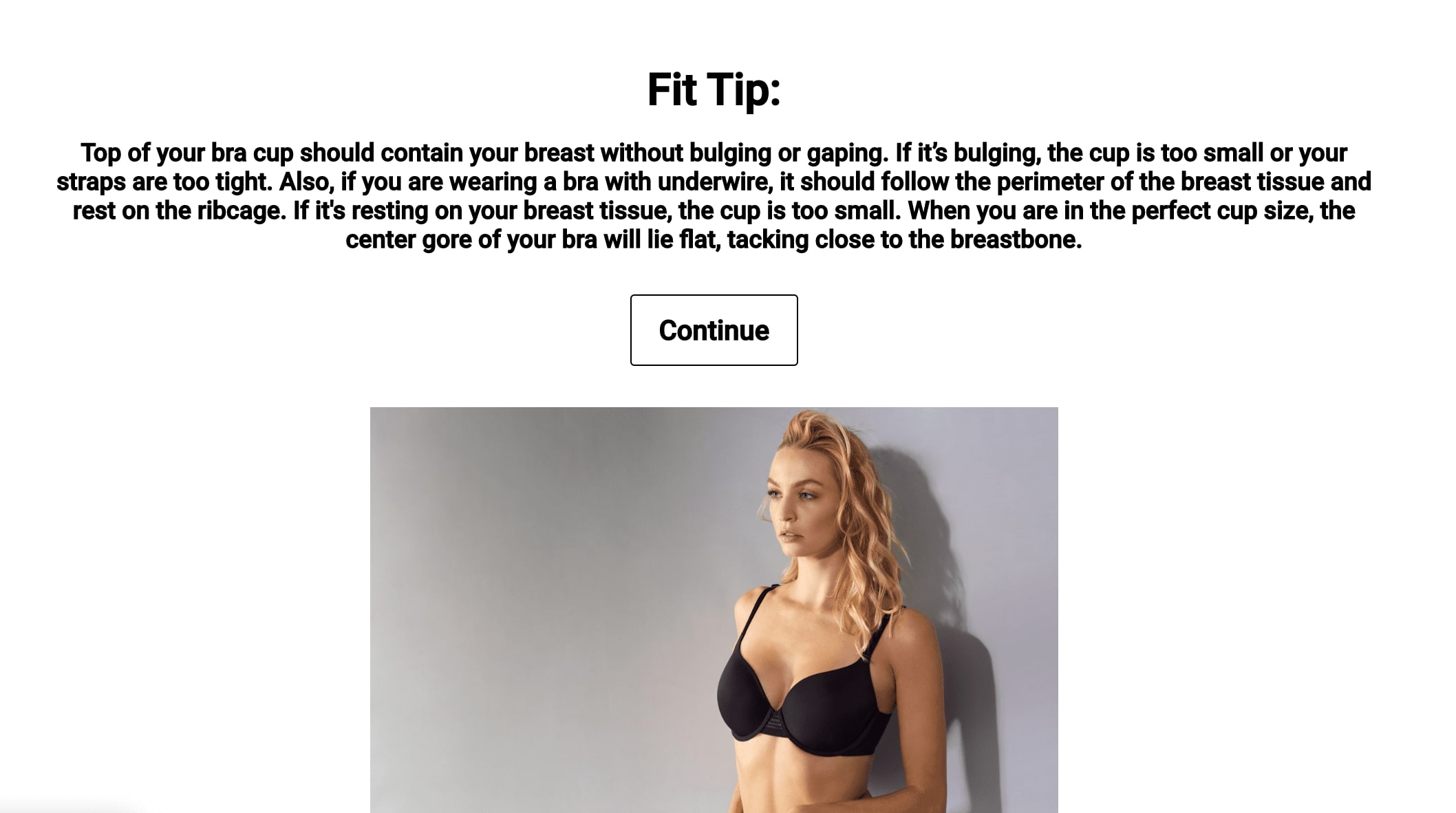 Source: Le Mystère
Not only is Le Mystère's quiz full of sizing tips between questions (like in the example above), but it's accompanied by tons of visuals that help customers see what a properly sized bra looks like.
Along with the sizing tips, Le Mystère will walk customers through questions that ask how their bra currently fits. For example, is there tons of space in the cup? Does the band ride up the customer's back? The graphics help customers choose the right answer.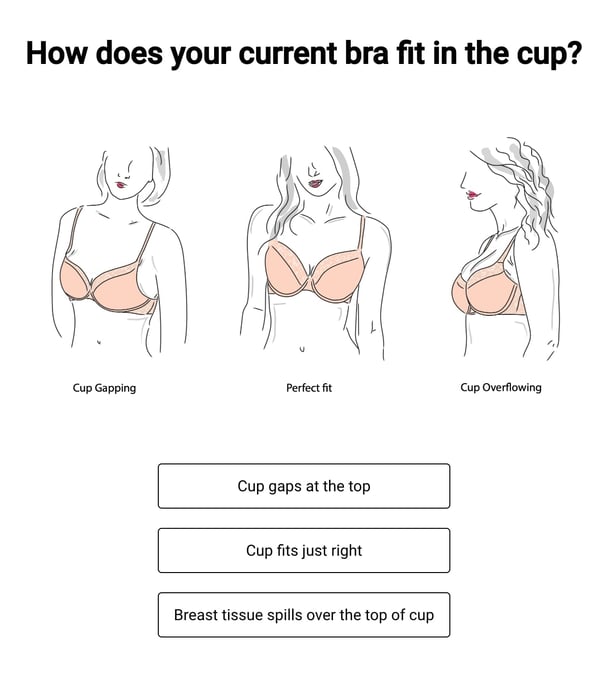 Source: Le Mystère
At the end of the quiz, customers get their bra size along with Le Mystère's recommendations for support and comfort. And if customers feel like they need a bit more help with their sizing, there's a button that directs them to schedule a fitting, which can be done over the phone, virtually or in-store.
Key takeaway: Quizzes are a beneficial and interactive way to guide customers through your fitting process. But beyond that, they're a perfect opportunity to educate customers with tips and tricks, building up your brand credibility.
Off the Grid Surplus - Fit finder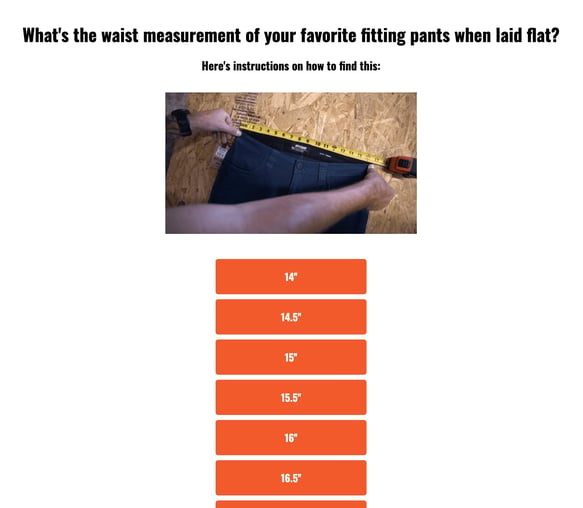 Source: Off the Grid Surplus
Who knew that every style of pants means the sizing changes?
Brands can tell you what waist and hip measurements fit their sizes, but without showing customers how to size themselves, they're still bound to choose the wrong size.
This is why Off The Grid Surplus uses their quiz to show instead of tell.
The very first quiz question features a GIF that walks customers through how to measure their waste using a pair of pants they already own. The next questions talk about pant length and style choices.
Showing off their styles in a question where customers can select their favorite, Off The Grid Surplus emphasizes how customers can be a different size from style-to-style.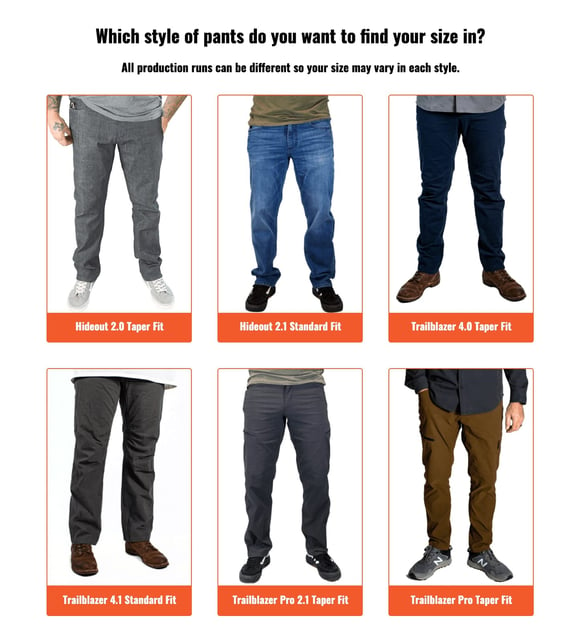 Source: Off the Grid Surplus
On the quiz results page, Off The Grid Surplus doesn't just recommend styles, they tell the customer what size they would be in the styles shown. This way, customers can feel confident that the recommended pants will fit them well and match their style preferences.
Key takeaway: Customers don't know how to actually size themselves, so sizing charts aren't always the most helpful or effective solution. Teach your customers the proper way to size, so they feel confident about your recommendations.
Buckle Me Baby Coats - Find your size
Source: Buckle Me Baby Coats
When it comes to kids, sizing is completely different from adults. Luckily, Buckle Me Baby Coats shows you exactly how it's done.
After starting their quiz off by asking customers who they're shopping for, Buckle Me Baby Coats then dives into how to measure the arm length of a child. After, they show a few styles, and then the customer gets their full list of recommendations along with the size they should buy.
Oh—and they include an email opt-in so they can grow their email list while they help every customer.
All of this is done within less than five steps.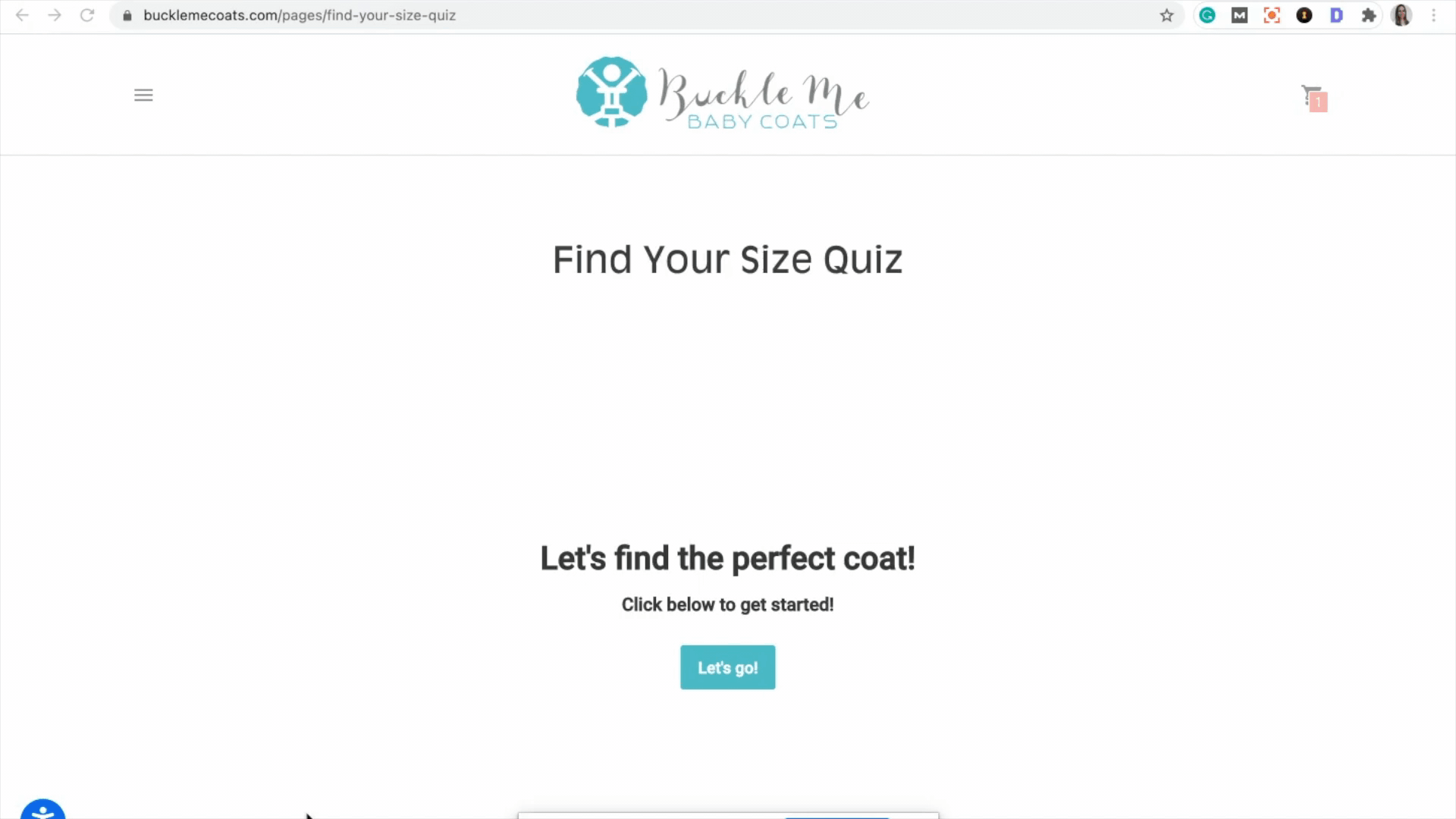 Source: Buckle Me Baby Coats
Key takeaway: While quizzes are fun and engaging, they don't have to be super long. You can still create a good customer experience in less than five questions—while still collecting useful data and opt-ins from customers.
3. Style finders
Many apparel brands have large product catalogs, featuring various styles for all clothing types. Unlike entering a retail store where customers' eyes are immediately drawn to clothing racks with colors and styles they prefer, the online shopping experience is much more time-consuming.
Instead of having customers search endlessly through a large product catalog, many brands have introduced style finder quizzes on their site, leading customers directly to items they'll like and shortening the time between browsing and purchasing.
Two good brand examples are CYSM and Aday.
CYSM - Find your shaper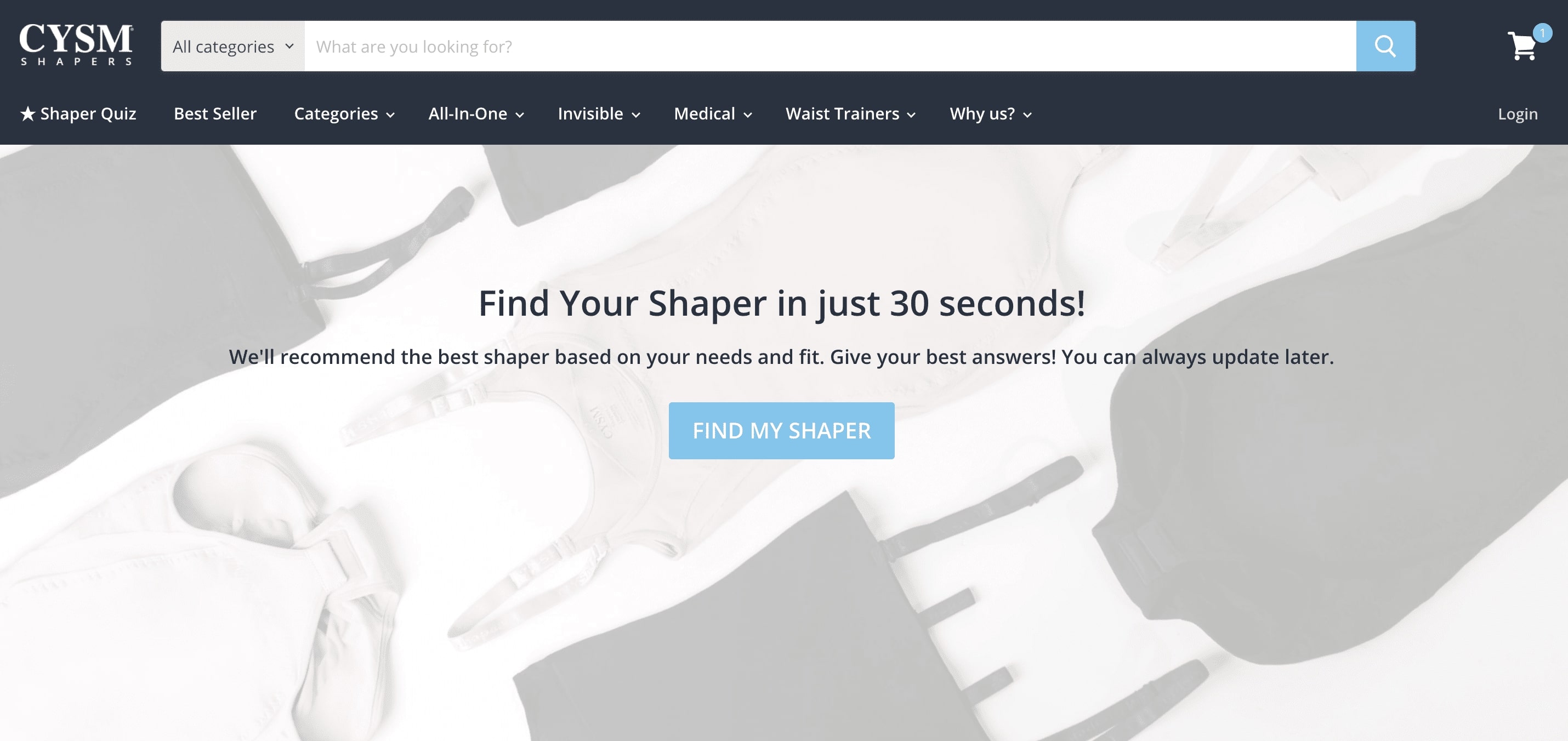 Source: CYSM
CYSM's quiz starts with a promise: find your shaper in under 30 seconds.
However, CYSM doesn't just sell regular body shapers—their product catalog is quite extensive, including medical shapers, workout shapers, waist trainers, bras, underwear and shapewear for men. The first question narrows down the selection.
Source: CYSM
After a few questions, CYSM asks customers for their email opt-in. This is so CYSM can send customers personalized follow-ups. Here's an example of an email a customer gets if they say they're looking for a medical shaper during the quiz:
CYSM sends these emails with Klaviyo, which has all zero-party data collected from the quiz synced automatically.
Mariela Valadez is a Retail Designer for CYSM. After using the quiz for a few months, she believes there's been a big benefit between connecting the brand with its consumers with these personalization techniques:
"We have several product lines that are for different needs. We have exposed the different types in our quiz, which has allowed us to really know what people are looking for in an interactive and direct way," she said.
Key takeaway: Customer contact begins with a quiz, but it doesn't have to end on the results page. Leverage the zero-party data you're collecting to continue engaging with customers in personalized ways on your owned marketing channels.
ADAY - Improve your wardrobe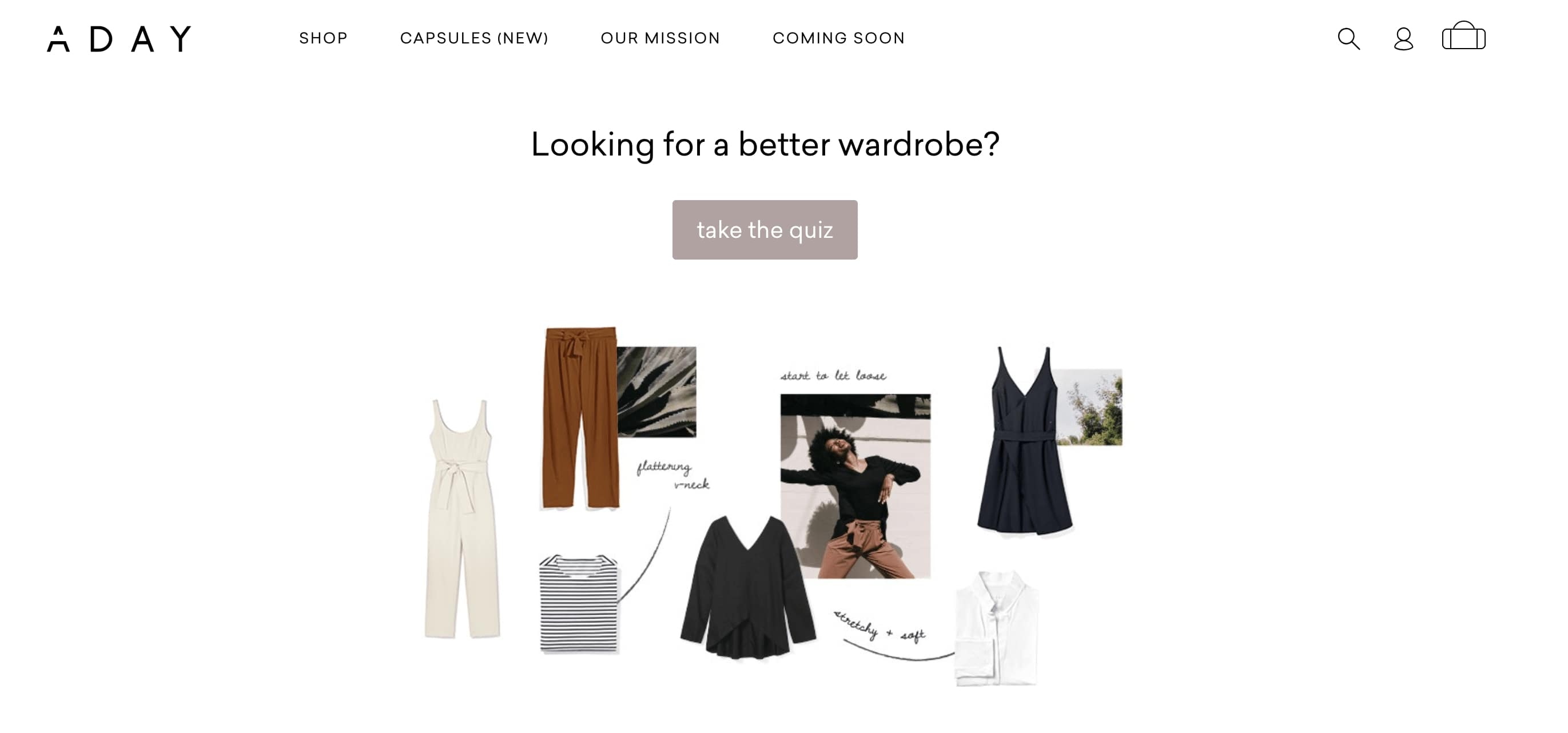 Source: ADAY
Some quizzes are simple while others are specific, and ADAY's quiz is the latter. It begins by understanding each customer's style preference. For example, is the customer someone who dresses up regularly? Or, is their go-to outfit more on the casual side?
ADAY's question style is a good example of a quiz that is more content-heavy, which is A-Okay!
Source: ADAY
After understanding—in detail—how their customers prefer to style themselves, ADAY leads users to a results page that doesn't just match them with clothing but also shares a personality match.
In the example below, ADAY tells the customer their match is "the expert." Acting also as a personality quiz, ADAY tells customers matched as "The expert" that they're such an expert at what they do that they don't have time to focus on styling themselves. ADAY then suggests a line of clothing that would work well for "the expert" persona.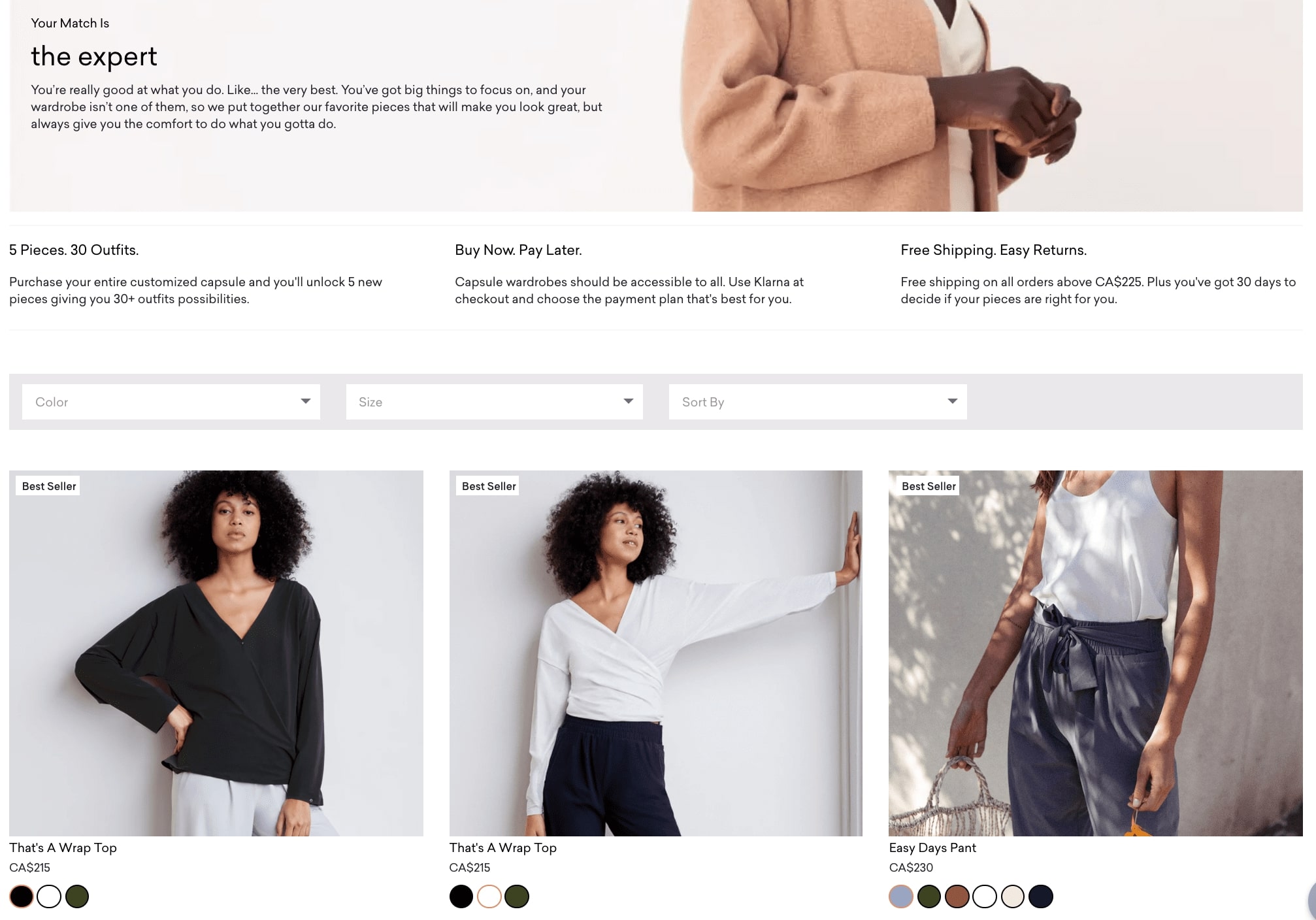 Source: ADAY
On the results page, ADAY suggests tops, pants and a jacket to create a fully completed outfit. And to make it super simple, customers can add items to their cart without even needing to leave the results page.
Key takeaway: Don't forget to optimize your results page. Make it as informative and engaging as the rest of your quiz. You can do this by suggesting full outfits and including reviews, detailed descriptions, payment options or shipping information. To make it even more interesting, create buyer personas to tie your results pages to a personality, too.
4. Gift finders
As much as we love shopping for ourselves, we're also always shopping for other people. Holidays, birthdays and life events leave consumers endlessly searching online to find the perfect gift—and apparel is even harder to shop for when you're getting it for someone else.
Instead of deterring gift buyers away from your brand because they aren't sure what to get their friends and family, help them discover the perfect gift items in your product catalog with a quiz.
I personally love Mavi's and Universal Standard's quiz as gift finder examples.
Mavi Jeans - Gift finder quiz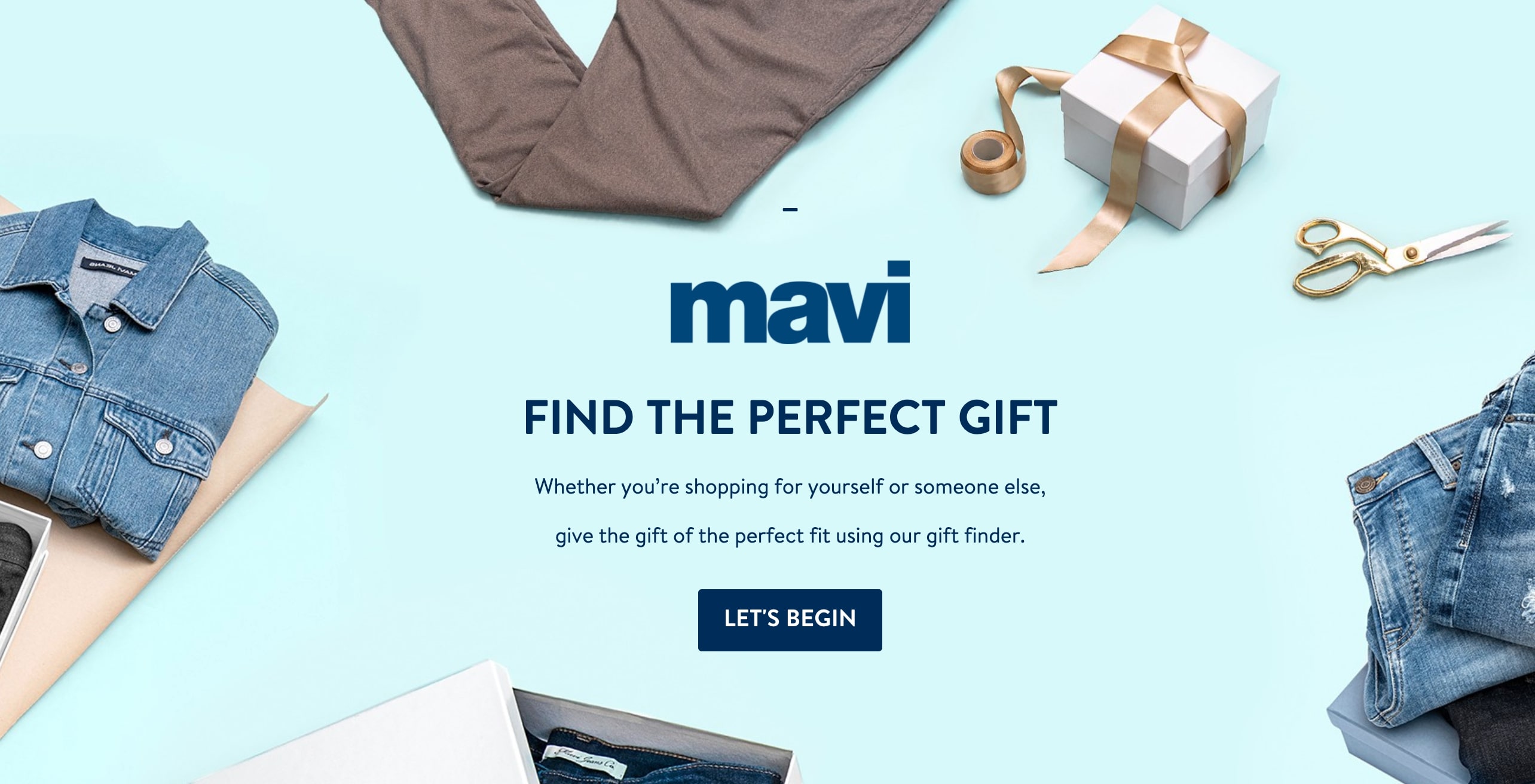 Source: Mavi
Short and sweet, Mavi's quiz helps consumers find a gift for themselves or someone else. If you're shopping for yourself, Mavi asks more detailed questions about your preferred style and fit, but if you're shopping for someone else the quiz is simple (only four questions long).
The short quiz is effective for purchasing for someone else because Mavi includes one very visual question where customers can describe the type of person they're shopping for. This question then leads the consumer to a results page that's full of outfit selections.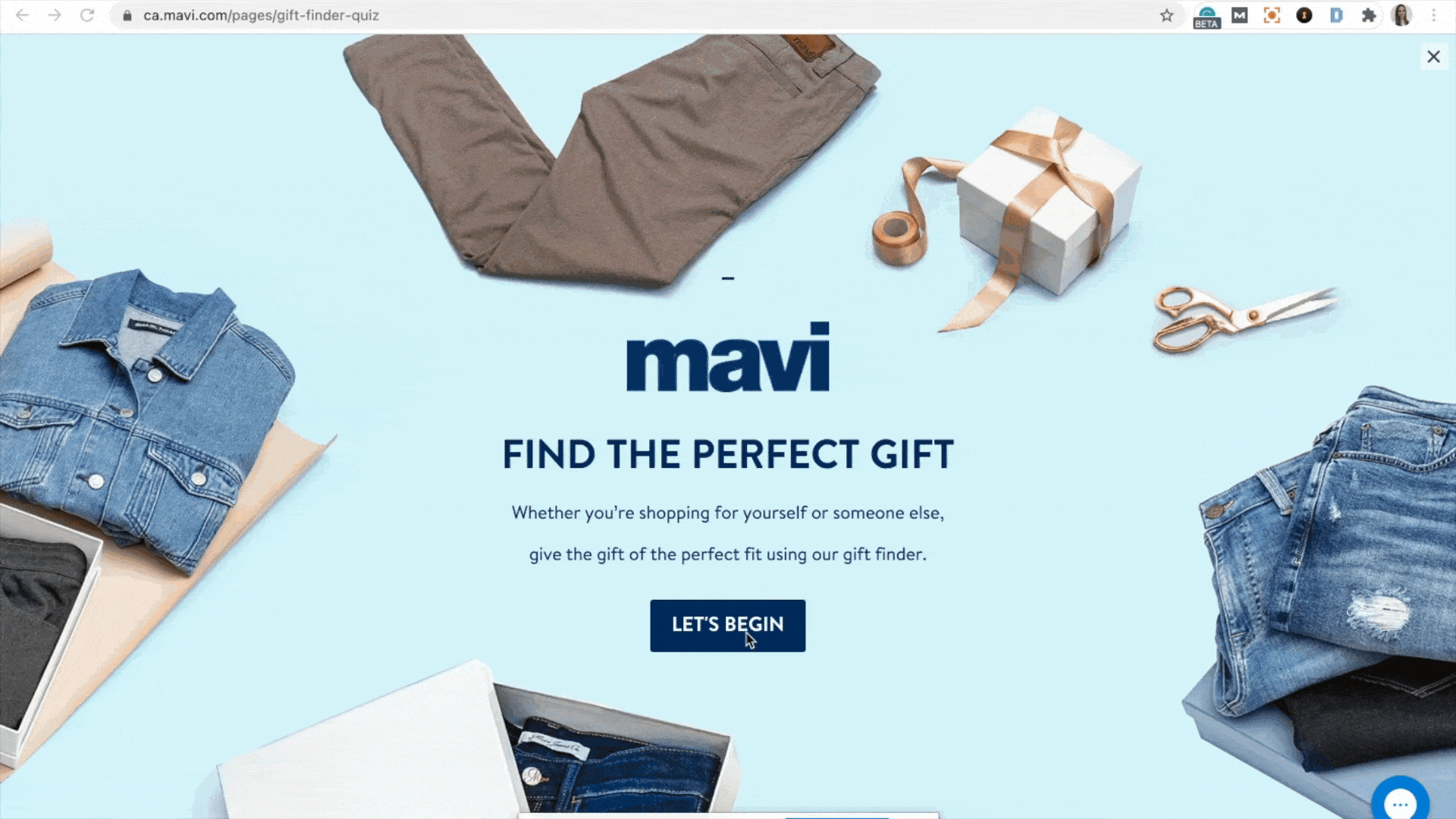 Source: Mavi
Key takeaway: No one says results pages should only include a few items. You can make your results pages longer and beefier if it provides value to your customers. One of Mavi's results pages includes 34 items, which is perfect for customers wanting to see relevant options for their needs.
---
P.S., We have an epic case study that showcases how Mavi collects zero-party data with their quiz and leverages owned marketing channels like Facebook Messenger to drive more conversions. Check it out!
---
Universal Standard - Gift finder quiz
Source: Universal Standard
If you thought an email opt-in had to go near the end of your quiz, you're wrong!
Before diving into styling questions, Universal Standard's quiz starts with a simple introduction. The customer types in their name, the quiz says hello and then it offers the customer to opt-in to Universal Standard's email marketing for "insider perks."
As the customer starts diving into the shopping questionnaire, Universal Standard keeps it engaging by using fun question statements in between each personal question, like in the example below (when a customer selects shopping for "My loved one").
Source: Universal Standard
After a few questions directed toward styling and color preferences, Universal Standard recommends several product ideas on the results page.
Like Mavi, they include more than just a few items, making the results page like its own mini catalog for customers to browse through.
Key takeaway: Not every question has to be a multiple choice or multi-select. Some of the best quizzes are engaging because they allow customers to interact by typing in responses. Also, questions that require customers to type in an answer give you a chance to collect qualitative data, too.
5. Shade finders
Did you think finding the right shade was just a pain point for customers shopping for cosmetics?
Think again!
It's equally important that customers select the right shade when purchasing items like bras and tights.
There are quizzes from beauty brands that help customers conquer the struggle of finding their shade match when purchasing online, and these can be used to inspire any apparel brand with their own quizzes.
Let's check out Nude Barre's great quiz as an example.
Nude Barre - Shade finder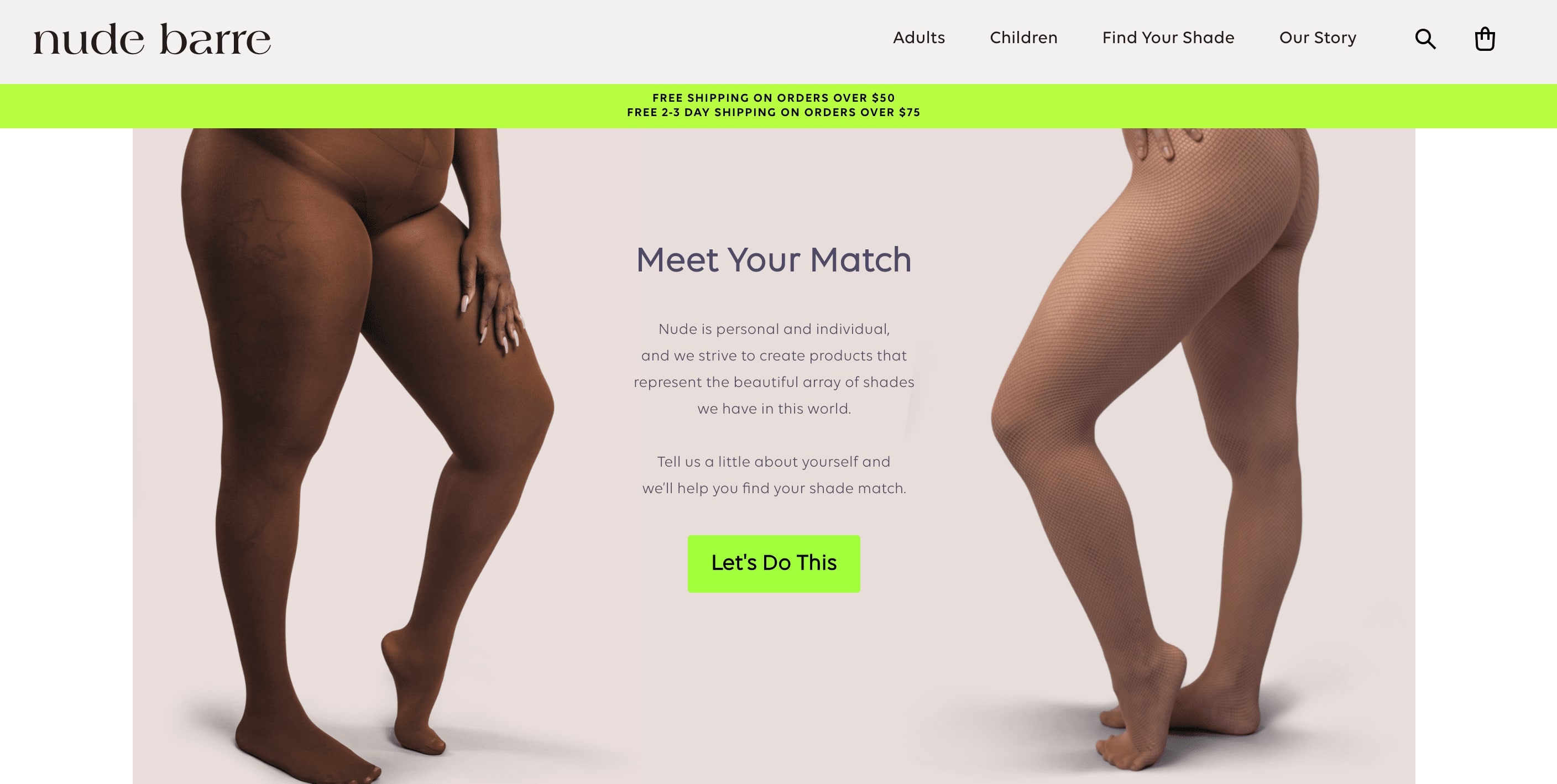 Source: Nude Barre
Have you ever gone to purchase a pair of tights thinking they're going to blend perfectly with your skin only to be disappointed when you try them on?
Unfortunately, even in-store you can't try on tights, making them a difficult item to purchase anywhere you're shopping for them.
Take note from brands like Nude Barre who've created a quiz that's all about finding your perfect match.
Source: Nude Barre
Using tons of pictures, customers are able to look through different shades of tights to narrow down the selections offered from Nude Barre.
Right before the customer goes to the results page, Nude Barre has an opt-in section, offering customers a free gift (ooh-la-la).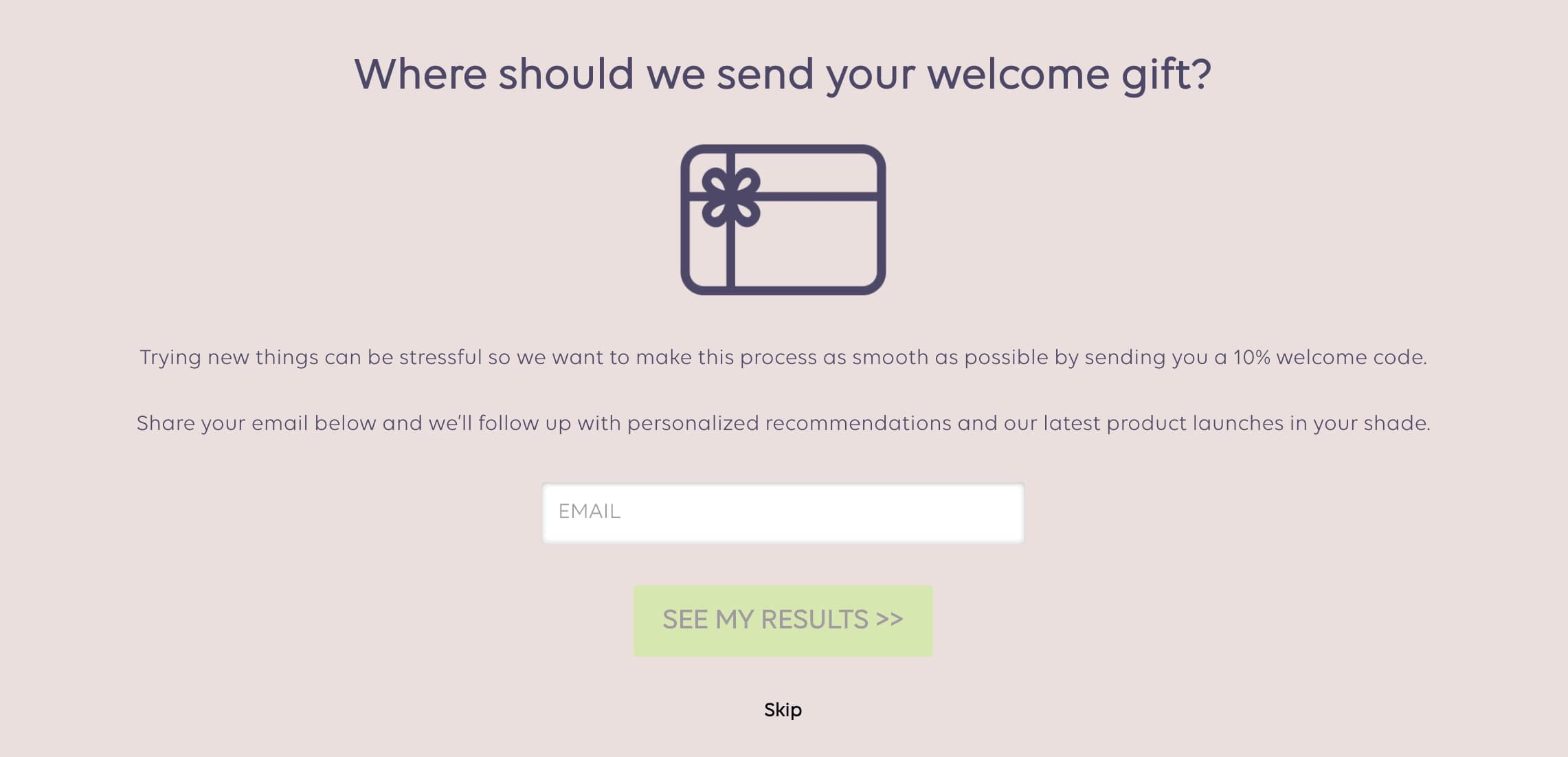 Source: Nude Barre
Quizzes aren't just an opportunity to collect information on your customer's preferences and share product recommendations, they're great for increasing your email, SMS and Facebook Messenger marketing lists as well.
Then, using the customer information collected from the quiz questions, brands can follow up with customers using extremely personalized and targeted messaging (whether it's on email or with social media ads).
Key takeaway: Increase email opt-ins by always including this type of section in your quiz. To avoid a high bounce rate, make the opt-in optional. If you explain to customers what they're getting out of opting in (or include a discount on their first order), they'll be more likely to share an email or phone number.
What's next? Best practices for increasing conversion rates
So, you've officially looked at five different types of interactive quizzes apparel brands are making today.
Feeling inspired yet?
There are so many benefits to online quizzes—both for the customer and the brand. Other examples I didn't show today include a trivia quiz, personality quiz and educational quiz. But, truly any type of quiz offers the same benefits and key takeaways I mentioned today.
So what's next? Diving into quiz best practices. For example…
How can you increase engagement?

How can you drive more conversions?

How can you leverage quiz data for personalization?

How does this data inform your product decisions, content marketing calendar, or overall marketing strategy?
Don't worry, we have the answers to all these questions, so you can create a fun quiz that also benefits your brand. Make sure you check out our guide on using ecommerce quizzes to drive more personalization next to get started!
Look out, Buzzfeed, you're not the only one with exciting quizzes!