Ecommerce is still rapidly evolving, meaning competition continues to rise.
Specifically in the apparel industry, consumers search for quality material, sustainable clothes, great customer service, and, above all else, clothing that fits their style preferences and body types.
Digital storefronts have to provide an enjoyable shopping experience for customers—especially if they want to keep the business when it's safer to shop in person.
So how can you draw in customers, create a personalized experience and drive up your conversion rate?
Take a cue from sites like Buzzfeed: incorporate an online quiz into your marketing strategy.
How an ecommerce quiz benefits apparel brands
With multiple quiz types—fit finder, style finder, customer survey, gift finder or a virtual consult—many marketers are seeing the benefits of using an ecommerce quiz.
Not only are brands able to easily create a quiz that helps them collect zero-party data to learn more about their customers, but they also satisfy the needs of their customers with personalized recommendations that provide a memorable customer experience.
This level of personalization is about sending the right product or content to the right customer at the right time, which can only be done when you know who your customers are, what they need from your brand and the best ways to communicate with them.
While personalization is the key benefit to an ecommerce quiz, there are tons of ways apparel businesses have used this type of interactive content to enhance the customer experience.
Let's take a look at some of the benefits of using an online quiz and how a few companies have incorporated them into their customer flow.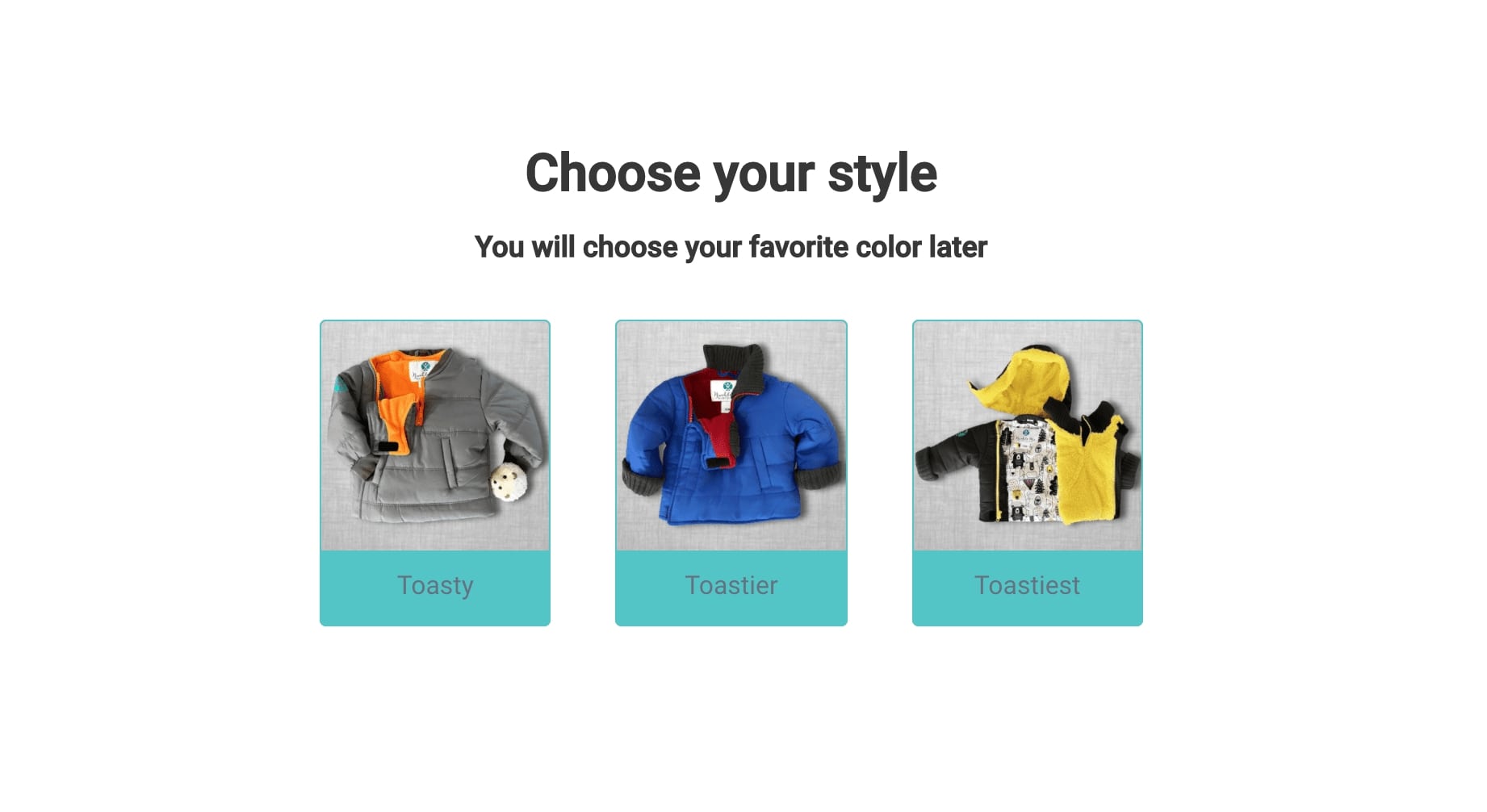 Source: Buckle Me Baby Coats
---
Related Read: 9 Quiz Examples from Apparel Brands to Inspire Your Own Interactive Content
---
1. Quizzes engage customers.
Whether they're new visitors or returning customers, ecommerce quizzes provide interactive content to draw people in (hence why marketing professionals find them so useful). And no matter what type of apparel you're selling or the personality of your brand, it's simple enough to create a quiz that matches your brand theme and voice.
How do ecommerce quizzes encourage engagement?
A satisfying result means customers are more likely to convert. When your quiz provides visitors with valuable information or relevant product suggestions after just one visit to your ecommerce site, they're more likely to make a purchase. And, if you include an opt-in section, you're more likely to grow your email subscriber list if you provide a special discount from the quiz.

They're easy and fun to share. People love to share quiz results with their friends and family. And chances are, some of those acquaintances will take your quiz too, meaning you earn new customers along with nurturing your current customer base.

Relevant questions can help build trust. Asking the right questions positions your brand as a subject matter expert.

They make shopping for apparel easier. Considering apparel brands tend to have larger product catalogs, quizzes provide a positive and easy user experience when customers don't have to endlessly search for the right items. Instead, brands can share their recommended products on a personalized results page.

Aday, a clothing company that focuses on sustainable staple pieces, does a fantastic job at this.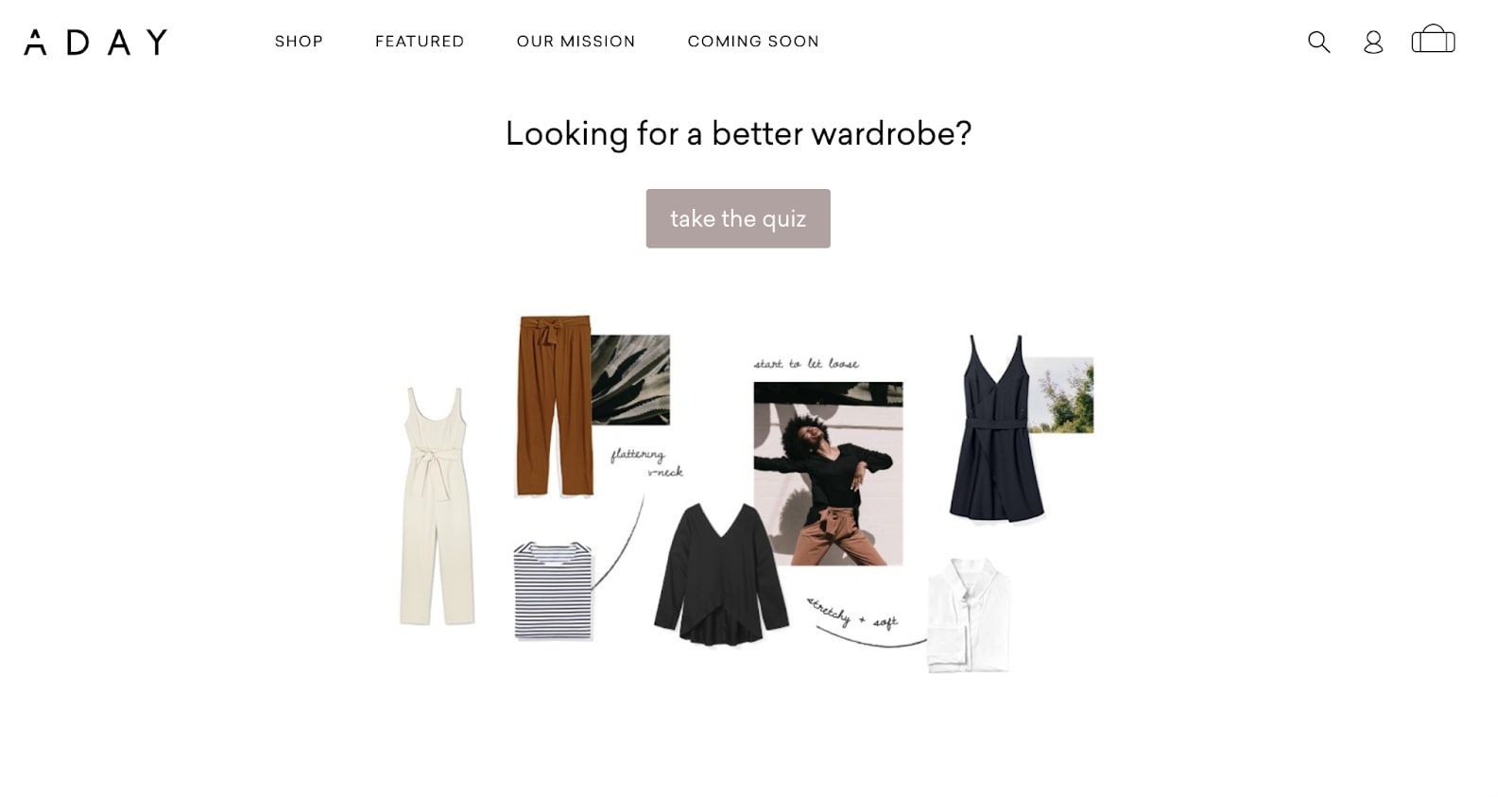 Source: Aday
Using a style-finder quiz on their ecommerce website, they ask a series of relevant questions about the visitor's lifestyle and fit preferences. The thoughtful questions give Aday credibility and give customers more confidence about making a purchase.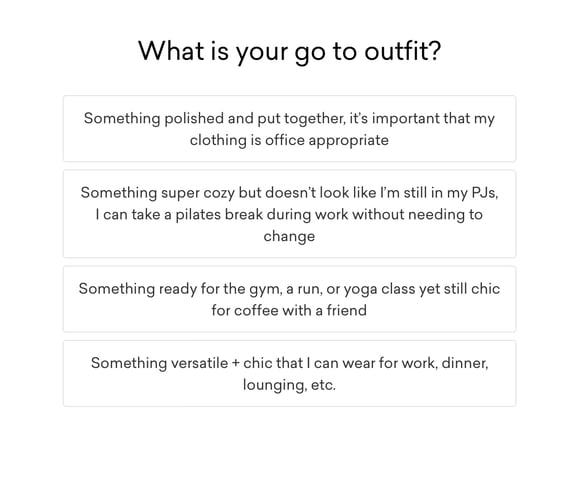 Source: Aday
Quick tips for increased engagement:
Remember: People have short attention spans so try to keep your quizzes to around 8 to 12 questions. Add too many additional questions, and you risk them losing interest.

Keep it fun. Questions such as "What type of jeans are you?" are a lighthearted way to connect with visitors. CeeCee's Closet NYC, for example, incorporates GIFs, emojis and inviting language into their style-finder quiz.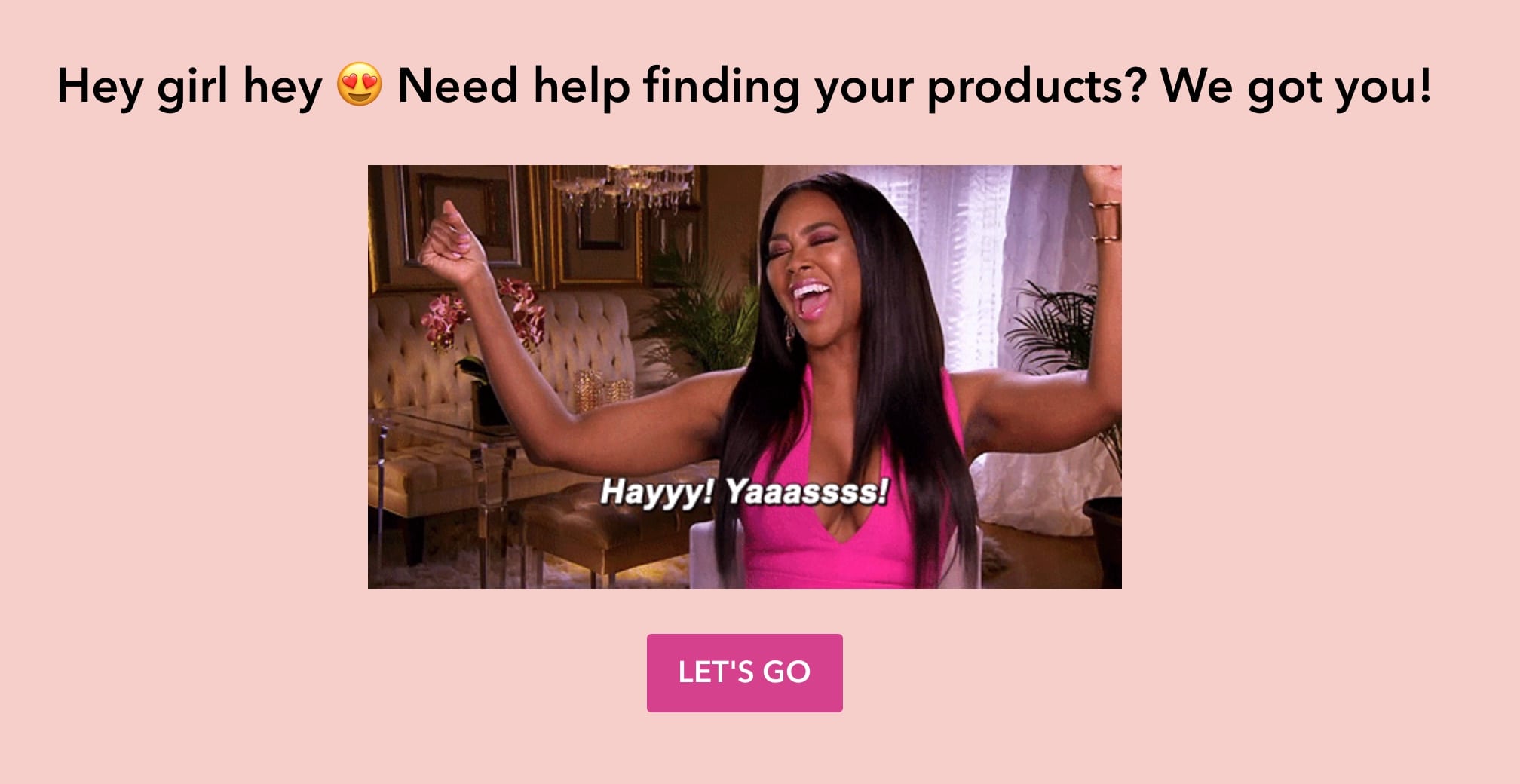 Source: CeeCee's Closet NYC
Use a catchy title to draw customers in. Aim for copy that piques people's interest.

Invite customers to take your quick directly from your homepage. Oftentimes, this is the first page customers will land on, so showcasing your quiz here will help increase the number of people who decide to take it.
---
Interested in seeing the full power a quiz can provide for your brand? Check out how Spongelle drove an additional $250,000 in just 30 days with one personalization strategy.
---
2. Quizzes help humanize the shopping experience.
It may be a little tricky to humanize ecommerce, but a holistic approach is becoming more important. "Digital business-to-customer interactions will become more humanized in 2021 and beyond. The reality is that on-demand service isn't going away post-pandemic," says Leena Lyar, the chief brand officer at Moxtra.
Brands that put an emphasis on empathy during the online shopping experience (helping the customer, not just closing a sale) will likely find more success.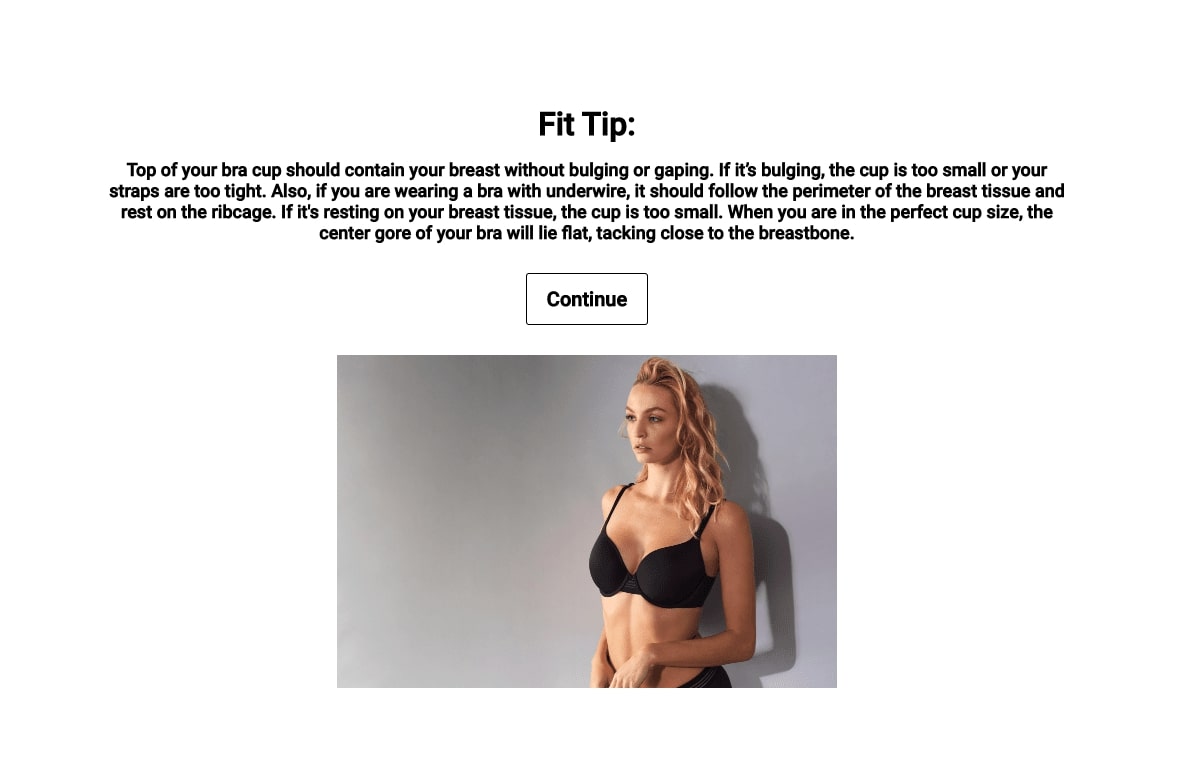 Source: Le Mystère
Quick tips to humanize your online store:
Provide a seamless end-to-end experience. From product quiz to check-out, make sure the customer's path is as easy and enjoyable as possible.

Make sure you're using reliable tech. Do you know what really frustrates shoppers? When the site freezes while they're attempting to check out. To avoid crashes and glitches, use a responsive web design and update it regularly.

Make positive and continued interactions a focus. Communicating with your customers should be a top priority. Use your product quiz, chatbot, social media channels and newsletter to connect with your customers on a regular basis.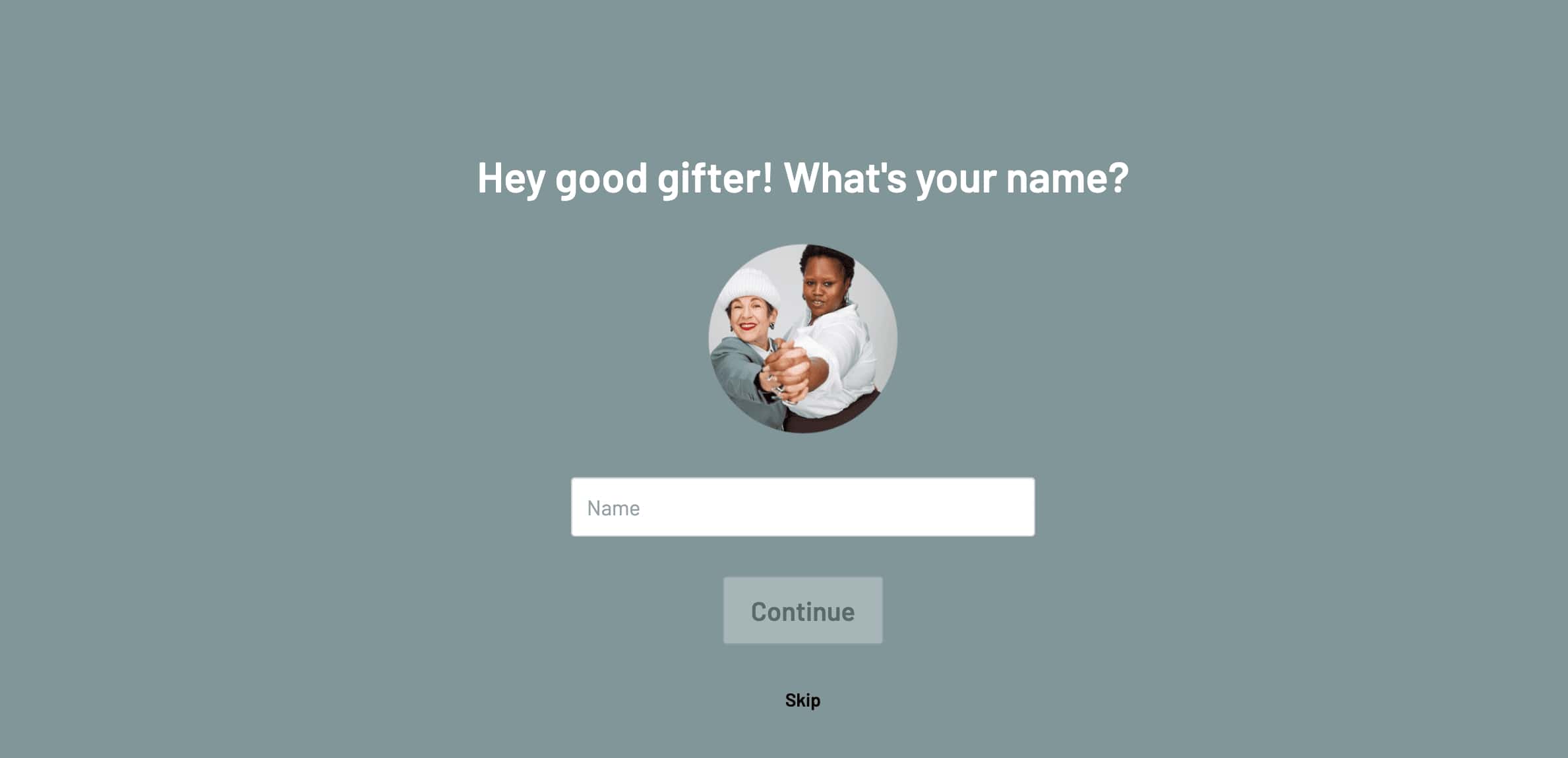 Source: Universal Standard
3. Product quizzes help bring the experience of an in-store consultation online.
What happens when you visit a store in person? Typically you're greeted by an employee and they ask if you need help finding anything. If you're aren't sure where to find what you're looking for (or know what you're in the mood for), being able to ask a knowledgeable employee is helpful.
But how can you recreate those interactions online?
Use a product quiz as a foundation for your relationship with the customer. A quiz is one way to get to know the customer well enough to serve up relevant product recommendations. And incorporating product images into your quiz can help mimic the in-store experience. Le Mystère's fit-finder quiz uses super relevant photos to really help customers feel involved in the process—similar to an in-store visit.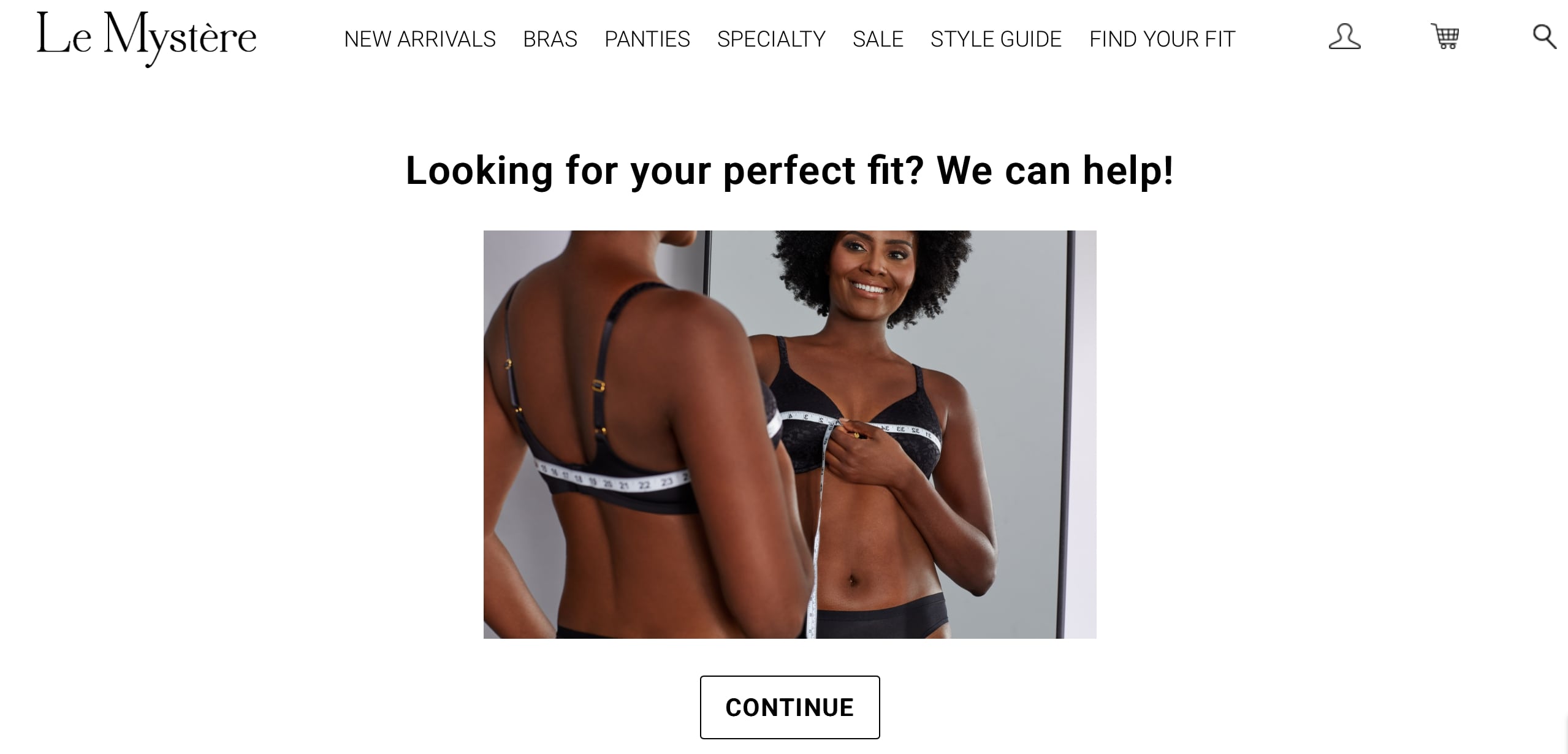 Source: Le Mystère

Not everyone enjoys browsing the shelves, and that often translates online. You want to avoid losing customers who have to sift through products they won't use. A product quiz helps pinpoint items that the customer will most likely enjoy, making them less likely to leave your site. Mavi Jeans, for example, uses a gift-finder quiz to provide the customer with multiple product options (and, importantly, excludes products they're probably not interested in).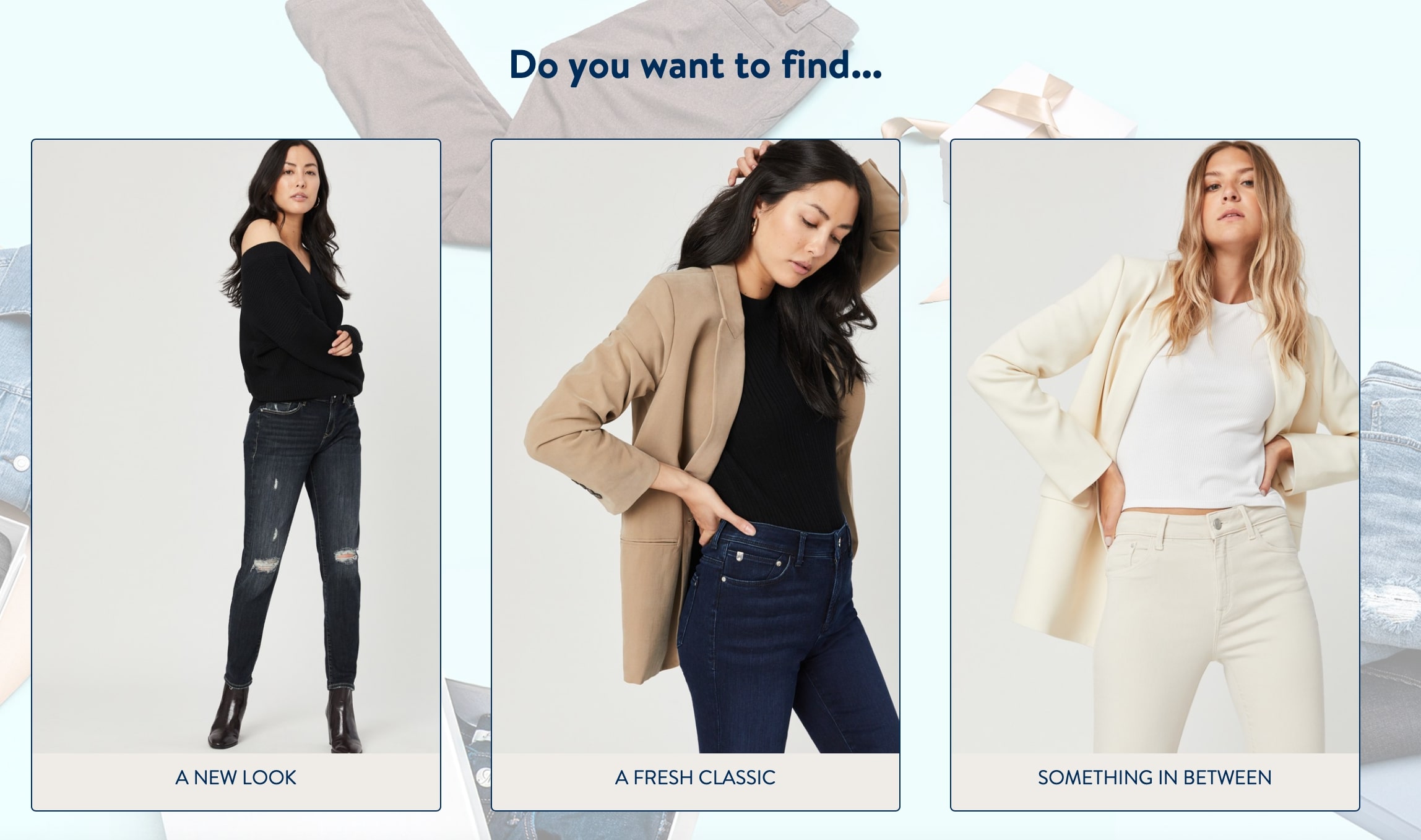 Source: Mavi Jeans
Consider offering online consultations. Have a product that needs careful fitting or want to offer real-time expert advice? Give customers the ability to schedule an online chat with a stylist.

Incorporate sensory branding. Much like you would with a storefront, try to make your digital store a unique experience. Use rich visuals, curate playlists for your customers, have fun with holiday themes and put thought into your product packaging.
---
P.S., Did you know Mavi drove a 12X ROI using our conversational commerce technology? Including the quiz, Facebook Messenger and SMS, you can read Mavi's complete personalization strategy in our dedicated case study.
---
4. Quizzes allow you to collect and use data to create a personalized shopping experience.
Ecommerce quizzes are one of the most efficient ways to collect data about your customers, including demographics, behavior and personal preferences—in turn, allowing you to create accurate buyer profiles. "87% of Americans are willing to have various details of their activity tracked in exchange for more personalized rewards and brand experiences," according to a recent analysis. And in fact, many consumers expect brands to collect information.
How can the collected customer data improve your brand and your customers' experience?
Help streamline your site navigation. Once you have a solid set of data, you should be able to calculate which customers provide the highest CLTV. Make it as easy as possible for them to find what they're looking for by simplifying the buying path.
Build buyer profiles. What time do your customers shop? What are the majority of them looking at and buying? What type of device are they using? This data lets you create detailed buyer profiles so you can continue to create a personalized experience for customers on multiple channels. For example, create an automation strategy with your SMS or email marketing that shares specific recommendations to a single group of customers or build lookalike audiences on Facebook ads. Either way, the goal is to provide relevant information and products at every stage of the customer journey.
Inform your product offerings. Want to get your customers involved in the process? Create a quiz that asks them what they want—just like Evelyn and Bobbie did with their customer survey. As they were expanding their product offerings, they asked for their customers input on colors and styles.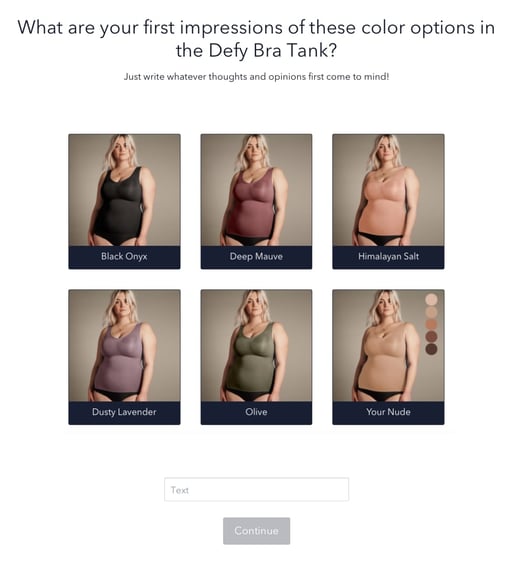 Source: Evelyn and Bobbie
Use the feedback to create more relevant product suggestions. By the time shoppers get to the end of the quiz, you'll have enough data to surface multiple product choices for them, and you'll know those items are relevant to their wants. For example, Aday uses this data to provide multiple product options. They also go a step further and include social proof labels such as "Best Seller."
Source: Aday
Demand forecasting. What's one way to disappoint customers? Out-of-stock items. On the flip side, some brands successfully use "sold out" as a way to create more interest in a product and form a waiting list. No matter your approach, you can use data to predict the demand for a product and forecast market trends.
Ready to see the benefits of personalization for your ecommerce business?
Whether you're building a product recommendation quiz or a virtual consultation for consumers to find their right style or fit, quizzes help ecommerce brands engage with their target audience in more meaningful ways.
Through a well-thought-out series of questions, brands can improve their retargeting and personalization strategies to not only acquire new customers but keep every visitor coming back for content and products that are relevant to their needs.
And remember, quizzes aren't just fun for your customers; they help provide valuable information for brands, making the shopping experience at your ecommerce store better for the customer—while increasing your ecommerce sales.
Curious about creating a quiz for your company? You can chat with our team to learn more, or try our quiz product for free in the Shopify app store.