An essential part of fostering a brand community is personalization.
And no, I don't just mean addressing your customers by your first name.
Deep personalization starts from understanding your customers' needs and pain points, and interacting with those customers where every email, text message, Facebook ad, discount and blog post addresses those specific customer insights.
This is partially how Doe Lashes became worth $15 million in just one year.
And a big part of their strategy has to do with their "Find your lash" quiz—found directly on their navigation bar when you visit their website.
Not only will I share a sneak peek of Doe's personalization strategy right now (you can get the full strategy here), but the best part is that it is 100% replicable for any Shopify store.
So, are you ready to learn how Doe Lashes implemented a Shop Quiz to drive 3X more emails and an 11% increase in AOV? Awesome—let's do it.

Source: Doe Lashes
What is Doe Lashes?
Combining the gentleness of Korean silk hair with fresh cotton band, Doe Lashes crafts the perfect pair of false lashes that feel weightless on your eyelids.
Their motto? "Taking it Back to Nature."
Doe Lashes believes makeup should be an extension of your natural beauty, which is why they built their lashes to feel like they're naturally part of you. With the light and soft feeling of the lashes, they ensure your eyes won't get irritated, giving "a smooth and unforgettable experience that makes you want to have Doe-like eyes, every single day."
However, like most online beauty brands, the lead time from a customer discovering the products to actually purchasing them is long. Since customers can't see the products in person, touch them, read the packaging or get a close-up look of the lashes, it's difficult for them to feel confident about making the purchase.
This is where Octane AI was able to help.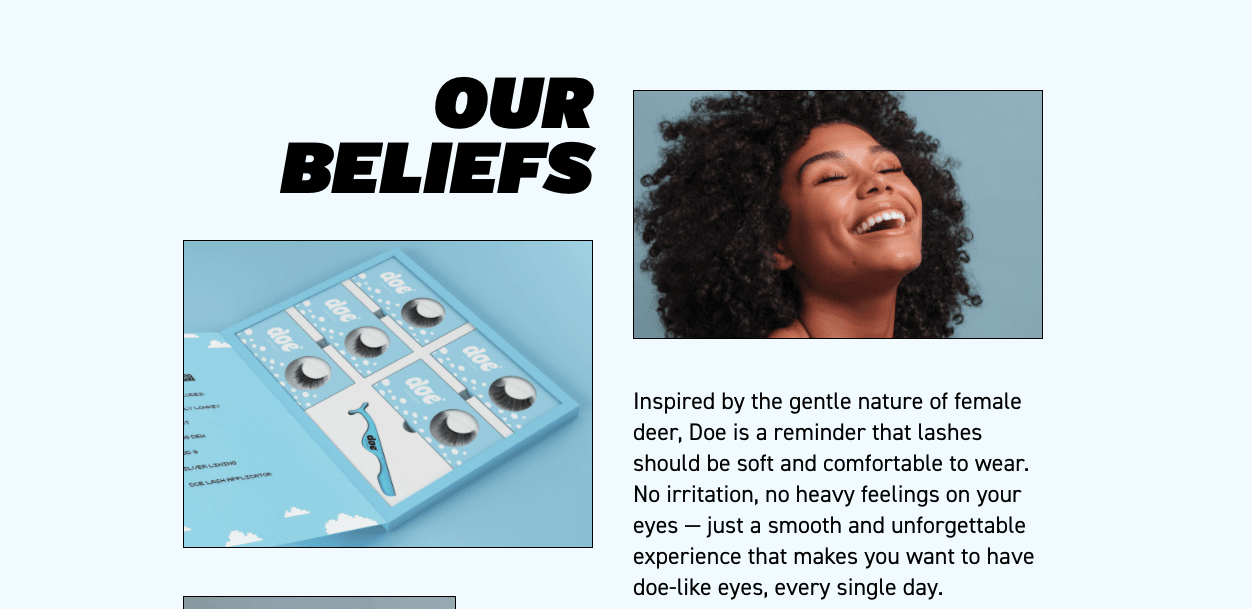 Source: Doe Lashes Rewards Page
Doe Lashes's challenge & strategy
Doe Lashes' focus on email marketing has been critical to their success. They use Klaviyo to send every email—cart abandonment, welcome series, post-purchase and more. But they were looking to grow their subscriber list with the main goal of sending more personalized emails.
To achieve this, Doe Lashes used Octane AI's Shop Quiz to build an embeddable product recommendation quiz that customers can access from the website's navigation menu.
They called the quiz "Find your perfect lash style." In it, they ask customers questions about how often they wear false lashes, what their eye shape is, what kind of look they prefer, and more. At the end of the quiz, Doe Lashes asks for the user's email for 15% off their first order, and then recommends the perfect set of lashes.
"One of the best parts about Octane AI's Shop Quiz is the ability to tag our customers within Klaviyo to create different segments that we can in turn build new automated drip campaigns and personalize our messaging towards."
- Jacob Sappington
Building a list of buyer profiles
A key part of Doe's quiz is understanding more about its customers. Every question asked gives the brand deep insights about its customers' eye shape, how often they wear false lashes and what their experience level is with using false lashes.
Source: Doe Lashes' Lash Quiz
All of this information can be seen in Octane AI's dashboard, where Doe can see how many customers click a certain response—which is how buyer profiles are built. Each customer's buyer profile is motivated by a specific interest or concern when purchasing.
Doe Lashes created a results page tailored toward various customer segments, and used logic throughout its quiz to recommend products that are right for each buyer profile.
"One really incredible takeaway is that the Octane AI Quiz has allowed us to learn a key insight about our prospective customer that is informing a lot of our future customer acquisition strategy."
- Jacob Sappington
If you'd like to learn more about the email campaigns and flows Doe is sending based on their buyer profiles from the Lash Quiz, download their full personalization strategy here.
Syncing buyer profile data to Klaviyo and sending personalized emails
By asking for an email during the quiz, Doe automatically pairs each collected email with the user's shared data. This helps the brand go beyond growing their email list to segmenting and deeply personalizing any message sent through Klaviyo.
Source: Doe Lashes Case Study
Once you've added the Klaviyo integration to your Shop Quiz in a few simple steps, your key data points sync in real-time to Klaviyo as custom properties. This gives you a variety of ways to personalize your email campaign targeting.
Using the data from the quiz and syncing it with Klaviyo, Doe discovered opportunities where they could send personalized emails to their customers—one successful email for Doe is its educational flow.
One of the questions in Doe's quiz is "When do you wear lashes?" And one of the responses users can choose is "I've never worn lashes." After launching the Shop Quiz, Doe learned that over 35% of quiz takers haven't worn lashes before. This gave them the idea to send educational content to those users to teach them about false lashes, how to use them and funnelled those users to the decision stage of purchasing one of Doe's lash sets.
"We are seeing that over 35% of quiz takers have NEVER worn false eyelashes before. This is new information to us and shows that many of our new customers are experiencing false eyelashes for the very first time. We can lean into this insight and become a trusted source of education and information for a more timid, less-informed customer with the ultimate goal of Doe Lashes being their first and only lash brand."
- Jacob Sappington
Doe's results: Increased AOV by 11% and email opt-ins by 3X
In just a short period of time, Doe Lashes started to see incredible results from its quiz. In addition to increasing AOV by 11% and email opt-ins by 3X, several other benefits include the following:
Over 44% of new email subscribers are driven from the Shop Quiz.
24% of revenue is from the Lash Quiz.
From the quiz results pages, 4.6% of quiz takers convert to purchase.
For a brand that's just over one year old, these results are incredible. In fact, the brand was started with just a mere $500 and quickly grew to a $15 million company in just one year. The founder, Jason Wong, talks more about that growth in this article.
These are just a few results of Doe's quiz strategy. We've put together a PDF showing Doe's full strategy on how they implemented a quiz and their results, download a copy here.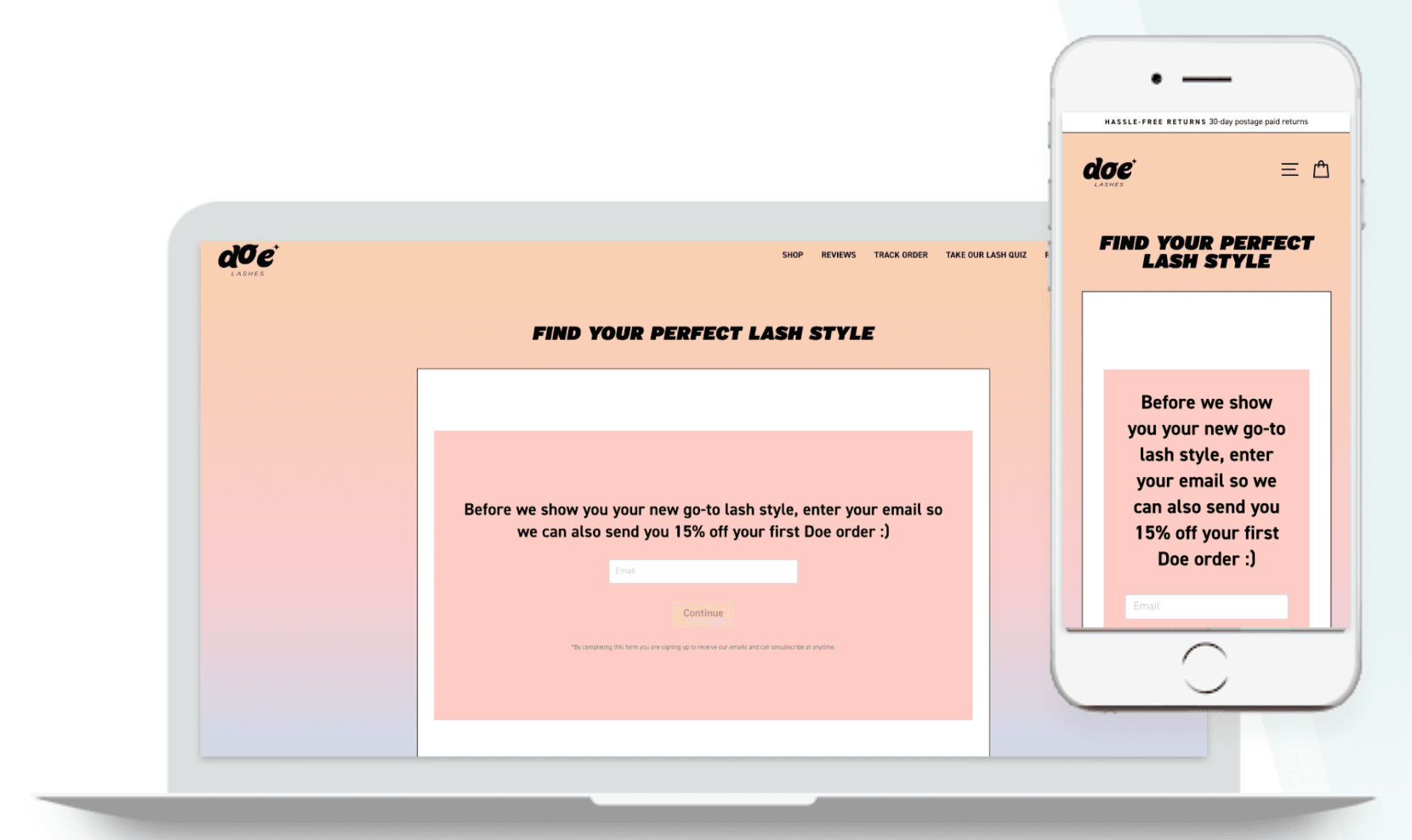 Source: Doe Lashes Case Study
Why brands should use ecommerce quizzes to connect with customers
How the Shop Quiz works on a high level
An ecommerce quiz is a series of questions online brands use to match customers to the right products and recommendations. With every question answered, the quiz calculates which products in your catalog are best-suited for that customer's needs. At the end of the quiz, it recommends a product, bundle of products or content to help that specific customer.
Every question is also meant for your business to learn valuable insights about your customers; you can discover a wide variety of information, including your customer's likes, dislikes, preferences, needs, pain points, age and more.
The information you collect through a quiz will power the rest of your marketing campaigns—from focusing your brand messaging to creating ads that are extremely targeted, you will drive amazing results when you start interacting with customers using their information to make the engagements personalized.
The types of quizzes you can create
One of the most common quiz types is a product recommender, but there are a variety of quizzes businesses can create to interact with website visitors and increase email conversions. And the best part? Any ecommerce business, no matter the industry, can benefit from an online quiz. A few types of quizzes include:
Personality quizzes
Product recommendation quiz
Trivia quizzes
Educational and fun quizzes
Interactive customer onboarding
Gift finder and shopping quiz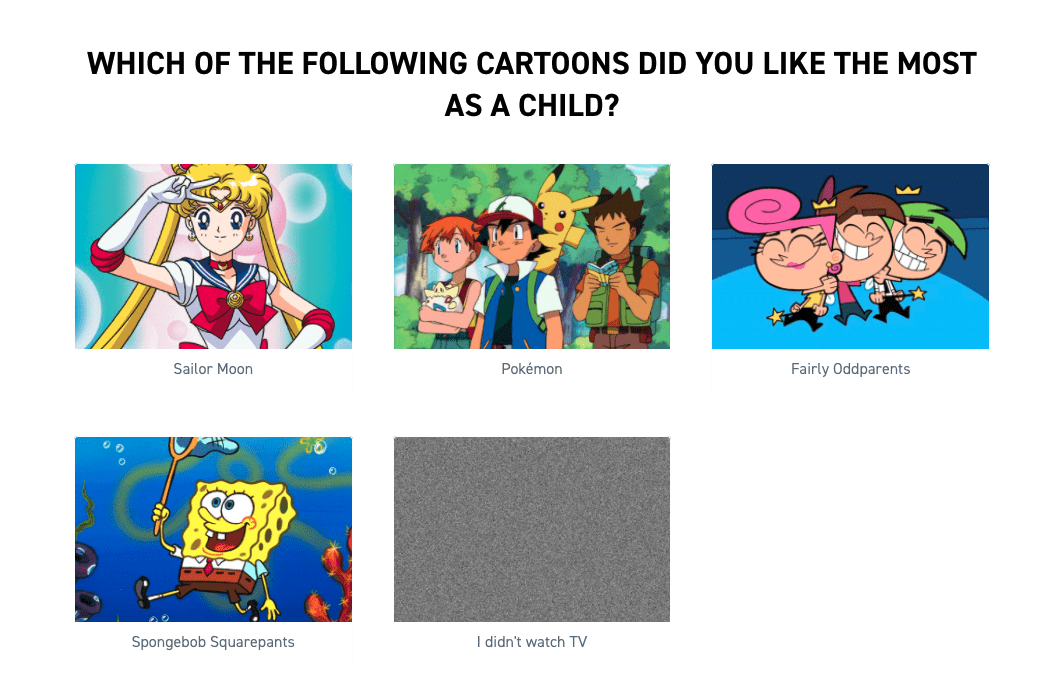 Source: Doe Lashes' Lash Quiz



The benefits of using an ecommerce quiz
Instead of a customer looking at an endless amount of static content, quizzes give them the opportunity to engage with interactive content where they can make choices that alter their results and personalize their experiences. Here are a few ways a quiz can help your business:
Collect buyer profile data to personalize your marketing campaigns
Grow your marketing lists at a quicker rate
Improve your retargeting by adding a Facebook Pixel on quiz questions and answers
Understand more about your customers to inform your marketing strategy
Personalize your website experiences and product offerings to individual customers' needs
Create educational content based on what you've learned about customers in the quiz
Discover which group of consumers spend more money at your store to prospect similar groups
Your customers will be more engaged with your brand when they receive personalized messages, offerings and content
Did you know that 87% of U.S. customers are willing to have various details of their activity tracked in exchange for more personalized rewards and brand experiences? Knowing this, engaging with customers in a Q&A format to learn more about them is something they're willing to do if it means more personalized engagements moving forward.
This is exactly why creating a quiz worked so well for Doe Lashes.
How To Replicate Doe Lashes's Strategy With Your Brand
The Octane AI platform makes it simple for you to set up our quiz, Facebook Messenger, SMS and opt-in tools for your Shopify store.
Want to set everything up yourself?
Install Octane AI without a line of code, customize the design and copy of your quiz, and watch the revenue go up in the dashboard.
Download the full 400+ page Octane AI playbook and do exactly what it says.
Download the full Doe Lashes strategy PDF to see exact screen shots and walkthroughs of everything we helped them implement with Octane AI.


Do you already make $25k/month on Shopify? Want the Octane AI team to set everything up for you quickly and efficiently?
We have a team of experts who can make sure Octane AI is implemented perfectly, and for a limited time you pay nothing until this is an ROI-positive channel for you. If you're interested in this, book a demo here.