More and more brands are turning to the subscription model these days.
So why is that? And how do they retain their customers and find more?
For Lindsay McCormick, founder and CEO of Bite Toothpaste Bits, the subscription model fit the sustainable and eco-friendly mission of her no-waste toothpaste brand by requiring less frequent shipments.
"You can loosely anticipate revenue and orders you'll be getting… So while it was initially more of a product decision, it ended up being a very smart business decision," she said.
Fellow subscription business founders agree, with Danny Taing, Founder and CEO of Bokksu, added: "Subscription boxes are great for bootstrap companies… There's a lot less risk."
Bokksu, a box of traditional Japanese snacks, was also primed for the subscription model because of their customers' reliance on Bokksu to curate snacks new to them. The family-owned snack businesses in Japan aren't widely known to Bokksu's target audience, so access to them is almost exclusively through Bokksu.
Paul Jarrett, co-founder and CEO of Bulu, an OG-subscription-box-turned-subscription-box-consulting-company, said, "When my wife and I went to start Bulu it wasn't even a question to make it subscription, it just made sense." Now Bulu focuses on helping other companies build and fulfill their subscription box programs.
Lindsay, Danny and Paul all have one thing in common: they believe in the power of a subscription model in 2021.
But the question is, how can you build a successful subscription program? Thankfully, all three of these subscription experts have tips to share. Below we've outlined four ways you can grow your subscription brand, according to Lindsay, Danny and Paul.
"You get a CFO at a multibillion-dollar brand to grasp what subscription could mean with assets they already have and it's game over. If you sold the CFO, the rest will follow."
– Paul Jarrett, Co-Founder and CEO of Bulu
1. Don't underestimate micro-influencers when getting started
Contrary to popular belief, not all companies need a ton of capital to get started. In the current climate of social media and influencer culture, there are countless options for free or relatively inexpensive advertising.
For one, don't underestimate the power of micro-influencers (influencers with audience sizes of 4-5K).
Important influencers are often thought of as those with follower counts in the hundreds of thousands, but both Lindsay and Danny can attest to the huge impact micro-influencers can have in building a customer base.
Since Lindsay was already living a low-waste, vegan lifestyle when she founded Bite, she was immersed in a community of friends, bloggers and micro-influencers interested in all things eco-friendly. This provided her with a natural way to spread the word about Bite on a small scale. Her friends tested the product and talked to their respective communities about it, which included consumers who were already invested in finding new ways to live a low-waste, eco-friendly lifestyle.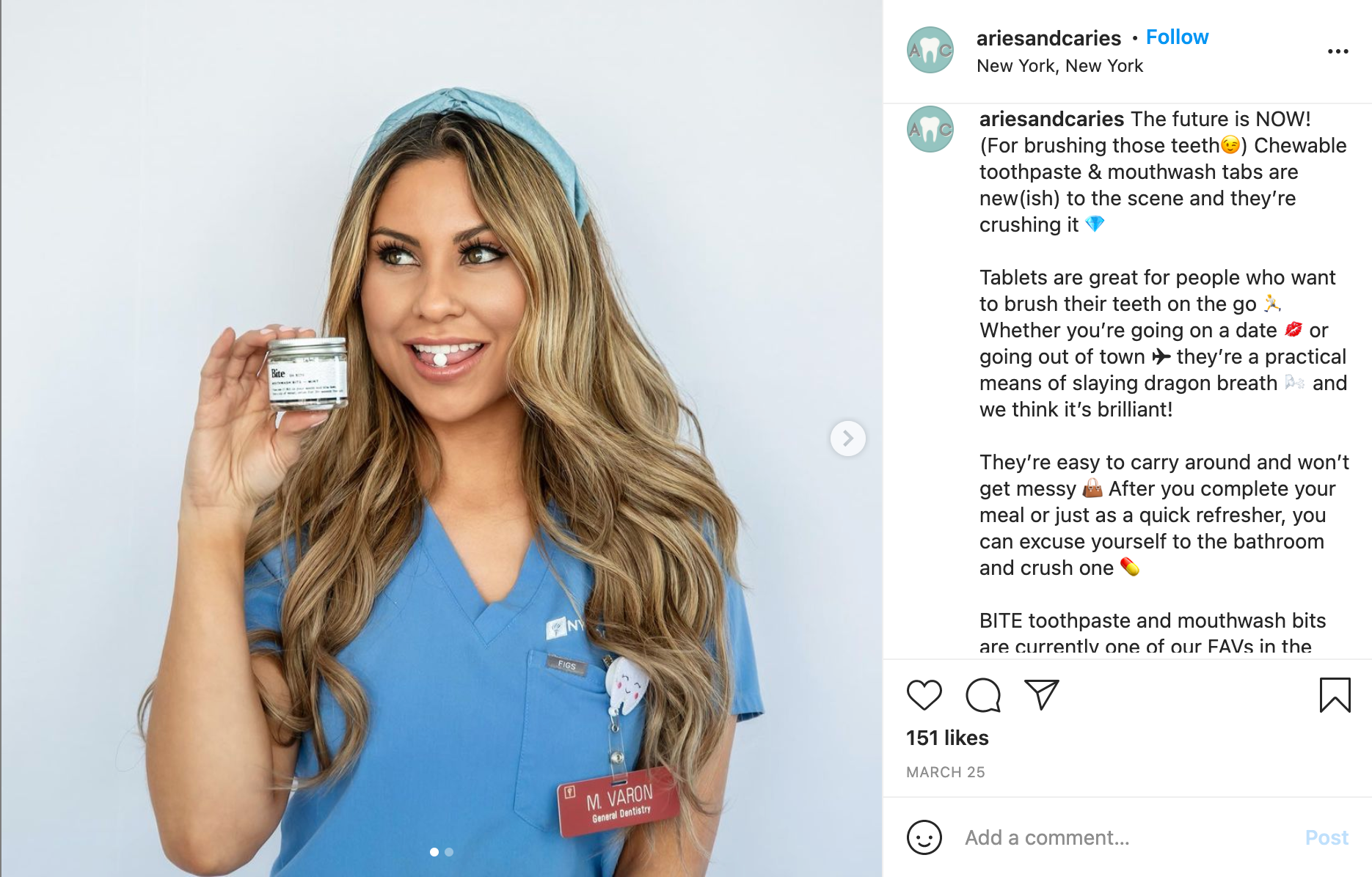 Source: Instagram
2. Embrace the technology available to you
Both Lindsay and Danny said Shopify and ReCharge were critical pieces of the puzzle in the early days of their brands, offering an easy and inexpensive way to set up a DTC site and manage recurring payments. "Shopify and ReCharge are game-changers," Lindsay said.
"Shopify and ReCharge were my everything… I didn't have money to hire a developer or an agency or any of that fancy stuff… But because Shopify is a blank integration, I set up my site in two days and was able to launch quickly."
– Danny Taing, Founder and CEO of Bokksu
---
Related Read:
This Beauty Brand Increased Email Conversions by 3X with One Personalization Strategy

---

3. Think long-term in your approach to retention
When it comes to subscriptions, in most cases, acquiring a customer costs more than what you get in return. But that's just in the beginning. Danny confirmed this by sharing how Bokksu doesn't profit from customers until after the first box or two.
However, the Bokksu team is constantly working on increasing their customer retention with a multitude of strategies, including loyalty programs, rewards and gifts. Although it has been paused due to Covid-19, before at the three and six-month mark, they started adding loyalty gifts into the boxes to surprise the customer.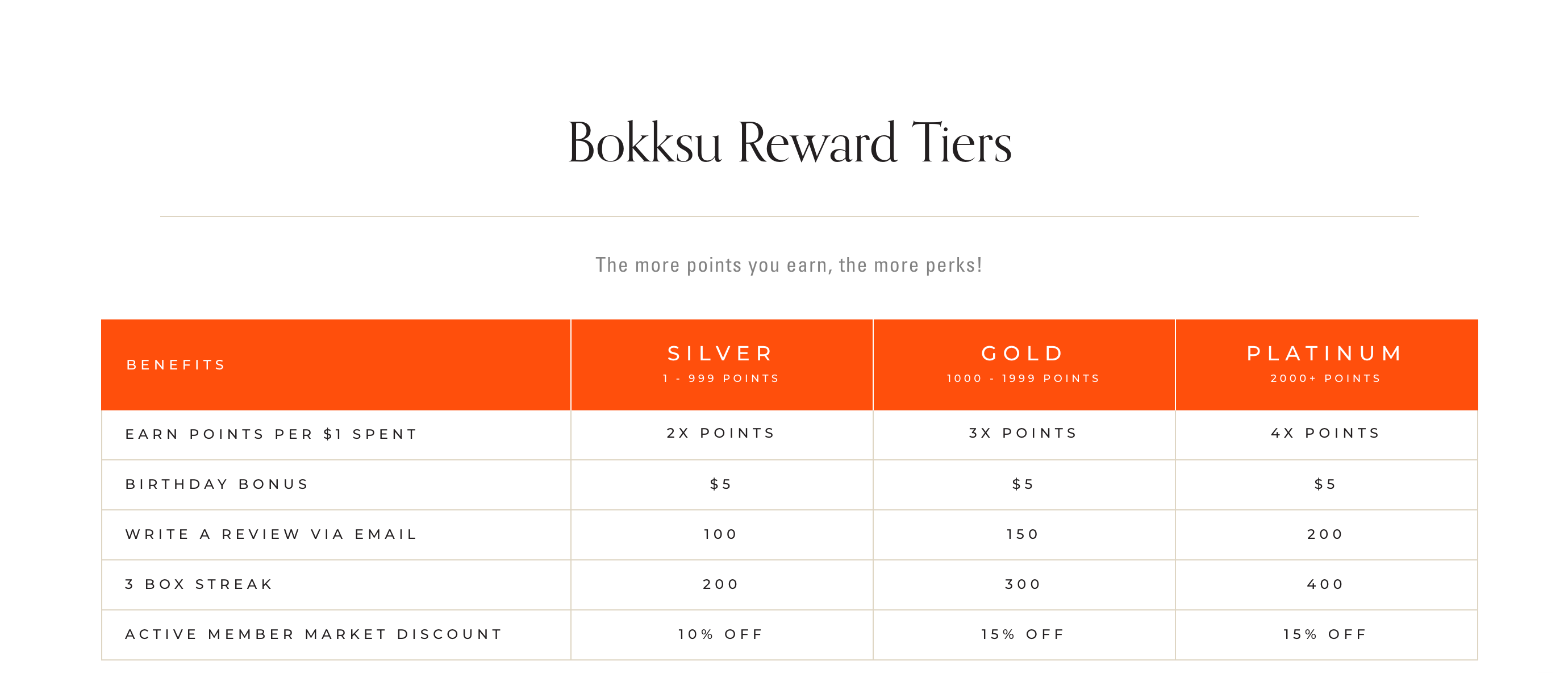 Source: Bokksu
While Bokksu focuses on a subscription-only experience, some companies utilize subscription boxes as one facet of their overall money-making strategy, meaning the box may act solely as a means of communication with the brand's customer base, and only need to break even rather than make a profit. In this case, the box would likely serve as a way to direct subscription customers to the brand's marketplace or collect data to sell them a different product in the future.
4. Streamline shipping and fulfillment
Another important aspect of retention that may sound basic but is crucial is to streamline fulfillment and make sure prices don't act as a deterrent for potential customers.
"It hurts me to see the amount of consumer packaged goods getting slaughtered on their shipping rate," Paul said, "You can have the most amazing website out there, but if your servers aren't working it doesn't matter…and that's how I feel about shipping and fulfilling and pricing."
Source: Ecommerce Trends
While pricing and shipping is important for the customer's experience, it's also beneficial for brands to make sure they've got a good shipping and fulfillment process. In fact, Shipbob shared in a 2021 trends report that distributing your inventory can reduce shipping costs by 25%. This report has tons of data related to shipping, retention, personalization and more.
5. Know what your customers want
One thing impossible to argue with during this day and age is the importance of knowing your customers. There are so many ways to do this, whether it be through social media, online shopping quizzes, surveys or email testing.
"It's important to always set a certain amount of ad budget aside for experimentation to find those new things… When you find one no one knows about and you hit it hard it's a great way to offset the more expensive traditional channels."
– Lindsay McCormick, founder and CEO of Bite Toothpaste Bits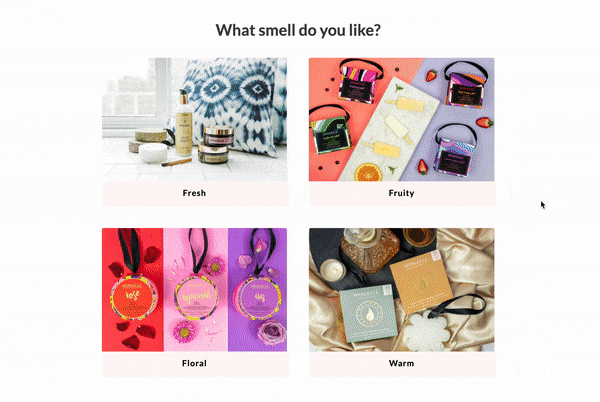 Source: Spongelle
Ultimately, it comes down to paying attention.
Notice when your customers unsubscribe and figure out the root cause. Was the box too expensive? Was it arriving too frequently? Were there not enough additional benefits to the subscription other than the physical products?
Despite being subscription-based companies, Paul, Lindsay and Danny suggest offering single product sales as a way to push customers towards subscription.
Sometimes, people want to test out a product before they commit. If they don't have that option, they may move on. Allowing single-purchases helps build affinity for the brand and product, and once there's affinity, it makes sense to let the customer know the value they may find in subscribing; how they can save money on their favorite products, as well as access other benefits.
Any way you can make your customers feel special and seen, try it. Here are a few ways to make customers feel special:
Tiered subscription levels
Creating tiered levels of the subscription, like a loyalty program, is a great way to do this. Other options include sending them gift cards or referrals for their friends or creating an affiliate program in which they promote the brand in exchange for product or cashback.
Test new channels
Continually testing out new methods of connecting with your customers and then noting their response is vital. For instance, SMS marketing is an intimate option becoming more and more widely used by marketers.
Danny has found SMS tends to work better for one-off products rather than subscription boxes, although since ReCharge has recently made subscription integrations available with SMS providers, allowing people to manage their subscriptions via SMS, that may change soon.
---
Related Read: 10 examples of ecommerce quizzes you'll want for your brand
---
6. Build authentic connections and community
There's no question humanizing your brand is necessary to forge a sense of community.
Danny, for example, is aware his customers are interested in learning about Japanese culture. To build on that, and to provide as much benefit to them as he can, one main advertising strategy has been to pump out organic SEO content marketing in the form of informational articles. Two or three times a week, Bokksu will release an article about Japanese culture or food with keywords, so if you google Japanese snacks Bokksu is the number one organic search result.
Building on this success, Danny's considering adding more exclusive content for the subscription members to access, like virtual tours of Japan, as well as offering free shipping.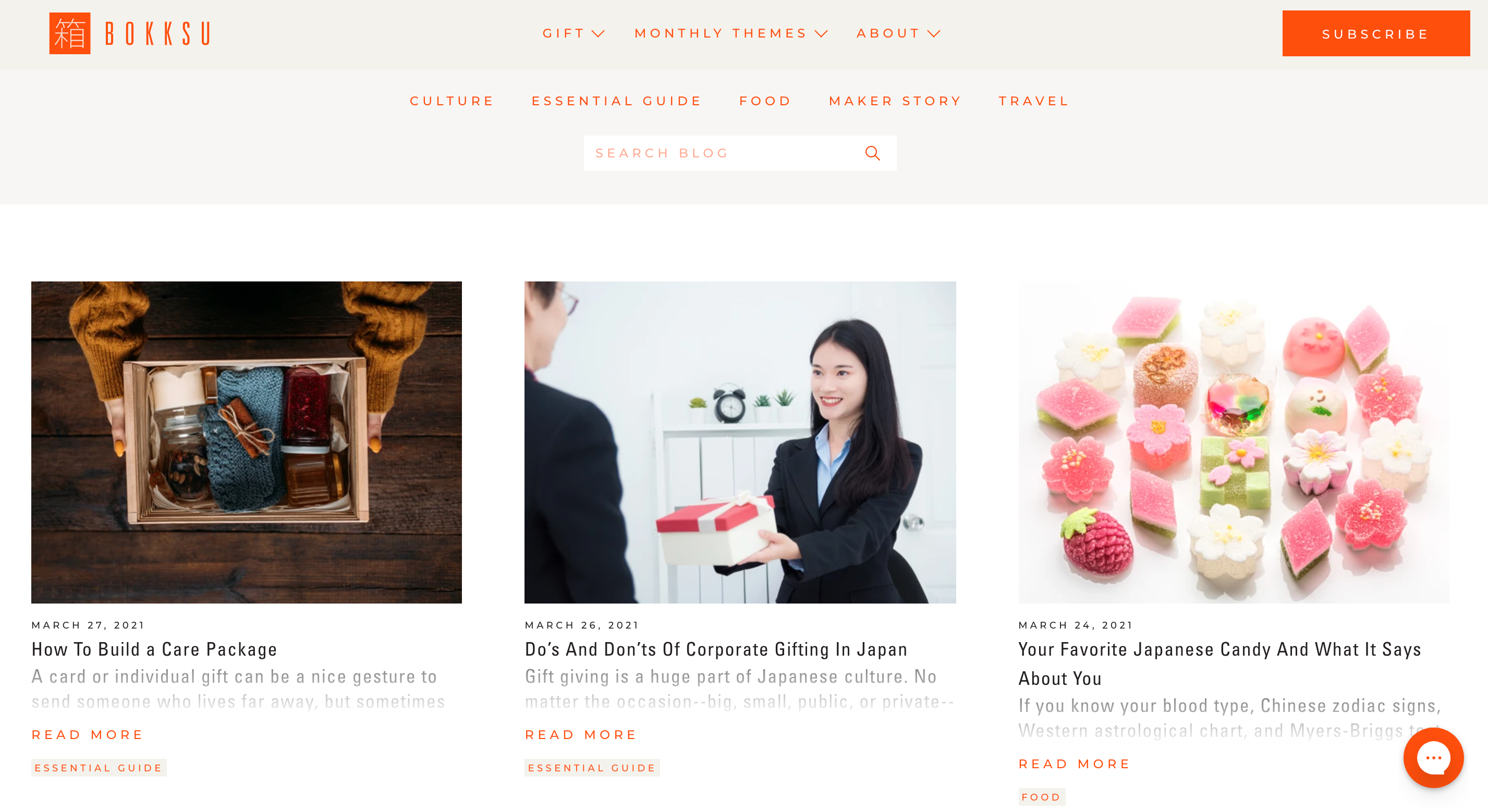 Source: Bokksu
Share your brand's story and mission
Let's not forget about the origin story either, which is a very compelling way to humanize your brand. What's your brand's mission? How did it get started? What was the inspiration behind it?
Loyal customers and fans are interested in knowing who their favorite brands are and what they stand for. Sharing your story and mission can build that level of deep connection.
As Paul said, "I do think since everything is so digital having a conversation with people and bringing a human element is effective."
Partner with other brands
Building authentic connections doesn't have to be just about the customers, it can be with other subscription brands as well.
While most subscription brands see others as direct competition, Paul says that may not be entirely true, as customers with subscription mentalities generally subscribe to several boxes. Partnering up with other brands might not be such a bad idea.
Key takeaways for subscription brands looking to grow and flourish
At the end of the day, personalization and humanization are where it's at. Customers want to be known and understood by the brands they love, and they want to know and understand those brands. The more you can curate your product to their specific needs and delights, the better.
So what are the four main takeaways for subscription brands looking to maintain and grow their customer base?
Not everything is more successful with more money; sometimes starting small is good. Work with what's right in front of you, and don't underestimate the power of micro-influencers.
Keep your current customers happy by using long-term retention strategies like loyalty programs to add value and to reward your most loyal customers. Ask yourself how you can make the boxes consistently valuable to them so they stick around.
Engage energetically and intentionally with your customers, listening to and using their feedback. Things change and times change, so it's vital to actively and continually seek out new ways to connect with your customers. Experiment to see what works and what doesn't.
If customers are going to feel connected to your brand, it will be because you made it personal; you humanized the message and the people behind it. The more authentic and connective you can be the more brand loyalty you'll elicit.
Get updates on Commerce Club shows
Commerce Club events are hosted by Matt Schlicht and Ben Parr: the co-founders of Octane AI. Giving Shopify brands the ability to offer conversational commerce to customers on their sites, Octane AI helps brands replicate the experience of an in-store consultation by leading customers to curated product recommendations.
If you'd like to stay up-to-date with upcoming episodes and Clubhouse conversations, visit joincommerceclub.com and sign up for our newsletter.