Building a brand is hard, time-consuming work, and if you don't care about it, no one else will either.
This was the advice given by Evelyn Rusli, co-founder of baby food company Yumi, and Jake Kassan, co-founder of watch and accessories lifestyle brand MVMT.
Yumi isn't just any baby food brand, Yumi provides fresh, organic and nutrient-dense food backed by science, catered to a child's developmental stages. And since MVMT began as a men's watch brand it has expanded into jewelry and eyewear as well.
Despite their respective brands occupying such drastically different industries, founders Evelyn and Jake actually have a lot in common when it comes to how they went about building their companies.
Their most implicit and explicit piece of advice? Be passionate about what you're making.
So how did Evelyn and Jake build their brand empires? How do passion, authenticity and humanization play a part in their success? That's what I'm going to share with you. Let's dive into Yumi and MVMT's four tips for building an authentic brand.
YUMI and MVMT joined as a guest on Commerce Conversations (hosted by Commerce Club on Clubhouse), and shared their tips on building a brand.
1. Discover the niche that inspires you
Before transitioning into entrepreneurship five years ago with Yumi co-founder Angela Sutherland, Evelyn spent the first ten years of her career as a business journalist.
Evelyn's background in journalism planted seeds of inspiration, the foremost one being the idea that the entrepreneurial journey could lead to great impact. If she figured out the right place to be and the right thing to get behind, she knew she could make a difference.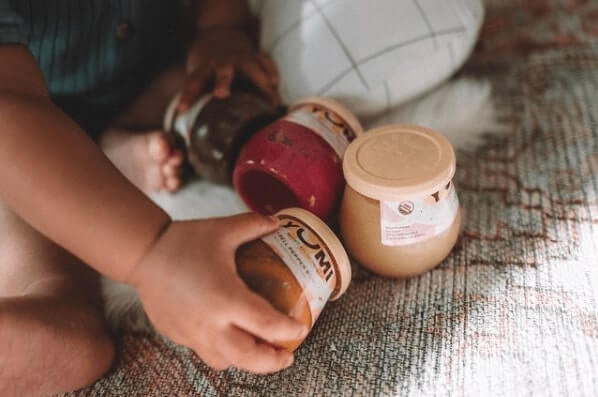 Source: Yumi Instagram
Once she discovered how important nutrition was for the first thousand days of a baby's life and the absence of healthy baby food in the market, she was in; ready to change health outcomes for the next generation of kids.
Jake Kassan co-founded MVMT with Kramer LaPlante after dropping out of college in 2013. All he knew was he wanted to do something he was passionate about. He understood the basics of ecommerce and online brand-building, having experimented with several products in the past that had turned out to be too niche. This one had to resonate with a wider audience.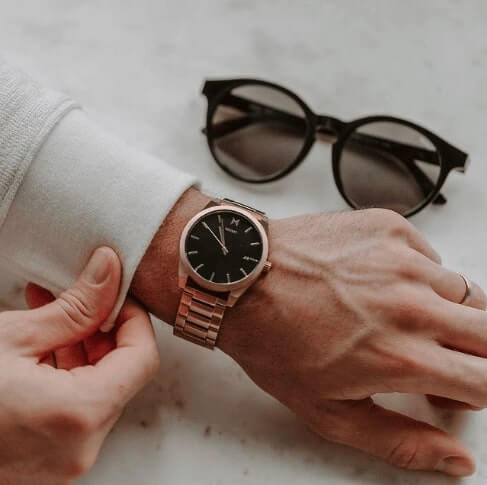 Source: MVMT Instagram
As a twenty-one-year-old, Jake knew exactly what kind of watch he wanted...it just didn't exist. So he created his own, custom-building a brand he could get behind, focusing on style and affordability.
---

Related read: How Doe Lashes Built a $15mil Beauty Brand in 1 Year with $500


---
2. Be resilient and find your right audience
MVMT's campaign was denied by Kickstarter twice before Jake and Kramer decided to try the crowdfunding platform Indiegogo.
After going $6K in debt to procure samples for the six watches making up the brand, Jake had a lot riding on it. The campaign took fifteen days to get off the ground, but once it did, it went viral. They managed to raise $300K on Indiegogo, and in their first year, they hit one million dollars in revenue.

Source: Indiegogo
"You have to be willing to take advice, but you also have to dodge feedback and opinions if they don't align with yours."
– Jake Kassan, Co-founder of MVMT
As for Yumi, Evelyn said they faced consistent rejection at first. "From a fundraising perspective, we probably had two-hundred no's in the first year of the business," she said.
Eventually, Yumi's mission resonated not only with its customers, but also with an impressive list of companies and CEOs, receiving support from the likes of Allbirds, SoulCycle, Harry's, Uber and Warby Parker.
"For us, we just had to find the right people who believed in our brand and understood it. We knew we were going to get a lot of harsh 'no' responses."
– Evelyn Rusli, Co-founder of Yumi
3. Use authenticity to build community
Yumi makes it regular practice to send spot surveys out to their families to ask how they're doing, what they need and how they can support them.
Upon finding out the hardest part of the COVID-19 lockdown for parents was talking to their kids about it, Evelyn spent a week with the Yumi team designing a children's book. They released it online for free and it amassed a total of 145 million social impressions.
"It just shows if you put something out there in a way that feels authentic and you're not just trying to sell them at every corner, it will reach people...and they'll want to share and interact with it,"
– Evelyn Rusli, Co-founder of Yumi

Source: Yumi
The families needed it, and Yumi provided it. Simple as that.
As for MVMT, they've picked their team intentionally and selectively, including the influencers they work with, making sure to show the behind-the-scenes of the whole brand operation to give their customers a personal inside view of the brand.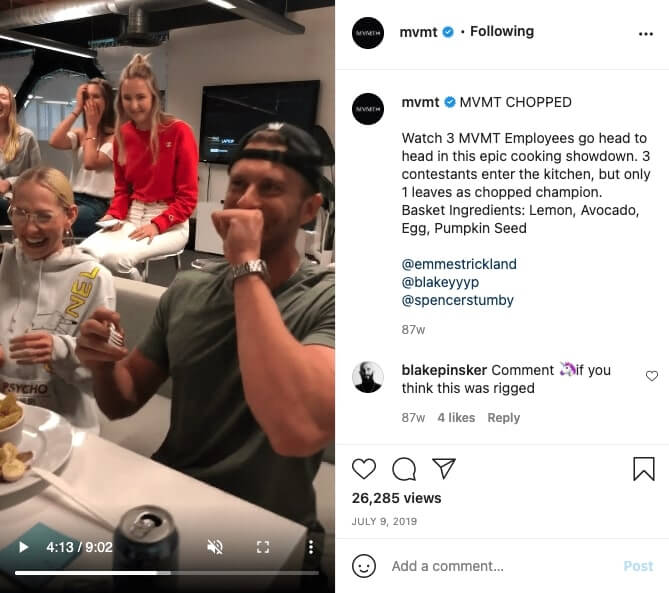 Source: MVMT Instagram
---

Related read: 5 Strategies LOLA Uses to Connect with Customers on Shopify


---

4. Humanize your brand with genuine connections
From having the co-founders help customers with their orders on chat to doing a giveaway à la Shark Tank where the whole team spent a day on calls assisting the winner with their fledgling business, MVMT is a brand that makes a point to create genuine connections with the people who buy their product.
As part of Yumi's new campaign, they shipped cameras to their customers to take photos of the brand in everyday life, for use on billboards, bus stops and digital platforms.
The takeaway: People need to see themselves represented to feel connected to a brand. And for that to happen, the brand needs to see them first.
Even without the disposable cameras, happy Yumi customers share pictures about how much their babies love Yumi on Instagram every day.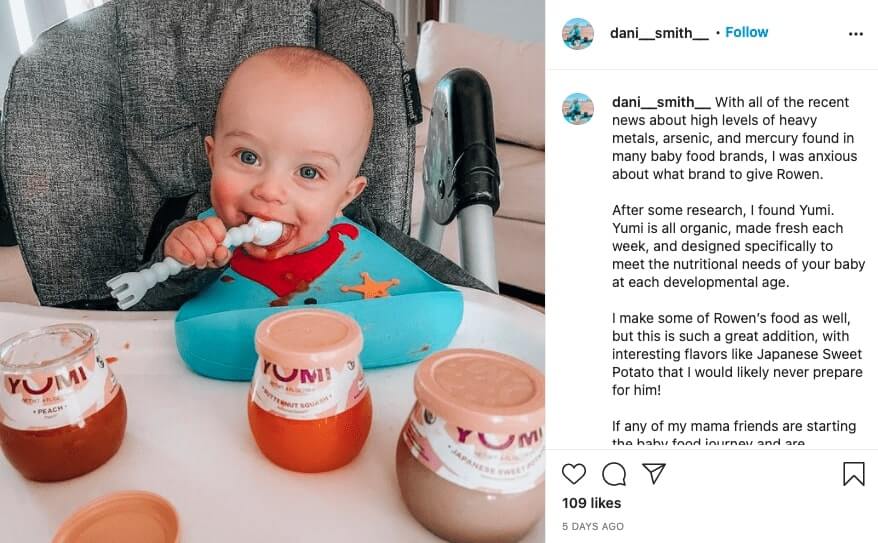 Source: Yumi Instagram
Doing everything with thoughtfulness, strategy and care
"Don't rush the process," Jake said. "Make sure who you partner with tells the brand's story in the right way."
As a fashion company, MVMT depends on sales through retail with wholesale partners, but they're careful. Jake said re-evaluating partnerships once a year is a good idea, too.
"Humanize the brand and the people behind the brand. It's one more thing that puts you top-of-mind when people are considering investing in you."
– Jake Kassan, Co-founder of MVMT
MVMT does campaigns all of the time that connect its founders, employees and partners with real people. One example is when they jumped out of helicopters marked MVMT and shared in on Instagram.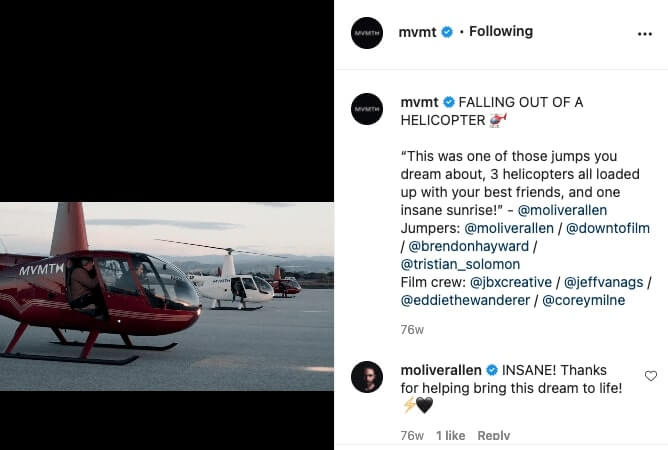 Source: MVMT Instagram
Yumi, on the other hand, has remained a DTC brand for the time being — a decision made because it felt fundamental to the kind of experience and product they wanted to offer their customers. "We realized there was a lot of magic in being able to own the experience with the customer," Evelyn said.
When asked how she made success happen for Yumi, Evelyn emphasized the relationships. "Value relationships and do the best you can to be a helpful and positive force in other people's lives," she said.
The foundational block of Yumi and MVMT's success: authenticity
It's safe to say Evelyn and Jake have a pretty brilliant approach to business. Holistic, connective, innovative and authentic — they set their companies up for success, placing each foundational building block with care and attention.
Everyone should take a leaf (or several) out of their books. So what are the key takeaways?
Discover an area in the niche you're interested in that's lacking. Part of Yumi and MVMT's success was due to them being able to find a gap in their industry's products currently on the market, and so they created something no one else had.
Believe in your brand even when others don't, while remaining adaptable and open to feedback. In the beginning, Evelyn and Jake were told no many times over, but instead of letting that dissuade them, they trusted in the visions they had for their companies. They saw a void in the market they could fill and they saw their brands through to fruition, despite the obstacles.
Be authentic in all aspects of your brand-building process, starting with how you connect with your customers and represent their needs in your product. Yumi and MVMT were built with care, strategy and thoughtfulness. They have prioritized their customers since day one, finding unique and creative ways to be personable, elicit community and foster reciprocal care.
Build human connections that make a lasting impression on your customers. When it comes to building meaningful connections, Yumi and MVMT do it by giving their brands a unique voice and sharing it with their target customers. Get your customers involved in various initiatives to make them feel seen and important.
About the show
Commerce Conversations is a show on Clubhouse within Commerce Club hosted by Matt Schlicht and Ben Parr: the co-founders of Octane AI. Giving Shopify brands the ability to offer conversational commerce to customers on their sites, Octane AI helps brands replicate the experience of an in-store consultation by leading customers to curated product recommendations.
Each episode of Commerce Conversations will center on casual and thoughtful chats about DTC (direct-to-consumer advertising) ecommerce and retail. They were joined in this episode by ecommerce veteran Taylor Sicard, Yumi's co-founder Evelyn Rusli and MVMT's co-founder Jake Kassan.
If you'd like to stay up-to-date on the Fire Show, including upcoming episodes and Clubhouse conversations, visit joincommerceclub.com and sign up for our newsletter.