When you think about your favorite brand, what is it that keeps you going back to purchase its products? Maybe the products are great quality for their price, maybe the shipping is quick and seamless, or maybe the brand sends you super personalized offers and content that makes it feel like you have a special bond.
Either way, if you've gone back to make a second, third or fourth purchase, that brand has a good customer retention marketing strategy.
Building up your customer retention rate has way more benefits than just focusing on acquisition alone. When you acquire a new customer, it means a new visitor has made a purchase at your store. Although it's great to have strategies in place to convert new visitors, imagine how much more revenue you could earn if you had a way to bring each of those first-time customers back to make a repeat purchase again and again.
The path to customer retention starts from visitor and ends at brand advocate, just like in the chart below.

Source: Octane AI
As the store owner, it's your goal to have strategies in place to help guide visitors to the next stage in the journey. Whether it's through a personalized Facebook Messenger marketing campaign or by building a social media community, you'll want to make sure you provide value on various channels to push customers toward the next stage. We'll look at the best strategies to turn visitors into brand advocates right here.
Let's do this!
What is customer retention?
The customer retention definition is as follows:
"Customer retention refers to the ability of a company or product to retain its customers over some specified period. High customer retention means customers of the product or business tend to return to, continue to buy or in some other way not defect to another product or business."
In other words, it's your business' ability to get a first-time customer to come back and purchase your products again, and to keep those customers engaged with you through social media, email, SMS or any other channel you use to build a positive customer relationship.
The probability of selling to an existing customer is 60% - 70%, whereas the probability of selling to a brand new visitor is only 5% - 20%. Ultimately, customer retention strategies are more cost-effective and have a higher ROI than acquisition strategies do.
How to calculate customer retention rate
To see your customer retention rate, you can use the equation below to calculate it.

Source: OctaneAI
Keep in mind that the average rate is just below 20%. If your rate is significantly higher, keep up the good work! If your number is around 20%, don't fret because there are a few strategies you can start doing to increase your customer retention rate.
Why retention marketing works
Not only is the probability of selling to an existing customer higher, but existing customers are also likely to spend 31% more than new website visitors. When you release a new product, your loyal customers are 50% more likely to purchase it than new customers are. Because of this, you'll spend 5X less on customer retention.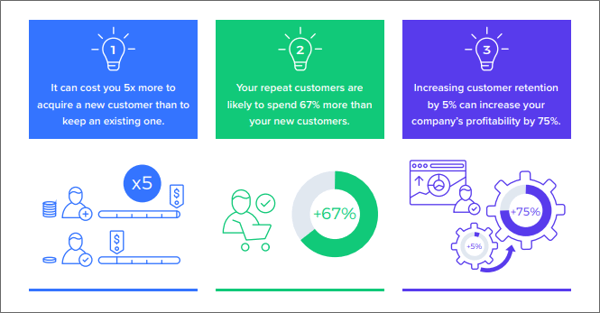 Source: 2Checkout
Retention marketing works, and you'll see a spike in sales because of it. Here are a few reasons why it's vital to your business:
It costs less to retain customers than to acquire: Bain and Co. found it costs 7X as much to acquire a new customer than to sell to existing ones.
Customer retention builds your brand loyalty: most consumers prioritize brands that give them what they're looking for at the time they're looking for it. By building up your customer retention, your brand will be top-of-mind for every customer when they're looking to purchase a specific item, keeping them loyal to you and interested in further engagement.
Customer retention has a direct correlation to your customer lifetime value. With retention strategies in place, every

new customer will become valuable and generate a higher ROI.
Keep in mind that while there are many benefits to having retained customers you shouldn't forget about customer acquisition entirely. The point is to continue focusing on acquisition strategies while also finding ways to retain every new customer you find. This will ensure you have an inbound flow of new customers, but you'll also have a ton of previous customers ready to make a second, third or fourth purchase.
How to increase customer retention
Now that you know what customer retention is, how to calculate it and why it's important, let's look at the strategies you could be using to increase your customer retention rate. We'll share five ways you can increase it now, starting with building an ecommerce quiz.
1. Build an ecommerce quiz to collect buyer profile data and recommend the best products to consumers
An ecommerce quiz is a series of questions online brands use to match customers to the right products and recommendations. There are a variety of ecommerce quiz types, from gift finders, size finders, to product matching. Any ecommerce business, no matter the industry, can benefit from an online quiz. This is because the questions you ask customers help you learn personal information about a customer's needs or interests, which you can then use to retarget them with personalized emails, ads and other direct campaigns.
Related Read: How to Use an Ecommerce Quiz to Boost Sales
2. Use customer data to personalize every channel
Knowing exactly who your customers are, what they shop for and their interests will help you personalize every marketing channel. And, you can collect this buyer profile data with a quiz. Whether it's through email, Messenger or SMS, you'll have a better opportunity to sell your products when you can match customers with their exact interests or needs.
In fact, 79% of consumers said they are only interested in engaging with offers that have been personalized based off their previous interactions and purchases with a brand. As one example of how to do this, the fitness apparel brand, DOYOUEVEN sent an ad to prospects about their new Scrunch series after those visitor had previously put those leggings in their cart.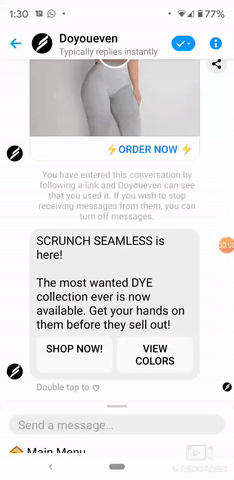 Facebook Messenger is a great way to personalize the experience for customers since you can follow up with messages based on website actions (like abandoned cart and browse abandonment messages), and create back-and-forth conversations that make the discussion more engaging for the user.
This helps brands like DOYOUEVEN see a ROAS of over 600%! To become memorable and stand out against your competitors, personalized omnichannel experiences are extremely important as an ecommerce brand.
Want to see how you can collect key customer data for personalized Messenger and SMS marketing? Book a demo with Octane AI to see how our suite of tools can help your brand boost customer retention.
3. Offer great customer service to ensure a positive experience
A positive customer service experience is just as essential as your marketing strategy. You may not have considered it before, but customer service actually has a direct impact on retention and revenue.
For example, 52% of consumers say they have made an additional purchase from a company after a positive customer service experience. When you show customers that you're available and willing to help them, they'll appreciate and respect you more, and they'll remember how easy it was to get support from you when they are looking to purchase again in the future.
Source: Mavi Jeans
Using Messenger AI is one way to start bettering your customer service due to the ability for AI to acknowledge a customer's inquiry and respond right away. Mavi Jeans is one example of this—you can write the word "Shipping" or any similar variation of the word (like "Shipping Policy"), and its Messenger AI will automatically respond with information.
4. Ask for feedback and reviews to show customers their opinion matters
Have you ever purchased something and received a follow-up message asking to fill out a survey about the purchase experience or the product? Even if you don't fill it out, it's nice to know that the brand is interested in hearing your opinion.
What's even better is if that brand actually applies your feedback to better its business. One way to gather feedback is to add a review option on every product page, which Polysleep does—as one example. You can also follow-up with customers who've recently purchased through email and ask them to write a review or share feedback.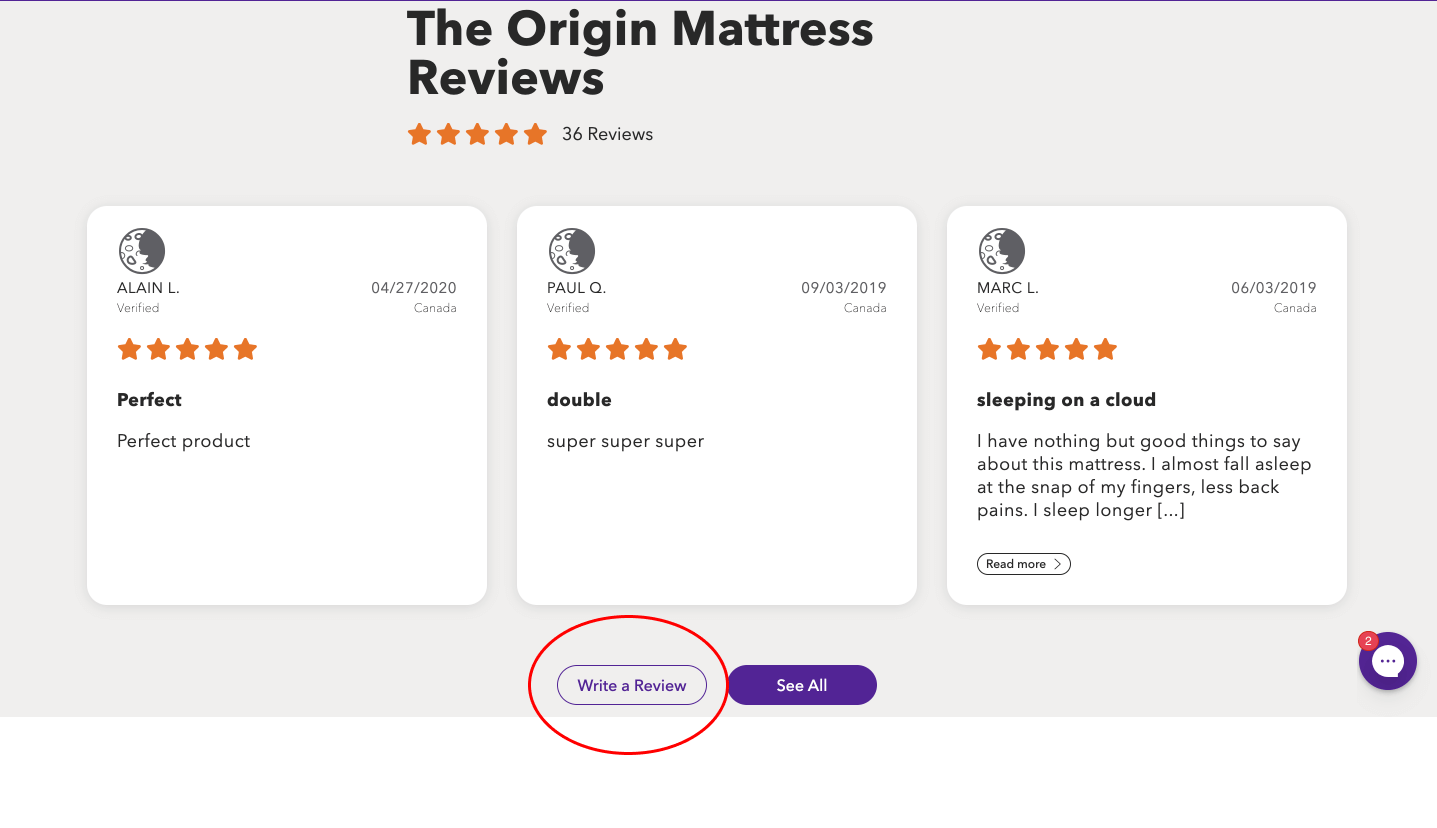 Source: Polysleep
Asking for feedback and reviews can be scary. but keep in mind that 77% of consumers favor brands if they seek out and apply customer feedback.
Think of reviews as an opportunity for you to better your business, whether you receive positive or negative feedback. Take the responses and do your best to make improvements. Customers will notice this and appreciate your efforts to listen to their opinions. which will drive an increase in retention.
5. Offer a loyalty or rewards program to incentivize repeat purchases
A good loyalty is part of the foundation that helps brands increase their customer retention. Helping guide customers toward the path to becoming brand advocates, loyalty programs are great at bringing customers back to earn rewards for simple actions like making repeat purchases, following you on social media, engaging with your social media posts, writing product reviews, referring you to friends and more.
By incentivizing customers for these actions, you're giving them a reason to return to your store and purchase again. Check out how Ella + Mila offers rewards, for example.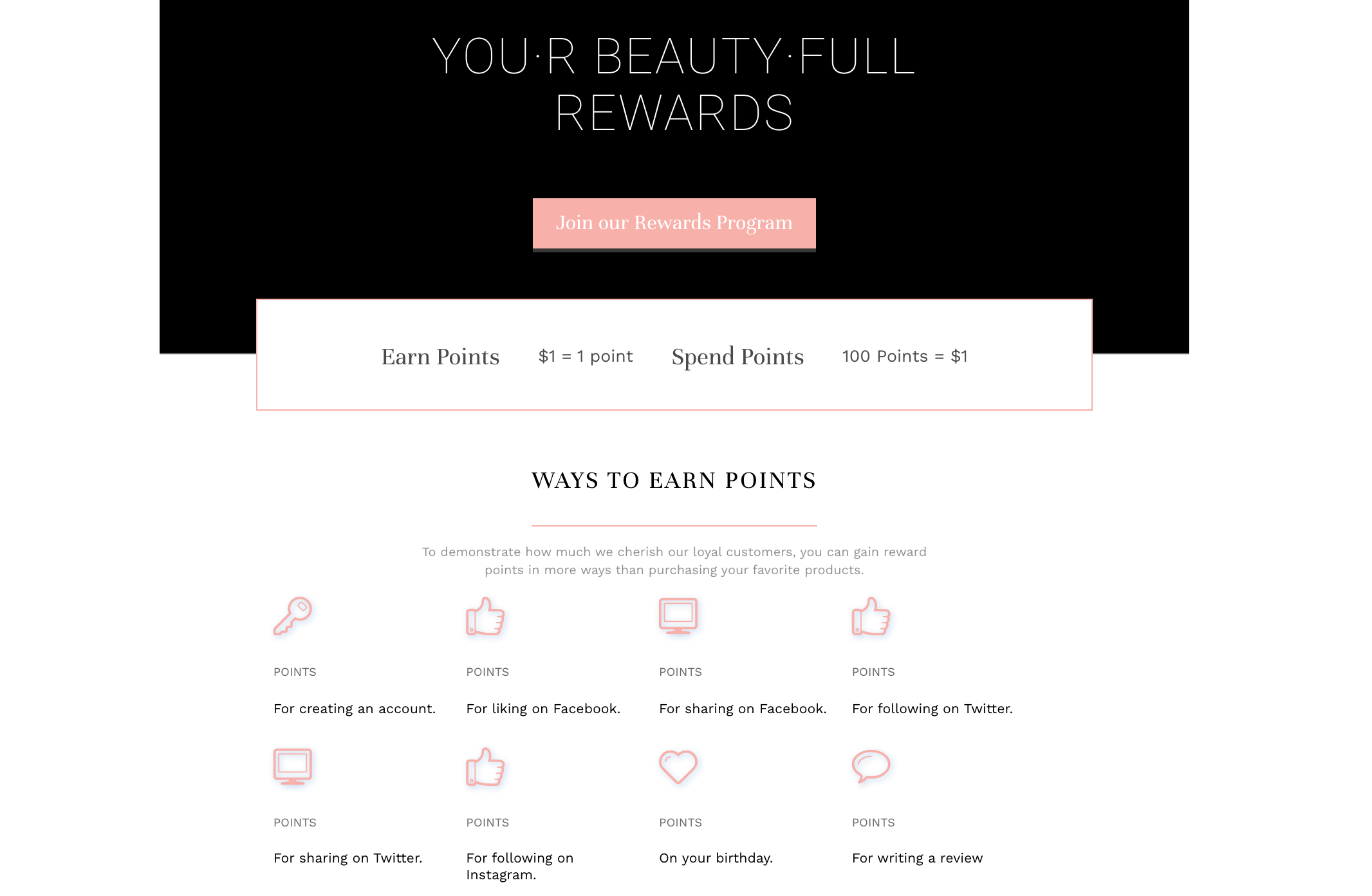 Source: Ella + Mila
Aside from earning points by purchasing products, Ella + Mila shares a variety of ways that customers can start earning: every 100 points gives customers $1 off, and simply by liking the brand on Facebook Ella + Mila's loyalty members can already redeem dollars off their next purchase.
Considering 54% of consumers say they would likely make more purchases with a brand that offers a loyalty program, it's a great tool to drive more leads and retain each customer for future purchases.
6. Extend relationships off your website with social media
Your customers live on social media. They spend so much time perusing between Instagram, Facebook, Twitter, TikTok and other popular apps, waiting to engage with topics that interest them. If a customer already knows your brand and they've had a positive experience, they'll look for ways to engage with your off of your website and on social media.
It's true that 53% of American consumers will post positive comments about companies on their social media, and this is something you've likely seen in the "tagged" section on Instagram, where customers will pose with products they've purchased and tag the brand they bought it from. For example, Live Love Gameday has over 150,000 followers on Instagram, and many customers post pics wearing their clothes and tagging them every week.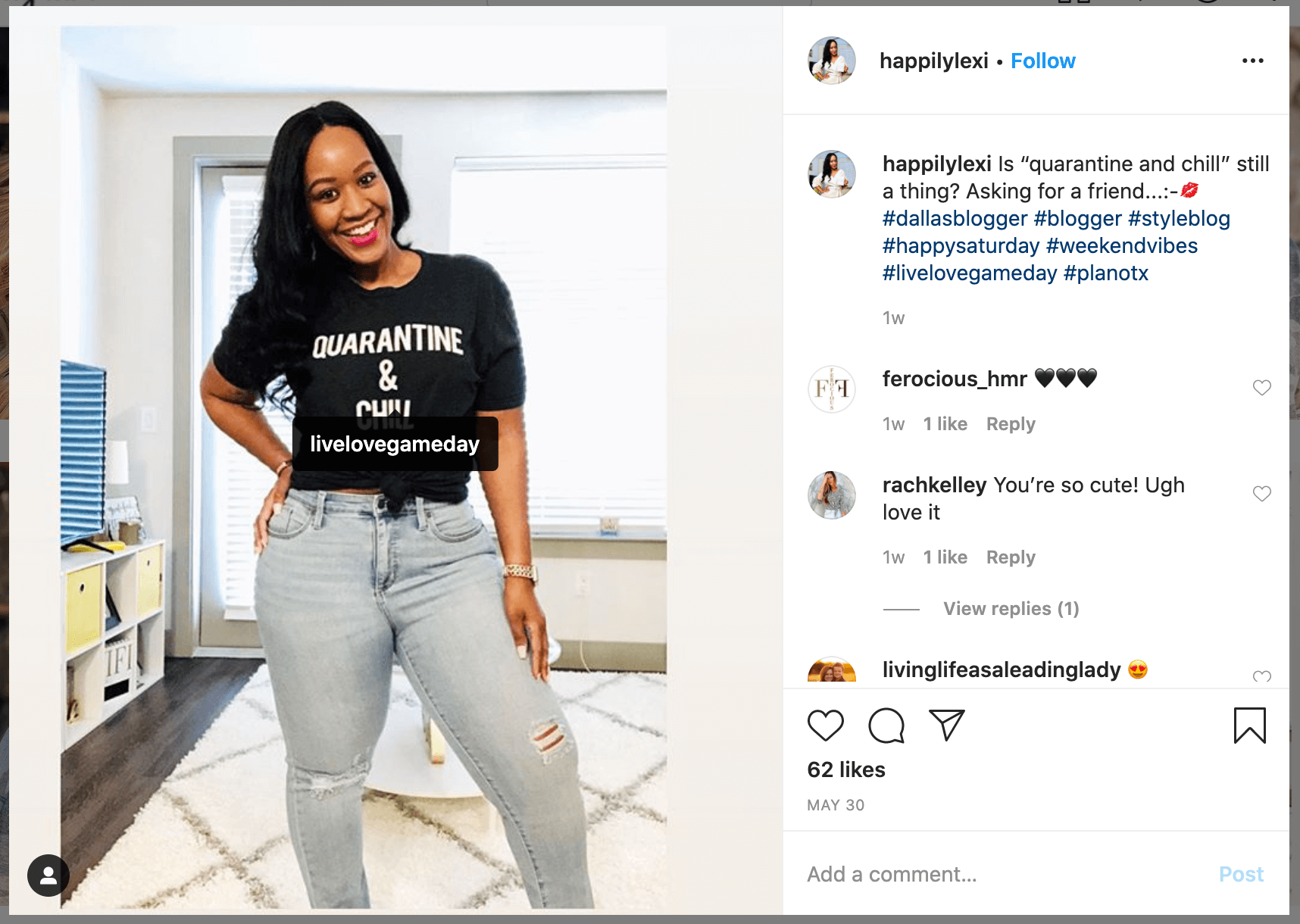 Not only is this an awesome way to amplify user-generated content (because more visitors discover your brand from their peers), but giving your customers a community where they can follow you, engage with you, share content with you and even talk to you helps increase customer retention because you're extending the relationship beyond your store website and on a channel that customers are familiar with.
Related Read: Top 7 Marketing Channels to Prioritize in 2021
Start boosting revenue with increased customer retention
Now that you're no longer asking, "What is retention?", you can start working on ways to turn every customer into a brand advocate. These advocates will share your products with their friends and family, and they'll be ready to support you when you launch new items. Why wait? The future of your business starts with retention.