As a partner for global venture and growth equity firm Accel, Ethan Choi spends a lot of time thinking about the technologies that enable merchants to go direct-to-consumer.
Noting how a lot has changed over the past fifteen months (since the world was hit by the Covid-19 pandemic), Ethan recognizes that consumers' shopping habits have changed toward favoring a DTC model.
This is why he was inspired to bring together some of the top leading voices in ecommerce for a virtual event focused on the future of DTC shopping: "It's all about this big change of how merchants are deciding to move away from marketplaces and build those direct relationships with their customers," said Ethan.
I got the chance to speak with Ethan, along with several leading experts and investors, to get a sense of how they see the future of shopping now and why brands must pivot to reach consumers in new ways.
My conversation with them was a run-up to a special ecommerce conference on June 16th that will focus on exploring this topic even further.
Among the experts I spoke with for this first installment of our future of shopping series were:
Ethan is a partner at global venture and growth equity firm Accel, a company that has been a long-time investor in consumer and enterprise technology spanning the likes of Facebook, Klaviyo, Slack and Spotify. Lately, they've focused on investing in DTC enablement technology and are hosting the June 16th ecommerce conference.
With a twenty-five-year background across wholesale retail, Cedric is the Chief Merch Officer for Under Armour, leading product strategy and consumer merch strategy on a global scale.
Another twenty-five-year ecommerce veteran, Tom has spent the last ten years focusing on rolling out digital omnichannel solutions for global ecommerce brands, and currently works with Cartier.
Ben is president and co-founder of Octane AI, a conversational commerce company helping brands collect and segment data from customers through customizable quizzes, Facebook Messenger AI, opt-in tools and SMS campaigns. Ben will also be speaking at the Accel ecommerce conference on a panel with the CEO of Klayvio and CEO of ReCharge.
So what are some key tips to takeaway from my conversation with these experts? Let's dive into them together.
A post-Covid era: digital everything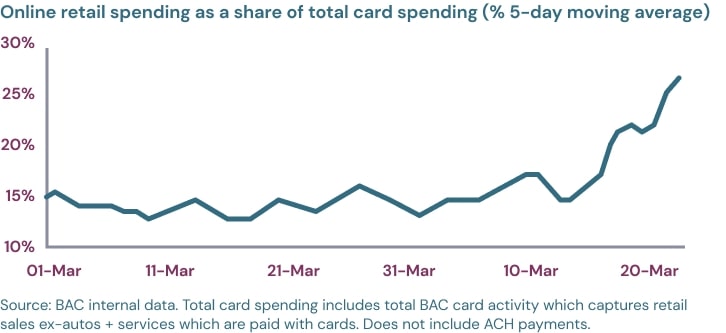 Source: Ecommerce Consumer Behavior Report
There's no doubt that Covid-19 was an accelerator of an already obvious trend towards digital shopping. But with people stuck at home, even those who were resistant to the idea of shopping online had to do it.
"I think because of Covid, younger generations are putting pressure on changing the buying cycles here…digital by far for me is my number one touchpoint."
– Tom Davis
Tom and Cedric agreed that as the world opens up again there'll likely be a boomerang effect—people will go back to in-store shopping, but the opportunity the pandemic provided brands in the digital ecommerce space will remain the same.
Many companies already have, and will continue, to make the shift towards a digital shopping experience.
Key takeaway: Ecommerce trends show that the future is digital, and covid sped it all up. We were already headed in a digital direction, but Covid forced people who weren't buying online to buy online. Because of this, brands realized the incredible potential of the online space. Now, digital has become a first-priority touchpoint and commerce opportunity for brands.
The consumer is the channel: connecting ecosystems
As Cedric said, the pandemic has shown brands that there's an opportunity to drive 50% of their business through digital commerce. That's where the shift is—regardless of if people go back to in-store shopping.
It's about the omni-experience and connecting the consumer to all your touchpoints, finding and meeting them wherever they may be.
"How we think about connecting with consumers has changed pretty dramatically over the last twelve to eighteen months. Brands need to start thinking about how to connect the ecosystem they want to create for consumers and how to touch their lives every single day."
– Cedric Fletcher
According to our experts, the consumer is the channel, and it's the brands' job to figure out how to create direct relationships with them.
One way brands have been building these relationships over the past year is through an ecommerce quiz—something that Ben and the Octane AI team are very familiar with.
Through an engaging Q&A experience that also collects zero-party customer data, brands are able to build stronger relationships than ever before—while also using that data to continue nurturing customers on every channel with better personalization tactics.
Just check out this example from Three Ships: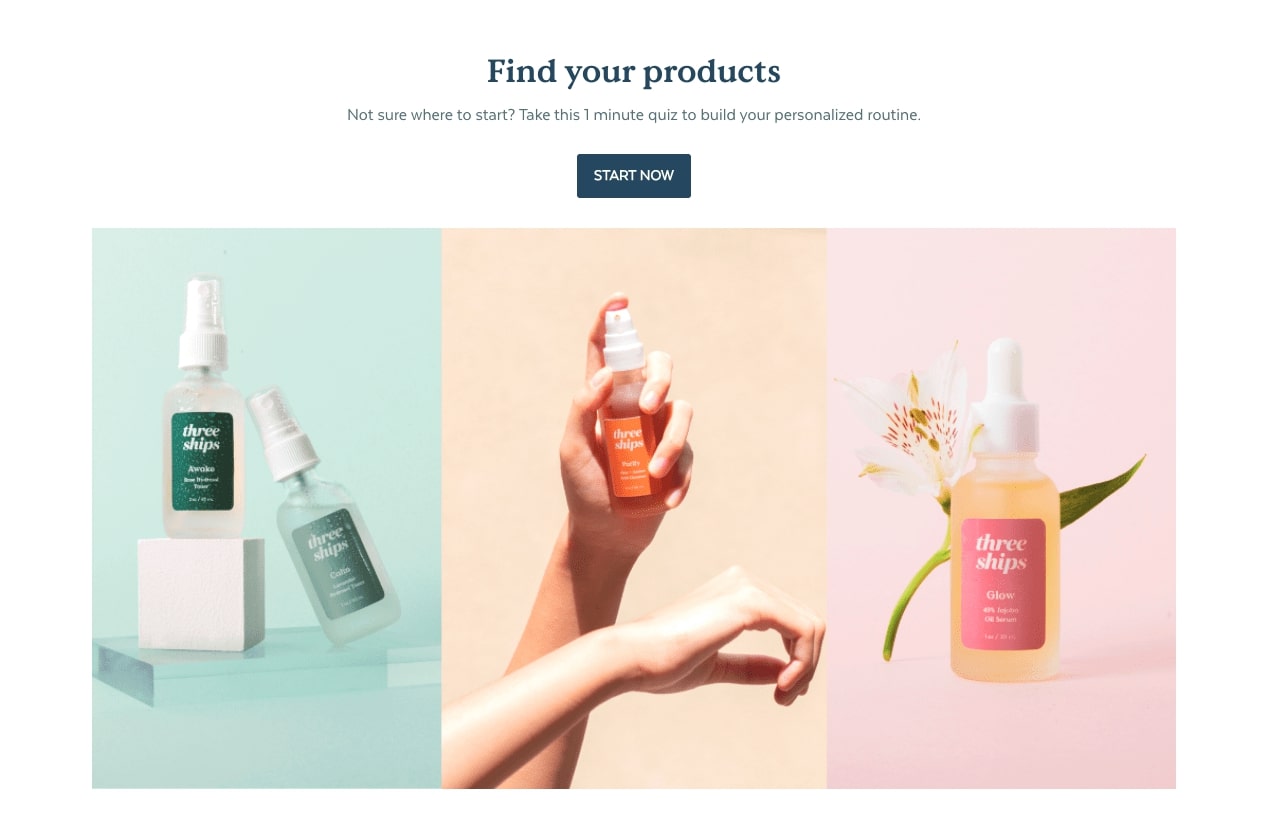 Source: Three Ships
Key takeaway: Brands must focus on how to connect their ecosystem for the customer. They have to facilitate direct relationships with their consumers, to find and meet them where they are.
A shifting landscape of technologies: keeping an open mind
The first step in facilitating long-standing relationships with customers is collecting email and phone numbers to engage them directly. Of course, that's just a piece of the puzzle, but it's an important one.
"You need to not only think about what's happening today but also the engagement techniques you use the customer engagement for."
– Tom Davis
Essentially, email and phone numbers are the gateways to thinking about the ecosystem you're creating for the consumer—one that is about selling a product but is also about inspiring the consumer and providing services and experiences that bring value to them.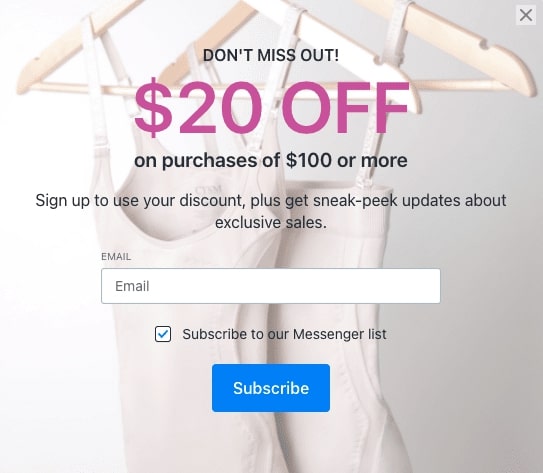 Source: CYSM
One example of a company providing just this type of experience is CYSM. Specializing in shapewear for women, CYSM makes sure to collect emails, phone numbers and Messenger opt-ins using pop-ups and their online quiz. However, it's the experience afterward that's key.
During the quiz, if a customer selects that they're looking for a shaper for medical reasons and opt-in to email marketing, CYSM reaches out with a personalized email about its medical shapers.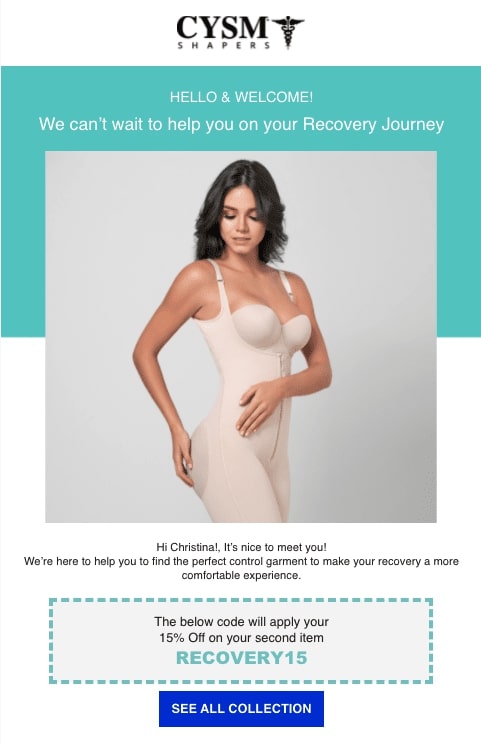 Source: CYSM
This is the kind of experience our experts suggest is key. Even companies like Apple do a great job of this by locking customers into its ecosystem by providing interconnected value and an experience they can't refuse.
"How you connect these worlds is an opportunity. The future is still to be written so I think we've got to be open when we think about what's possible and test these opportunities as they come along."
– Cedric Fletcher
Moving forward, brands need to think broader when it comes to customer connection and engagement. With the way technology has been evolving, consumers will continue to shift between multiple platforms.
As a brand, following those trends and creating impactful, direct engagements with customers is necessary not only for the initial experience but for the ability to follow up on that experience.
The future of shopping has not been determined yet, but based on what our experts have said, it's clear that it's important for brands to keep an open mind and not be afraid of testing out new platforms and opportunities.
With the digital world changing at an unprecedented pace, there's no rule book anymore.
Key takeaway: Don't get married to the platforms of today—be flexible. They will change, and while no one knows exactly how, being flexible and open in how you navigate where you communicate with consumers, drive content, engagement and commerce is essential to being prepared for the future of shopping.
So, where's the future of shopping heading?
If you're curious about tackling these topics further and hearing what more brilliant individuals have to say about them, consider signing up for Accel's ecommerce conference on June 16th, where people from leading brands will be discussing where they think the digital future of shopping will lead us.
But here are a few important lessons to take note of from this article:
Obtaining email and phone numbers for customers is an important part of the puzzle, but it's only the first step.
Figuring out what to do with those owned platforms in a way that fosters long-standing relationships with customers is key, and it requires keeping an open mind and continually testing new technologies and platforms as they come out.
The digital world and the technologies that shape it is changing fast.
Keeping an open mind as a brand and dedicating part of your budget to exploring new technologies as they evolve is critical to not get stuck in old ways of thinking.
As data and privacy laws shift and change, new technologies will emerge.
We're already seeing that with the way AI technology has evolved, and brands will only become more intent on using smart quizzes and surveys to give them access to consumer behavior and preferences.
Accel conference details: the future of DTC ecommerce
On June 16th, Accel is putting on a conference you can sign up for now called Ecomm Connect: The Future of DTC Ecommerce. They've invited a plethora of expert individuals to be panelists from leading brands such as Shogun, Facebook, eBay, BigCommerce, Klaviyo and more to chat all about what they see in the future of ecommerce.
This conference will dive into a range of topics throughout five separate panels: ecommerce platforms, social commerce, ecommerce enablement, brands and PTP ecommerce & delivery.

Katie Krische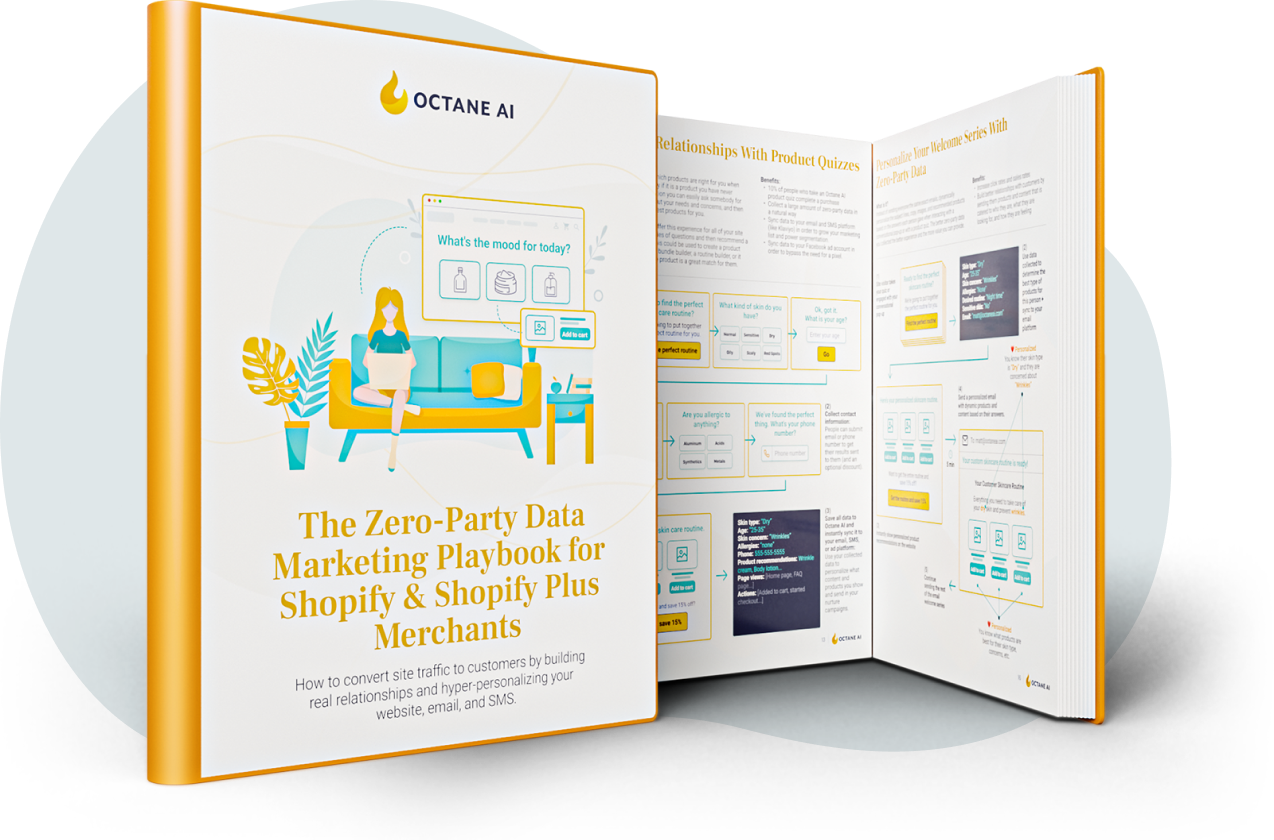 How Much Revenue Are You Missing Out On Because Your Marketing Isn't Personalized?
Fast-growing DTC brands implementing this playbook, and personalizing the customer journey with zero-party data, have connected with 16x more customers on email and SMS, seen 6x sales conversions, and increased revenue by over 50%.