Creating the most successful version of your Shopify online store is a seemingly mammoth, endless task.
There's always something you can work on improving, whether you're optimizing your keywords, personalizing the whole ecommerce experience, offering the best special deals, or getting the most benefit from your customer feedback.
Out of all of these, your most significant consideration is your products, or more accurately, how you're selling your products.
Your product descriptions are the gatekeeper to whether or not you're making sales, and if you're overlooking this element, you're missing out. Compelling product description:
Increase sales for your ecommerce site
Improves customer experience with your online store
Brings multiple SEO (search engine optimization) benefits
Let's look at some helpful hints for how to write great product descriptions.
Tip #1 Keep Things Simple
To start with, perhaps one of the easiest improvements you can make to your product descriptions is to make them simple.
If you go on any website, like Versace designer handbags, even a bodysuit selling for over $500 only had a product description less than 50 words long.
You don't need a lot. You need to keep things plain, simple, impactful, and hard-hitting, and the better you can do this, the more sales you'll make.
However, you must remember that what works for one brand may not work for you. Sometimes your potential customers may need more information so they can determine if the product you offer is for them.
Here's how Glamnetic, a popular magnetic eyelash brand approaches their product descriptions:
Very specific, divided into sections. That's an exceptional customer experience!
A simple product description is not a vague product description. Remember to:
Be specific
Make sure you focus on value propositions like quality, material, origin, comfort, and anything that makes your product stand out
Use bullet points whenever possible for more clarity
Tip #2 Use Buyer Profiles To Write Better Product Descriptions
Great product descriptions focus on the ideal buyer persona. So make sure you always write your descriptions with your potential customer in mind.
This literally means to create an image of someone who's buying your product so you can then fit every aspect of your description to them. Your product description should not be appealing to everyone!
"By aspects, marketers mean things like your language, your tone of voice, whether you're casual or formal, and so on.

Think of it this way. Suppose you're selling an 18-year-old girl in California. In that case, you're going to be writing a description that's very different to that of a 60-year veteran male in Oregon,"
explains Peter Humphrey, a Shopify expert at Boomessays and OXEssays.
Your buyer personas or buyer profiles should not be something you just come up with. You need data for that purpose and there are a few different sources you can use here. First and foremost, use Shop Quiz and Conversational Pop-Ups to collect zero-party data.
Ask questions that will help you understand your buyer personas a bit better, like:
What's your favorite color?
What kind of product are you looking for?
How old are you?
How would you describe your personal style?
What do you want to achieve with supplementation?
How many books do you read yearly?
How much weight do you want to lose?
How old is your child?
Do you have any allergies?
Need some inspiration? Check out those ecommerce quiz examples.
Other than that, refer to your social media, ads, and any analytics tools that you use to get more data on demographics, gender, interests, and so on.
Create your buyer personas in detail so you can refer to them while you're writing every description to ensure it's going to fit and have the best results. Write for your buyers. Not just for the sake of it while taking a wild shot in the dark and hoping your words work.
Tip #3 List Key Benefits and Features, Not Components
You are obviously eager to convey all the benefits of your products as an ecommerce business owner.
You want to demonstrate that your product has the best features and specifications.
The buyer, on the other hand, isn't necessarily interested in the product's little details. Rather, they want to know how it will help them.
A product feature is a technical statement about the product that is based on facts. On the other hand, a product benefit describes how the product can help the buyer live a better life.
Take this product page for example. It doesn't give specs but describes how good the product is.
Here's another example from the Dollar Shave Club brand. Instead of explaining what their product ingredients are, they explain the value behind the formula and product.
Tip #4 Make Your Product Descriptions Reflect Your Brand
There is a voice that your brand uses, even if you don't know it.
You could say it's your brand's personality, and it's vital that you pinpoint what this is and keep it consistent across all your product descriptions, and indeed the rest of your website content.
"Think about how brands like Apple have a very smooth, professional, and modern personality. They are vibrant and colorful, and hip. You see an Apple ad, and you know what it is instantly,"
explains Laura Smith, a writer at Essay Roo and Paper Fellows.
"On the other hand, the advert for a bank is professional and serious. Every aspect of the branding from the language to the imagery fits this narrative, and your products should do the same if you're hoping to make big sales."
Think of which of those adjectives describes your brand?
Humorous
Cheerful
Professional
Bold
Creative
Cool
Fresh
Modern
Mature
Warm
Trustworthy
Sophisticated
Unconventional
Classic
Fun
Inviting
Quirky
Write down your brand personality traits and make sure your product descriptions have those traits.
Tip #5 Use Power-Words
Humans are instinctively drawn to particular words and phrases that provoke an emotional response.
This, fortunately for Shopify business owners, also boosts sales.
By being aware of these terms and phrases, you will be able to persuade your consumers to take the plunge and buy.
Now, the real art is to include those words without sounding like an annoying salesperson. Here's a product description for Hoselink's retractable hose reel:
So many of the words they used are very powerful. They create a picture in their buyers' minds of what their lives will be like when they buy their products. They are also specific and balance features and benefits so it's not just fluff.
Great job, Hoselink!
Here are some power words you could use for your descriptions:
Tip #6 Optimize Your Product Descriptions for SEO
Whether you're working on your product descriptions, your images, or even your website loading speeds, absolutely everything you do within your Shopify store should be finished with SEO in mind.
Search engine optimization is critical for online stores. You can keep spending your dollars on ads, sure. But the most successful brands diversify their marketing channels. If you want to increase your organic traffic, make sure you optimize your product descriptions for search engines.
When it comes to descriptions, the most common form of SEO will be to use proper keywords that shoppers are using to find your products. With a bit of research using a keyword tool, like Ahrefs, Keyword Surfer, and Keyword Tool, you'll be able to find keywords you should be naturally inserting into your content.
This is what you should keep in mind when optimizing your descriptions (and product pages) for SEO:
Add your main keywords to your headings
Use synonyms of your main keyword across the entire copy
Use related words and phrases in your content. Eg. if you write a description for an ergonomic chair, use words like work, office, comfort, back pain, desk, workspace.
Make sure you add alternative text (or alt text) to all images on your product page
If you play it well, your product pages will attract organic traffic to your store which means more sales without spending your budget on ads.
How to write product descriptions?
Great product descriptions focus on benefits over features and specifications. Show your knowledge about your product. Tell a story with powerful words. Put your target audience in the center of this story and show them how your product will make their life better.
Secondly, optimize your product descriptions for SEO. Even if you don't get any organic traffic right now, a well-crafted copy can make a huge difference for your ecommerce brand.
Lauren Groff is a descriptions writer and SEO guru at Academic Writing Service and Essay Help. Lauren writes about Shopify stores and helping businesses make the most of their websites. Also, she is an editor at Custom Writing Service.

Lauren Groff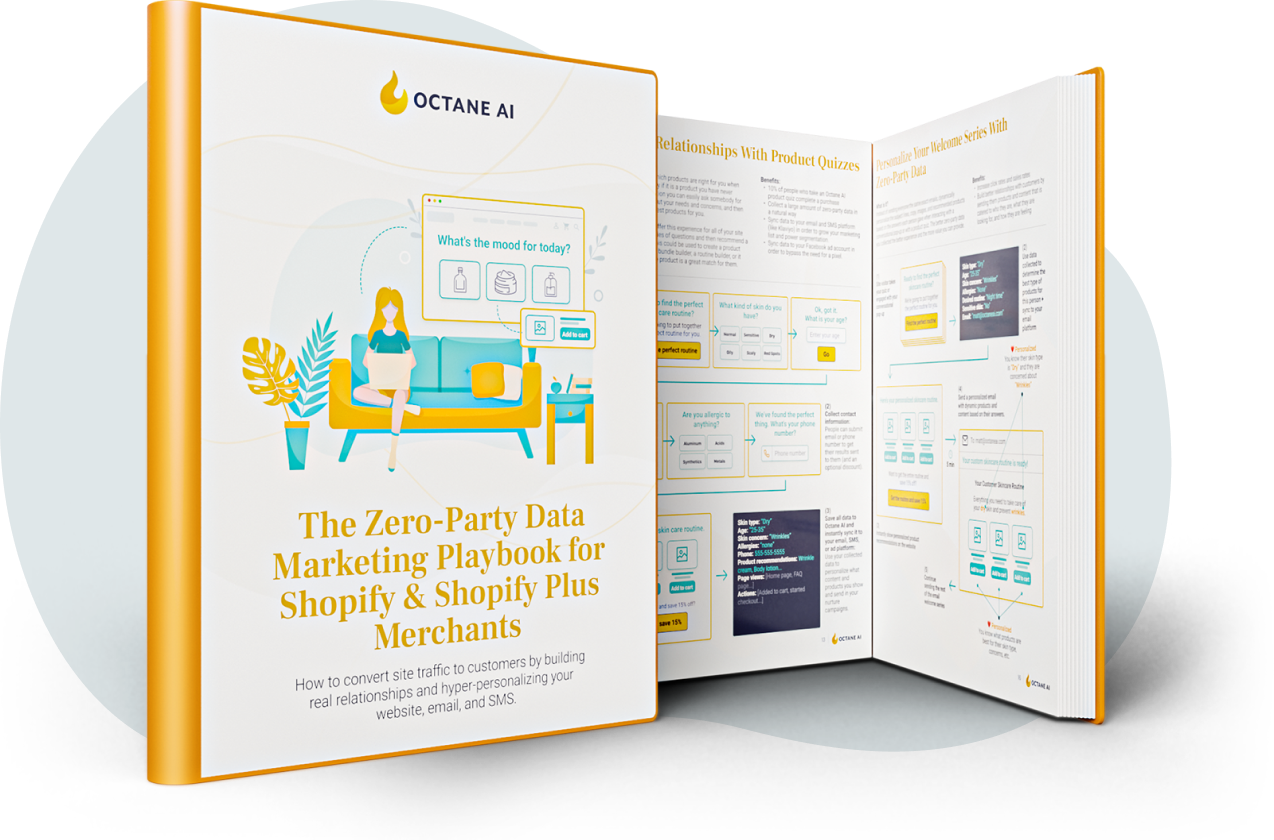 How Much Revenue Are You Missing Out On Because Your Marketing Isn't Personalized?
Fast-growing DTC brands implementing this playbook, and personalizing the customer journey with zero-party data, have connected with 16x more customers on email and SMS, seen 6x sales conversions, and increased revenue by over 50%.