Now that brands have gotten better at connecting with consumers online, growth for direct-to-consumer (DTC) companies shows no sign of slowing down anytime soon.
And after watching internet brands disrupt the market, many legacy brands are moving toward a more modern DTC approach, making it a rather crowded space.
What can you do to stand out from the competition?
Personalize the experience for customers by making smart use of data.
Cultivating a unique online shopping experience, sending personalized emails, and maintaining a strong social media presence make it easier to connect with customers — and encourages repeat business.
Quick look: What is DTC retail?
To understand how to succeed in the DTC space, it might be easier to reframe how you think about DTC brands.
Yes, DTC means that the creator or company sells directly to customers, removing any middlemen or third-party retailers, but you might be better served thinking about modern DTC companies as digitally native brands. These retail companies are born on the internet, are brand-forward, and are highly focused on customer service.
DTC brands own the entire customer journey, giving them the ability to create a seamless experience for shoppers.
How DTC brands stand out in a competitive market
To keep up with consumer expectations, build loyalty, and entice new customers, DTC companies need to please shoppers at every touchpoint. By using customer insights, brands can create a unique end-to-end experience.
TL;DR: To stand out, DTC brands should aim to provide a personalized shopping experience and a personalized product experience.
How DTC apparel brands are using ecommerce personalization (and what brands are doing it well)
Have you ever noticed how enjoyable it is to interact with your favorite brands online?
Along with offering high-quality products, they're also likely using data to create a personalized experience for their customers so they can send the right message at the right time.
Generic content is bound to get lost in today's market, but personalization can help companies increase sales, improve their customer service, strengthen customer relationships and boost retention.
Here are a few ways brands are using personalization technology to their advantage:
1. They're leveraging engaging quizzes
Creating a personalized shopping experience requires customer data. Luckily, the ease of collecting data is one of the biggest benefits DTC companies have. What's one of the simplest (and most engaging) ways to learn more about your customers? An ecommerce quiz!
What part do quizzes play in creating a personalized shopping experience?
Collects zero-party customer data. Instead of guessing what your customers want, you can ask them. People who participate in online quizzes are intentionally sharing their product preferences. They're also trusting you to keep their information secure and do something meaningful with their input.

The size-inclusive apparel company, Universal Standard, begins its gift-finder quiz by asking the customer's name, which is the perfect first step to gathering helpful information about your customers. (This also comes in handy for personalizing email marketing campaigns.)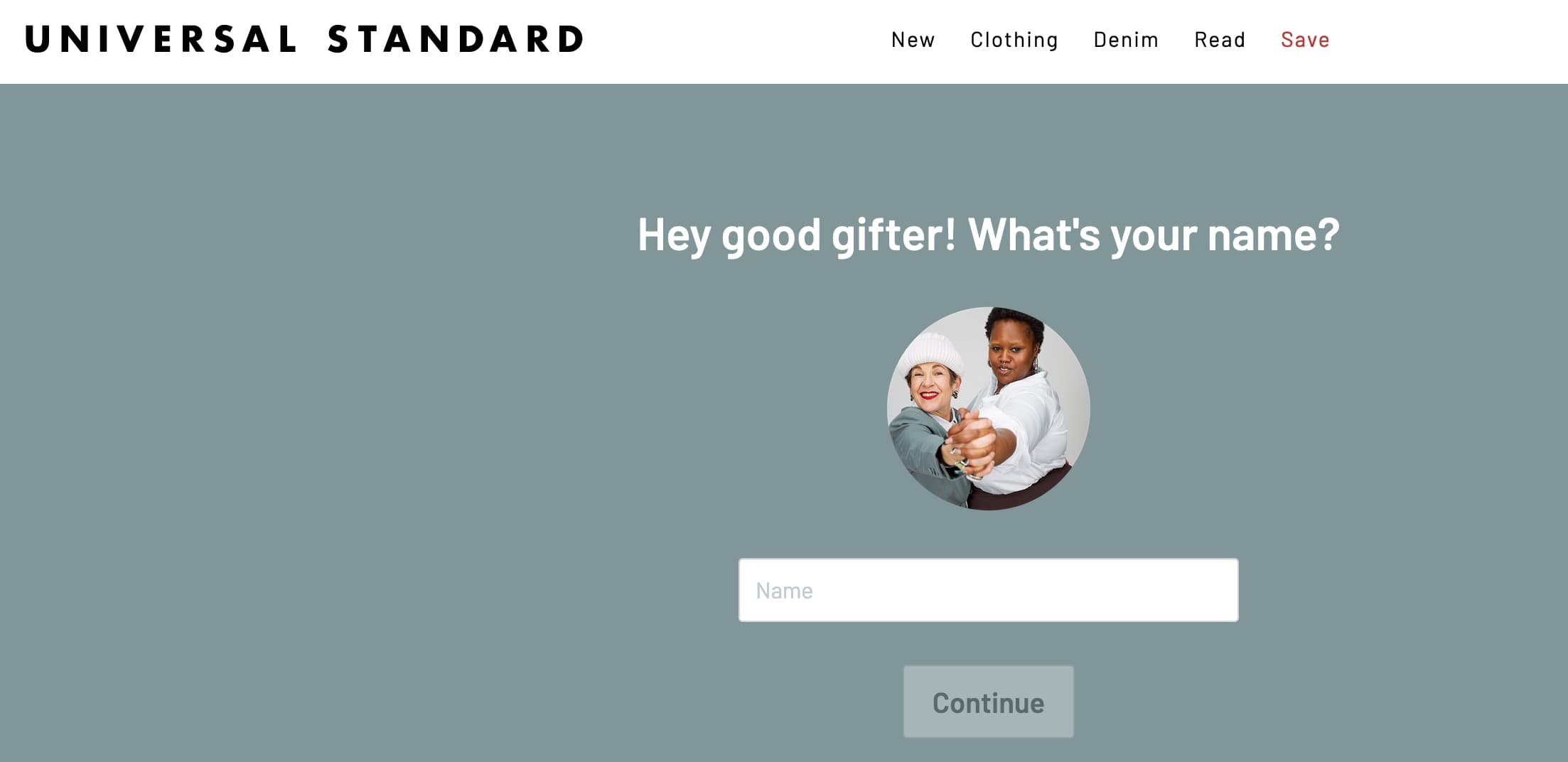 Source: Universal Standard
Captures more leads to build your email list. You can also ask customers to enter their information to get their quiz results. Use this opportunity as an opt-in for your brand's newsletter — even better, segment the leads based on the information.
For example, Aday, a minimalist clothing company, used a style-finder quiz to connect with its customers and encourage them to sign up for the brand's newsletter. Note the opt-in language that they include. It explains the value of getting on the list and points out that it's easy to unsubscribe at any time — key for email deliverability metrics and building trust with customers.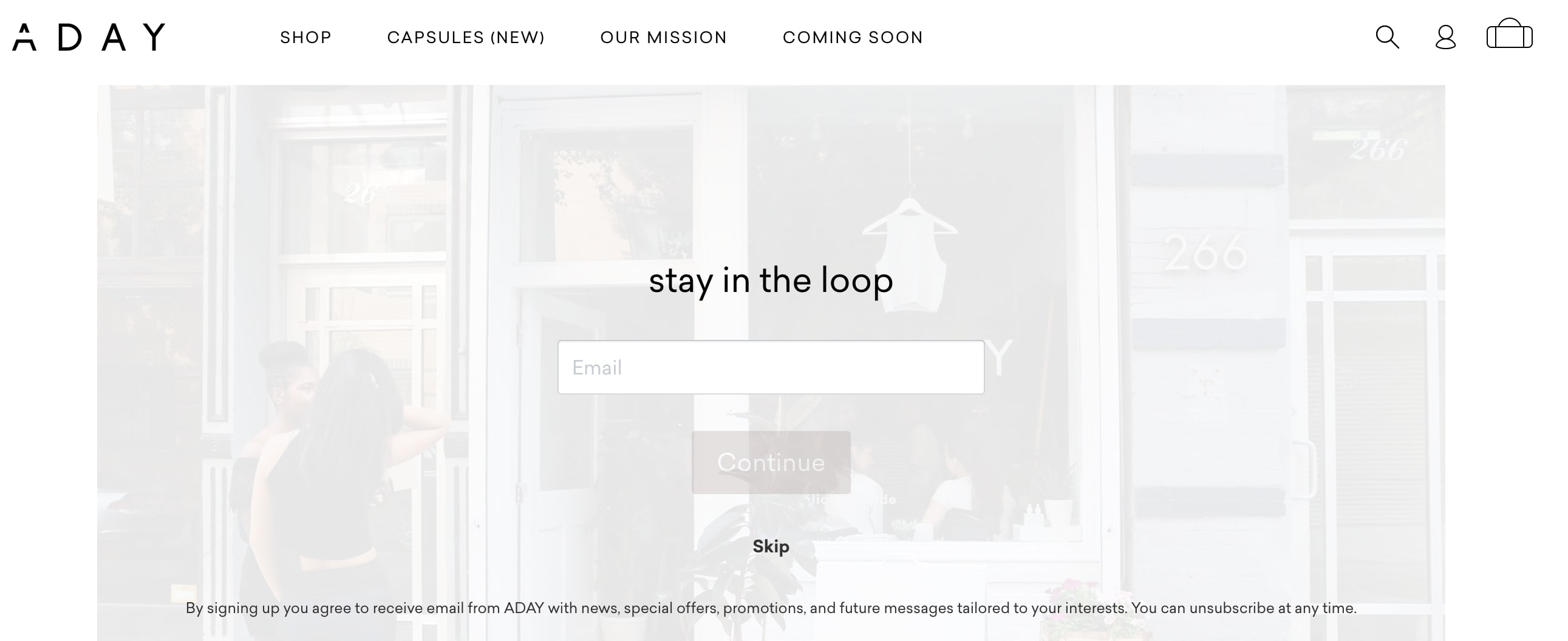 Source: Aday

Improves your conversion rate. The leads that you get via quizzes are prequalified, meaning they're already interested in your products and more likely to make a purchase.
Creates a better customer experience. Quizzes = engagement. This type of back-and-forth is both fun and helpful for customers, making navigating your site a better experience.
What types of quizzes can you create?
Not sure where to start with a quiz? There are tons of quiz examples, especially for apparel brands. You can help people find their best fit, a style they'll enjoy, or the perfect gift for a friend. You can even create a virtual consultation or just ask customers their opinions with a customer survey.
This is one place brands can have fun and be creative. Here are a few quick tips:
Use your brand's voice and mission to guide the tone of your quiz.

Try titles that challenge (e.g., "Do you know what size you actually are?") or pique interest.

Add "you" or "your" in the title.

Keep it short: 6 to 8 questions.

Incorporate photos, GIFS or illustrations.
---
Related Read: What is the Facebook Pixel and How to Use It With a Quiz
---
2. They're highlighting virtual try-ons and putting virtual reality tech to work
Product testers and dressing rooms are running their course (and certainly aren't the safest way to shop at the moment). Brands have realized that tech innovation is just as important as product offerings.
Augmented reality (AR) is allowing brands to bring the dressing room into the palm of customers' hands. Apps and web-based virtual try-ons let customers see how different products, colors and styles look.
Adidas is one apparel company that's leading the way with VR. In an effort to make shopping online a better experience and help reduce the number of style-related returns, Adidas launched an app that allows customers to "try on" shoes with one tap.
Source: YouTube
Although this is still somewhat of a rarity for apparel companies, accessory brands have been front-runners in implementing AR.

The jewelry brand Pandora has a virtual try-on experience for shoppers.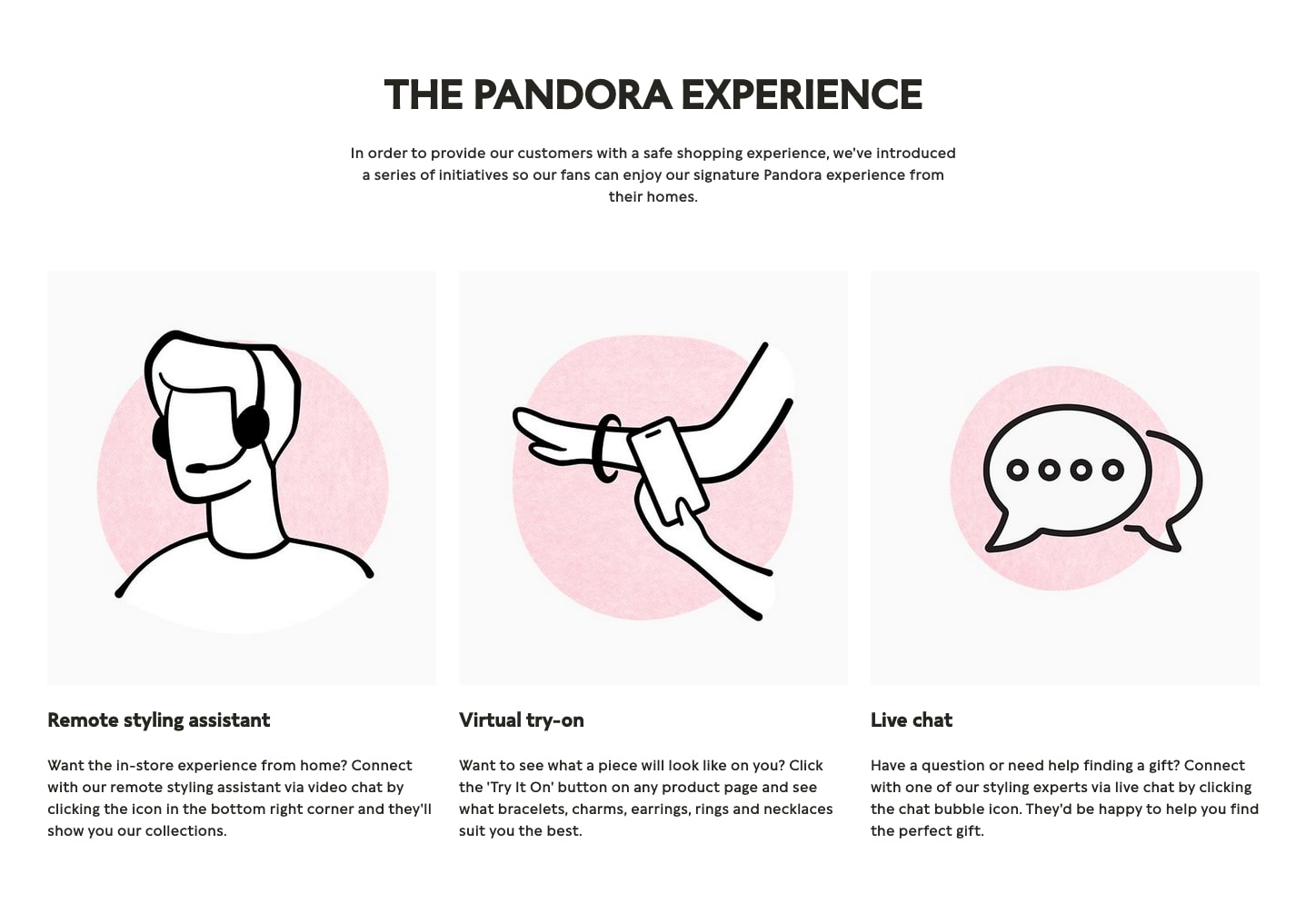 Source: Pandora
Similarly, Warby Parker gives shoppers the opportunity to do a virtual try-on in their app.
Source: Warby Parker
Brands that focus on eyeglasses, make-up, hair dye and accessories may have been some of the first to experiment with VR. But as VR technology evolves, you're bound to see more DTC apparel brands offering virtual try-ons.
3. They're offering personalized styling subscriptions (and tailored loyalty programs)
Subscription-based business models offer companies predictable revenue and consumers convenience. A study by Zuora found that subscription revenue has consistently grown "5x faster than S&P 500 Industry benchmarks."
So, what makes subscriptions so appealing?
Builds a loyal customer case. Subscription models and loyalty programs are designed to turn shoppers into repeat customers. Being able to collect data from these customers over a longer period of time gives your company deeper insights. The ability to watch a set of customer data so closely makes adjusting to the market easier.
Nordstrom calls its version the "Trunk Club." It combines aspects of subscription plans and loyalty programs into one club. And that club offers customers risk-free personalized apparel selections — a great way to keep people happy and engaged with the company.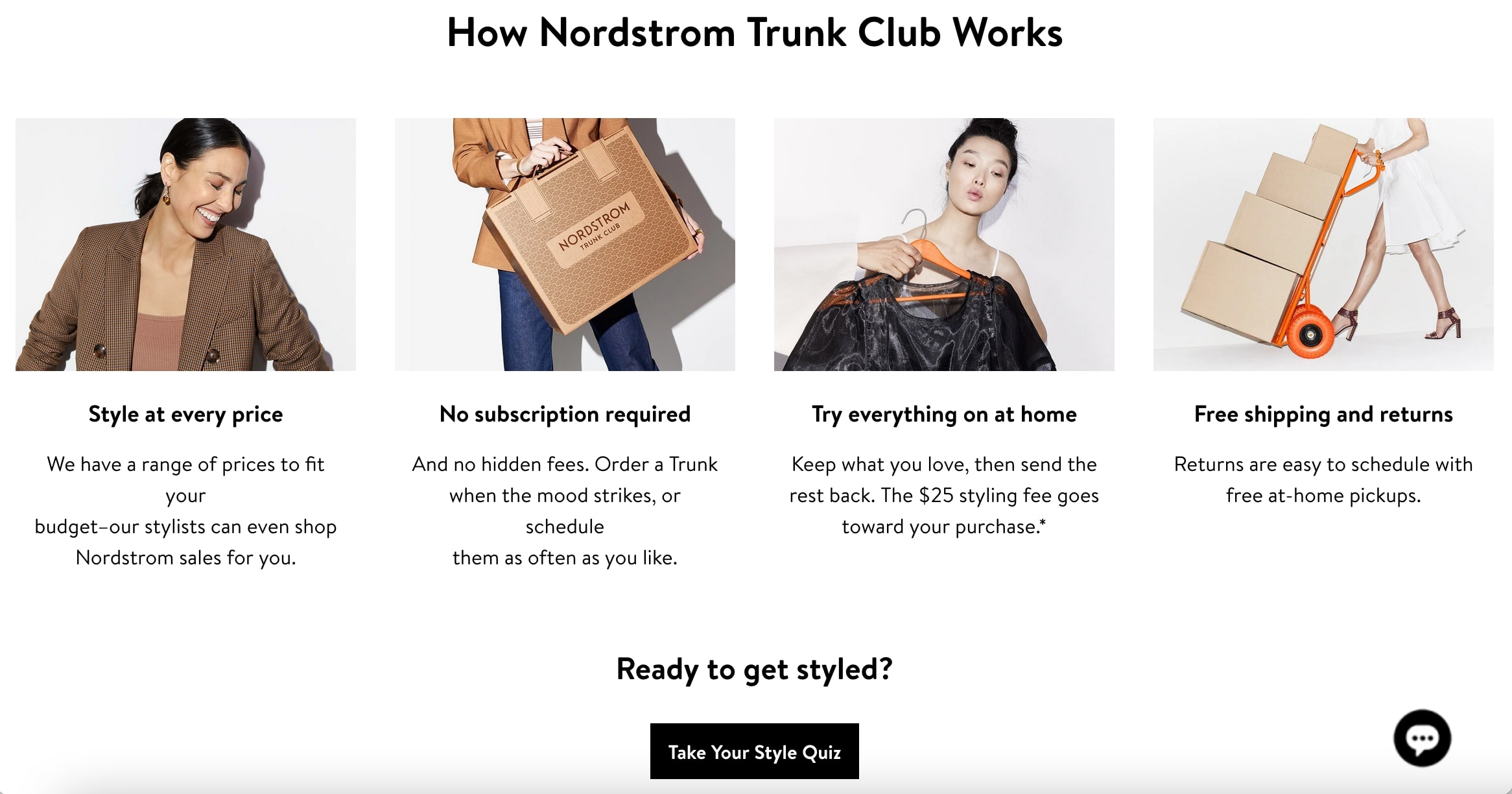 Source: Nordstrom

Keeps churn down. By nature, these loyalty and monthly programs keep churn down. Subscriptions bring in steady MRR and the perks of a loyalty program make it more enticing for customers to buy regularly.
For example, the athletic apparel company Fabletics created a VIP membership. Its program helps reduce churn and offers members special perks.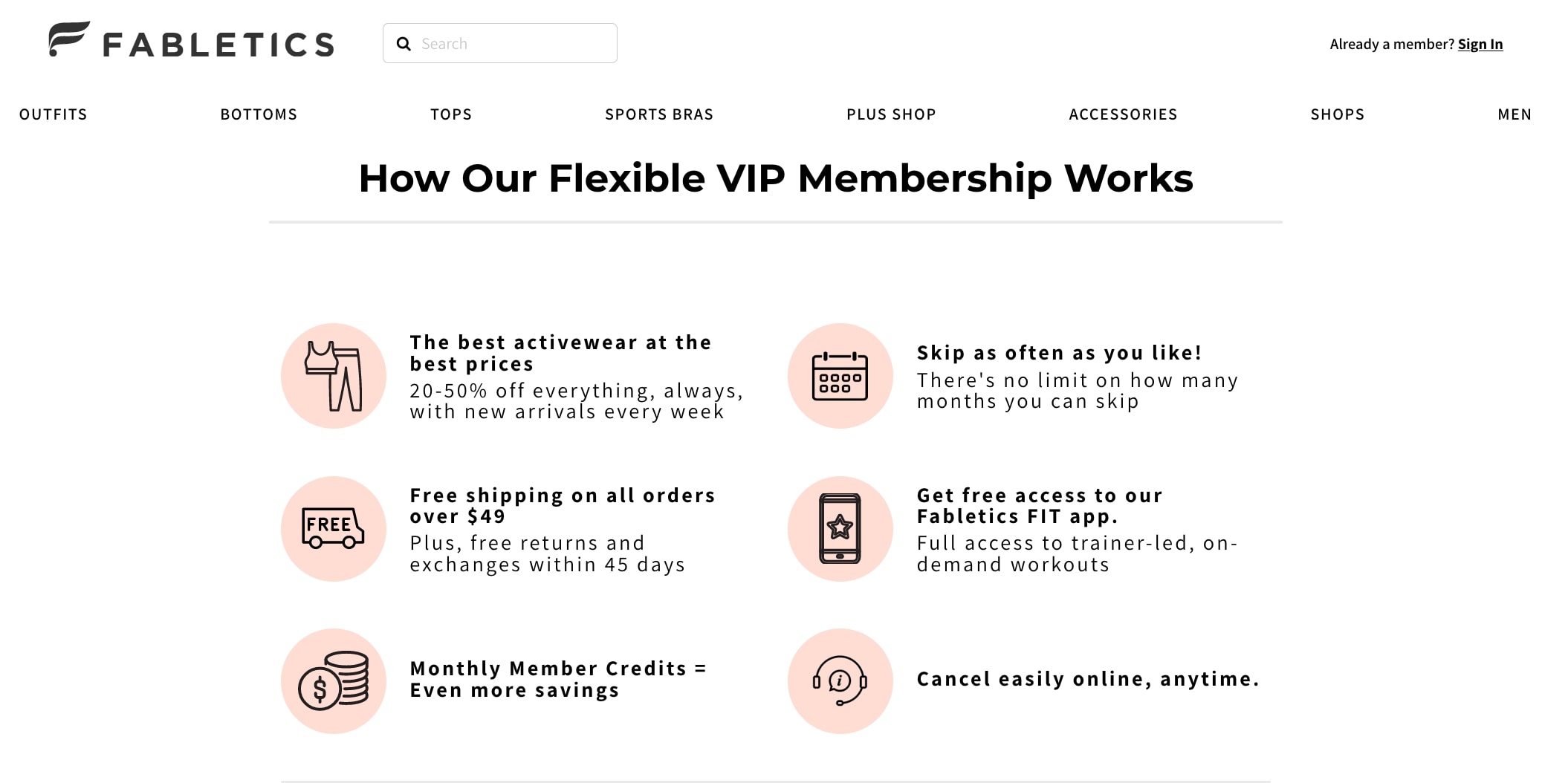 Source: Fabletics


Provides a simple and personalized customer experience. Brands that offer recurring collections for customers know that these highly personalized apparel selections take the stress out of shopping. Customers know what to expect and trust that they'll be happy with what's selected for them.
Frank and Oak recently launched its own loyalty program. Their sign-up page highlights the benefits of joining and that it's free to join — a win-win for customers and a smart move for the brand.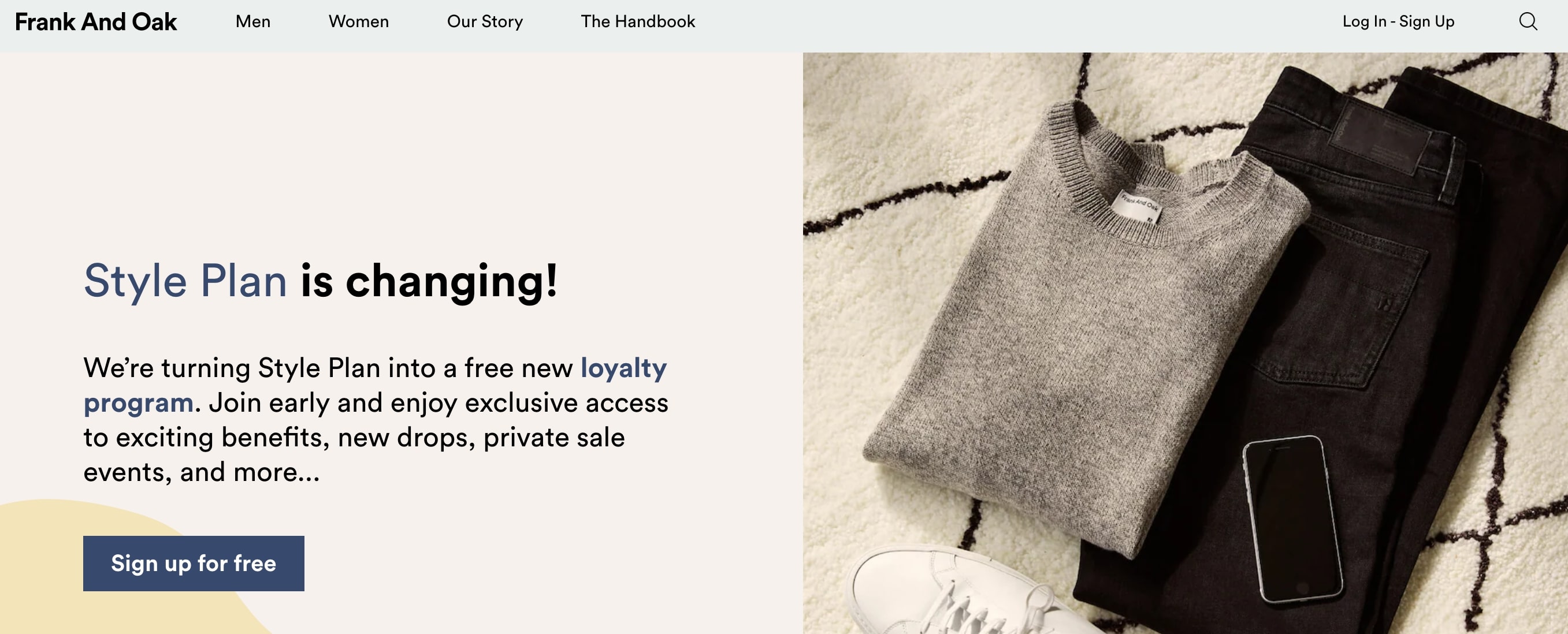 Source: Frank and Oak
What other experiences are important to today's buyers? We surveyed over 1,000 online consumers to find out. You can access all the findings in this free consumer behavior report.
4. They're making it possible to see models closer to shoppers' body types
Most people do not look like models, so picking out clothes online can be tricky (and sometimes, disheartening for customers). People want to see themselves reflected when they're shopping online.
"Radical inclusivity is about continually asking how we can cast the net wider, opening the space to many more walks of life. It's about getting to a place where what we consider to be the 'norm' in the fashion industry is characterized by a variety of skin tones, body types, gender expressions and ages," says writer Celeste Scott.
Companies that provide a more inclusive range of body types make it easier for customers to imagine how the clothes will fit them — and the chances of a return are decreased.
ASOS is a great example of brands using AR to let shoppers select a model with a body type closer to their own. The company's "See My Fit" feature is in a trial phase.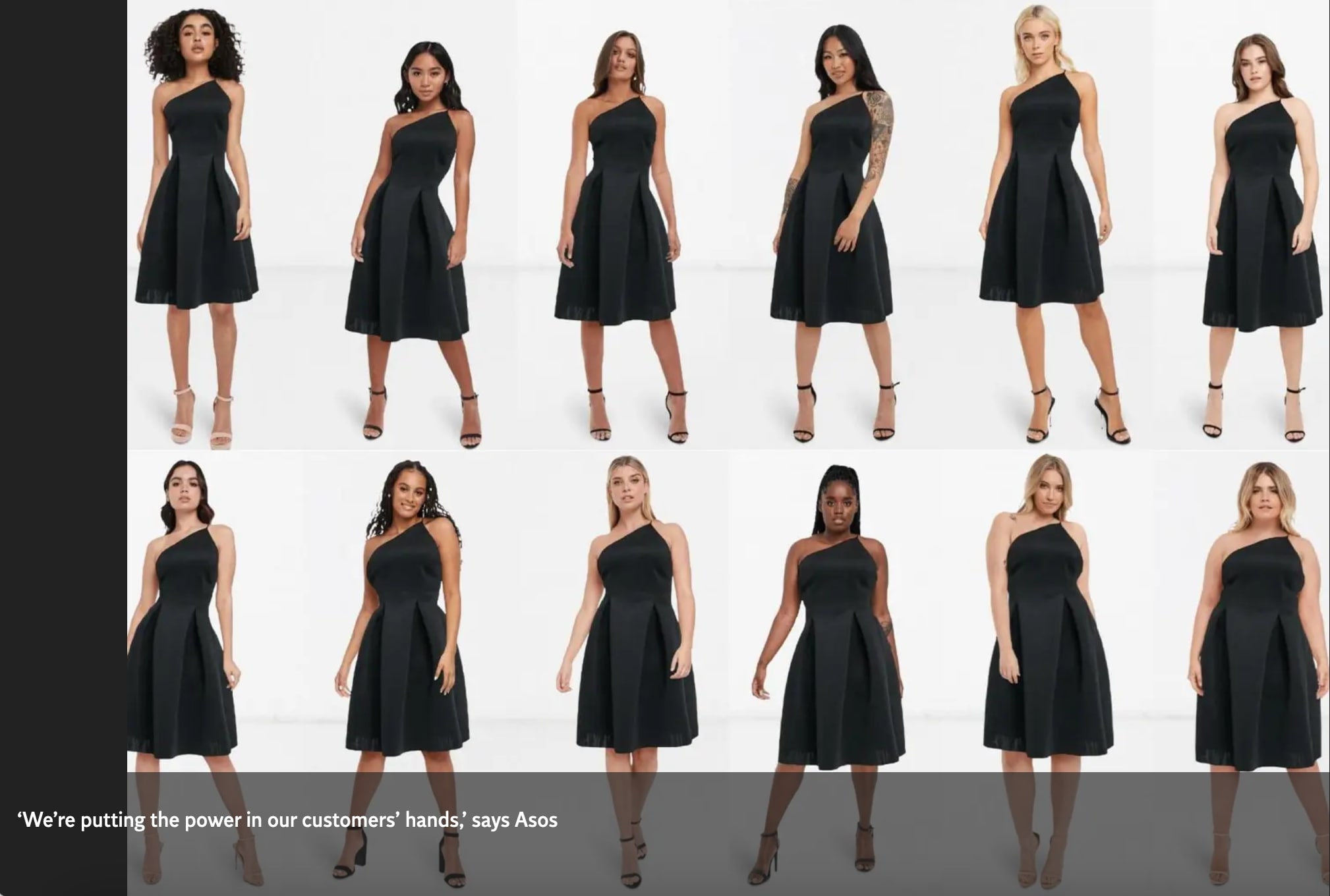 Source: Independent

Instead of using AR, Madewell lets customers switch between models, giving people a better idea of what the clothing looks like IRL.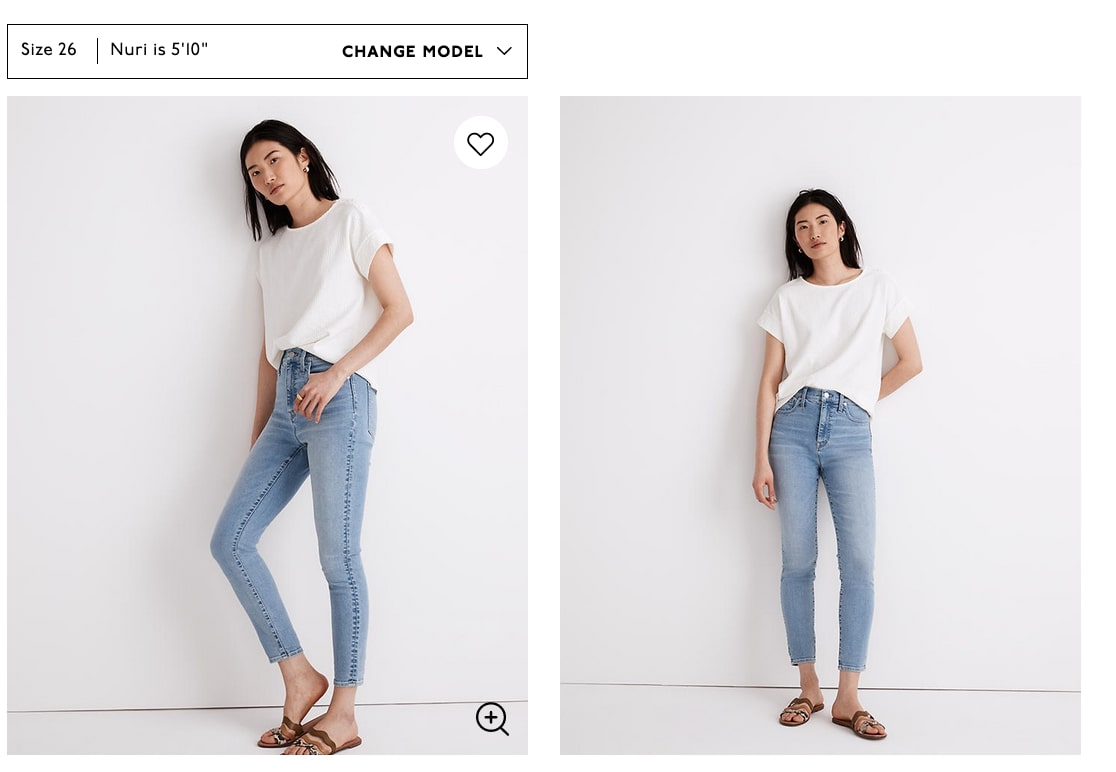 Source: Madewell
---
Related Read: 29 Ecommerce Personalization Stats Every Marketer Should Know for 2021
---
5. They're personalizing the web experience by location
Geotargeting takes personalization a step further where customer data is used to create messaging that's appropriate to their location and behavior. There are a few different ways geotargeting can be used:
Geomarketing: This allows brands to adapt advertising campaigns based on location.

Geofencing: Proximity targeting, a geofencing technology, shows promotions to people near your target location — a brick-and-mortar storefront, for example.

Weather targeting: Gives brands the ability to change promotions, products, and imagery to match the customer's location and current weather conditions.
This homepage of Very's site is a great example of weather targeting in action.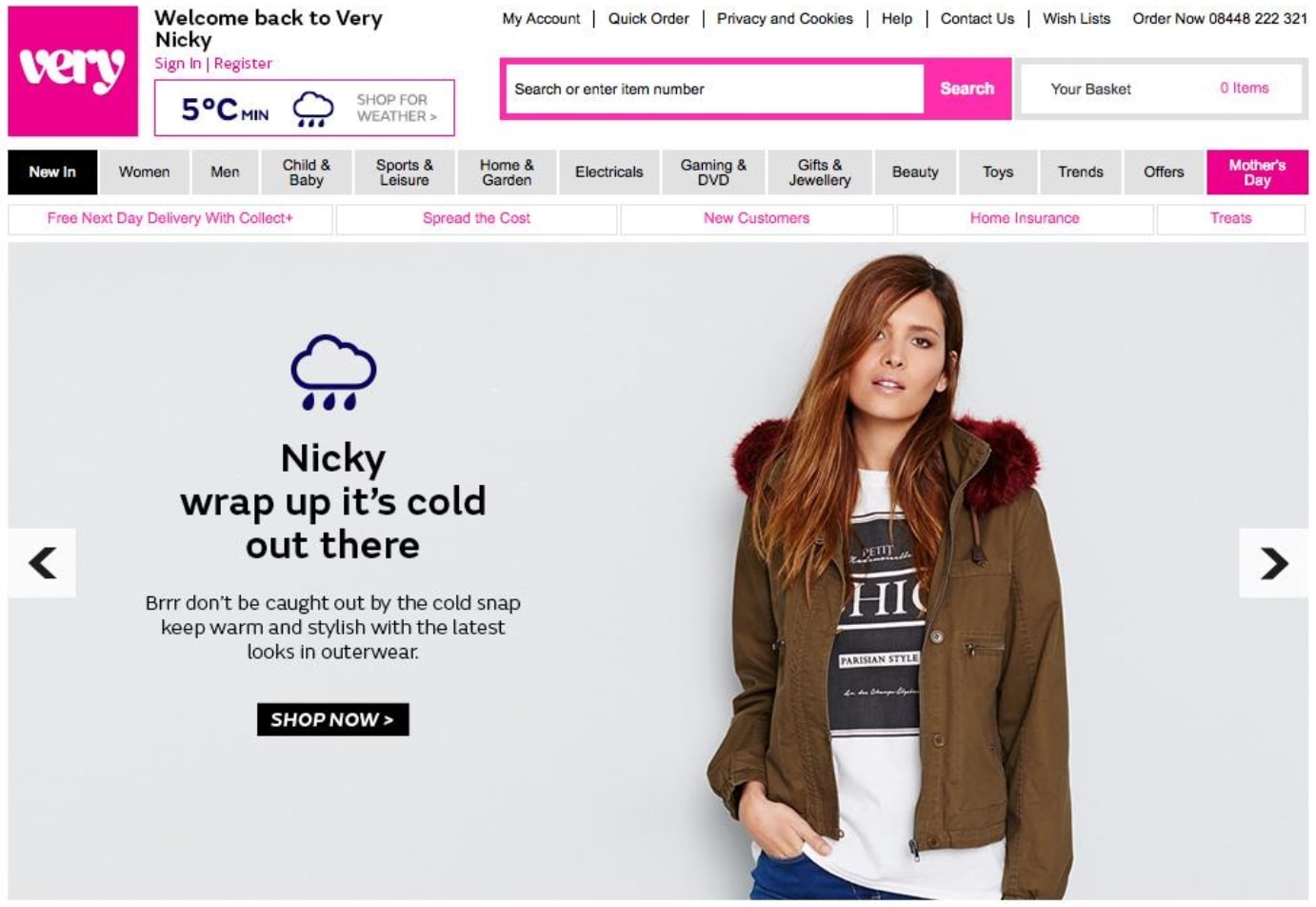 Source: Internet Retailing
6. They're making the most of abandoned carts or browse abandonment emails
The average online shopping cart abandonment rate is around 70%. Cart abandonment emails (among other tactics such as improvements to the check-out process and design changes) are one of the best ways to close up the loop in your funnel — afterall, it likely took marketing dollars to get the consumer to this point.
The good news: Abandoned cart emails in the retail industry are around 77% effective.
Here are a few tried and tested strategies for creating abandonment emails:
First things first: Make sure you have a solid subject line and a preheader. They should be catchy and relevant. (We'll include the subject lines for the examples below.)

Use creative copy to stand out.

Subject line: Sorry to hear about your wi-fi
Offer assistance.

Subject line: Did you see something you liked?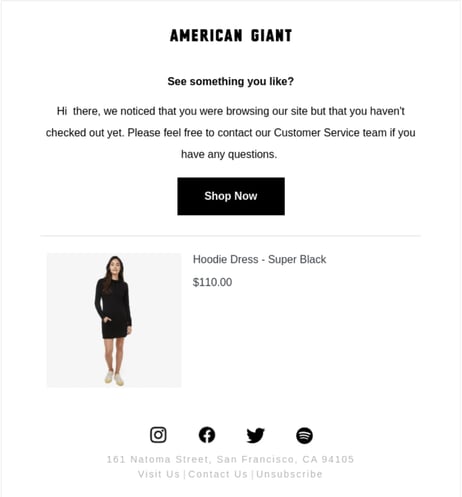 Appeal to FOMO.

Subject line: Did you leave something behind?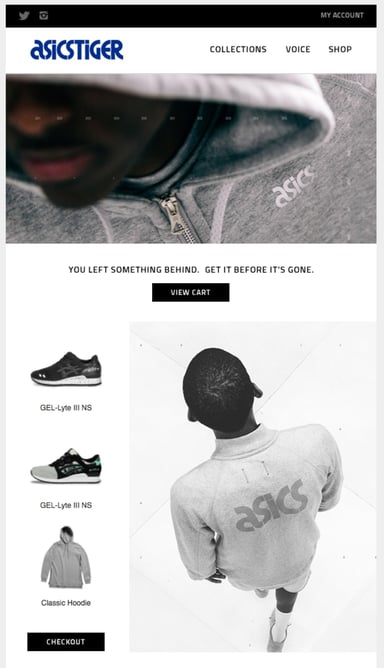 Send a simple reminder.

Subject line: You seem to have been interrupted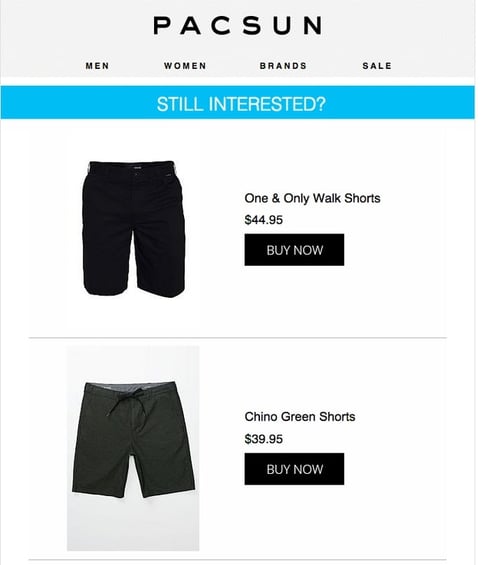 All of these companies used a unique, brand-driven approach for their abandonment emails, but it's better to have some kind of abandonment messaging than wait for the perfect design and copy. Email marketing is all about testing, so if abandonment emails are a new or young project for you then start simple, test often, and iterate.
7. They're creating SMS or Facebook Messenger flows
SMS and Facebook messaging give brands a unique opportunity to have timely back-and-forth conversations with customers. For DTC companies, these types of personal connections are important — usually cornerstones of their customer experience strategy.
What are the benefits?
SMS and Facebook Messenger have higher open rates and click-through rates than email.

You can send personalized product suggestions (and provide a shoppable link) to customers and answer questions in real-time with AI.

These types of communication are both efficient and cost-effective for companies. AKA: The ROI is noticeable.

SMS and Facebook messages are easy to automate. The feature is essential to streamline your communication process.
Need proof? Learn about how one apparel company generated $155,000.00 in 30 days with messenger and SMS automation. Download the case study here.
SMS and Facebook Messenger marketing work well for:
Cart abandonment reminders

Order confirmations

Shipping updates

Customer service

Product launches

Sale announcements
8. They're giving personalized website recommendations
When you're shopping online, there isn't always a sales associate or a stylist available to help with outfit suggestions. But personalization can help fill that gap.
Typically, three types of data are used to put together a complete picture of the consumer:
Aggregated data: High-level data, similar to a summary.

User-specific data: Stored information about individual customers.

Static product data: A snapshot of data (as opposed to dynamic data).
That information is used to surface personalized product ideas for the customer.
Nordstrom, for instance, uses this data to include relevant recommendations in its order confirmation emails. The suggestions are based on past purchases or items that customers have looked at previously.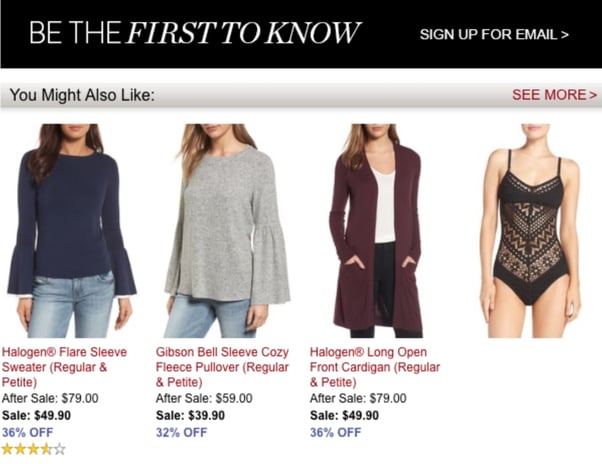 Source: Campaign Monitor
Aerie uses customer data to suggest items that pair well together — think matching sets or products that other shoppers have bought at the same time.
Source: Aerie

Although these types of product suggestions are common online, consumers still appreciate the extra personalization.
Provide great products and a great experience to succeed.
As you can see, DTC brands are at the forefront of personalized digital experiences. With the data that's available, brands are getting to know their customers better than ever. They're harnessing technology to deliver the right message (and the right products) at the right time.
That's what makes the customer's experience a great one.
Interested in offering a more personalized customer experience? With solutions geared toward conversions, Octane AI's quiz, Facebook Messenger, SMS and Opt-in tools can be managed in a single dashboard (and synced with Klaviyo and Facebook ads).
Chat with us to learn how we can help!