With most businesses moving online and the competition getting stronger, customer retention will be critical in 2021. Why? Because the growth trend that started after the pandemic is continuing in 2021.
Retaining your ecommerce customers translates into lower costs while boosting your profits. Therefore, a business must entice new customers to return for repeat purchases in order to seize this opportunity.
A study conducted by Invesp in 2020 concluded that the chances of selling to an existing customer are 60-70%, whereas the likelihood of selling to a new customer is between 5-20%. How do you retain your customers? The answer is simple: by ensuring an incredible customer experience.
What makes the CX so important?
Ecommerce stores are not selling products anymore — they are selling the experience.
The experience offered relies greatly on the quality of customer service that is being provided. A Zendesk study says that 49% of respondents who had a poor customer service interaction with a company shared it on social media as opposed to 38% of people sharing their good customer service interaction. The same study found that 97% of customers who received bad customer service ended up changing their future buying decisions.
Unfortunately, this data shows that customers are more likely to remember and share a negative experience compared to a good one, which is why you'll want to ensure customers leave feeling satisfied and supported by your brand — good customer service can achieve just that.
7 ways to improve your customer experiences
A business can employ different techniques to ensure that its customer retention remains high, and most of these have to do with providing a well-rounded customer experience. Here are a few ways you an offer great customer experiences that leave a lasting impression.
1. Use the RFM Model
The RFM model, also known as the recency, frequency and monetary value model, allows you to identify and then market to consumer segments depending on their transactional behavior. It is one of the best ways to carry out marketing automation, which plays a crucial role in customer retention.
For the RFM model, you can use a scale of 1 to 5 or 1 to 10 and assign each customer a score for how recently they have purchased, how often and their orders' monetary value. For the monetary value, you can use the average value of their orders or the lifetime customer value, depending upon what makes sense for your business.
For the five-point scale, a 555 score would imply that these customers are your best customers. A customer with an RFM score of 355 would imply that you need to reach out to the customer again for the sake of re-engaging. The RFM model can help you understand how to connect with each customer based on their recency, frequency and monetary value. This leads to brands being able to strategize better targeted, effective and customized email and text message marketing.
2. Customer Onboarding


You can use a customer onboarding program to establish a relationship with your customers. The onboarding program must encourage your customers to do the following:
Create their account on your ecommerce site

Subscribe to your

promotional texts, emails and store's content

Join your brand community
Reach out to your customer service team as required
Become your followers on social media platforms
Download your ecommerce app, if applicable
The onboarding process relies on your customer service strategy and can be improved by making use of automation. For instance, you can send a customized message when a customer makes a second purchase or when your customer downloads your ecommerce app. Allbirds, a company that specializes in footwear, relies on thank you emails as part of its onboarding process (and later on as well for different milestones) to make its customer feel a part of something big.
For customers that have previously purchased from you but haven't returned for quite a while, you can always re-engage them by having your customer service team reach out to them with exciting offers or content.
3. Build Communities
When it comes to building communities, the basic goal is to create a social media group where your customers are able to interact with your business. You can invite all of your shoppers to join your community and treat the group as a social media marketing, customer service and content marketing platform.
Your customer service can cater to the issues that the customers share in this community, and it's an opportunity for you to re-engage them by giving particular unique offers, content or early access to new products.
4. Create personalized content for customers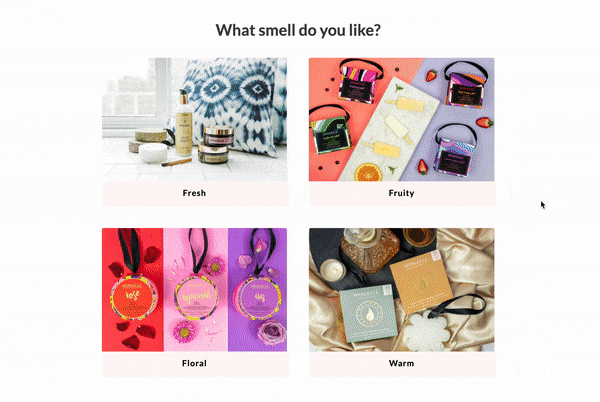 The more information you have about your customers, the better position you're in to create a personalized approach for them. A CRM software helps you learn about the customer's purchase history, thus enabling you to craft offers that would be appealing to your customers and will be highly relevant.
However, you can take this one step further when you start collecting buyer profile data on customers, and the best way to do this is with an engaging on-site quiz. Ecommerce quizzes is a great way for online brands to ask customers a series of questions to recommend products they'll like.
There are a variety of ecommerce quiz types, from gift finders, size finders, to product matching. Any ecommerce business, no matter the industry, can benefit from an online quiz. This is because the questions help you learn personal information about a customer's needs or interests, which you can then use to retarget them with personalized emails, ads and more.
5. Offer Subscriptions
Subscriptions are great if you're selling consumable products, and they offer plenty of benefits to you and the customer as well. For starters, the customer won't have to worry about placing orders with a subscription — everything they need will come to them at the right restocking period. However, subscriptions can also work well for offering unique brand experiences; a good example is Italic. If customers subscribe to Italic, they're able to purchase high-quality items that big-name brands sell without the brand label. People pay a yearly subscription fee to be able to purchase from the brand (kind of like Costco).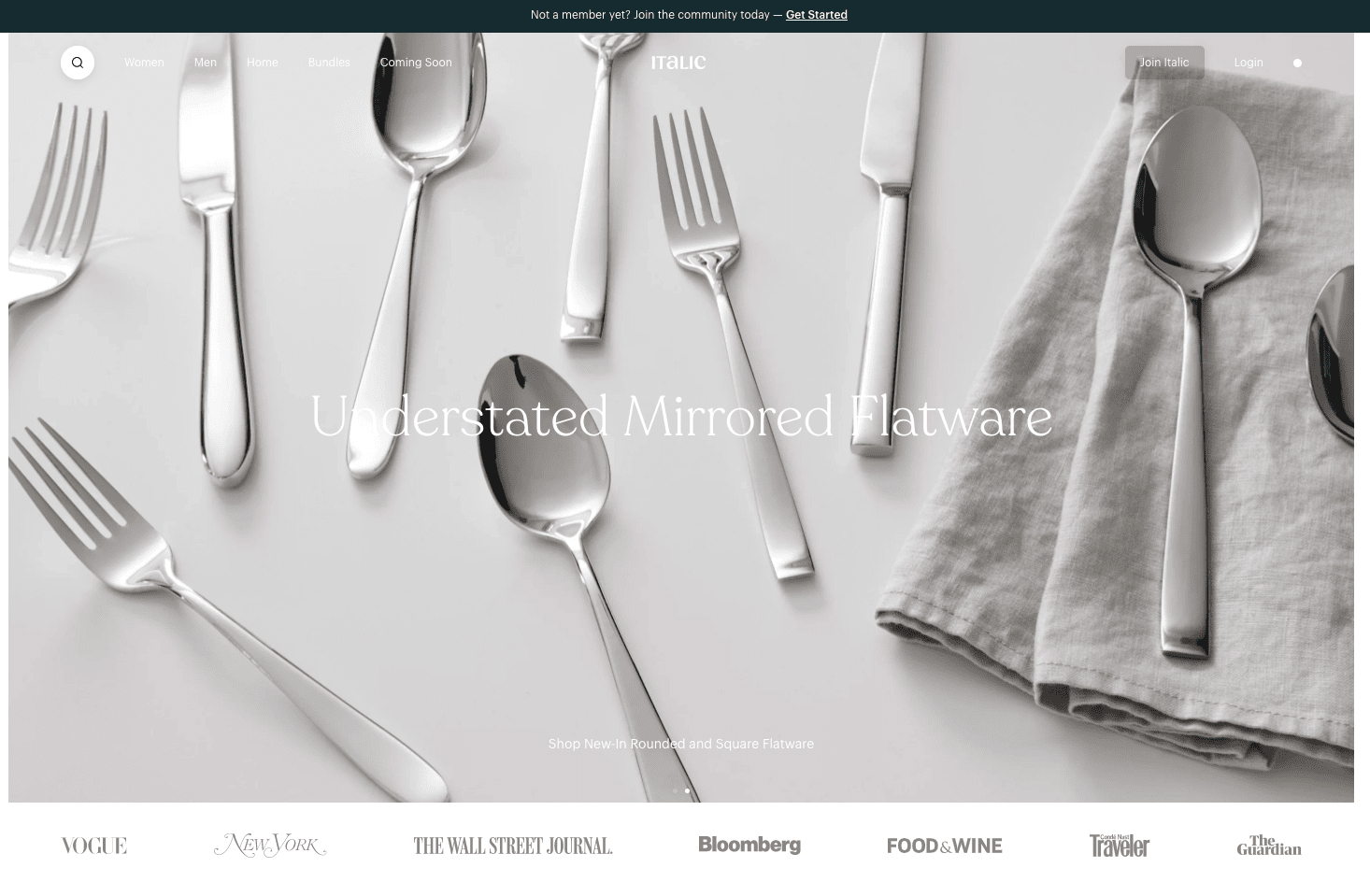 Source: Italic
For your business, you will be enjoying improved margins, less expensive shipping, and easy inventory management. Your customer service team can check in with your subscribers and inquire if they want to add something to their subscription or ask them if there's anything they would like to be improved.
6. Focus on Your Customer Service
We've been talking about customer service chipping in for the previous techniques. However, customer service in itself is a reason why your customer retention improves or declines. As mentioned earlier, good customer service can help you retain customers and lead them to become repeat customers.
Did you know that customer service is treated as a marketing function as opposed to operations by some ecommerce companies? The customer service representatives that are answering Facebook messages, texts, emails and phone calls are part of the marketing department. They can convince customers to increase their order and suggest items relevant to them for purchasing.
That's why, if you want to enjoy higher customer retention in 2021, you must actively invest in and improve your customer service. Your customer service team should be on top of order tracking, tackling angry customers and sorting their issues out quickly and effectively.
7. Omnichannel Communication
When it comes to excellent customer experiences, omnichannel communication can play a vital role. In fact, it is one of the CX factors that directly affects retention. An omnichannel communication strategy enables your customers to connect with you through various methods, including email, phone calls, chatbots, text messaging and social media channels.
Customers today not only expect support from businesses on all of these channels, but also expects a consistent experience. Nothing puts off your customer more than starting an interaction on a specific channel only to be told to reach out to the company via another channel to resolve their issue.
Aberdeen Group states that "companies with the strongest omnichannel customer engagement strategies retain an average of 89 percent of their customers, as compared to 33 percent for companies with weak omnichannel strategies."
A few last words on the customer experience
When it comes to building a memorable customer experience, creating and executing strategies will take time. However, to ensure that your strategy is effective, come up with a set of metrics that you can track to assess how well it is performing.
At the end of the day, you will be saving costs by catering to your existing customers instead of acquiring new customers.