As the popularity of social media, SMS, and chatbots has increased over the years, so has the perception that email is less effective for brands and businesses wanting to communicate directly with both current and potential customers.
Nothing could be further from the truth...right, Tracey Wallace?
Ecommerce email marketing is a crucial component of a well-rounded communication strategy for direct-to-consumer (DTC) businesses. When executed well, email marketing helps you turn leads into buyers, nurture long-lasting relationships with existing customers, increase engagement, boost revenue and stay top of mind.
So what are the types of emails ecommerce stores should be betting on to convert and nurture customers? We'll dive into some of the best campaigns we've seen.
But first, let's do a quick refresh on what ecommerce email marketing is, and why it can make all the difference between the success and failure of an online store.
If you already know all about the what and how of email marketing, then jump right into the examples.
What is Ecommerce Email Marketing?
As the name implies, email marketing is any marketing activity undertaken by a brand that relies on email as the primary form of communication to both current and potential customers.
It's a highly effective channel that benefits businesses wishing to generate sales and nurture relationships with customers — in Q1 2021, ecommerce emails sent through Klaviyo had an average click-through rate (CTR) of 3.62%, with automated emails and workflows seeing a 5.82% average click rate.
At its best, email marketing has the potential to establish a personal relationship with the customer that is unrivaled given its effectiveness and comparatively low cost.
But fostering a customer relationship that is based on credibility, trustworthiness, and brand recognition is one of the toughest challenges for both new and established DTC businesses.
Why Does Email Marketing Matter for My Store's Success?
With an average ROI of $36 for every $1 spent on an email marketing campaign, it's clear that not focusing on your email marketing game is a mistake that could prove fatal to even the best brands — especially in 2022 when companies are betting on retention to offset the changes in data privacy and consequentially, the rising costs of acquisition.
When formulating an effective ecommerce email marketing strategy, it's worth considering what makes email so crucial for DTC businesses.
Email Helps Brands Build and Nurture Relationships
Email marketing allows you to engage with your best customers regularly and can be highly personalized to their likes and pain points. It's a private channel where you have the opportunity to cater to their exact needs and show up with helpful tips, content, offers, and product recommendations.
The challenge lies in constructing engaging campaigns and automated flows that stand apart from competitors in your customers' inboxes.
Take healthy food brand Hunter & Gather for instance. With the help of Blend Commerce, Hunter & Gather deployed a product recommendation quiz to learn about their customers and started to segment and personalize their email marketing. The results? Revenue from their email flows increased by 258%, with overall revenue from campaigns rising by 82% compared to the previous year.
When using email in a respectful, personalized way brands can build relationships with customers that are both genuine and profitable.
Email Drives More Sales
Emails that customers find informative, fun, and of high-value incentivize them to visit your store and complete a purchase.
A study discovered that 73% of consumers cite email as their preferred marketing channel, and experts agree that when executed well, ecommerce email marketing should represent about 25-30% of your store's overall revenue.
Email is an Owned Channel
An owned channel simply refers to any form of communication a business has that does not rely on outside platforms or publications for its creation or delivery. It's free, it's yours!
Examples of owned channels other than email include websites, blogs, organic social media posts, and SMS.
DTC brands using owned channels benefit from complete control over the content and delivery of their messaging, with email being one of the most low-cost and profitable examples of this.
Email Is a Key Influencer of LTV
Customer lifetime value (LTV) is a metric that helps businesses understand how much an existing customer will spend on their products or services over the lifetime of that customer.
Astoundingly, repeat customers spend on average 67% more than new customers.
Combined with the fact that it's generally 5x more expensive to attract new customers (who spend less than existing ones), increasing the LTV of your existing customers becomes integral to any successful business strategy.
Now that you know why email marketing is definitely alive and well, let's look at 18 examples of brands that have mastered email marketing for ecommerce.
18 of the Best Email Marketing Campaigns to Send in 2022 and Beyond
Hopefully, you have come to realize just how important building an ecommerce email marketing strategy is for your business.
Ecommerce email marketing strategies will vary from brand to brand but the different categories of email that can be sent to customers generally follow similar formats.
There are 3 categories of email that are referred to when discussing the best ecommerce email marketing examples.
These are transactional, lifecycle, and promotional emails.
Transactional emails are most often used to convey information associated with purchases or other interactions a customer has with your business.
Lifecycle emails are based on the actions a customer takes in your storefront.
Promotional emails are employed to raise customer awareness of new products, services, bundles, and promotions.
Growing your email list, sending engaging email campaigns, and high-converting automated flows should be at the top of your list. And looking at successful campaigns used by other DTC brands is one of the best ways to learn what can work for your brand and get much needed inspiration.
So let's dive in!
The Welcome Email
This is often the first communication that you'll have with a new or potential client who has expressed an interest in your brand.
A welcome email, or welcome email series, is your opportunity to introduce yourself and leave a positive impression.
And you know what they say, "you don't get a second chance to make a first impression." 😅
Brands see on average a 50% open rate for welcome emails, so having an engaging flow or at least one email set up can go a long way.
A great welcome email example is this one from Hush Puppies.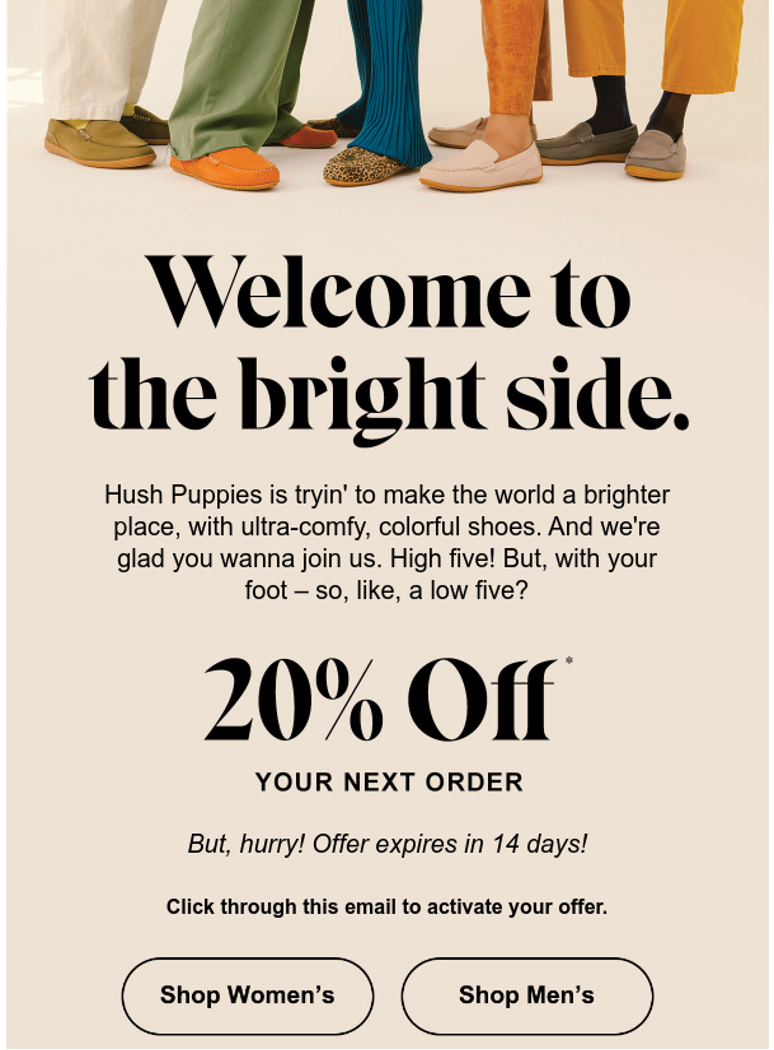 They make excellent use of color, images, and humor to convey a simple message that gets customers to engage with their brand. The copy also gives incentive for people to shop, create a sense of urgency and a clear next step.
The Founder Email
This email campaign allows you to communicate the values of your brand directly to the customer.
It's one of the best ways to make them feel heard, understood, and important.
A well-crafted founder's email is possibly one of the most difficult ecommerce email ideas to implement correctly as they have the potential to be overly complicated and information dense.

This email campaign from Kulfi conveys a deeply personal and meaningful message from its founder and CEO. It uses inclusive language to great effect, making the reader feel like they're part of something bigger and more important as opposed to just being a customer. People are buying into the brand and its mission of inclusivity, not just a product.
Top Tip: The founder's email is equal parts about the customer than it's about the founder. Tell you story, but make the content relevant and relatable to customers and you're sure to have the impact you are looking for.
The Curation Email
Well-crafted curated newsletters combine information from other sources that their customers will find helpful and don't have the time to search for themselves, often paired with commentary and opinions that are relevant to the content of the email.
They are an opportunity to build credibility with your customers and to become a thought leader in your specific industry. But they can do even more...

This newsletter from Old Pal wonderfully illustrates how creating a sense of community and involvement can be leveraged to produce engagement. It took the fear and uncertainty, pain and heartbreak that many of us experience and turned it into a positive force for good that customers can relate to. Old Pal is also not afraid to take a stand into day-to-day issues most people are affected by, which can be powerful in creating brand loyalty.
Top Tip: Some customers may not be receptive to this form of contact. Letting them opt in or out of your curated emails while still being subscribed to your other forms of communication is a great idea. You can do that by creating a preference center.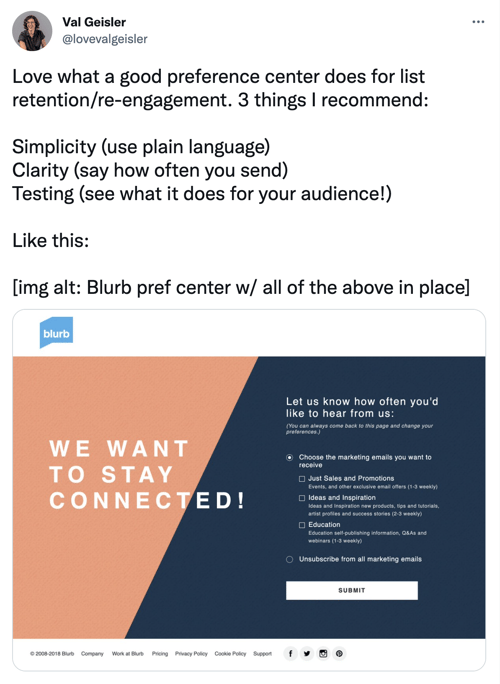 The Engagement Email
Having active subscribers increases your sender's reputation meaning there is less chance that your emails will be marked as spam and not seen by your customer.
With the average person receiving over 100 emails per day, it's important to get subscribers to engage with your email and click the CTA.
Urban Outfitters takes its clear understanding of its customer base to the next level with this engagement email. They know how their customers prefer to communicate and structured their engagement email as a fun instant message with a clear CTA.
Top Tip: Don't be afraid of humor and light-hearted language. Asking a customer to re-engage with your brand can be confronting. This can be mitigated by making the overall tone of the email fun and buoyant.
The Referral Email
This is one of the best ecommerce email marketing tools available to businesses today.
They're sent to existing customers and advocates of your brand to inform them of the details of your referral program and to improve your referral rate.
They serve the dual purpose of enticing your existing customer back to your store and driving new sales.
In this example, Flexfits uses a concise CTA right after an engaging and vibrant image that delivers the message almost own its own. It's simple and easy to understand with the benefits of the referral program clearly stated.
Top Tip: Get to the point. Make the information the customer needs to know about the referral program as easy to understand and as simply stated as possible. As Michael Scott and Dwight Schrute would say, use the K-I-S-S method (Keep It Simple Stupid). 😂
The Discount Email
We've all fallen into the trap of purchasing something we weren't planning to because it was on sale or we had a discount, right?
This is backed up by research with a 2018 study indicating that 94% of customers search for deals and specials when making online purchases.
The discount email takes this consumer behavior and harnesses it to drive sales.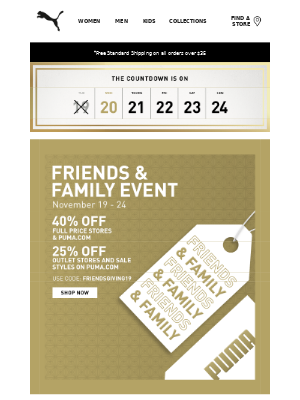 Here, Puma takes advantage of the power of a massive discount and also uses a countdown timer to create a sense of urgency and drive shoppers to the site right away.
Consumers love to feel that they're getting an incredible deal and offering large discounts is one of the best ways to achieve that.
Top Tip: If you are going to offer a discount, be sure not to make it too regular an occurrence as customers will come to expect that price often when they shop with you. Instead, invest in referral incentives and VIP rewards.
The Cart Abandonment Email
When considering how to increase sales through email marketing, a great cart abandonment email is one of the first options you should think about.
It's estimated that ecommerce brands lose approximately 18 billion USD every year due to cart abandonment.
A cart abandonment email is an excellent transactional email that businesses can use to nudge their customers to purchase the items placed into their carts but we're left behing (common objections can be extra fees, taxes, or shipping charges that weren't clearly understood at the time).
But the problem is that most abandoned cart emails are too boring and generic.
Joanne Coffey, Assistant Manager of Retention Marketing at Jones Road Beauty says it best, "I think the days of 'hey, you left something behind' are over, everyone has seen that message."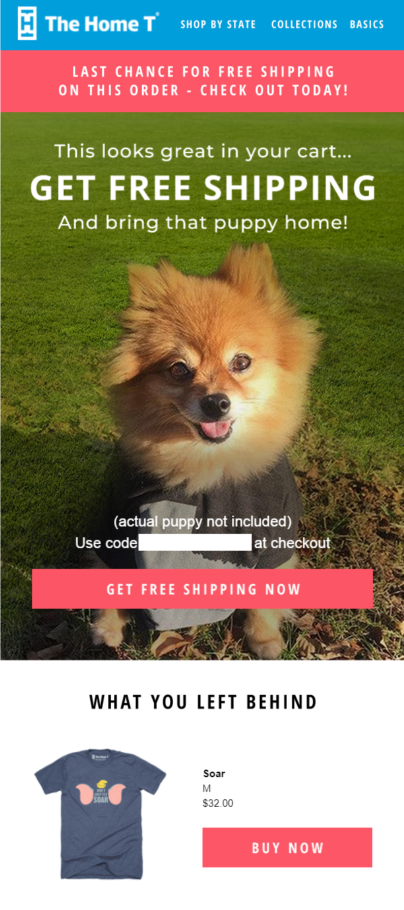 The Home T makes excellent use of humor and a free shipping offer in this cart abandonment email to encourage their customers to proceed with their purchase.
Top Tip: Consumers are tired of the same old "you forgot something in your cart email" so using humor, personalization, or an incentive are three great ways to steer clear of being ignored.
The Quiz Results Email
Haircare brand Curslmith uses an Octane AI quiz to educate customers on their hair type and why the recommended products suit their needs. At the end of the quiz, Curlsmith provides a results page that focuses first on education, followed by a haircare routine that customers can easily add to the cart.
Okay, so you are probably thinking where does email come in? And why send an email when they can see their quiz results in the browser?
Well...
Using the Octane AI and Klaviyo integration, Curlsmith set up an automated email that sends quiz results to shoppers' inboxes. And this his one automation is singlehandedly bringing in 2.5% of Curlsmith's overall revenue.
Some of your customers may not be ready to pull the trigger on a product straight away, so sending them their quiz results via email gives them another opportunity to check out your brand and the products best suited for them.
Top Tip: Get a product recommendation quiz! Sending shoppers their personalized quiz results via email is a great way to remind people of your brand, give them a direct way to add products to their cart, and convert site visitors into customers. And the best part is that this can be a one and done email automation.
The Order Confirmation Email
One of the most straightforward transactional emails, the order confirmation email helps build trust and credibility with customers after they decided to make a purchase.
Customers expect an order confirmation email to indicate their purchase was successful and confirm all the details were correct. This means they're much more likely to take the time to read the email and not just skim it or automatically delete it.
While an order confirmation email may not be an immediate opportunity for another sale, it does lead to higher levels of brand loyalty and is an opportunity to express gratitude and continue to bond with your customer.

Athletic Greens makes great use of simple design, clear language, and direct communication to tell their customers everything they need to know about their order while also congratulating them on taking their health and well-being seriously.
And it goes one step further by reinstating its mission and making customers feel a part of something bigger (i.e. the Essentialist Nutritional Movement).
Top Tip: An order confirmation email should be sent immediately and without any delay. A professional ecommerce email marketing automation tool can help you to achieve this. Oh, and goes without saying, but we'll say it anyway: as supply chain issues continue, don't forget to warn your customers about any potential shipping delays.
The Shipping Confirmation Email
Another transactional email, this is simply a communication between you and your customers to inform them that their product(s) have shipped and give an estimate of delivery through a tracking code.
It's the most exciting email a customer can receive and can be used to build engagement and loyalty.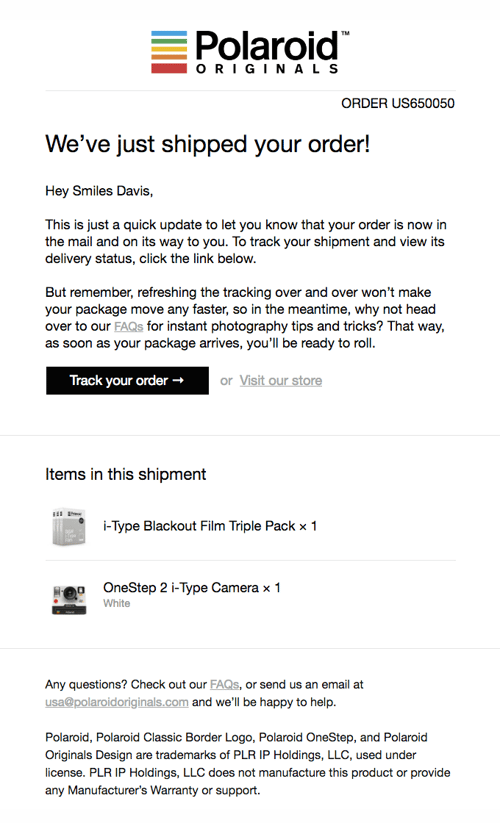 Polaroid utilizes inclusive and upbeat language in this shipping confirmation email to capitalize on the excitement the customer is experiencing. But more than that, it uses this email to educate customers and try to lead them back to the website (which is quite genius given that order and shipping confirmation emails have the highest open rates).
The Upsell or Cross-sell Email
Earlier we discussed how much easier it's to sell to an existing client than to spend the time and money to acquire a new one.
This is where the upsell or cross-sell email can be of immense value to a DTC business. But in case you are wondering, there's a difference.
Upselling encourages customers to purchase a higher-end product than one previously bought, while cross-selling incentivizes customers to buy related or lateral items.
Both help brands take advantage of the loyalty and trust they have built with their existing customers.

Here, Dollar Shave Club takes advantage of small, incremental additions to an existing order to nudge their customers into spending a little more over time. It's informal and light-hearted with a catchy opening line that disarms the customers and incentivizes them to add to their purchase without being pushy.
Top Tip: Make sure that the products you are presenting to your customer are closely related to those they have already purchased. Personalization of this nature makes upselling and cross-selling emails seem less robotic, more relevant, and more impactful.
The Win-Back Email
Most businesses can expect to lose approximately 20% of their customers in a year. Inflation, competition, forgetfulness, or a bad customer experience can all be determining factors in whether a customer decides to leave your brand.
With new customers costing almost 5x more to acquire, winning back customers who have already expressed an interest in your business should become a high priority.
The overall goal is of the win-back email is two-prone: to try to win the customer back and otherwise, to neaten your internal database by removing them from your contact list.
A win-back email is usually a one-off message or an email sequence that entices the customer to re-engage with your brand by purchasing and attempting to find out the reasons they left in the first place.
A win-back email flow should trigger at specific points of the customer journey (like when a customer made one purchase and never purchased again, but they do open certain promotional emails. Or those who have purchased twice within three months and then don't make a purchase in the following six months).
Win-back flows are usually an automated sequence of four to five emails with different overall premises but the same goal: get the customer to purchase again. They are:
Reminder email: give customers a nudge and remind them that you are there to fill a need.
Incentive email: if a nudge wasn't enough, consider offering a promo code, bundle, mystery giveaway, or another incentive to tip the scales in your favor.
Feedback email: send emails with a quiz or survey asking customers about their experience with your brand and why they are no longer interested. This can help you identify issues with your product, customer experience, or marketing and make improvements.
Last chance email: give customers a last chance to shop with your brand. You can reshare an incentive here and also inform customers you'll unsubscribe them unless they engage with this email.
Unsubscribe email: If none of your previous messages gets a conversion, then it's time to keep your list clean; unsubscribe that customer from your list and let them know.

Who Gives a Crap makes incredible use of color and imagery in this win-back reminder email. It engages the customer, forcing them to think about what they are reading and internalize the message. It's so on-brand, fun, and engaging. It doesn't feel pleading or confronting and it would honestly make me pile up on toilet paper.
The Thank You Email
One of the most underestimated ecommerce email marketing campaign ideas is to send your customer thank you emails. You can thank your most valued customers, those who have recently made a purchase, customers that have decided to subscribe to your mailing list or newsletter, or you can do something like Brooklinen has.
A personalized, sincere thank you email is one of the best opportunities a DTC business has to strengthen its relationship with current customers. It makes your customer feel valued and leads to an increase in LTV.
Brooklinen gets right to the point and hooks the reader by stating that this thank you email is not a marketing campaign. Then they proceed to add credibility to the brand by sharing and celebrating the Forbes article. And Brooklinen reinstates multiple times throughout the note its gratitude towards customers.
Top Tip: Not every email needs to be filled with vibrant product imagery. Sometimes a short note with simple but genuine copy can be more powerful than a promo email.
The Take Our Quiz Email
If you have a product recommendation quiz in your ecommerce store then you should make sure to send an email incentivizing customers to take your quiz.
Quizzes provide personalized product recommendations that increase consumer confidence in completing a purchase. And they can help your brand learn about people and store customer data — in a non-creepy way!
The TLDR; is that you want to keep your customers engaged, provide a delightful experience, and make it easy for them to buy from you. And using the quiz as CTA is the best way to accomplish this.
In this email, Jones Road Beauty announces a new bundle and then directs customers toward a quiz that can help them find their perfect shade of Face Pencil and Miracle Balm.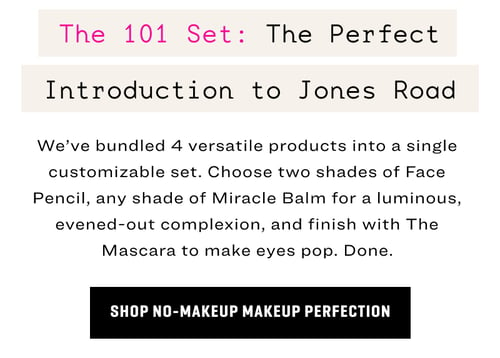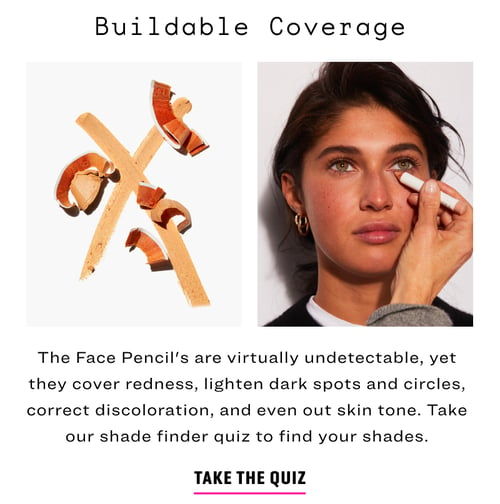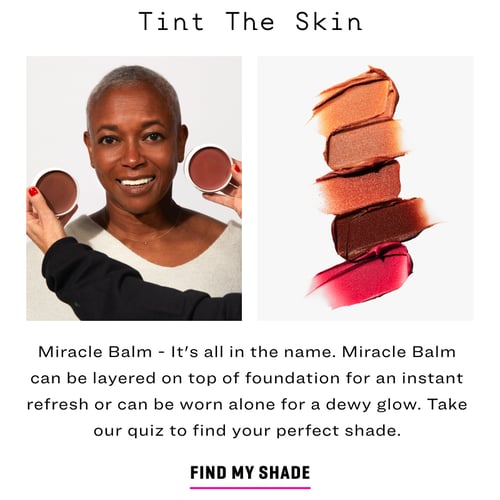 The Product Launch Email
Product launch emails are used to announce and build excitement around a new product or bundle that is about to hit the market and are highly effective at the beginning of the product lifecycle.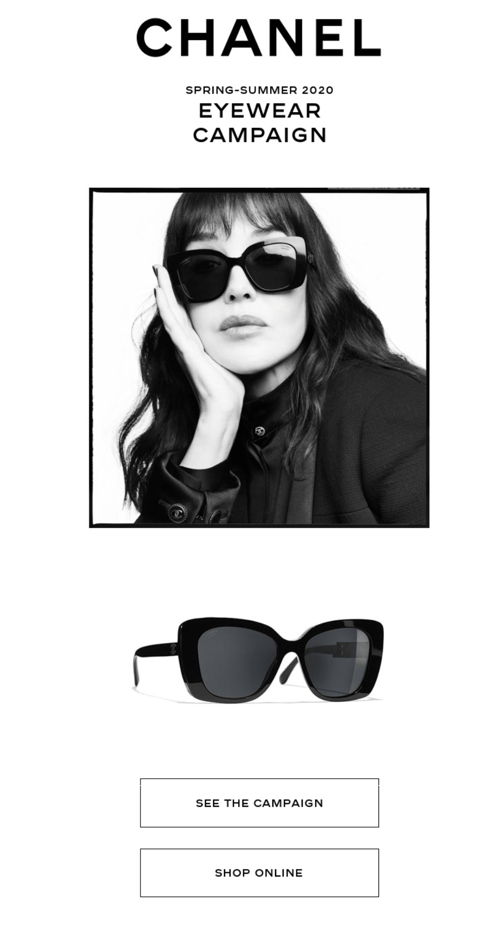 Chanel is one of the most valuable brands in the world, but they still see the value in communicating the upcoming and new products they're launching.
This product launch email from them stands out due to its simplicity and minimalistic design.
They use images to great effect by leaning into the aspirational nature of the brand, staying true to the brands' luxurious look and feel.
The Seasonal Promotion Email
The seasonal promotional email takes advantage of the increase in consumer spending habits that are tied to the different holidays, seasons, and special events people celebrate.
When shoppers are spending more, it's important to capitalize on that by offering them promotions and discounts to entice them to purchase from you.
We love this email from Three Ships Beauty using a pain point that many people experience during the summer (sunburnt skin) as a way to promote a skincare bundle routine that can help nourish and restore skin back to health. The design is beautiful, each step of the routine is explained and at the end, Three Ships seals the deal with a discount offer.
Top Tip: If we've learned one thing from Three Ships' emails is to hit customers with social proof again and again. In this email, they share a glowing review from a customer that used the products to treat her sunburn and loved it. So remember, use social proof in your seasonal emails. Nay, use it everywhere!
The UGC Email
A user-generated content (UGC) email is a message between your brand and shoppers that includes reviews, testimonials, videos, or other content that is created by happy customers.
In the US, 95% of consumers read online reviews before they shop, with 93% of consumers finding UGC to be valuable when deciding which product is right for them.
The UGC email is extremely cost-effective as your customer becomes the content creator and adds credibility to your product.
And at the end of the day, if we marketers learned one thing is that people trust and buy from people (there is a reason why affiliate and influencer marketing has become so popular and fomenting word-of-mouth is a top priority for brands).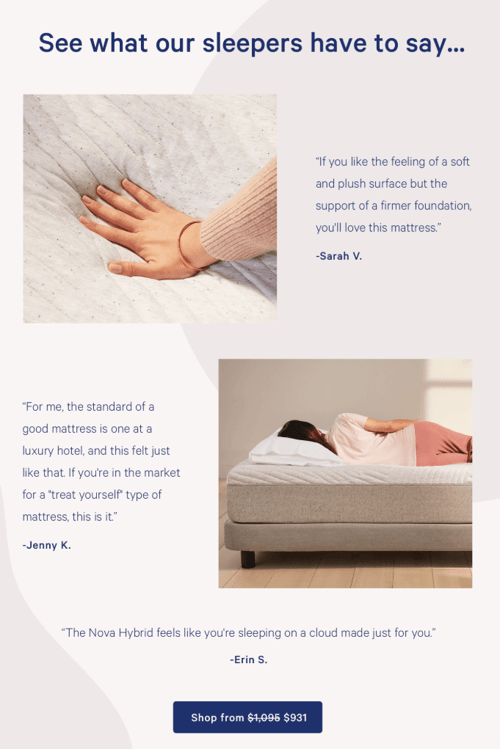 Brooklinen uses reviews in this UGC email to simply showcase the satisfaction of customers when using their product. It's not busy or complicated and tells the prospects everything they need to know without any clutter.
And because we're talking about UGC and influencer marketing, we couldn't miss the chance of sharing what eye lashes brand, Doe, is doing to incentivize customers to create UGC and share it over their own social media channels. Check out this bonus email to get a glimpse of their UGC fomenting strategy.

The VIP Email
Customers who have supported your brand for some time need to feel as if their business is appreciated and that their needs are being met.
The VIP email is a brilliant opportunity to offer discounts, specials, or the opportunity to join a rewards program.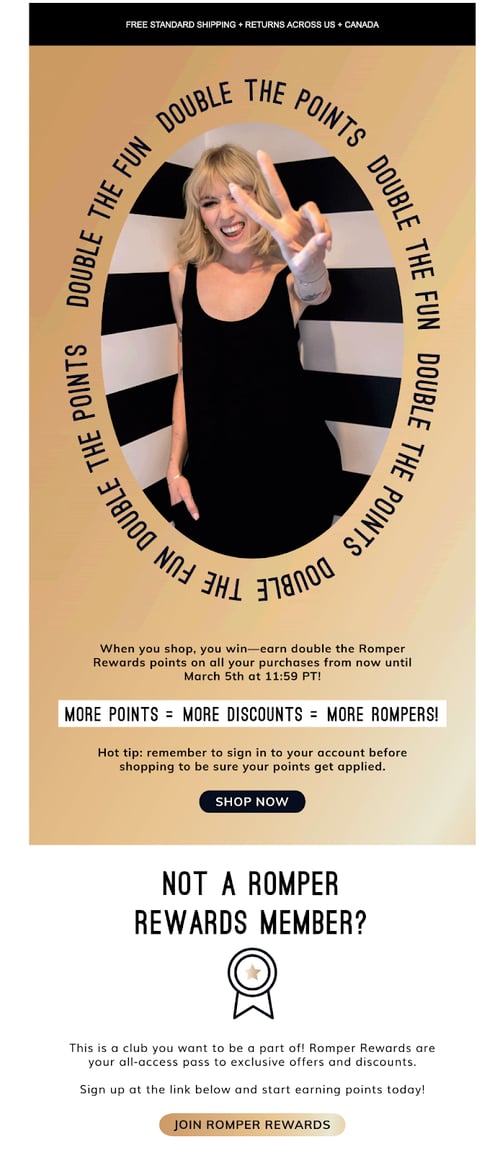 This VIP email from Smash + Tess has a clear CTA, vibrant imagery, and concise messaging that does away with unnecessary information.
Getting Started with Email Marketing
The most important step to take before designing your email marketing campaign is to clearly define the goals and objectives you are trying to achieve.
"If you can't measure it, you can't manage it" - Peter Drucker
Once you have decided which customers you are targeting, there are several key metrics that email marketers can use to assess the impact of their efforts in the marketplace.
These are:
Unique Opens: How many unique subscribers opened your email.
Bounce Rate: Undelivered emails that are returned unopened.
Unopened Emails: Delivered emails that are not read by the customer.
CTR: How many subscribers opened the link in your email.
Spam Complaints: The number of customers stating that your message is unsolicited.
Shares: How many times have the recipients of your message shared it with other users.
Unsubscribe Rate: The rate at which customers are unsubscribing from your email marketing.
Email Revenue: How much of your total revenue is brought via email marketing.
Email marketing can seem intimidating, especially if you have limited experience. Fortunately, there are several email marketing software that can help ecommerce brands craft, plan, and automate campaigns and measure their results.
Best Email Marketing Software for Ecommerce
Klaviyo
Klaviyo is possibly the best email marketing software for ecommerce brands to manage all aspects of their ecommerce email marketing. They offer a full suite of email templates, marketing automation, campaigns, and reporting tools to satisfy even the most demanding retention marketers.
Klaviyo has a strong integration with Octane AI, in which brands can sync the zero-party data collected via a quiz to the ESP and use it to automate personalized email marketing campaigns at scale.
And here's more: there are several ecommerce agencies that specialize in creating personalized email marketing using Klaviyo and Octane AI. If you are interested in learning more, check out this page and fill out the form.
Omnisend
Omnisend allows you to create professional, measurable email marketing campaigns quickly and efficiently. There is a free trial available for businesses who want to take the ESP for a test drive.
Shopify Email
Shopify is one of the most robust platforms for ecommerce infrastructure. And they happen to have an email marketing tool as well. Shopify email has great pricing options for businesses that may not have the resources for larger campaigns. It might be a good bet if you're just starting out.
Top Ecommerce Email Marketing Agencies
Engaging the services of a professional ecommerce email marketing agency is one of the best ways to take advantage of email for an ecommerce business that doesn't have the in-house skills, expertise, or bandwidth to tackle it.
Choosing one of these agencies will give you a head-start on your journey into ecommerce email marketing:
Turn These Email Campaigns Into Reality
Ecommerce email marketing has undeniable benefits that are measurable and contribute immensely to the profitability and success of any DTC business that wishes to break into a new market or gain traction with existing customers.
Wether you are a retention pro, or your just starting out as a email marketer, we hope these campaigns inspire you to uplevel your ecommerce email marketing game.