Founded by British couple Amy and Jeff Webster, Hunter and Gather Foods is an ecommerce brand with a mission to provide food that is nutrient-dense, natural, free from refined sugars, grains, and inflammatory fats. Each product and ingredient is meticulously sourced, tested, and tasted to ensure the best quality with clean recipes —free from fillers and unnecessary extras.
Their commitment to sustainability, the environment, and transparency makes it unquestionably clear why they are a favorite in consumers' shopping carts.
Hunter & Gather's focus on innovation doesn't stop with its product line and its environmental stance. They are also leaders in the zero-party data movement, which emphasizes collecting data from customers in a privacy-friendly way and delivering value in return.


The Challenge: Increase Email Marketing Revenue
Hunter & Gather was looking to improve the performance of their email marketing and increase the percentage of their owned and returning revenue. They turned to one of Octane AI's top agency partners, Blend Commerce, to analyze their current email marketing program and ways in which to improve.
Upon auditing Hunter & Gather's existing Klaviyo, Blend Commerce noticed that they were missing critical flows and segments that kept them from performing above industry benchmarks. The agency went on to:
- Ensure Hunter & Gather's Klaviyo was set up correctly
- Redesign and rebuild their email template with a focus on UI/UX
- Implement new flows focusing on acquisition retargeting and retention.
After this optimization stage, Blend shifted focus to the Octane AI implementation.
The Solution: Implement a Quiz that Fuels List Growth and Personalized Email Flows
Implementing an Octane AI quiz to gather zero-party data about particular diet preferences of Hunter & Gather's subscribers helped them grow their email list and create a personalized shopping and email experience for customers.
Within the quiz, shoppers answer a series of questions regarding their specific diet and then receive personalized product recommendations that best suit their needs and preferences.
The quiz is a significant conversion booster for Hunter & Gather, with a conversion rate of 21.38%. (One in five customers taking the quiz completes a purchase!)
But that's not all.
Blend Commerce synced their Octane AI quiz answers to Klaviyo, which enabled them to use the zero-party data they collected with Octane AI to personalize emails and suggestions that Hunter & Gather customers receive in their inboxes.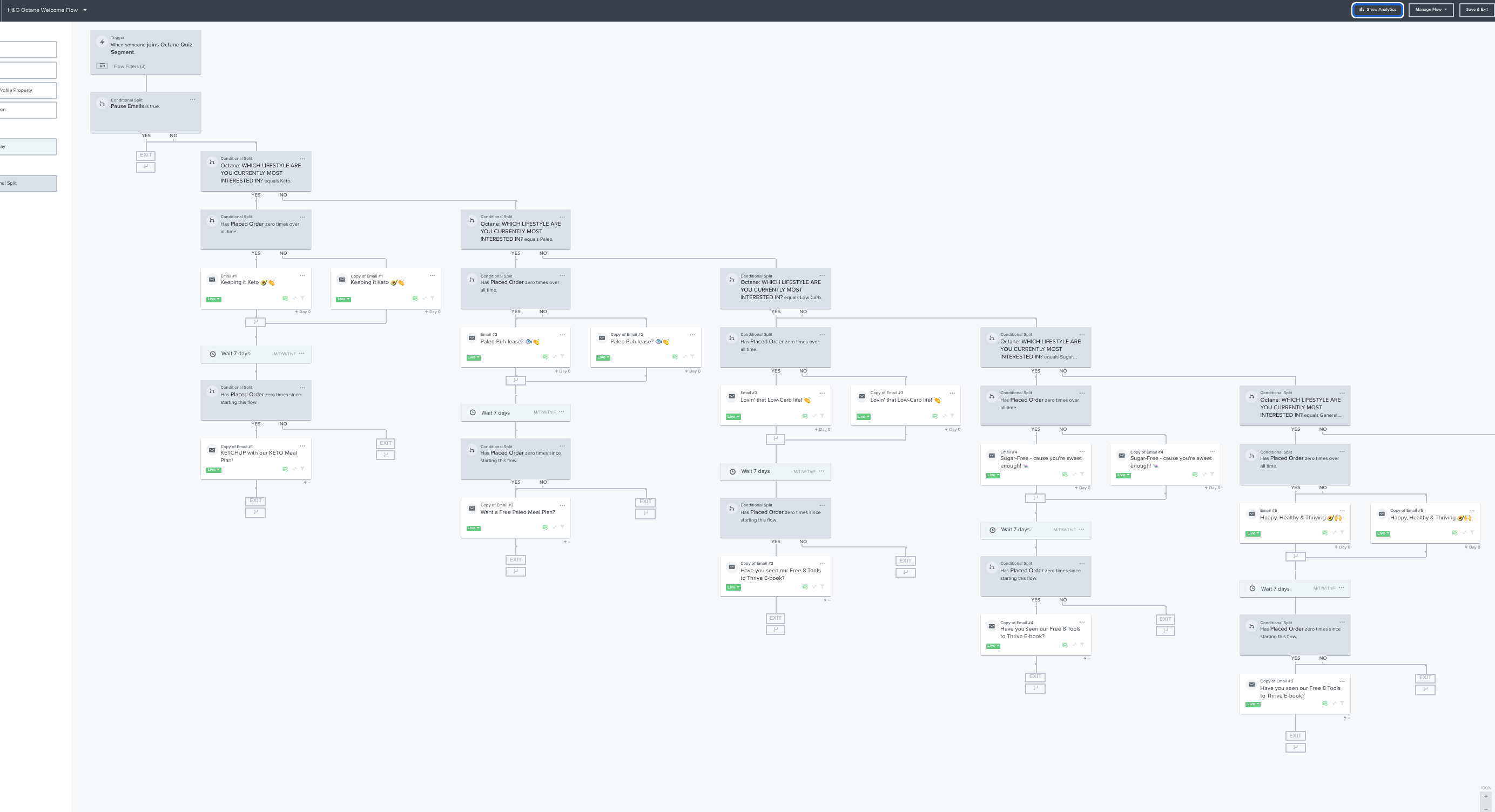 The results? Revenue from their email flows increased by 258%, with overall revenue from campaigns rising by 82% compared to the previous year.
There is no question: personalization = revenue 📈

Results
- Owned revenue increased to 29%, with 51% of owned revenue originating from email flows.
- One in five quiz takers completed a purchase, with the quiz conversion rate sitting at 21.38%.
- Revenue from email flows increased by 258%.
- Collected over 6,500 new subscribers in 6 months.
"We've been blown away by the results that Hunter and Gather have achieved with Octane AI. It

truly has been a game-changer."

- Adam Pearce, CEO at Blend Commerce