Florence by mills is a skincare and beauty brand centered around the idea of clean alternatives that allows one to define beauty on their own terms. Founder Millie Bobby Brown (a.k.a mills) is the face of the brand, whose focus is on introducing a variety of accessible, everyday products ranging from skincare, makeup, to hair products.
If you are in fact thinking Stranger Things, Enola Holmes, and Godzilla, you are dead on! On top of being a successful actress, Millie also founded a power-house beauty brand that is all about enabling people to love, express, and embrace themselves.


The Challenge: Engage and Convert Gen Z Consumers — And Their Parents!
In October 2021, florence by mills saw a disconnect between the person transacting on their website and the end-user of the product. Oftentimes, it was a parent or family member buying products for a younger relative instead of someone purchasing for themselves.
They presented this challenge to top Gen Z agency electrIQ marketing, who decided to introduce a clear product recommendation path via a quiz to guide both the end consumer and the gift-purchaser throughout their shopping journey.
"Before Octane AI, florence by mills used a custom solution that didn't allow them to track pivotal analytics such as conversion rate, drop-off rate per question, what product recommendations generated the highest AOV, and other key performance indicators — which makes it virtually impossible to continually improve experiences."

- Brandon Amoroso, Founder and CEO of electrIQ marketing
The Solution: Personalize their Website, Email and SMS With a Quiz
There are two words that brands should pay attention to this year: ecommerce personalization! And that usually starts with a quiz…
To address florence by mills' distinct buyer personas, electrIQ created a multi-purpose, thoughtfully-designed quiz that takes less than 30 seconds for customers to complete!
With a wide range of products in skincare, makeup, and hair, it can be overwhelming for customers to find the right product they are looking for, especially when shopping for someone else. By collecting customers' preferences and gauging their intention through the quiz, florence was able to recommend the right products for each customer, which led to a 2x increase in site conversion rate!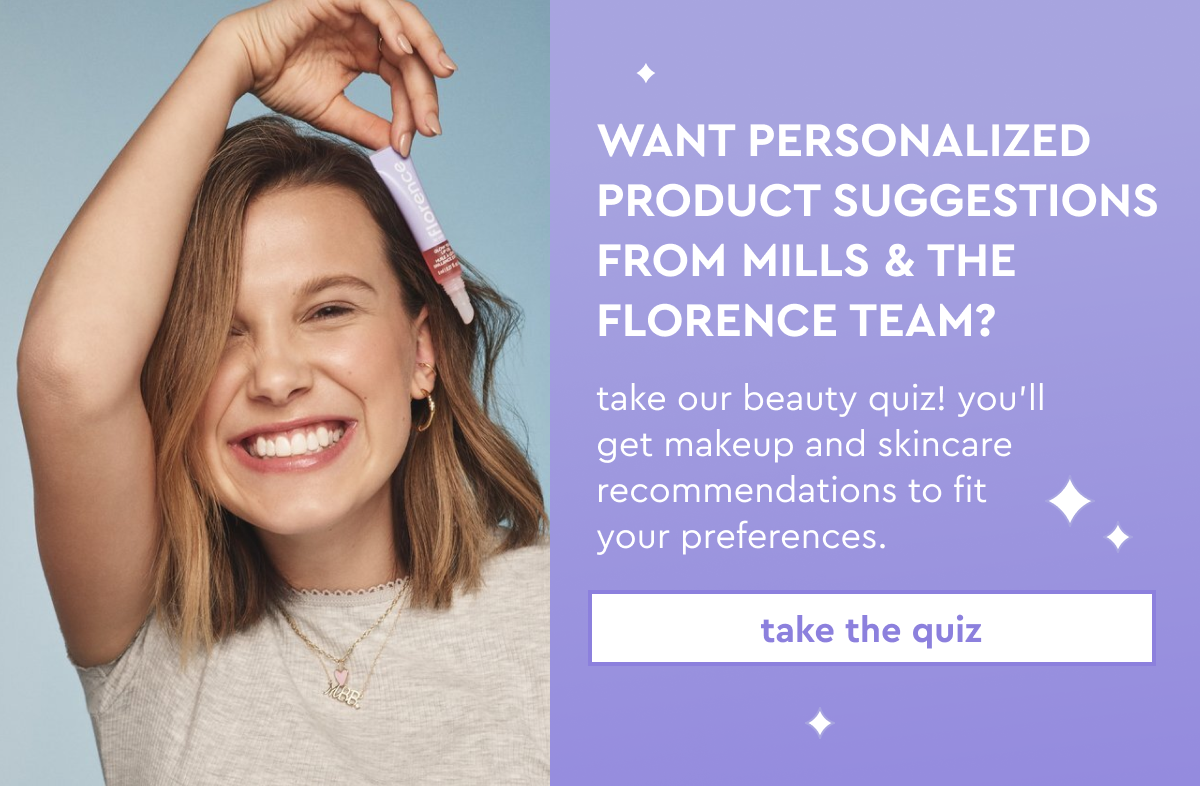 Using the Octane AI and Klaviyo integration, electrIQ was able to sync all quiz answers to Klaviyo for deep segmentation and personalization of florence's email and SMS channels.
For instance, when site visitors take the quiz and provide an opt-in – but don't convert right away – they are immediately entered into a post-quiz flow nurturing them to convert on the recommended products.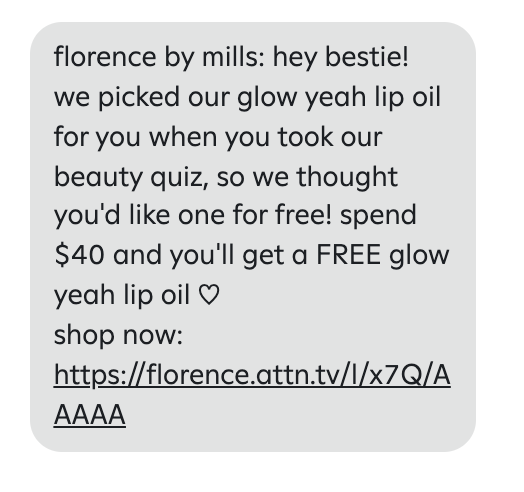 And it doesn't stop there.
With Octane AI's recently released Klaviyo 2.0 integration, florence by mills can now also save the quiz results URL and continually share that with quiz-takers across multiple marketing channels. The updated integration has also enabled campaigns to be segmented around quiz responses, ensuring the recipient of the communication is receiving relevant, personalized messaging that will resonate with them whether they are Gen Z, Gen X or millennial.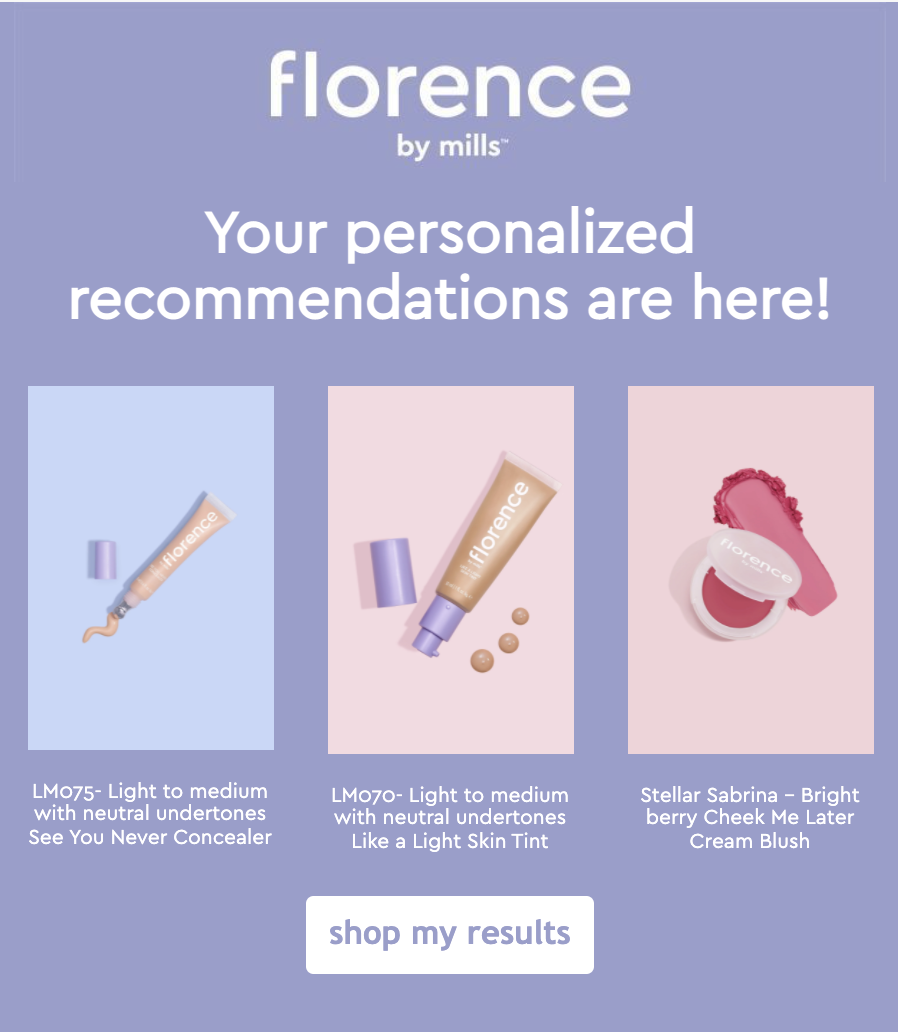 Results
In 3-months, florence by mills added an additional revenue channel and increased marketing communication opt-ins by leveraging electrIQ's expertise and Octane AI's zero-party data platform. The results are loud and clear:
- 2x increase in site conversion rate
- 23,000 new email subscribers collected
- Collected 699,379 zero-party data points
- In January, the quiz alone represented 16% of all store sales
"The core of successfully engaging with your customers (and converting site visitors) is to know who they are! Octane AI is a core piece of understanding who brands' customers are and allows us to use that information to personalize the brand experience."

- Brandon Amoroso, Founder and CEO of electrIQ marketing
Apart from yielding recommendations for site visitors that lead to conversion, the quiz is the whole foundation for florence by mills' personalization engine. With iOS 14 privacy policy updates, zero-party data has become increasingly important to create a personalized and privacy-friendly experience for customers.
Today, florence by mills is at the forefront of the zero-party data movement by:
Creating a quiz to collect zero-party data and get to know customers.

Sharing personalized product recommendations that convert.

Personalizing email and SMS campaigns with zero-party data.

Tailoring post-purchase experience and increasing retention.
Now is your turn!