Jordan Engelhardt started Skinny Mixes twelve years ago. She was on the hunt for a skinny margarita, but couldn't find one in the market that existed...so she created one herself.
Over the last twelve years, Skinny Mixes expanded from online-online into brick-and-mortar stores.
The company grew its product line to create a variety of healthy alternatives in the beverage space and now has over 100 products.
Three years ago, Alex Tenney, VP of ecommerce for Skinny Mixes, was brought on to launch the brand's Shopify site. In the years since Skinny Mixes has skyrocketed due to:
Here's a look at how these elements helped Skinny Mixes grow into the multi-million dollar beverage brand it is today.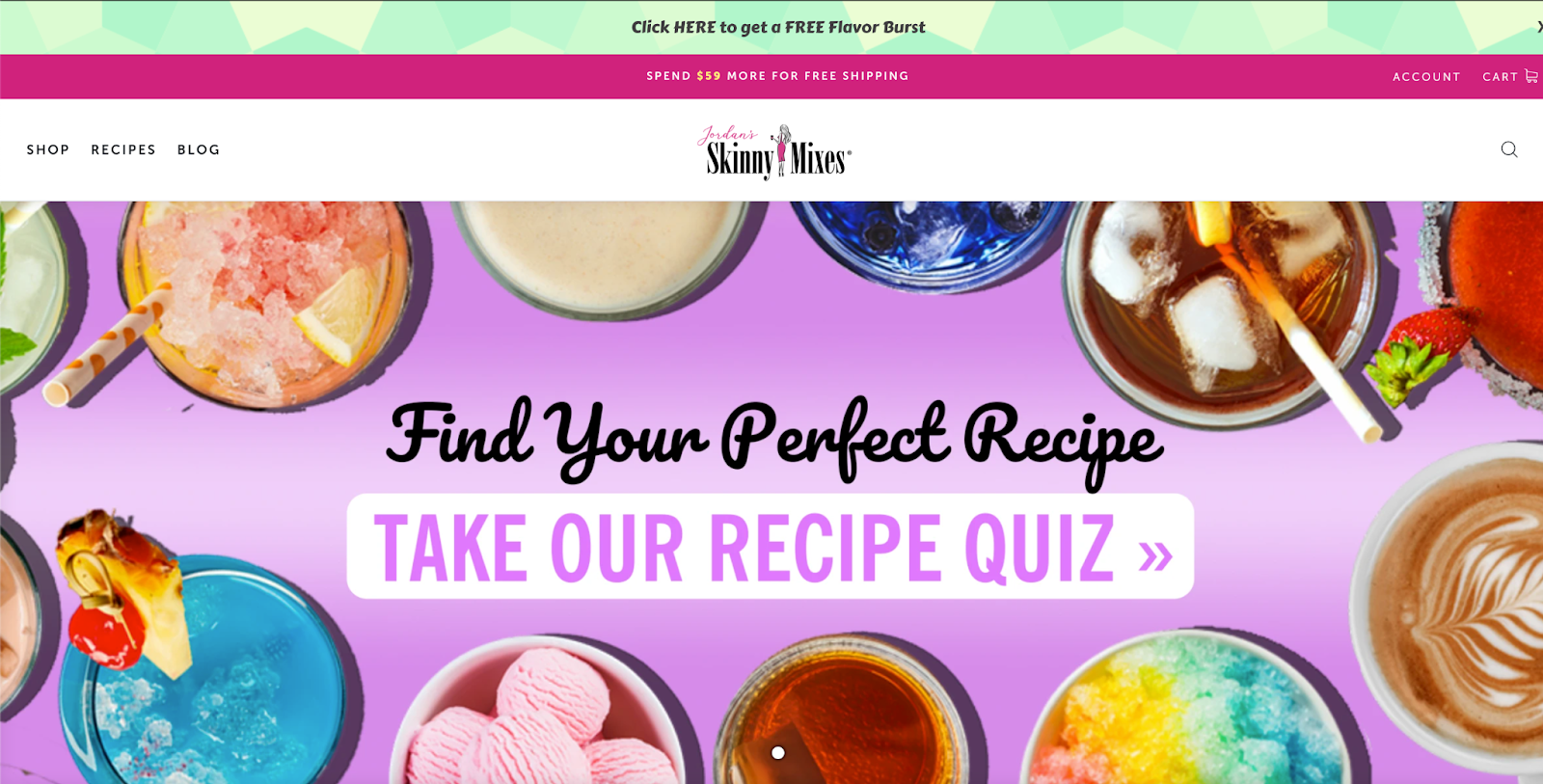 Selecting the right partners for ecommerce needs
Skinny Mixes has seen tremendous growth since bringing Alex on board to lead and dive into the world of ecommerce.
Alex attributes this success, in part, to choosing and investing time into the right partners and resources. Their ecommerce rollout was slow, and they built successful relationships with partners over time.
"What we've found with being such a small team is that we really rely on our partners," Alex said. "Building trusting relationships with your partners is key to creating and developing a working relationship and building out eCommerce operations."
Skinny Mixes deployed a slow rollout strategy in the beginning.
The first two implementations were email welcome and post-purchase flows. Skinny Mixes partnered with Klaviyo to develop and roll out the flows. The ROI from partnering with Klaviyo at a low investment was a huge success that led Skinny Mixes to work with more partners.
"Our business skyrocketed on ecommerce once we switched over to Shopify and found some cool partners, and it's been a crazy past three years."

-Alex Tenney, VP of eCommerce at Skinny Mixes
Following the Klaviyo implementations, Skinny Mixes partnered with Octane AI to set up and launch Facebook Messenger campaigns.
At the start of the pandemic, Skinny Mixes launched a shop quiz with the help of Octane AI to provide customers with a customized virtual barista or bartender experience.
With over 100 products to choose from, the quiz allowed customers to find recipes based on their favorite flavor palettes.
The quiz also reduced overwhelm by recommending a recipe and Skinny Mixes syrup.
Thankfully, it also helped drive online traffic during the pandemic when brick-and-mortar stores closed.
Skinny Mixes also uses Shogun to target segments of their audience with custom content.
The drag-and-drop simplicity and intuitive functionality of Shogun have made it one of Alex's favorite tools to use. Ecommerce personalization is an important aspect of Skinny Mixes' brand voice. Being able to use Shogun allows Skinny Mixes to get more personal with their customers.
Outsourcing and relying on the right partners have benefited the Skinny Mixes team in growing their ecommerce over the last few years.
Having these partners and tools in place allowed them to put more effort into engaging with their community.
"Having good partners and realizing where and when you can outsource is important."

-Alex Tenney, VP of eCommerce at Skinny Mixes
Building community and connection
Building loyalty with customers is a process Skinny Mixes has worked hard to nail down.
Skinny Mixes has an active Facebook group with 14,000 members and over 100,000 followers on Instagram—and their community continues to grow.
Creating space to engage in two-way conversations and listening to customer requests helped Skinny Mixes build trust with their audience. "If they ask for a flavor, we will create it. That's the bottom line," said Alex. "Act on customer feedback, and consider it when creating and developing new products."
One platform that has enabled Skinny Mixes to connect with their customers is their Facebook group. Skinny Mixes considered launching a Facebook group for a while and started one right before the start of the pandemic.
With over 10,000 members, the Facebook group has now become a source of customer feedback and input.
The Skinny Mixes team asks its Facebook members about future products and brand packaging, which helps drive product development. "It's very interesting how ingrained we are into people's lives, and we never would've gotten that without the Facebook group," Alex said.
This is how Alex makes this group working
Involve members in product development.
Ditching the corporate messaging and creating a friendly space to let users engage.
Moderate the conversation and engage but let people take over!
The Skinny Mixes community doesn't stop at Facebook, either.
Skinny Mixes' Instagram account has over 100,000 followers. The brand built its following through resharing user-generated content and new recipes to engage with audience members.
"We pride ourselves on having a two-way conversation with our customers."

-Alex Tenney, VP of eCommerce at Skinny Mixes
Advice for creating content to help you build a brand
Alex had a clear vision for the brand voice. She wanted to ensure the tones of the brand messaging came across to the audience.
But if there's one thing she's learned about creating content and building a brand, it's to go for it.
Recipe blog posts helped drive traffic and boost new customer acquisition during the pandemic. While people were stuck at home during the pandemic, they searched the web for recipes.
Skinny Mixes produced recipe blog posts that taught customers how to be bartenders and baristas at home. "We were giving them the messaging they were looking for," Alex said.
When it comes to blog posts, Alex recommends honing in on SEO.
Researching trends to understand how the trends fit into your brand is one way Alex has optimized blog content for Skinny Mixes. Using tools like Shopify and Google Analytics to identify common search terms and researching trends can also help make content seamlessly fit into customer's lives.
Outside of the content the Skinny Mixes team is producing and generating, almost 95% of the content they're using is from customers.
User-generated photos often end up being the best-performing ads. Skinny Mixes now tries to replicate customer photos to maintain the relatability aspect.
One final piece of advice from Alex: When building a brand, refine your brand voice and generate segmented content for your customers.
Giving customers the option to determine where they want to be spoken to boosted opt-ins for Skinny Mixes. This provided the opportunity to continuously push content into subscribers' lives where they want it and create a more personalized experience.
"Anything you can do to make content fit into people's day-to-day schedules and lives is the best thing you can do."

-Alex Tenney, VP of eCommerce at Skinny Mixes
Building a multi-million dollar beverage brand didn't happen overnight. Still, with the right partners, authentic engagements that led to a loyal customer following, and generating meaningful content, Skinny Mixes has become a wildly successful business in the ecommerce space.
You can follow Skinny Mixes on Instagram at @skinnymixes or reach out to Alex Tenney at alex@skinnymixes.com to chat about the eCommerce world.

Karolina Gawron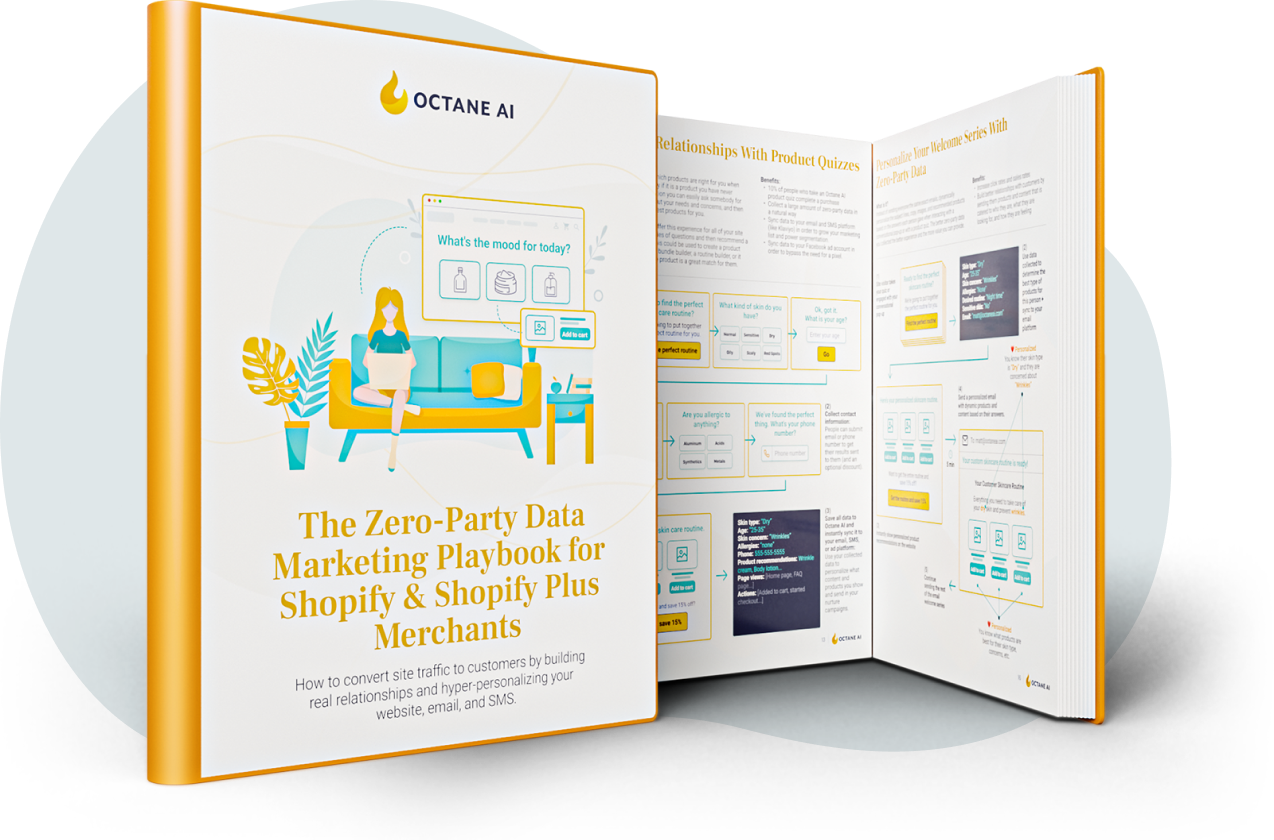 How Much Revenue Are You Missing Out On Because Your Marketing Isn't Personalized?
Fast-growing DTC brands implementing this playbook, and personalizing the customer journey with zero-party data, have connected with 16x more customers on email and SMS, seen 6x sales conversions, and increased revenue by over 50%.