Bespoke customer service became increasingly important in 2020 as we were forced to fulfill all our shopping needs online.
As much as it's comfortable, it has some downsides: the most notable of them not being able to speak to an actual person at all.
This is where personalization goes in to save the day!
We've already spoken to experts about the importance of personalization and what eommerce personalization brings to the table. Now, it's time to discuss the ways to personalize the customer experience.
In this article, you will learn:
How to make your communication sound more human
How to make your customers more comfortable when reaching out to customer service
How to show that you care about loyal customers
Why website personalization matters as well
Why is customer feedback more important than you may think
Let's start with humanizing the conversation.
Add A Human Touch To The Conversation
Customer service representatives should never sound uninterested and robotic (as if they're only there because they have to be). This leaves the impression that you're only interested in your customers until they make a hefty purchase.
Each person that contacts you should be treated with genuine kindness. Some empathy and understanding will improve their days, and most importantly, improve the company reputation—a great deal.
And, as data has shown, a great customer service experience improves a business' conversion rates. According to a survey, 73% of customers fall in love with a brand thanks to friendly employees and customer service, and for 36% of them, it was because of personalization.
In this article, we'll explain how to easily personalize multiple aspects of customer service and win over the customers with a few easy tips proven to work.
Learn the customer's name (and use yours)
This is usually the first basic tip the reps get, and for a good reason. Calling the customers by their first name shows you're invested in their case, and took some time to learn about them. It tells customers they're more than a number to you.
The same goes for reps' names. Introducing yourself properly creates a bond and makes the whole experience more personal. If the conversation was pleasant, they'll remember to ask for you the next time they call.
In case you have to hand a customer over to another rep, let the customer know the new rep's name — use something along these lines:
"Dianne, I'm afraid that I cannot help you with this issue, so I'll redirect you to Mark from (department name). He'll be able to take care of this in a minute!"
Learn the customer's history
Gathering data on previous customers leaves an even bigger impact. This level of personalization is easy to achieve with the right software for business calls.
When you pick the office phone system, these VoIP features will do most of the work for you and the whole sales team:
Call History and Call Recording — access the previous calls and learn what to do next
Call Comments — leave useful notes for future reference, for other team members and yourself
Call & Message Export — send these to other team members whenever you need
Shared Call Inbox and Shared Contacts — multiple reps can take part and jump in if needed
Designated Call Owner — so the responsibilities are clearly defined and there's no confusion about who's in charge of which task
Shared Dashboard For Call Collaboration — enables interactive conversation for multiple team members, no matter where they are (a precious feature for current work from home situation)
Having a comprehensive VoIP solution also helps with a smooth transition to another agent. As you may have noticed, some of these features are teamwork-oriented and enable the whole customer service team to work in unison.
If you want to improve customer service, first make sure your customer service representatives have the equipment they need.
Personalize the website experience
A whopping 89% of marketers reported website personalization increased their revenue.
Personalized recommendations made according to their previous purchases are easy and effective, and works with mobile users as well. In fact, 63% of smartphone users are likely to make a purchase from the website/ app that offers personalized recommendations.
You can also include pop-ups, messages and notes based on their earlier activities. (There are plenty of pop-ups and website graphic templates available online.)
If they browse through, let's say, hair styling equipment 3 days ago — let them know as soon as hair styling items go on sale!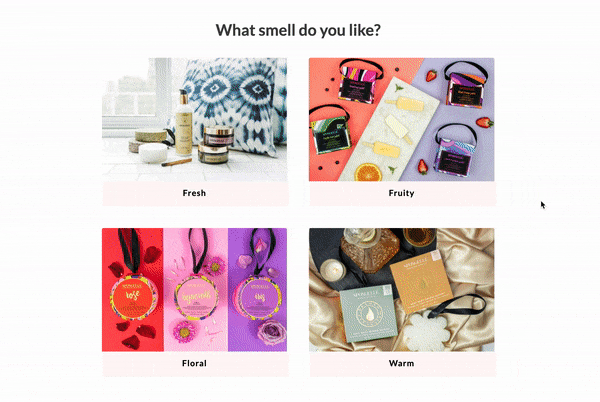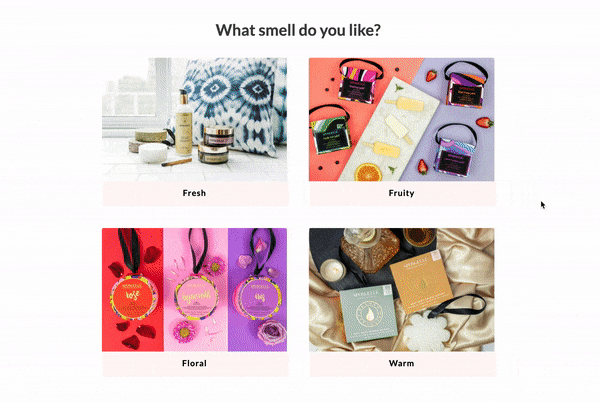 Source: Spongelle
In order to collect data easily, merchants can invest in an ecommerce quiz. No matter if you're building a size finder, gift finder, product matcher or personality quiz, every question and results page collects detailed buyer profile data about your customers.
You can then use this data in your marketing campaigns and customer conversations to ensure every interaction is relevant and customized to the customer's unique needs and pain points.
Pssst... Do you want to learn more about how you can personalize your customer's experiences? Download our 400+ page playbook:
Lay off the scripts and be authentic
A huge part of the onboarding process consists of going through scripts that show possible types of customer interactions, and how to deal with them the best.
While these scripts do give the reps higher confidence levels, they don't contain everything representatives will go through. Relying solely on scripts will sooner or later leave your reps stuck with a case they've never learned about.
Each customer is different, so it makes no sense to cram them all in 10 bland scripts.
To prevent these unpleasant situations, encourage the reps to improvise when they can. Instruct them to learn how things work in detail, and to apply that knowledge where they see fit.
Install and personalize a chatbot

Yes, it is possible to personalize your chatbots too!
Most of them are personalized by using demographic customer data, but you can go a step further and implement some more creative elements. Try with these:
Give your chatbot a personality — a name, a tiny avatar and communication style. Slackbot, for example, consists only of cutesy smiley-face with matching colors, but knows how to also be a bit sassy!
Boost the chatbot UX — make the conversation with the chatbot go as smoothly as possible. Let the customer know what your chatbot can and can't help them with from the first conversation. You can also offer multiple-option responses from the chatbot, ensuring customers will pick a task chatbot can perform (include the "I need to speak to a real person" just in case).
Make customers comfortable with plenty of choices
Some people get anxious when they need to speak over the phone and prefer to use email. Others don't mind and want to get it over with as soon as possible and hate waiting for the response.
To keep them all satisfied, you should introduce all communication channels to your customer service. Email, Chat and Phone Support can all be included within the same VoIP solution. In addition, if you implement the Website Call Widget, you can guide them through without them leaving the site!
Show that you care about loyal customers
Repeat customers represent 41% of your revenue.
They're more likely to purchase from the same vendor again because they already know what to expect and are comfortable with spending larger sums of money for the same reason.
To show your gratitude and strengthen the bond further, make sure to reward your repeat customers. It doesn't have to cost you an arm and the leg to make them feel special (but don't be a cheapskate either).
These are the most popular, tried and true ways of pampering the customers that keep coming back:
Early-Access Programs — let them be the first to make a purchase; this is especially handy for Black Friday sales and restocks of desired items when online stores tend to crash due to a high number of visitors. Reps can call them personally to thank them for staying with them, and send them the early-access codes.
Beta Releases — rolling out the new feature of your service? Your faithful customers could be the perfect testers for it! Not only will they appreciate the gesture, but it'll help you as well, as they already use your service and know how to work with similar tools.
Loyalty Programs — Paid memberships are a great example. Although customers are required to pay a flat annual fee, in return they get a huge number of perks—free shipping included (and people love free shipping).
Discounts and Awards — create a points-based

reward system

, but make sure it makes sense to participate. Don't require the customers to spend a fortune before they collect enough points for some measly deal! Make it a multi-level one as well, so the ones that can't manage to win a lot of points win something too.
Ask for their feedback and implement it

Let your customers know you value their opinion and are willing to go out of your way to meet their expectations.
The more you know, the more capable you are to improve your service and outrun the competition. Both good and bad feedback (especially the bad) represents a free source of precious knowledge.
Once you collect the customers' feedback, analyze the data (or order data analytics outsourcing) and you'll know what aspects of customer support they like, and what needs to be changed.
For a special touch, get in touch with them and let them know what you improved thanks to their feedback.
This is also a great way of enriching your existing business analytics data with authentic human responses.
Customer service personalization is easier than you think
In short: customer service personalization is easy, and it works like a charm.
Use smart tools to learn more about your customers and instantly onboard the sales reps. That knowledge will help you make them come back.
Show that you care about their wellbeing, and you're bound to rise to the top in 2021!
Dennis Vu is the CEO and Co-founder of Ringblaze, a virtual business phone system company that helps teams to better serve their customers, anywhere.