TikTok has been all the rage for a while now. Brands are spending more on TikTok ads, partnering with influencers and creators, and investing in in-house social media talent.
But here's the thing: you don't have to be a multi-million dollar brand to start taking advantage of TikTok. And if you are, you can still do wonders with organic TikTok.
Many female founders have found that some of their best-performing content comes from organic posts that they create themselves.
The one thing you need? Courage to put yourself out there.
Dahlia Rizk, founder of Shark Tank brand Buckle Me Baby Coats, says it best:
"I was thinking about TikTok back in 2018. I pay attention to what my kids are doing and I kept thinking that this would be fantastic for my brand. But I didn't do it until the beginning of 2021 because it took me that long to convince myself that I could make daily videos that I'm in. I was so used to hiding behind the very curated Instagram posts, it was easier for me. But I told myself: Instagram and Facebook are dying, I need to get out there. You just have to put yourself out there. Adopt it, do it, get it over with and in the end, nobody's paying attention or judging you anyway, you're judging yourself more. So just do it."
In 2021, consumers spent $2.3 billion in purchases originating from TikTok, and there is no sign that spending on the social media platform will decelerate any time soon.
So how can you get started? We rounded up ideas, takeaways, and tips from viral posts and conversations with four badass female founders.
Use Comments Left In Previous Posts to Inspire New Ones
Afraid of the dangers that regular children's winter coats create in a car crash, Dahlia Rizk invented children's coats designed for the car seat. She received a patent for her invention and even secured a deal with Daymond John on Shark Tank!
Still, one TikTok user left a comment in one of Buckle Me Baby Coats' videos saying, "You didn't invent them, kids road coats already existed..."
Rizk took the somewhat snarky comment and in turn, created a sharp and comedic response.
Her post amassed a whopping 914.8K views, 107.1K likes, and 749 comments. And most replies were positive, with people supporting Rizk's patent legitimacy, complimenting her reply, and asking where they could get a coat for their little ones.
Using comments your audience left, whether they are bad or good (we'll see an example of a post inspired by a good reply soon), can be a great way to source new content ideas and who knows—maybe even go viral.
The second lesson here? TikTok rewards controversy.
This takes us to our next takeaway.
Mixing Controversy with Class is a Winning Strategy on TikTok
I probably shouldn't say that if you work in DTC beauty and haven't heard of this next TikTok, you are living in a hole, but well, too late 😱.
I'm talking about Bobbi Brown's lighthearted TikTok response to a bad review by beauty influencer Meredith Duxbury.
In her TikTok review, Duxbury applied an unreasonable amount of Jones Road Beauty's newly launched product What The Foundation (WTF) and finished the post with "is a no for me." See for yourself:
Bobbi Brown's response via her own TikTok account amassed 4.6 million TikTok views and almost 500K likes, and sparked a wave of responses on and off TikTok. Beauty influencers picked sides, making their own good and bad reviews of the product, the public left thousands of comments on both posts, and the press loved it. The story got picked up by Insider, NBC News, Newsweek, and half a dozen others.
Brown also created subsequent content explaining how WTF should be used, and who should wear it. (It's not for people looking for full coverage or those with overly oily skin.)
It was the perfect way to launch a product.
Within a few weeks, WTF foundation had three shades sold out. The exposure alone enabled the company to acquire thousands of new customers. And although some people disliked Brown's reply, it was mostly viewed by the press and Tiktokers as a lighthearted and smart parody of Duxbury's over-the-top review.
It goes without saying the sheer amount of exposure this received is partly due to Brown's status as a well-known celebrity makeup artist and her namesake brand. But you don't need to go far to know that controversy works whether you are a celeb or a small business owner —remember Dahlia's video?
Controversy on TikTok can be your ally. Just don't forget to sprinkle a dash of class and common sense.
Start a Series on TikTok Related to Your Product and Mission
Marea Wellness Founder, Monica Grohne, did this masterfully with her series of TikTok posts on "Things I wish I knew about my period before I was 30."
For most of her life, Monica didn't know where all the headaches, anxiety, and anger was coming from. Finally, in her mid-twenties, after almost two decades of severe symptoms later, she discovered it was all due to premenstrual dysphoric disorder (PMDD) — a more serious form of premenstrual syndrome (PMS). Then, she decided to create a brand centered on educating women about their menstrual cycles and providing a hormone balance multivitamin that helps alleviate PMS and PMDD symptoms.
She shares that and more in an ongoing (currently 11-part series) on TikTok, with her very first video focusing on breaking down the menstrual cycle.
Why does this series work? It's personal, it's genuine, and it's relatable. And it also exploits a well-known TikTok format, "things I wish I knew before X", which immediately foments curiosity.
The second takeaway here? If something seems to work, stick with it!
Grohne likely didn't intend to make this a long ongoing series, but upon the success of the first TikTok — which gathered an impressive 1.1 million views, 144.8K likes, 15.1K bookmarks, and 720 comments — she decided to create many more.
And they continued to work…
Give Your Audience an Actionable Next Step, Like "Take Our Quiz"
Do you recall Monica's TikTok series? They are so good, we need to show you another one.
But this time is for a different reason.
In this TikTok video, Grohne tells her story in a series of quick takes and then proceeds to introduce her audience to an actionable next step: take the Marea Wellness symptoms quiz.
If you're not familiar with ecommerce quizzes, you should get familiar. They help brands get to know customers, provide an interactive experience through product recommendations and education, and capture thousands of emails.
This is the perfect way to monetize TikTok's wide reach and acquire customers for the cost of...well, basically free!
Just think about how many email leads and new customers Marea Wellness acquired with this one organic TikTok post that had 44.9K views, 2.7K likes, and hundreds of bookmarks, forwards, and replies.
If you still don't have a quiz for your store, you should consider getting one.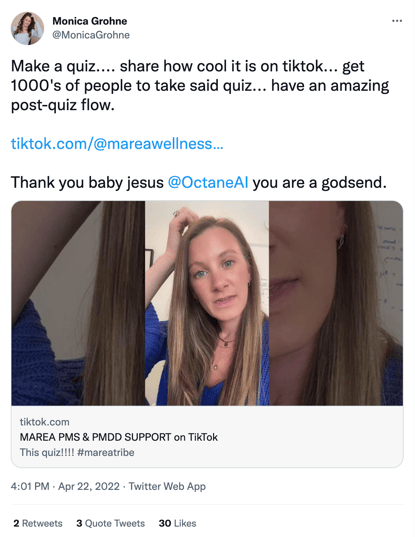 Create TikTok Posts That Show Your Website
Trying to take a break from the camera? Then create a post showcasing your website. You can point to a new product or sale that's about to begin.
Better yet, use Dahlia Rizk's low-effort but effective idea of responding to a comment of the nature "where can I find this product?" — if you are a brand on TikTok, you'll get a ton of these.
Showing your website on a TikTok video not only leads to direct sales but also drives community building. By frequently answering questions in new videos and always replying to comments, Buckle Me Baby Coats shows how much they care about their audience, who in turn are more likely to become loyal customers.
Just take a look at the replies received to the post:
Create TikTok Videos Demonstrating How To Use Your Product
Did you know it was actually the one and only Gary Vee who told Bobbi Brown she needed to start using Tiktok to build her brand and drive sales? Spoiler alert: he was right.
The company's revenue quadrupled once Brown created a TikTok account and started posting makeup tips and tutorials on how to use Jones Road's clean beauty products.
Makeup is a great use case for videos demonstrating a product, particularly for a brand like Jones Road which is always bringing innovative formulas to market that can be used in a variety of ways.
But chances are, people have questions on how to use your products too (just think about how many questions you've gotten on your other social media accounts, via email, or the customer support chat).
Constantly creating videos that address how and why people should use your product are a must. And who better to compel and convince an audience about a brand than its own founder?
There are multiple ways to demonstrate your product, here are just a few straight from Brown's TikTok playbook:
Jones Road also utilizes Bobbi Brown's organic content as part of its TikTok advertising strategy. They pick Brown's top-performing videos and use them as the base for paid content from the brand account.
Driving most of their ad traffic to an Octane AI quiz that captures emails (new leads), Jones Road was able to triple the return on ad spend (ROAS) they make from TikTok ads. If you want to learn more about their paid TikTok growth strategy, read this.
Use Big Milestones to Build Credibility and Create FOMO
We've established that people love controversy. But something else they love is to be part of something special – something big.
That's why whenever you have a chance to celebrate a big accomplishment with your followers and let them in on it, you should.
Clean deodorant brand Curie nailed this with over 40 TikTok posts exploring their appearance and closed deal on Shark Tank (it might be well over that, I lost count 😂).
Sarah Moret, founder of Curie, and her team have been posting TikTok video content related to Shark Tank for months. From teaser campaigns showing the preparatives ahead of the show recording, behind the scenes on what happens at Shark Tank, to multiple videos announcing the deal, lessons from the tank, and chats with Barbara Corcoran (one of the Sharks that Curie secured).
Curie's Shark Tank marketing drove stellar engagement, with millions of TikTok likes and even more views. Ultimately, milestone-related posts are incredibly impactful in driving credibility for the brand and its founder, helping give on-the-fence consumers the confidence they need to give a new brand like Curie a try.
Of course, Shark Tank is a big deal! But there are many things that you can use to tease, celebrate, and break it down with your audience in a variety of posts. Television appearances, press coverage, subscription box invitations, and big box retail launches are just a few examples.
Consume TikTok and Follow the Trends
To state the obvious, if you want to be good at anything, do your research and practice.
TikTok is not different. You'll want to consume TikTok videos to learn about what's working for brands in your category, hop on global trends like #tiktokmademebuyit, learn new angles that work and make it your own, etc.
"In order to be successful on TikTok, you have to consume TikTok. I've seen a lot of brands who are trying to hop on the TikTok bandwagon, but they don't watch the videos. That doesn't work."
Dahlia Rizk, Founder of Buckle Me Baby Coats
Trends are constantly changing so stay tuned to what's new to the platform. One simple way to do this is by googling or tiktoking the words "TikTok trends." I guarantee you can catch up to five different new trends that can work for your brand in a few minutes.
Become the Face of Your Brand On TikTok
You don't need to spend thousands of dollars on influencer marketing to build brand awareness and make sales. Well-researched and genuine TikTok organic content created by founders can go a long way in reaching new audiences, introducing your brand, creating a community, and ultimately turning TikTok followers into customers.
As you start your journey on TikTok, keep in mind some of these ideas and takeaways from successful founders. And remember there's no one more trustworthy than yourself to advocate and represent your brand.