Folks on the Twitterverse are increasingly looking for some quiz inspiration. From the type and number of questions asked down to design, there are a lot of elements behind building a quiz.
To give you inspiration, we put together our team's favorite ecommerce quizzes across six major industries: beauty, food and beverage, health, fashion, pets, and home goods.
But if you are not yet familiar with the benefits of an ecommerce quiz, we'll give you a quick explainer.
"To Quiz, Or Not to Quiz?"
If you've ever wondered if a quiz is right for your ecommerce store, think about this: could you provide a product recommendation to your customer with the information you have in hand?
The answer is probably not since most of what you know about your customers today is based on: behavioral data (clicks and time spent on site), your buyer personas (marketing assumptions you haven't revisited in a while) or rented data from third-party advertisers (this is no longer performing the way it used to because of Apple and Google).
At the end of the day, you don't really know your customer.
Now, let's think about the retail experience: a customer walks in, browse for a little and a store associate comes to the rescue. The associate will ask a few questions in order to make a product recommendation and help the customer find what they were looking for.
A quiz is the equivalent of this interaction — but WAY better!
Allow me to explain. Today, quizzes are enabling thousands of brands to:
Collect zero-party data and learn more about customers: with the changes in data privacy, brands are investing in owning their datasets and creating a database of ethical zero-party data, that is, data that a customer intentionally and voluntarily shares with a brand. An on-site quiz is the first choice for brands wanting to adapt to the advertising shift caused by Apple and Google and collect zero-party data.
If you want a deep dive on zero-party data, check out our zero-party data marketing playbook.
Now that you know the benefits of quizzes and why you should have a quiz in 2022, let's hop into some examples that can inspire your quiz-building process 👇.
30 Examples of Top-Performing Ecommerce Quizzes by Industry
BEAUTY QUIZZES
Curlsmith
Curslmith's Curl ID quiz educates customers on their hair type and why the recommended products suit their needs. The way the questions are framed makes each quiz taker understand what elements make up their hair. At the end of the quiz, Curlsmith provides a results page that focuses first on education, followed by a haircare routine.
Glamnetic
Glamnetic's lash quiz has educational and thorough questions in the quiz to help customers navigate and find their perfect magnetic lashes. The loader page prior to the results page is terrific because it shows product reviews by customers and then it leads the quiz taker to the results page which is built beautifully. The results page contains a product recommendation, discount code, lash guide link, an embedded youtube tutorial video, and more product offerings for other accessories.
Aisling Organics
Aisling Organics's makeup quiz genius is in its explainer screens, which are fun, personal and keep customers engaged, as in a true conversation. The educational fun facts and GIFs are a nice touch and add the brand's personality to the quiz experience. Their results pages are clear with a custom bundle and additional information based on how people answered some questions (skin type, concerns, etc.). It's overall very visually pleasing and perfectly on-brand.
Looking for more beauty quiz inspiration? Check out florence by mills, South Beach Skin Lab, Jones Road Beauty and Doe Lashes quizzes.
FOOD AND BEVERAGE QUIZZES
Matcha Bar
Matcha Bar's quiz is very bright and fun, which matches their brand perfectly! Match Bar has a pop-up that is triggered after customers haven't taken any action after a while, leading them to take the quiz. With a perfect balance of useful and engaging questions, the quiz guides customers towards the best option for them based on their preferences and lifestyle.
The first question Match Bar asks in their quiz— "How would you describe your relationship with matcha?"— can be applied across several different industries and is a key question to determine at what stage of awareness your customer is at and match that stage with personalized educational content. For instance, the content a newbie would want to read is different from a diehard.
Skinny Mixes
Skinny Mixes' quiz is simple and straightforward. The results page provides two key incentives for customers: a discount code and recipe(s).
We love how instead of recommending a product, Skinny Mixes matches customers' flavor profile and preferences with recipes that contain one or more Skinny Mixes products. Customers are much more willing to buy if they know how to use a product, and by giving the recipe upfront, Skinny Mixes accomplishes just that.
On average, one in every five people who take Skinny Mixes' quiz makes a purchase. That's a 20% quiz-to-purchase conversion rate! And what's more, this high-converting quiz is the source of 25% of Skinny Mixes total monthly revenue 🤯.
Health-Ade
Health-Ade's personality quiz is simple and quick, offering a custom mocktail depending on the customers' answers. The recipe is sent via email through Klaviyo segmentation.
Health-Ade's approach to the quiz is different them most brands. They use the quiz as a great email capture and engagement tool, giving customers a giveaway incentive to participate.
Looking for more food & beverage quiz inspiration? Take a look at Almond Cow, Hunter & Gather, Harney & Sons, Angelino's Coffee & Tea quizzes.
HEALTH QUIZZES
Bariatric Fusion
Bariatric Fusion's vitamins quiz helps customers not only find the right vitamins for them based on the surgical procedure they had but gives them a full regime tailored to their preferred flavors for each vitamin and instructions on how much they need to take per day, making the whole bariatric journey much easier for their customers.
Because their products are specially for people who had bariatric surgery, Bariatric Fusion's first quiz question is: "Have you had your surgery yet?". The quiz path will differ according to that answer. If customers have had surgery, they'll be asked a few more questions and get product recommendations accordingly. If they haven't, then the quiz becomes an educational tool, providing prospects with more insights on the ins and outs of bariatric surgery.
Oh, and did we mention that Bariatric Fusion increased email opt-ins by 16x with quizzes?
Ned
Ned's product finder quiz is beautifully designed, but what we really love about their quiz? When a customer completes the quiz, the results page includes education videos that explain how each recommended product works, which makes customers feel reassured about the recommendations they got. Being relatively new to the market, most DTC brands should try to implement more education in their sites.
Proov
Proov's quiz makes it easy for consumers to answer questions on a topic that can be difficult to navigate or understand. They make the whole process easy to follow and the recommendations in the end take into consideration all the customer's preferences and where exactly they are at on their hormonal path.
Hello Cake and Marea Wellness are also great examples of health quizzes you should check out. Hello Cake's quiz design is out of this world and Marea Wellness is such a great example of a quiz built by a one-person team and for a one-product brand.
ADAY
ADAY's capsule wardrobe quiz has such a unique approach: instead of just recommending a few products, the quiz helps you build a whole capsule wardrobe that matches customers' different styles. Instead of browsing through a bunch of options and trying to find something they like, consumers get a full wardrobe picked for them!
Nude Barre
Nude Barre's shade finder quiz helps customers quickly find the closest shade to their skin tone. The quiz is very inclusive, showing images of women of different types and shapes. We also like their approach to email capture: they incentivize customers to leave their email with a welcome gift, but also provide a skip option.
A shade finder quiz like this can help significantly diminish customer support requests and returns.
Salt & Lace
Salt & Lace's quiz use models of all shapes to reflect what the customer has selected when choosing their size. Representation really matters when it comes to online shopping, and they do it masterfully.
For more fashion inspiration, check out CYSM and Mavi quizzes.
PET QUIZZES
Bailey's Pet
Bailey's Pet quiz may be simple, but don't let that fool you; the quiz brings in 22% of Bailey's total monthly revenue. The questions Bailey asks of customers are perfect for the pet industry vertical and should be used for inspiration when building your pet quiz. All the product recommendations within the results page have a subscription option (thanks to our integration with Recharge) which makes it easier for customers to subscribe.
Natural Farm
Natural Farm's quiz matches the brand's aesthetic and has a good mix of write-in questions and click-through questions. The progress bar is a visual incentive to let customers where they are in the quiz process and encourage them to continue. And those puppy pictures? The cutest!
Natural Farm asks customers for their dog's name and birthday to use later on for promotions and personalized interactions, and we are all about that! But in our experience, write-in questions sometimes may have higher drop-off rates, so use them wisely and always test.
HOME GOODS QUIZZES
Polysleep
Polysleep's mattress quiz asks questions that identify consumer pain points in the mattress buying process and leads them directly to the right product. The verbiage and aesthetic of the quiz matches perfectly to the brand.
If you want more inspiration for home goods quizzes, then take a look at Hit The Hay, Seventh and Oak and Wicked Edge's quizzes.
Ecommerce brands approach quizzes differently, as you can see in these examples, but they do share something in common: all of them increased conversions, AOV, email capture, and zero-party data collection by... A LOT!
And if higher revenue and retention sounds like something that interests you, we're happy to help you get started with creating an ecommerce quiz that works well for your customers. Schedule a call with our team so we can show you the platform and answer all of your questions!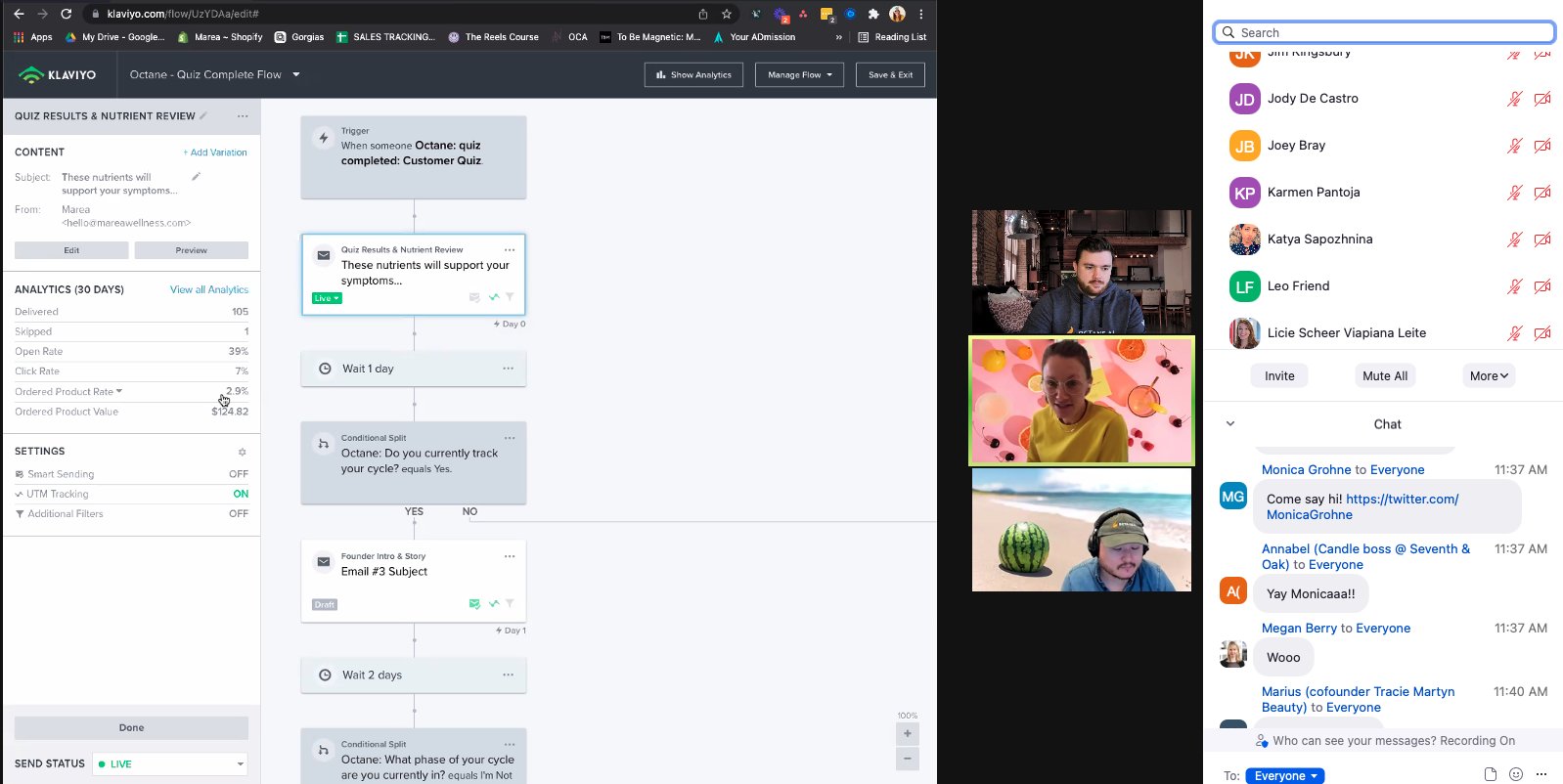 Join the Octane AI community
Join 10,000+ ecommerce operators who receive weekly tips on quizzes, zero-party data marketing, and increasing revenue with personalization.