The Octane AI team is thrilled to welcome Alex Gurevich aboard as the new VP of Finance and Operations!
With a track record of impact in high-growth technology companies like Google, Zendesk, and Credit Karma, Alex will help Octane AI capture the market opportunity and guide the efforts behind the team's continuous and rapid growth.
In this article, Alex shares more about his personal and professional journey, why he chose Octane AI and his vision for the company.
---
From the moment I learned about Octane AI and began having conversations with Co-Founders Ben Parr and Matt Schlicht, I was intrigued by the product and market opportunity and was drawn to the innovative and fast-paced culture of the company. That's why I'm excited to share that I have recently joined Octane AI as the VP of Finance and Operations.
There are many reasons why I'm thrilled to be a part of this fast-growing team, but allow me to introduce myself first.
My name is Alex Gurevich. I was born in Kazakhstan when it was still one of the Soviet republics. I spent the first 12 years of my life there before my family immigrated to San Francisco, which is where I attended middle and high school. I eventually was very fortunate to attend Stanford University.
After graduating from college, I joined Google, which was headquartered in the town neighboring my college campus. At the time, Google was a young search engine company that had just surpassed the 1,000 employee milestone. My passion for tech developed while working there. In the role of business analyst, I spent most of my time developing and analyzing key metrics and gleaning actionable insights that would inform operations of Google's various businesses. This job and the amazing people around me taught me how to take data and turn it into a useful story.
Since then, I have only stepped outside of the technology industry briefly to work in the Russian-speaking Moscow office at McKinsey & Company. The rest of the time, I found myself building teams, processes, and culture at other wonderful software companies: Zendesk and, most recently, Credit Karma.
I left Google to continue my educational journey and headed East to attend Harvard Business School. The winter and the infamous HBS cold call made me miss California and I knew that my home would eventually be on the West Coast. Before heading back to warmth, however, I continued my journey East to an even colder Russia and Kazakhstan to work in management consulting at steel and chemical plants. While there, I met my wife in Moscow and together we returned to San Francisco, where we now have three children, all under six years old (we are never bored).
The technology industry and my family are two important passions in my life, but another personal passion is acting on stage. I've been acting from an early age, ranging back to being a part of children's plays when I was in Kazakhstan to being cast in musicals during graduate school.
Even as a finance guy, my more creative side has been helpful in my career. While you can't get too creative with finances, there is a creative outlet in people management and cross-functional work, in which solving problems is an art. One of my favorite types of acting is improv, and the kind of listening, collaboration and teamwork that's involved in that applies directly to cross-functional work teams — this is an approach I'm looking forward to bringing to my role at Octane AI.
There were a few different reasons why I made the decision to join Octane AI. First and foremost, I knew I would get along well with the team. The leaders know how to be serious and rigorous and they have a high level of expertise and a proven track record of success. At the same time, they don't take themselves too seriously and that is important.
In many of the conversations I had while interviewing, I saw something growth-hacky about the group at Octane AI: everyone is always looking to be a step ahead of the trends in the industry. Talking to the founders was like having a conversation with time travelers from the future.
Octane AI is creating a platform that solves tangible merchant problems, and the numbers reflect the value it delivers. In my previous jobs, I've seen the impact personalization can have on short-term performance and on long-term brand-to-human connection. It's something I want to be a part of building at Octane AI.
The ecommerce industry itself is accelerating, and the technology fueling this growth is exciting to watch. I saw a huge opportunity to be a part of a fast-moving industry and the community that comes with it, which is another reason why Octane AI stood out to me as the right option.
Lastly, I've been a part of relatively small but fast-moving teams before and watched them grow significantly. I saw Google grow from a little over 1,000 employees to over 16,000 within four years. At Zendesk, I saw the team grow from about 40 people to about 1,600. At Credit Karma, the team more than doubled during my time, from 550 to 1,300. While I don't bring a cookie-cutter solution to growing teams, there are patterns that I can recognize from my previous experiences that I'm looking forward to helping Octane AI navigate.
My goal is to help this zero-party data marketing company capture the large opportunity in front of us by setting lofty objectives and finding thoughtful ways to resource them and disciplined ways to execute on the underlying plan.
I can't wait to get to know the rest of the Octane AI team, start fast-parroting
during the weekly team calls and develop the structure that will help every team member work together to reach new heights.
If you have read this far, I thank you immensely. Now please go check out our careers page and come work with me. Join our growing remote team that's distributed in over 13 countries!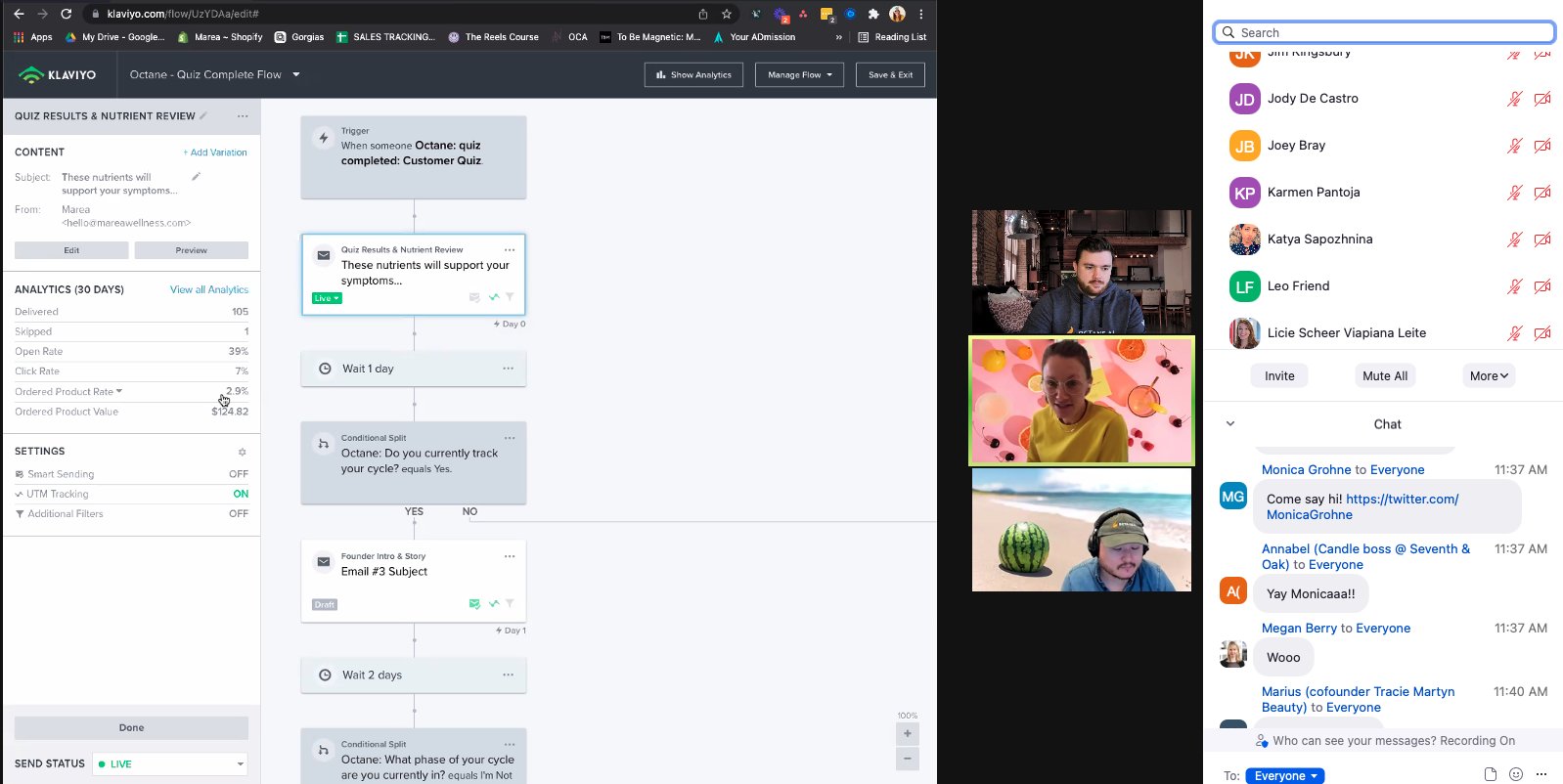 Join the Octane AI community
Join 10,000+ ecommerce operators who receive weekly tips on quizzes, zero-party data marketing, and increasing revenue with personalization.