A pop-up is often the very first thing a customer sees when they come to your store. It's the initial greeting from your brand. When was the last time you improved your pop-ups in a significant way? I'm not talking about using a different image or font size, but providing a better customer experience?
The truth is pop-ups haven't had a significant innovation in years, but that's about to change…
Today, we are proud to announce the launch of Conversational Pop-ups for Shopify and Shopify Plus merchants!
Conversational Pop-ups have already proved to be a huge upgrade for dozens of ecommerce brands in our initial private beta. They:
Collect zero-party data (data your customers choose to give you) about your customers like their product preferences
Drive more sales by providing relevant product recommendations
Get more opt-ins than your current pop-ups
In fact, Bariatric Fusion is converting 4X more sales and doubled their email opt-ins after launching their Conversational Pop-Up.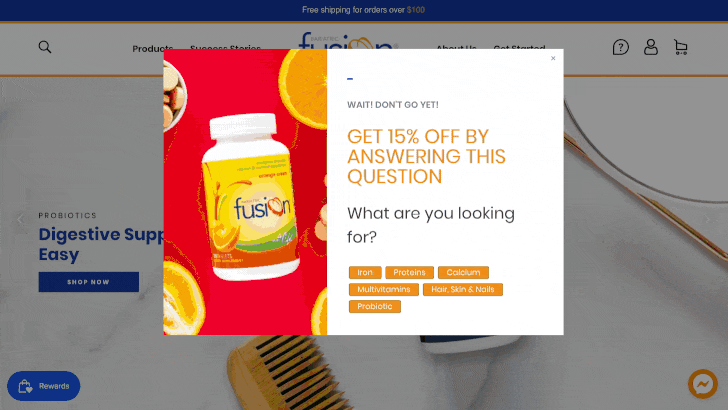 What is a Conversational Pop-Up?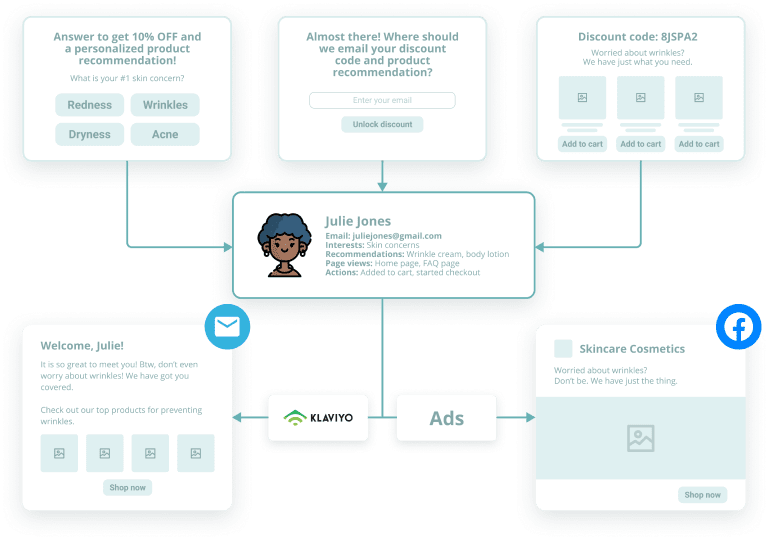 A Conversational Pop-Up is a new type of pop-up that asks the customer a relevant question, collects an email or SMS opt-in, and guides them to a product recommendation directly in the pop-up.
Not only that, but you can now use that information about the customer to make the ecommerce experience better—both within the pop-up and throughout the rest of their journey.
Conversational Pop-Ups consist of three core elements:
A relevant question to the customer about their needs or preferences
An opt-in form
A product recommendation with "Add to cart" buttons
The Conversational Pop-Up takes just minutes to get live on your site. What's more, it requires no coding skills, is fully customizable, and deeply integrated with Shopify, Klaviyo, Facebook Ads, Facebook Messenger, and SMS!
The Easiest Way To Collect Zero-Party Data
The personal information you collect directly from an interaction with your customer is called zero-party data, and it's the most valuable type of data you can collect.
Online stores are facing a conversion rate crisis because data privacy rules are changing, ecommerce competition is increasing, and consumer expectations are rising—it's the cookie-pocolypse. Brands can no longer rely on these tools to target their customers. To continue providing personalized shopping experiences, brands must switch to zero-party data marketing.
But zero-party data is not just an answer to constant changes in data privacy laws.
When a customer has purposefully chosen to give you information, you can use it to personalize their whole customer journey based on what they've told you. And Conversational Pop-Ups are the easiest way to start collecting zero-party data about your buyers.
This leads to higher conversions, happier customers, and lower returns.
Old Pop-up vs. Octane AI's Conversational Pop-up
Imagine you are a skincare brand that sells different products to people with acne and/or wrinkles. What's the best pop-up for you?
Old way
You have a pop-up that offers 10% off for the customer's email and then they are left on their own to browse your site. The pop-up interrupts their experience and is not bringing them closer to finding what they need!
Your customer's first impression shouldn't be just you asking for them to opt-in; it should be you starting a conversation about what they are looking for and helping them.
New way
You have a Conversational Pop-up that asks the customer for their skin concern. It then asks for their email or phone number and gives a 10% discount -- but after they give their email, they see recommended products for them right there in the pop-up and they get an email or text with the discount and the right products again.
Every email, SMS, Facebook ad, and Facebook message they get from the brand is now speaking directly to them and their needs.
This pop-up has improved the customer's experience, not interrupted it. This makes your customer happy while increasing conversion and reducing returns.
It's Time To Act Now
Shopify merchants: if you want to increase your conversions, drive more sales to your store, and get reliable, actionable data about your customers, it's time to act now.
For a limited time, we're offering to help you activate a Conversational Pop-up on your Shopify store. Far more than just a set-up call, we'll work with you 1:1 to build out your zero-party data strategy. We'll teach you how you can start using your zero-party data to drive more conversions across all your marketing channels—paid and owned.
Or you can try Octane AI and Conversational Pop-Ups for free for 14 days and see how fast you can increase your conversions and opt-ins.
Start your zero-party data journey before your competitors do.