Pulling in customers as an ecommerce business takes considerable time and dedication. There are several ways to pique the interest of your target audience, but one of the best ways is with personalized content, offers and recommendations.
Building accurate buyer personas and creating targeted content works well, but we're going to look at some other excellent customer acquisition strategies focused on personalization.
First, let's properly define the ecommerce customer experience.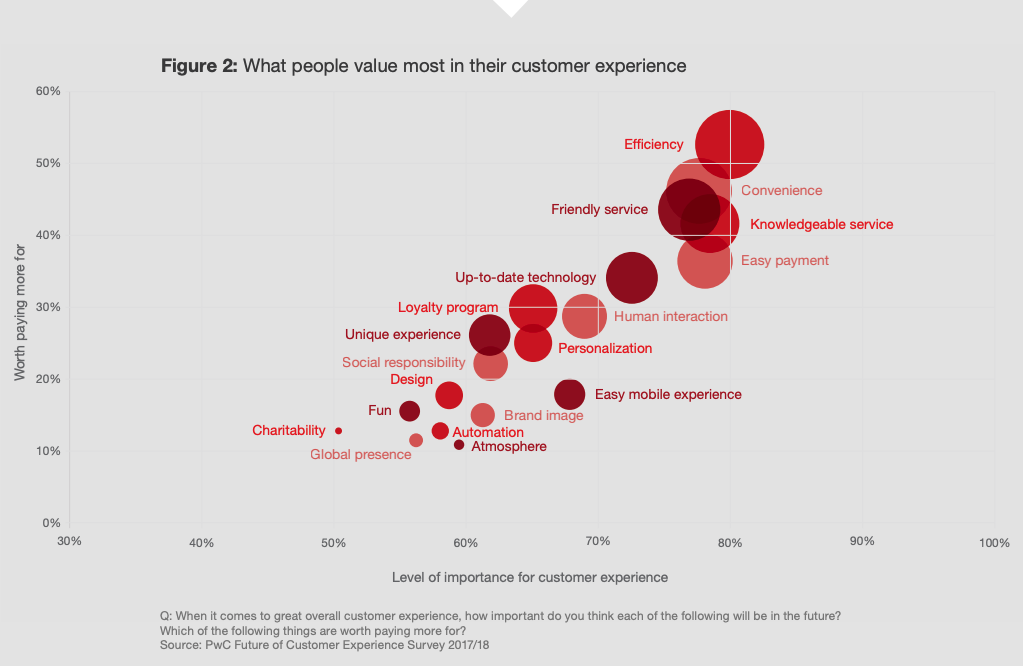 Source: PWC
What is the ecommerce customer experience?
The customer experience (also known as CX) is the perception your customers have of your business and their experience interacting with it—from navigating your website to talking to customer service and receiving the product they bought from you. The customer experience includes the entire process before, during and after visiting your online commercial space.
Every step and every interaction customers have with your brand is vital.
According to PWC, 43% of consumers are willing to pay more for a convenience and 42% would pay more for a friendly customer experience, meaning the experiences your customers have will influence how likely they are to purchase from you; It will also affect how likely they are to come back, and ecommerce marketers know the value of returning customers.
There are different aspects to the customer experience: service experience, brand experience and product experience.
Service experience is the support that your potential customers receive through the available communication channels of your business.
Brand experience is all about your business' various marketing and design points and how your customers feel about it.
Product experience is about your product's effectiveness, quality, ease of use, etc.
Providing good customer service will go a long way towards better customer loyalty and customer satisfaction. In the long term, it affects how strong your ecommerce brand grows.
Source: superoffice.com
Building personalization into your acquisition strategy
Making your acquisition process more personal will improve the chances of your strategy being successful.
Coming up with a successful personalization strategy is easier done when you take a human-centric approach. To humanize the online shopping experience, you must be empathetic towards the customer's perspective, which will help your brand relate to its customers with more efficiency.
However, there are more strategies every brand should consider to grow their customer acquisition through personalization. Let's examine some ways next.
Interested in building more personalization strategies into your marketing? Download our free 400+ page playbook on personalization!
1. Adapt to your customers' changing needs
We live in an ever-changing world, and that applies to the needs of your customers. In order to succeed as a business, you must adapt to your customers' needs frequently. To do so, you need to know who your customers are and how their needs evolve over time.
This can definitely be a challenge, especially as technology continues to grow and new products start trending worldwide. However, if you put in the time to be actively listening to what your target customer base is interested in, you'll be able to pivot quickly to reach them in the places that matter most. We recommend you continuously gather information about your customers by asking for feedback and sharing interesting surveys to stay informed.
There are many great tools that will help you collect and analyze customer feedback effectively. Once you have customers share their feedback, use this data to change and improve your marketing strategies accordingly and try to implement the feedback to give customers what they want to show you genuinely care about their needs.
It might be necessary to update the information you have about your customers to avoid missing out on any new needs or subtle changes that might otherwise be missed. As the ecommerce industry continues to grow, one need that customers are looking for more is personalized experiences, so be sure to always focus on that in every strategy.
2. Improve your product pages
As an online business, having a quality website that matches a target customers' needs is vital as it plays an essential role in customer acquisition. In addition to ensuring your website loads quickly, and that the design is aesthetically pleasing, your product pages are one of the most important areas to make sure you're answering questions and showcasing your product as a solution through well-written copy and high-quality images.

Source: BigCommerce
On your product pages, add captivating product descriptions that will convince visitors they need to buy your items. If you've collected first-party customer data, you can leverage it to tailor your product pages to match each visitor's preferences and needs, giving them a truly personalized experience when browsing your site.
With more people shopping online, customers are relying more and more on user-generated reviews when making their purchasing decisions. This is because, unlike shopping in a brick-and-mortar store, customers can't actually see the products or hold them in their hands to decide if they like the quality and feel. Adding social elements, such as trust ratings and reviews, will help sway customers and give them confidence to purchase your items.
3. Integrate live chat and support options
For many consumers, they appreciate the option of being able to talk to a customer support representative while shopping. Whether they have questions about sizing, material, shipping costs, ingredients, etc, it's much easier for shoppers to be able to quickly ask these question in an on-site live chat rather than go searching through your website to find them.
Making customer support easy-to-use and accessible is important for ensuring a positive experience, which can actually drive an increase to your customer retention if customers are satisfied with the customer service experience.
Live chat is one of the most popular support channels, with 75% of people preferring it. Millennials are particularly fond of this form of support while shopping online, so it's a great tool to invest in for your ecommerce site.
(Source: techjury.net)
Online support can improve customer acquisition by up to 20%, and chatbots are one of the best ways to engage with your customers in a personalized and quick manner. By using the chatbot AI technology, you can lighten the load placed on your customer service staff by having the bot be able to answer common customer inquiries 24/7.
Support channels also help you determine which of your pages your customers visited, where there are common pain points, and gather customer feedback to know where you can improve your services or product offering.
4. Encourage more marketing sign-ups with trials and testers
Since customers can't physically see or touch products when shopping online, they love when they get an opportunity to try something out and see if it's really what they want. You can encourage customers to sign up for your loyalty program or share their email by offering them a tester of a product—Sephora does this well where customers can use loyalty points to receive mini product testers.
On the other hand, offering a free trial is a good approach for collecting more marketing opt-ins for brands that have a paid subscription program. Giving your customers a sneak-peek at what they can expect after signing up can help build your brand community if the customer sees enough value that they choose to stay subscribed.
As a tip, try to offer free trials without collecting credit card information. It can break a customer's trust if they feel duped into paying for the subscription if they forget to cancel before their trial is up, and you will likely decrease the number of free trial sign-ups that you could collect without asking for this personal information.
Ensure you're building fantastic landing pages to collect these subscription sign-ups, which should include a good design, fast loading times and an easy navigation.

Source: WordStream
5. Consider special targeting to your local markets
While it's great to offer your products or services on the global market, this makes your marketing a bit tougher. Selling to people worldwide isn't as easy as it might sound—cultural differences call for different approaches, and it can be difficult to know how to target every customer in every country. Before spending the time and money on worldwide acquisition, You have to do a lot of research about the different customer personas and how they vary from one country to the next.
This is why it is suggested that you instead consider your local markets, if possible. When you have identified your market, cater to them with a personal experience: offer engaging content that's relevant to their location or needs, use a locally-based phone number for customer support or reference nearby attractions or locations that you know they're familiar with to engage with them.
If you're unsure about who to target, use A/B testing and find out more about your visitors and customers.
Personalization isn't a suggestion, it's required
With more consumers doing their shopping online, more brands are building their online stores—there's more competition in the ecommerce space than ever before. In order to stand out, you must personalize your customer's experiences.
With a personalized shopping experience, you can gain many new loyal customers and increase your reputation. Use the ideas we discussed here to give your customers tailor-made experiences, and drive not just an increase in acquisition but customer retention as well.