Jess Sanfilippo is the head of social at House of Wise—an emerging luxury CBD brand by women and for women.
Jess communicates with the audience directly and creates digital marketing strategies for the brand.
The brand's main focus is an integration of the commerce and community element. They address and challenge the "women have to do it all" notion through their content, and brand communications.
There are so many rules for women—you can't talk openly about your stress, sex life, pleasure, or health. The brand wanted to focus on women and the community around managing things like taking control of your stress, sex, sleep, and wealth.
Jess shared her experience of building a people's brand on social media, adding a touch of personalization to customer service and engagement, and some tips to build a strong social media strategy.
The story behind the #wisewoman community
House of Wise captured the wealth element of the stigma around women earning their own money by starting a hashtag, #wisewoman.
Wise women are the micro-affiliates who drive most of the brand's product sales—over 60% of the sales in a month. These are women who use and love the product. They get an affiliate link to earn a commission for any sales generated through their posts on social media.
These women use #wisewoman while posting, and the hashtag has garnered a lot of traction over time because women relate with it and get inspired.
"Wise women are those who know what they're doing, and are ready to go the mile for it. They know they're made for cool things, and that's what our brand was interested in representing."
The tagged section on the House of Wise Instagram profile is filled with stories by women using #wisewoman. The brand elevates these stories by collecting and passing them around to encourage everyone to keep doing what they're doing, as it's making a difference.
Jess also told me how they get these stories by women through private channels apart from tagged posts. These range from any brand moment that caught their eye to their stories of having a terrible day—sometimes, they even share their experience using the brand's products like the "sleep gummy."
All wise women get access to a private Slack community with separate channels for sex, stress, FML, and even a happy dance channel where they celebrate achievements and small wins.
Amanda Goetz, the House of Wise founder, did an incredible job at creating buzz around the brand even before they had a social media handle.
She leveraged her network and community to start building the brand in public. Being connected with executive-level career women who followed her journey, the brand kicked off well and brought the initial traction from her channel to the brand's new channels after launch.
Word of mouth was the primary strategy and the secret behind their growth. They didn't spend any money on advertising, mainly because they were a CBD brand and wanted to grow organically. So, the brand grew and snowballed through recommendations, network, and community.
Personalizing customer service, and experience on social media
House of Wise has a brand-wide policy of keeping their DMs open. From Amanda to Jess and other employees—the DMs are always open for anyone who wants to reach out, seek help, give a product review or simply talk.
"Accessibility and having an open line of communication is super important to us. That's how we get raw, genuine feedback from customers and community members—even people who are on the fence and are confused if the product is a good fit for them. As much as we are a brand, we are people. And we're trying to focus on that element of it."
This step has been a massive help for the brand because it opened the lines of communication and humanized it beyond just a seller of products. It drew people towards the brand and influenced their purchase decisions, ultimately helping the brand drive more sales.
Creating, and maintaining a consistent brand voice on social media
While developing the brand's voice, Jess knew it should be portrayed as sophisticated, intelligent, fun, and trendy.
So, in the initial days of brand voice development, she used a high-level tone and assumed the audience's knowledge. But, soon, she realized people didn't understand the deep nuances.
CBD is still a foreign space to people, and they are curious to the point where they don't even know what questions to ask.
So, the team has been working pretty closely to communicate what CBD exactly is through their social media captions and other content formats—and for this reason, they also have their DMs open.
This allowed them to get live feedback if people didn't understand the content being posted, and through this, Jess would try to understand what tone to take forward. Following this, they made their language very factual, direct, and concise, with a little bit of fun sprinkled over it.
Jess still uses her DMs to understand what's working and what's not to tweak the content and social strategy to align with the audience's needs.
The secret behind House of Wise's social media strategy
More than posting and contributing, the brand focuses on listening and responding. They always wanted to create content that finds a sweet spot between what they want to post and what the customers want to see.
So, Jess always takes a step back and listens to the audience to understand what's going on and if there's an overall experience they can target while creating copy or campaigns.
Pro tips for engaging with the audience in comments
Replying to comments or tweets just as they are without adding any flavour or brand personality seems robotic, slightly irrelevant, and sometimes even cold.
Jess thinks, if somebody is going to the extent of mentioning your brand or incorporating it into a conversation or conflict, you need to be human while responding.
Along with a team member, Kelly, Jess does real-time engagement where every reply to the audience's engagement on a particular post holds substance. She feels this is much better than simply double-tapping their comment to acknowledge you've seen it.
"My advice to brands would be to do your best within the resources available and make that one-on-one connection with the audience as strong as possible with reason."
Engaging with people as brands, especially while responding to their comments needs to have a dialog. Instead of saying the same thing to everybody who comments, Jess suggests digging a little further and finding an "extra something" to make the reply personal.
Handling negative comments as a brand, and social media manager
Whenever there's a negative comment on a post or a separate mention, Jess believes in messaging them directly to sort it out.
She believes, sometimes people forget there are real people behind brands. Instead of getting back to them publicly, she prefers talking to them in the DMs and understanding the situation better on a one-to-one basis—unless it's an off-base comment that would rather be deleted than addressed.
Her advice to social media managers?
When the negative comments start feeling personal, it's best to step away and take some time out to create a boundary. Jess thinks social media managers need to understand that the brand accounts they handle are not their sole identity.
They're an essential part of the brand and can love the brand a lot but still choose to separate their identity and take some time out without feeling guilty about it.
She recommends feeling confident about your work as a social media manager and getting over the overwhelming feeling by taking some time off the brand's social accounts—especially if you have a team.
Key social media channels for the House of Wise
House of Wise wanted to be present on a platform where their customers were available, so they started posting content on Instagram a few months earlier than the product launch to build traction and interest around the brand. Slowly, they moved on to Twitter, which became a tremendous corporate update channel for them.
Amanda is a phenomenal speaker, so there are many interviews and press mentions to share, because of which they are active on LinkedIn too.
Now, they've also entered TikTok and will start creating content on the platform soon.
The brand's most engaged channels are Instagram and Twitter.
"I'm a huge proponent for differentiating content experiences on platforms. Sometimes, there are crossovers, but we try to avoid it to create content and brand experiences catered and curated specifically for a particular platform."
How to build a solid social media strategy
While building the social media strategy for House of Wise, Jess focused on making the people "feel" about the brand rather than making them "act." Every piece of content distributed through the brand accounts are meant to make the audience feel.
At the same time, she avoided over-strategizing social media because it changes very quickly. She recommends creating a flexible strategy with anchor moments to create trend-based content based on current events.
Creating content before a product launch
Before the House of Wise started its official product launch, they started creating relatable content on social media—primarily Twitter and Instagram.
The purpose behind this was to build a buzz around the brand and products and create a sense of community. So, they created content that targeted their ideal demographics to build trust. When the brand officially opened up for pre-orders, people were already aware of them.
As parting advice, Jess's number one tip for brands to rock social media is to invest time listening to your audience. Don't try to throw everything at the wall, and see what sticks—instead, experiment 10% and focus on listening for the remaining 90%.
This involves understanding who is buying your products, how they conduct their lives online, and communicating with them in a comfortable way that further adds value.
Bring your brand personality to social media, and use that as fuel to guide your social media engine.

Karolina Gawron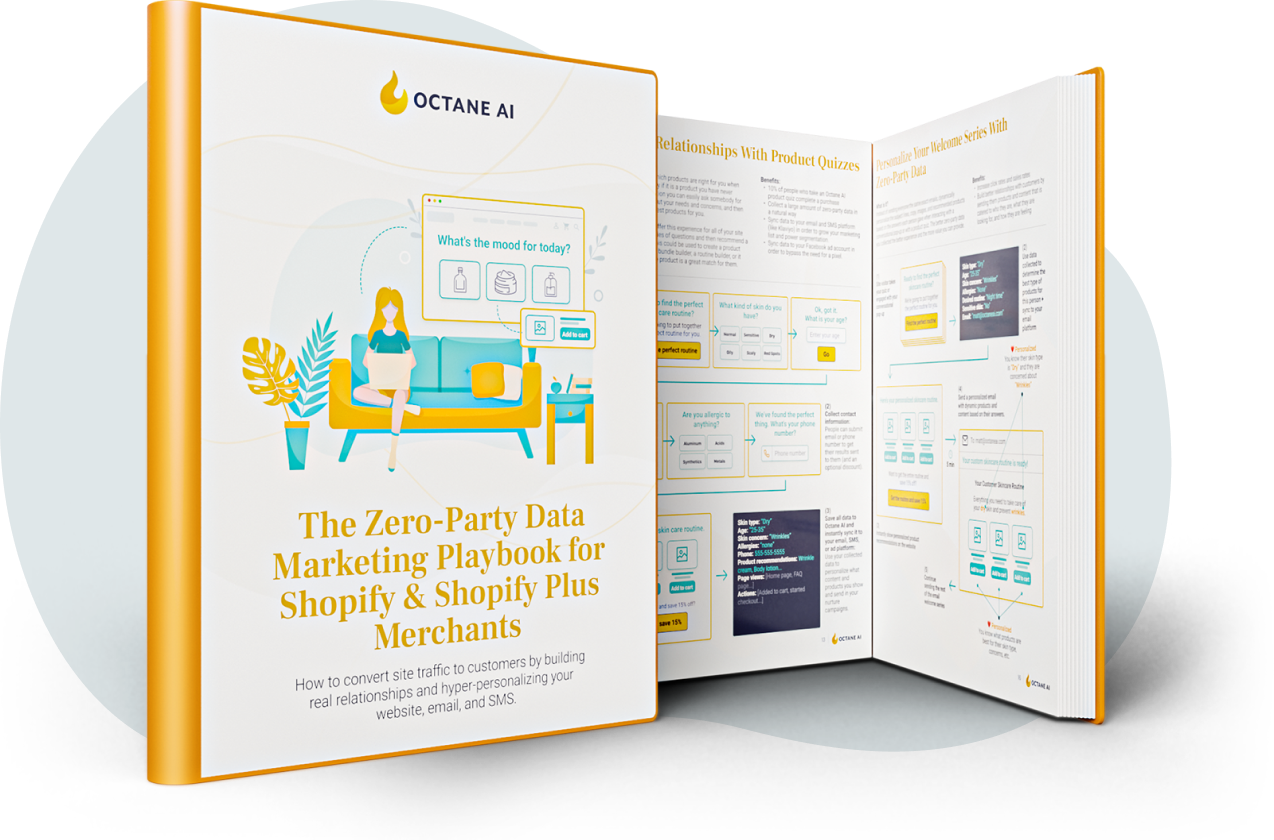 How Much Revenue Are You Missing Out On Because Your Marketing Isn't Personalized?
Fast-growing DTC brands implementing this playbook, and personalizing the customer journey with zero-party data, have connected with 16x more customers on email and SMS, seen 6x sales conversions, and increased revenue by over 50%.