March 8 is International Women's Day, and we're here to help you celebrate — in DTC style.
This year, the theme for International Women's Day is #ChooseToChallenge. The reason is because challenging the world's norms is what leads to change, and this is how we'll forge a gender-equal world.
The goal is to celebrate women's achievements, raise awareness of the biases women face every day and to support and inspire people to take action against these biases. That's why we put together this list of 17 female-led ecommerce brands.
Whether you decide to support these brands with a purchase or simply follow them on social media, we're here to shout out these amazing female founders by celebrating their success and their diverse businesses that have supported women in a variety of ways.
1. Brother Vellies
Source: Net-A-Porter
Aurora James founded Brother Vellies in 2013 with "the goal of keeping traditional African design practices, and techniques alive while also creating and sustaining artisanal jobs." According to Net-a-Porter, Aurora had been working in the fashion industry for years and started to feel out of touch with the natural world. When she decided to take a trip to Africa, she was immediately inspired by the gifted artisans, leading to the birth of Brother Vellies.
Source: Brother Vellies
Today, Brother Vellies creates handmade luxury accessories that are purchased worldwide, celebrating a variety of cultural histories. The brand has workshops in nine countries, including South Africa, Kenya, Mexico Morocco, Ethiopia, Burkina Faso, Italy, Haiti and at home in New York City. These workshops have provided opportunities for local artisans in each country to be able to create pieces from responsibly sourced materials.


2. LOLA
LOLA was founded five years ago by Jordana Kier and Alex Friedmen. At the time, Jordana and Alex realized they had no idea what ingredients were used in their tampons. They decided they had an opportunity to investigate and educate other women on the matter.
LOLA is an innovative period and sex essentials brand. They create products that are transparent when it comes to their ingredients, and they've grown an empowering community that drives conversation about de-stigmatizing all aspects of sex and period health.
Related Read: 5 Strategies LOLA Uses to Connect with Customers on Shopify
Source: LOLA
When LOLA first started, cotton tampons weren't common. To start building awareness, this is where Jordana and Alex focused on educating their target customers. They also ensured every ingredient in LOLA's tampons was accounted for, shared with their customers and gynecologist-approved. LOLA has continued innovating period and sex products, and their product catalog now includes lubricant, pads, condoms and more. They use their Instagram, which now has over 160,000 followers, to educate and support customers.
3. SAMARA Bags
Source: Bay Street Bull
Designed for the minimalist, SAMARA creates luxury vegan fashion with a focus on simplicity and elegance. The leadership team is a powerful sister duo: Salima and Samara. SAMARA was created by Salima in 2017 because she couldn't find a bag that was cruelty free, simple and elegant. She decided to name the brand after her sister, and the two of them have run the company together since.
Source: SAMARA Bags
The SAMARA team prides themselves on continuing to innovate the vegan leather space. While most vegan leather is made out of PVC, SAMARA uses PU (a water-based microfiber), which is less toxic in the production process.
The brand's first ten products were bags, but just four years later the SAMARA product catalog includes jewelry pouches, crossbody bags, laptop sleeves, totes, fanny packs, backpacks, planners and even apparel.
4. Healthy Roots Dolls
Source: Crunch Base
Healthy Roots Dolls was founded by Yelitsa Jean-Charles with the purpose of creating "dolls and storybooks that empower young girls and represent the beauty of our diversity." Growing up, Yelitsa said she never had a doll that looked like her. When her parents gave her a black doll, she cried because she felt like it wasn't the pretty one — this was the moment that inspired Yelitsa to ensure other children never feel insecure about their looks growing up, like she did.
Yelitsa recognizes that toys have a major impact on how kids think, act and perceive themselves. When there isn't a doll that accurately represents their features, it makes them feel like they don't fit in with society's appearance expectations. Thus, Zoe, the first Healthy Roots doll, was created.
Source: Healthy Roots Dolls
Healthy Roots Dolls is working to create dolls that have a variety of facial features, skin tones and hair textures. Each doll will have different interests and aspirations, to expose and inspire young children about their future career potential and opportunities. It's a positive message any parent will love.
5. Knix
Source: Royal Bank of Canada
Joanna Griffiths founded Knix with the goal of transforming the underwear market to be more functional and comfortable, while still offering designs that women love. Joanna's products are inspired by listening to what women want, which led to her first innovation: Leakproof Underwear. Today, she continues to create revolutionary products based on women's needs.
Knix is an apparel brand that sells comfortable bras, underwear, tops, bodysuits, activewear, shapewear and loungewear. And their statement is clear: they're redefining intimates. This mission is shared on their website when they say, "It's time that all of us lived unapologetically free. Free from judgement. Free from self-doubt. Free to be yourself."
Source: Knix
All of Knix's products are designed with maximum comfort to make women feel more comfortable in their skin — they tell this story in their marketing with the community they've built that features women who talk about fertility, birth, motherhood and more. Some of this can be found on their Instagram IGTV, which also features messages from Joanna, explainer videos and inspirational talks.
6. Osea Malibu
Source: Osea Malibu
Osea Malibu's story dates back 100 years ago to 1921 when the founder's great grandmother, Elsa Reuschle, became one of the first female chiropractors in the US. Just over a decade later, Elsa had an accident that left her with several torn tendons in her leg. She felt devastated while she was bedridden and unable to help her patients.
During this time, Elsa had a dream that the ocean had healed her, and when she woke up the first thing she did was head to the shore in Long Island to swim, despite the fact that it was in the middle of December. After swimming in the cold waters daily, Elsa's leg was healed in in a few weeks — she believed part of her recovery was from the minerals and elements from the sea salt and seaweed.
Source: Osea Malibu
Following her grandmother's footsteps, Osea's founder, Jenefer Palmer, became a holistic healer and spent a decade formulating the ingredients for Osea Malibu's products, which launched in 1996. Today, the company is run by mother-daughter duo, Jenefer and Melissa. The entire family helps with searching for new ingredients, running social media and sourcing eco-friendly packaging — the company is a family passion.
7. Blume
Source: Business Wire
Blume was created with the intention of creating a safe space for young women to learn, grow and celebrate womanhood. They inspire conversations about the good, the bad and even the ugly about being a woman and everything that comes with it. Blume was founded by two sisters, Taran and Bunny, when they asked themselves two questions:
Why is the way the world treats periods so weird, maybe even wrong?
Is the silent treatment society gives periods and puberty, somehow connected to the shame girls grow up feeling about their bodies?
These questions led to Taran and Bunny launching Bloom as a way to de-stigmatize periods and to build a generation of confident women.
Source: Blume
Blume's mission is about not letting puberty affect potential. On their website they state, "Puberty is a pivotal time in a girl's life. It shapes her expectations of womanhood. Done right, girls can feel good about their bodies and celebrate becoming a woman in a life-shaping way. This is what we're all about. Helping to create a new generation of thriving, confident, informed young women who are eager to become the very best version of themselves."
They sell a range of products from skincare, body-care, merch and more.
8. House of Wise
Source: House of Wise
House of Wise was founded by Amanda Goetz after she realized the potential CBD oil had in her life while navigating the difficulties of a divorce, three young children while working as a VP of marketing for a wedding brand and the COVID-19 pandemic. With such a full plate, Amanda turned to CBD oil in search of a calming focus.
Amanda wanted to share her experience with using CBD oil with other women so they could feel empowered to try it too with a community supporting their choice. Amanda is on a mission to "change this and empower women to take control of their sleep, sex, stress, and wealth with House of Wise." This mission starts with ending the stigma around CBD oil.
Source: House of Wise
The name, House of Wise, was inspired by Brownie Wise (the creator of the Tupperware Party), who helped make Tupperware a household name by giving thousands of women the ability to make their own money after WWII. When Brownie asked to be a part of the exec team, she was fired. Soon after, the company was sold and Brownie got nothing.
Brownie's story inspired Amanda, so she ensured women could control their wealth by earning money selling high-end, trusted CBD products with House of Wise (with no up-front costs, sales quotas or recruiting that will get you stuck at the bottom of a pyramid scheme).
9. Three Ships Beauty
Source: Bay Street Bull
Three Ships believes beauty should be 100% natural and affordable. Founded in 2017 by Connie Lo and Laura Burget, Three Ships was started because Connie and Laura realized how expensive natural skincare was, and there was nothing available on the market for anyone with a smaller budget.
The name Three Ships comes from tales that are thousands of years old about adventurers searching for the mystical Fountain of Youth — some of these legends say it was discovered by a small fleet of just three ships.
Source: Three Ships Beauty
With just $4,000, Connie and Laura started making their own handmade formulations in Connie's apartment kitchen with the goal of creating effective and affordable natural skincare products for consumers.
The brand believes that less is more when it comes to beauty, which is stated right on their website saying, "you don't need a long list of unnecessary ingredients in your skincare products, and you don't need a 12 step skincare routine to achieve beautiful results."
10. INH Hair
Source: INH Hair
INH Hair, short for Insert Name Here, was co-founded by Kevin Gould, Sharon Pak and Jordynn Wynn (shown in the above image). Helping you discover your best self, INH Hair is making good hair days happen every day. Selling a range of ponytail extensions, hair extensions, hair tools, wigs, hair color and accessories, the brand is helping people be able to experiment with their look by not limiting self-expression.
Source: INH Hair
Prior to INH, people looking to experiment with their hair could either spend hundreds of dollars on high-quality hair extensions and wigs, or they would be stuck with cheap-looking synthetic products that you wouldn't actually want to wear. Their mission was to combine the two to offer a product that's both high-quality and affordable to consumers.
11. Pop Up Plus
Source: Black Business
Camille Newman founded Pop Up Plus in 2010: an online and pop up shop for curvy trendsetters with sizes 14+. The collection features Contemporary, International and Indie pieces that meet cutting edge trends from Independent American and International designers. Their goal is to "challenge perceptions of what curvy girls should wear and we encourage our customers to look and feel great at any size."
Source: Pop Up Plus
Camille's grandmother was a tailor, which is where Camille developed the understanding for needing a fresh take on clothing. She was frustrated with the lack of access to hip, luxury clothing, so she decided to travel the world to look for it. Camille developed an appreciation for every style — from classic basics to rock pieces. She took this diverse aesthetic with her to private shopping parties, which eventually turned into a full-scale mobile plus-sized store and online shop.
12. Live Love Gameday
Source: Live Love Gameday
Live Love Gameday is a comfortable and trendy sports-themed clothing and accessories brand. The store is based out of Dallas, Texas and was founded by a former Dallas Cowboys Cheerleader, Sydney Durso-McArthur.
Sydney cheered for the Dallas Cowboys for seven seasons, which led to her strong beliefs that the field was her home away from home. This sparked her idea to launch Live Love Gameday, a line of clothing that could be enjoyed by those who share the same love for sports and the field.
Source: Live Love Gameday
The brand sells a wide range of clothing and accessories — all sports related, of course. From a giant baseball tote bag to T-shirts with fun sporty sayings, it's become a staple brand for both men and women that have a love for baseball, basketball, soccer, football and many other sports.
13. SOKO Glam
Source: Korean Times
Founded by Charlotte Cho, SOKO Glam was created after Charlotte moved to South Korea just after graduating from College. When she arrived, she learned how Koreans have a skin-first philosophy, believing skincare is an enjoyable experience that should be invested in as part of your overall well-being. This had Charlotte dabbling into Korean skincare, and she quickly discovered the benefits and was eager to share it with others.
Source: SOKO Glam
Since founding SOKO Glam with her husband in 2012, Charlotte has earned her esthetician licence and combined both Western and Korean skincare best practices to her brand. Charlotte's goal is to share what she's learned from Korean beauty to the rest of the world: "My hope is that learning about beauty from a Korean perspective will change the way you think about your skin and how you treat it. It's an amazing feeling knowing that you're the expert on your own skin and you're working hard to make it the healthiest it can be," She says on her website.
14. UOMA Beauty
Source: Cosmetics Business
UOMA (pronounced uh-mah) was founded by Sharon Chuter with "a mission to go off the well beaten path to redefine the rules of inclusivity and diversity." Her goal with UOMA was to create a makeup range that is forward-thinking and uncompromising. Drawing on her Afro heritage, she infuses historical culture with modernity for UOMA's fresh aesthetic that's suitable for all skin tones.
The name of the company was inspired by the meaning of UOMA: beautiful. The UOMA team believes beauty starts when you decide to be yourself — the brand is helping others achieve that beauty by re-writing the rules of inclusivity and diversity.
Source: UOMA
UOMA's empowered by tribe. Their values and beliefs revolve around self-expression, colorful living, African pride, inclusivity and beauty rebellion. They welcome anyone and everyone to join their beautiful tribe.
15. BluePeppermint Boutique
Source: You Are Current
BluePeppermint Boutique was founded by Jessica Landez from her childhood desire to live in a mall and love of getting to know other women. BluePeppermint first opened as a retail location in 2015 where Jessica supplied women with unique apparel based on the latest fashion trends.
Source: BluePeppermint Boutique
With Jessica's success, she opened her online store of BluePeppermint and started shipping her products out to international customers. In 2020, she moved the store to a new location with an exciting upgrade. The brand offers a rewards program, an ambassador program and even hosts regular in-store events to combine the best of their physical retail and ecommerce experience.
16. Tone it up
Source: Forbes
Tone it Up is a movement, lifestyle and community. While they sell fitness equipment, protein, meal plans and more, the company was created to empower others to live their healthiest lives by participating in workouts, meditations and healthy eating. Their goal is to make your wellness journey welcoming, accessible and fun.
Source: Tone It Up
The co-founders, Katrina Scott and Karena Dawn, met at the gym in 2009 and bonded over making plans to create a fitness community that was positive and inspiring for women. Using the TIU app and their Instagram, Katrina and Karena have built a community for women to connect with others during their fitness journeys. In fact, there's over 20 million hashtags on Instagram with women checking in every day to support each other and connect.
17. Haus
Source: Haus
Haus was founded by husband and wife duo, Woody Hambrecht and Helena Price Hambrecht. Woody and Helena live in Sonoma County where they grow grapes and make wine, which is where they created their first batch of Haus right in their living room. Their goal was to make a better kind of drink after realizing the alcohol industry hasn't evolved since prohibition.
Alcohol that's on the shelves at large retail stores include unhealthy ingredients and too much alcohol. Helena and Woody wanted to create something people could feel good about drinking, so they took a modern spin on apéritifs.
Source: Haus
When Woody visited Berlin in 2009, he discovered apéritifs and a different kind of drinking culture from North America — people weren't drinking with the goal of getting drunk, they did it as a way to build connections and focus on the present.
Haus is "made with herbs, fruits, and botanicals, apéritifs have been popular in Europe for centuries. Apéritifs are complex in flavor, but low enough in alcohol that you can sip them all evening without getting too drunk or feeling bad the next day."
Celebrate women on International Women's Day (and every day)
International Women's Day has been a key part in driving female empowerment since its birth in Germany in 1914. Since then, it's been adopted internationally and widely celebrated across cultures.
You can celebrate International Women's Day any way you like, but make sure to check out the NFP's website to learn more about what it is, why we celebrate it and how you can get involved by joining the community. They have tons of online resources to help you learn more about the day, its theme and more.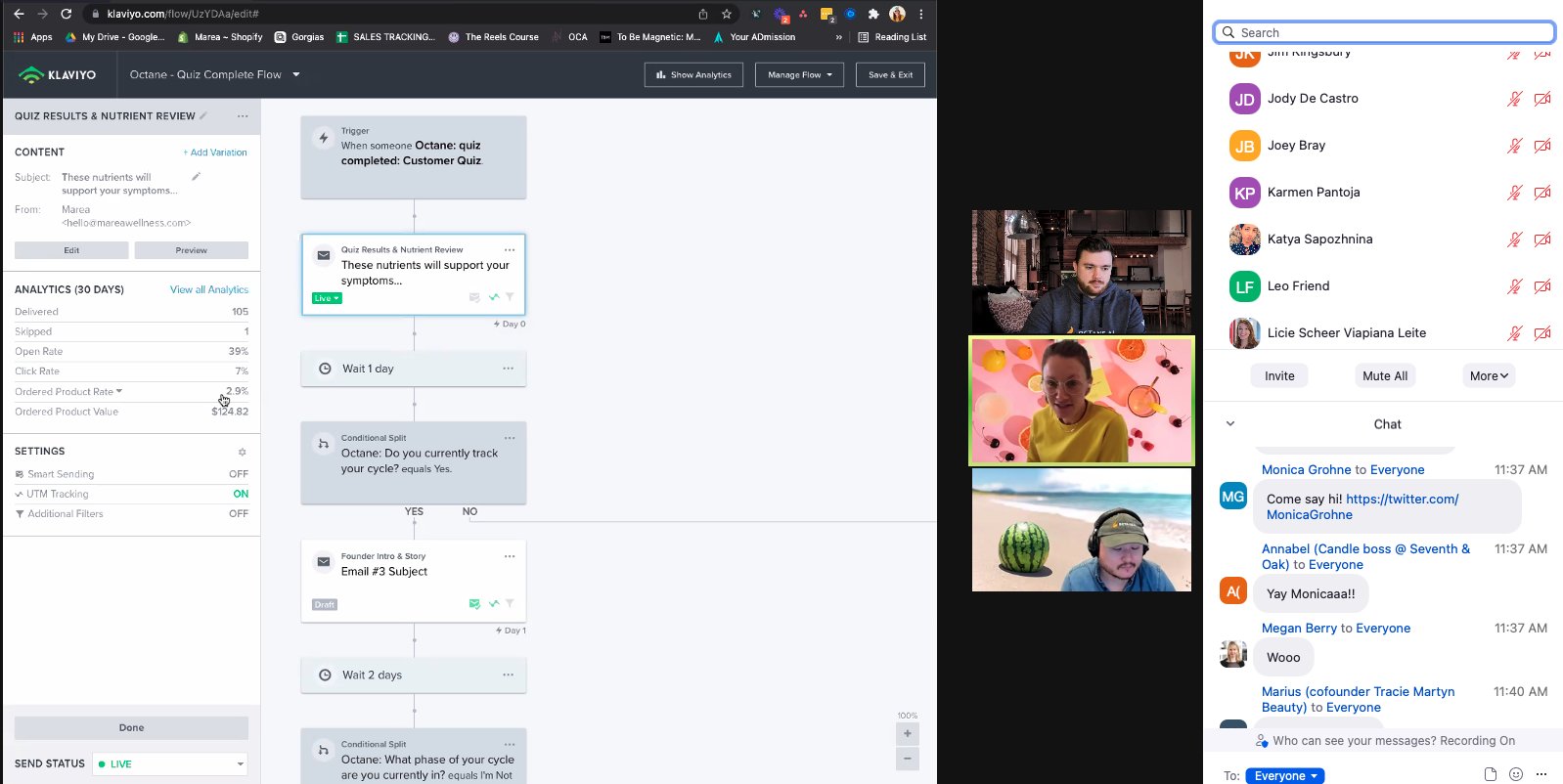 Join the Octane AI community
Join 10,000+ ecommerce operators who receive weekly tips on quizzes, zero-party data marketing, and increasing revenue with personalization.