It took Jason Wang a year to build a $15M beauty brand over the short span of twelve months with just $500 in his pocket.
Is it just luck? Good timing? Overnight success?
In fact, Jason and Doe Lashes worked hard behind the scenes to create a dominant online presence using different marketing channels and strategies.
For the final talk of our (first ever) DTC Grow: Beauty series, we were lucky enough to speak with Jason Wong, the twenty-three-year-old founder of beauty brand Doe Lashes and brand incubator Wonghaus about the strategy behind the success of his brand:
How he invested his $500 primary budget
Influencer marketing strategy that helped them grow to $2.7k in sales per day in just a month
Data-driven approach to marketing
How they leveraged surveys and

shop quizzes

Doe Lashes' SEO strategy that contributes to 30-35% of their revenue
Now let's dive into Doe Lashes and how exactly Jason managed to achieve such mind-blowingly fast growth.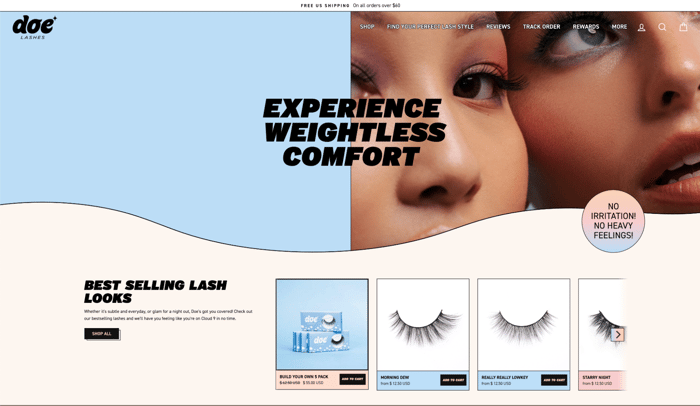 Proving his theory: a bottom-up approach
Built on comfort, beauty and sustainability, Doe Lashes is a brand born out of Jason's desire to create lashes that didn't exist until he made them.
Founding a brand is generally assumed to require a lot of resources and funding right from the get-go, but some people don't have the kind of money to bootstrap a brand, nor do they want to raise funds and be held to the growth expectations of their investors.
This is where Jason came in, determined to prove that starting a successful company with a mere $500 was possible.
Doe's $500 beginnings
During Doe's first year, Jason kept costs low by doing almost everything by himself.
He packed orders in his office, enlisted a friend to model the lashes in her living room, took photos for the site on his iPhone and used Canva and Photoshop to edit them. When he came across something he didn't know how to do, he watched a tutorial on YouTube and figured it out.
And where did he invest the $500 you may ask?
The answer is: entirely into his product inventory.
Jason bought two hundred pairs of lashes to populate the site for the launch, purchasing fifty pairs of four different lash styles to make sure the site didn't look empty.
How Doe Lashes leveraged influencer marketing
With zero dollars left to spend, Jason continued his lean approach with his marketing strategy, abstaining from running paid ads for the first four months of the brand's existence. Instead, he chose to market primarily via more affordable channels:
Word-of-mouth,
influencer outreach,
affiliate marketing.
Influencer outreach was and is a big one for Doe, and Jason shared several tips on how he recommends going about it.
Calculating profitability of influencer outreach
When considering influencer outreach as one of the main marketing tactics, Jason did some calculations and realized that sending out products to friends and micro-influencers would cost Doe less than $10 per shipment.
Since one pair of lashes sold around that price point, influencer marketing was a smart and cost-effective strategy for spreading awareness about the brand.
To illustrate this, Jason explained that if Doe made one sale because of a single influencer, they'd break even.
If they made two sales because of that influencer, they'd make a profit, and if they made three, they'd have some serious traction. Essentially, the threshold to break even through influencer marketing was so low that Jason knew he'd be foolish not to try it.
After just one month of influencer marketing efforts, they were making $2.6K in sales a day!
If you want to reach out to influencers as a part of your marketing, remember this:
Calculate how many customers you need to get via influencer marketing to break even
Work with micro-influencers with around 10,000 followers
Be consistent!
Does it look like a perfect micro-influencer for a skincare brand?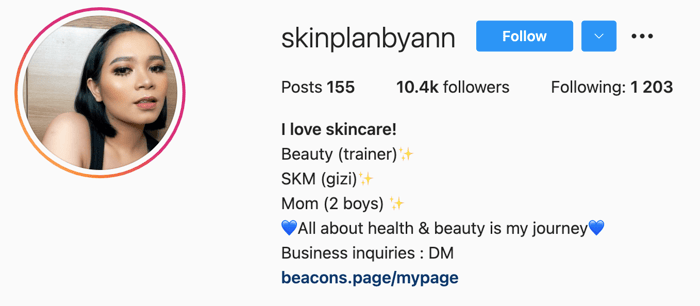 What to keep in mind when reaching out to influencers
The most important piece of advice Jason gave us regarding influencer outreach is never to request anything in return from the influencer you gift unless you're paying them.
If you've done your due diligence in picking out influencers who share similar interests with your buyer persona and they have a feed your brand could be easily incorporated into, then they'll probably post about your product if they like it.
If they don't post anything, it doesn't necessarily mean they didn't like it.
These days influencers are inundated with PR, and often they don't have time to open everything they're sent.
Know your numbers & customer origins
Paying close attention to the numbers isn't something Jason only did in Doe's early days. Looking at the numbers is important to him now too, it's something he thinks every founder should be doing daily.
By calculating all the money coming in and money going out (and not just looking at the Shopify dashboard to do so) Jason said he's been able to make better decisions for his business and have a better overall understanding of his cash flow.
In the beginning, Jason was tracking everything on excel sheets, looking at how much they were spending including fixed overhead costs, immediate expenses and marketing expenses.
He still does all that–but with the app Lifetimely rather than excel sheets–tracking daily expenses and measuring them against daily profits to figure out Doe's end-of-day profits.
The impact of surveys and quizzes
Once you know your numbers, you'll have a better idea of where to invest your money.
What goes hand-in-hand with that is knowing where your customers are coming from so you can invest in the influencers and platforms bringing them to you.
Quizzes and post-purchase surveys are fantastic ways to collect this kind of information from your customers.
The post-purchase survey Doe sends out gathers much more specific and accurate information about customer origin than Google Analytics does.
Jason also uses Octane AI's quiz on his site to guide customers to the products best suited to their needs, finding it contributes to 25-28% of Doe's overall revenue.
Doe offers thirteen products, which can be an overwhelming amount if you don't know much about false eyelashes.
But instead of expecting the customers to know exactly which product they want, the site's quiz asks them questions that result in a personalized product recommendation.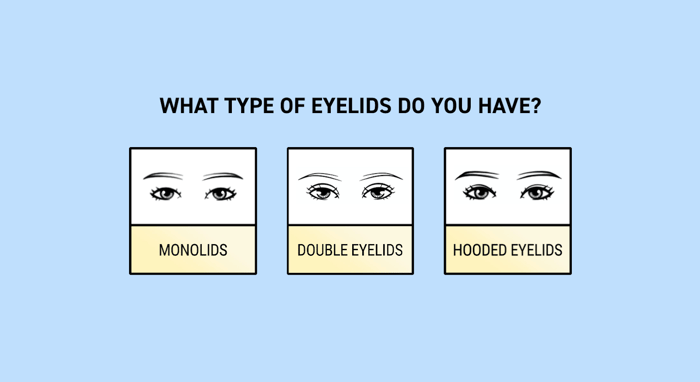 Once a customer is done with the quiz, they get product recommendations based on their answers like this: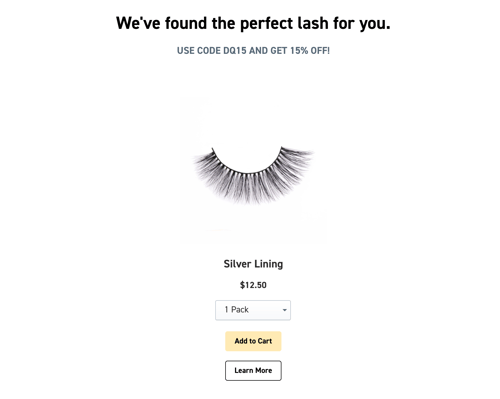 But sometimes buyers leave the site without making a purchase. In that case, Doe saves their data from the quiz and syncs it to Klaviyo so they can re-market to the specific customer.
Don't forget about SEO
Maybe surprisingly, a lot of people google brand names rather than clicking on ad links. If your brand doesn't show up when someone does that, the money you've spent on the ad or influencer they saw that made them want to look your brand up has been wasted, because they'll likely move on.
Looking back, Jason said he wishes he had implemented SEO earlier, as Doe's organic traffic revenue now accounts for 30-35% of their overall revenue. Not being on top of SEO from the start caused them to miss out on a lot of money.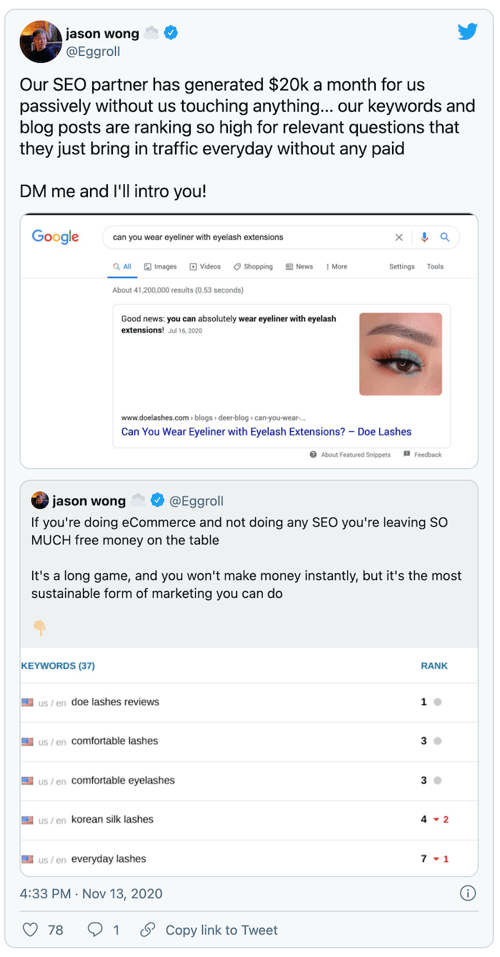 Now they have an agency specifically focused on SEO optimization, and these are the three things they do:
Blog content
Doe Lashes provides a consistent stream of blog posts on their website using specific keywords like 'false lashes' and 'comfortable lashes', as well as posts answering specific questions about how to use false lashes correctly.
Jason has found that once you create that kind of blog post and it starts getting traction Google will often put it on top of the search page for when those keywords or questions are googled.
Backlinks
By working with specific bloggers and publications Doe gets their site hyperlinked whenever 'false lashes' are referenced in the articles.
Having multiple websites and posts lead back to Doe's site gives them a kind of authority and legitimacy in the beauty world.
This is what their consistency looks like:

Google ads
Because Doe has invested in their SEO optimization so heavily, they now rank on top of all their search results. Adding Google ads into the mix, which always appear at the very top of a search, means they take up the first three rows of search results, which is about 20% of the web page real estate (and more like 50% if you're searching on mobile).
So if you're hesitant to put in the effort to work on your brand's SEO, take this as a sign to go for it. It's reliable as well as compounding, so focusing on it early is a good idea.
As of now, Doe Lashes ranks for 5k various keywords that bring buyers to their store. Here are top keywords they currently rank for according to Ahrefs: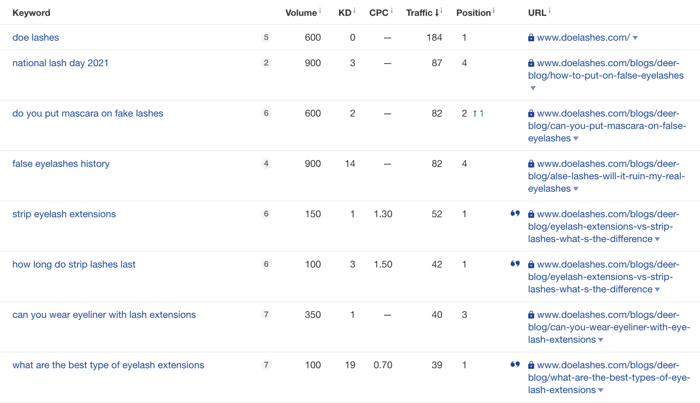 Wrap Up
As a general rule of thumb, listen to Jason.
You can't go wrong by following the lead of someone who started a brand with $500 and built it into one worth 15 million dollars within a year. By paying attention to your numbers, focusing on SEO, learning about your customers and investing based on what you learn, you'll be off to a really good start.
Want more? Learn Doe Lashes' exact quiz and personalization strategy that helped them 3X their email opt-in rate and so much more.