You know Shopify, right? (Duh.) Well, did you know that Shopify actually runs its own ecommerce store?
In addition to all the digital stores the Shopify platform powers for brands, the company itself operates two ecommerce stores: The Shopify Hardware Store, and most recently, Shopify Supply.
The Shopify Hardware Store sells, well, hardware products for brands' retail locations, including card readers, label printers, barcode scanners, sustainable packaging and retail stands. However, the team at Shopify realized merchants visiting the Hardware Store were having trouble deciding what hardware they needed and which products they should bundle together.
To create a more consultative shopping experience, Shopify implemented Octane AI's Shop Quiz to help merchants determine what to buy for their brick-and-mortar locations.
To make the experience even easier, Shopify added a variety of entry points for customers to discover and engage with Shopify's hardware quiz. One, for example, is in Shopify's help center.

Shopify has built a consultative experience that replicates what it would be like for customers to enter a retail store to ask questions about the hardware they're looking for.
So what did Shopify do to improve their hardware store that led them to creating a quiz? How has it benefited them? What information are they collecting and now leveraging through the quiz?
We're sharing Shopify's entire quiz strategy in this article. And the best part? Every brand can do this too.
First, let's dive into the challenge Shopify was facing.
Their Challenge: Guide Merchants to the Right POS Bundle
Shopify's hardware store offers a variety of kits and hardware accessories for merchants' retail locations.
After noticing merchants required more assistance with choosing the right hardware, Shopify realized three things:
They needed to create some sort of virtual consultation to help merchants navigate which hardware is best for their store's setup.

They needed to collect zero-party data (data collected directly and voluntarily from customers) to learn more about the merchants visiting the hardware store, including their goals with Shopify POS, where they're planning to use the hardware, and which hardware they're looking for specifically.

They needed to collect merchant's email addresses in order to notify them when a product they wanted was back in stock.
The Solution: Create a Consultative Online Shopping Experience
Understanding the complexity of bundling POS hardware, Shopify implemented a Shop Quiz to ask merchants about their POS needs.
The quiz ensures merchants don't have to search through hardware products and read help documentation to try and bundle a POS system on their own. The end result is a complete hardware bundle for the merchant to easily integrate into their brick-and-mortar.
Adding logic to personalize the conversation
The hardware quiz has multiple potential results pages, as bundles are matched to each merchant's specific needs. Shopify uses merchants' responses to the quiz questions to direct them towards the best results page and accompanying products.
Whether or not a merchant is experienced with POS hardware, the quiz makes it incredibly easy for them to answer 1-3 questions and get a personalized POS bundle to suit their needs.
As Shopify's hardware store offers more products and POS solutions in the future, the results pages will only continue to get more customized—but never complex for the customers on the receiving end of the quiz.
This is why a quiz is a great solution for brands with larger SKUs who want to make the shopping experience easier. Industries like beauty, apparel, and food and beverage benefit greatly from these consultative experiences since the quiz offers logical journeys for every individual customer and their unique needs.
Collecting zero-party data from every quiz user
According to Shopify, there's a handful of users who don't convert right away from the quiz results page. This is where zero-party data collection is helpful.
Every quiz question tells Shopify something unique about the merchant:
- How many retail locations they have.
- What type of retail location it is.
- What specific hardware the merchant requires.
Shopify opts to collect email addresses only of merchants who were unable to find the product they were looking for in stock. That way, once the product is back in stock, Shopify notifies the merchant with a personalized message.
But many brands use the quiz to collect email opt-ins from all site visitors and retarget them afterwards. Bariatric Fusion, a supplements brand, increased email opt-ins by 16x just by asking shoppers to share their email address upon quiz completion.
Zero-Party Data: What It Is and Why It's Important for Today's Ecommerce Merchants
The world of online shopping consists of multiple channels that influence buying behaviors. Brands have the power to reach their target audience in more ways and at any moment. But rather than guessing what products or messages customers enjoy, brands can learn more about their customers by collecting zero-party data on their demographics, behaviors, likes, dislikes, pain points and preferences.
Zero-party data is personal information that a customer intentionally shares with a brand.
The information you collect through a quiz will power the rest of your marketing campaigns, including how you engage with customers on all your owned marketing channels. The expectation is for customers to get a personalized shopping experience by sharing this information.
Using this data, brands can segment customers and target campaigns on their paid and owned marketing channels to ensure every message, recommendation, and event is relevant to every individual—no matter what stage of the buyer's journey they're at.
There are so many things you can accomplish with zero-party data. We'll cover some of them below, but If you'd like to learn more about it, download our latest playbook.
Everything you can do with zero-party data
Not only are brands able to easily create a quiz that helps them collect zero-party data to learn more about their customers, but they also provide a memorable customer experience by sharing personalized recommendations.
There are tons of ways brands are leveraging zero-party data on their owned and paid marketing channels. Here are a few examples:
- Increase ad conversions by sending ad traffic (TikTok, Facebook Ads, etc.) to a quiz landing page.
- Build personalized email flows to nurture quiz takers by putting them through a series of emails with messaging related to their interests.
- Understand what type of content your brand should be creating to educate and entertain customers by learning about every customer's intent and pain points.
- Learn about the type of products your customers are most interested in, and use that information to inform your future product innovations.
p.s. Heard enough and want to get started on your zero-party journey? Take this quiz we put together to see what zero-party data marketing would do for your store.
Getting Started with an On-Site Quiz
The information you collect from a quiz will power the rest of your marketing campaigns, giving you amazing results, like Doe Lashes, for example, and how it increased its AOV by 11%.
Shopify's quiz is a great example of how brands can leverage the power of personalization. But Shopify's Hardware Store isn't the only online storefront doing this. In fact, there are thousands of ecommerce merchants who've discovered the benefit of having interactive content that collects zero-party data across every industry.
Some quiz examples we've seen at Octane AI include…
- Product recommenders
- Size finders
- Style finders
- Gift finders
- Bundle makers
- Routine finders
- Virtual consultations
- Character matching
- Educational quizzes
- Onboarding quizzes
- Shade finders
- Recipe finders
Truthfully, the options are endless when it comes to creating interactive content.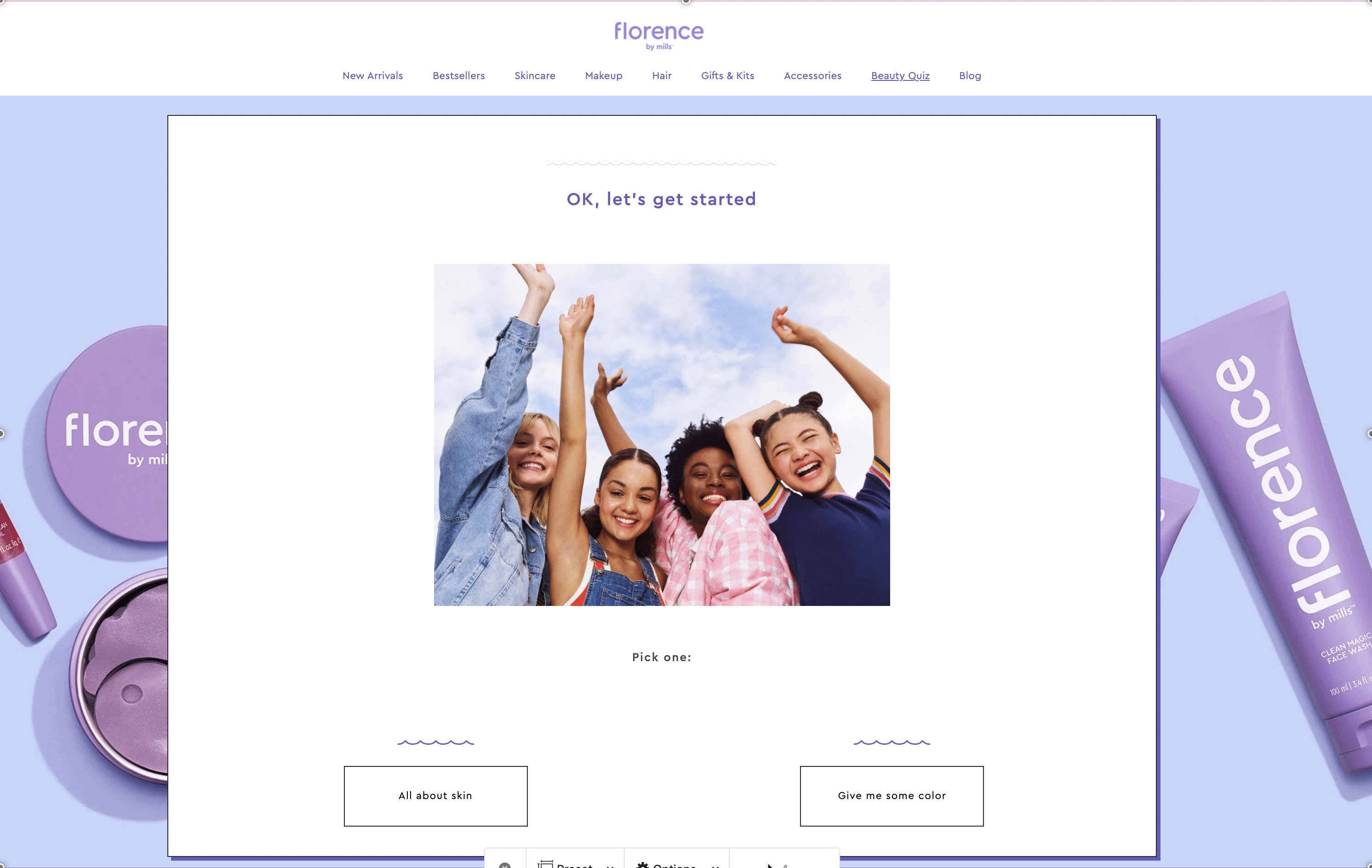 To try Octane AI for yourself, we offer a 14-day free trial in the Shopify App Store.
And if higher revenue and retention sounds like something that interests you, we're happy to help you get started with creating an ecommerce quiz that works well for your customers. Fill out the form below to schedule a call with our team and learn more. 👇