12 years ago, Jordan Engelhardt realized the beverage industry was missing something she wanted: a skinny margarita.
So, she created it herself.
After hustling, testing and innovating, Skinny Mixes was born, starting in a few brick-and-mortar locations such as TJ Maxx and Home Goods.
Since then, Skinny Mixes has expanded their product offering to include more healthy beverage options, coffee syrups and other sugar-free, calorie-free and zero-carb options. And just three years ago, Skinny Mixes decided to grow their brand online as well.
Choosing to build the business on Shopify, Jordan hired Alex Tenney as the VP of Ecommerce. Since then, Skinny Mixes has skyrocketed in the online space, and Alex has learned many lessons along the way.
We wanted to understand more about Alex's digital strategy and the ideas she implemented to help Skinny Mixes see such incredible growth, so we spoke with her during a live Commerce Club event on Clubhouse.
Alex said the past three years have been crazy, but by innovating, testing and working with great partners, the brand has achieved great things. Let's dive into Alex's 20 tips and lessons for scaling a beverage brand.
The go-to resources when starting in ecommerce
1. When Skinny Mixes first started building, their go-to was email, and they chose to use Klaviyo. Immediately, they saw an insane ROI, and they knew Klaviyo was a worthwhile investment. With Klaviyo, the first flows they set up were a welcome flow and a post-purchase flow.

2. Next, they set up automated Facebook Messenger campaigns and flows using Octane AI. Here, they created sponsored messages, abandoned cart flows and other personalized messages that brought customers back to their store.

3. Skinny Mixes also uses Shogun to build landing pages. They enjoy the drag-and-drop interface, which they use to create targeted and personalized pages for different segments of their community.
Source: Instagram
Acquiring customers through an on-site quiz
4. Skinny Mixes has over 100 products. With so many flavors, it can be overwhelming for new customers to discover everything. Skinny Mixes uses a quiz to learn the customer's flavor palette and then recommends the perfect recipe, which includes their syrups.
5. Skinny Mixes' quiz improves their customer service and conversion rates. Whether the customer is in the mood for cocktails, coffee or tea, their quiz will learn about a customer's preferences in each area. These preferences are saved and can be used for personalized Facebook Messenger or email campaigns.
6. During the COVID pandemic, customers couldn't leave their homes to enjoy their favorite cocktails or drinks from baristas. The quiz acted as a virtual bartender or barista to give customers that experience in their home.
Want to learn more about Skinny Mixes' acquisition and retention success? Check out our case study!
Turning new customers into loyal customers
7. After acquiring customers, Alex focuses on retention. To do this, she said Skinny Mixes prides itself on having two-way conversations with customers.

8. If customers ask for a specific flavor, the team will do their best to try and create it.

9. There is an active Skinny Mixes Facebook group with over 10,000 members. The Skinny Mixes team will use this community to ask customers what they're interested in next, how they prefer their packaging and other product-related questions to make them feel part of the conversation behind the brand.

10. On Instagram, Skinny Mixes uses a lot of user-generated content to give their customers a voice and showcase their importance.

11. On all platforms, they segment their audiences to make sure they're only sending products and content that are relevant to those customers, giving each customer a truly personalized experience.
How Skinny Mixes built a brand community
12. Skinny Mixes's Facebook group has been a big part of growing their brand community, which was created in early 2020. In this community, customers share common experiences of growing their coffee bar, sharing photos and engaging with each other about their love for Skinny Mixes.

13. Skinny Mixes is a lifestyle brand—the product is one that people use every day. This means they're more likely to share it on Instagram since many people share their everyday lives on that platform. Engaging with these customers and sharing their content has helped build their community.

14. The team creates a lot of content for their customers. From blog posts to recipes, they create content that's engaging to their customers and makes them feel special.

15. According to Alex, the most important part of growing their community has just been through having a good connection with customers. By being active on their Facebook group and on Instagram, creating relevant and interesting content, hosting giveaways, etc, they've been able to build deeper connections with their most loyal customers.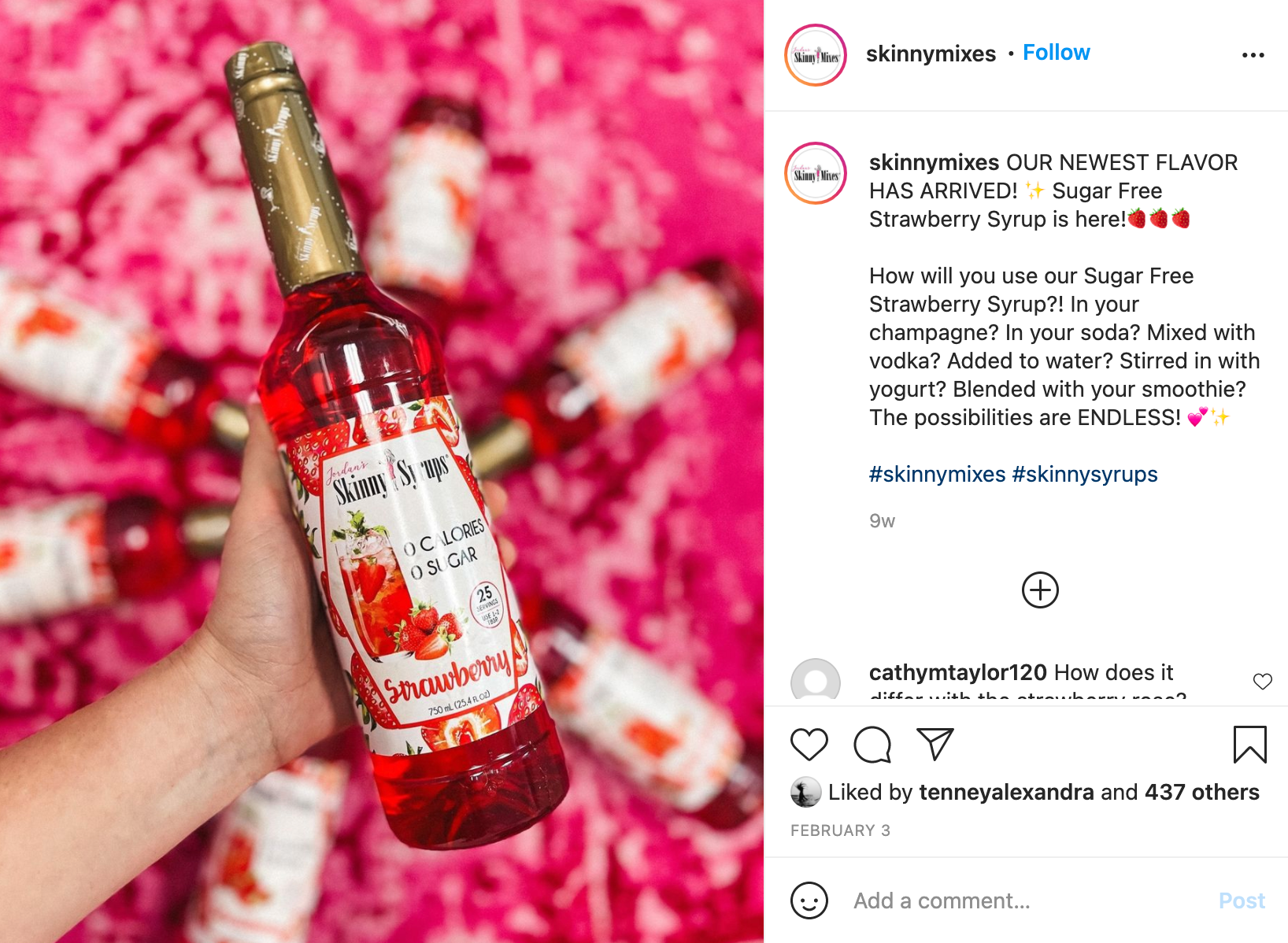 Source: Instagram
Using community for product development
16. With such an active community, Skinny Mixes wants their customers to feel part of the innovative process. They ask customers for their thoughts and feedback when building new products.

17. Alex watches what type of products their target customers are using from other brands in the cocktail and coffee space to inspire ideas for Skinny Mixes.

Alex's approach to creating a content marketing engine
18. Alex's main piece of advice for creating content is to find your brand voice and own it. While it may take time to figure out what your voice is, you have to just go for it and it'll eventually come together.

19. One of Skinny Mixes' best blog posts was one Alex sat down and just wrote out. At first, she wasn't sure about the topic or if it would work for their audience, but it's ended up being a top-performing article.

20. Alex also pays close attention to Skinny Mixes's customers and their interests. You can't just make content that doesn't work well for your customers or isn't engaging to them. Pay attention to industry trends to find opportunities to create content your customers will love.
Skinny Mixes's quiz has been essential in connecting with customers to create personalized experiences. If you're interested in the benefits of a quiz, chat with our team!
About Commerce Club:
Commerce Club was co-founded by Matt Schlicht and Ben Parr. Both Matt and Ben are also the co-founders of Octane AI, a company that gives Shopify brands the ability to offer conversational commerce to customers on their sites; an experience replicating an in-store consultation and leading to curated product recommendations.
Commerce Club shows are hosted on Clubhouse. There are a variety of weekly shows that dive into successful brands, ecommerce strategies and more. If you're interested in learning about upcoming shows and getting show notes, articles and transcripts. Head to joincommerceclub.com to sign up for the newsletter.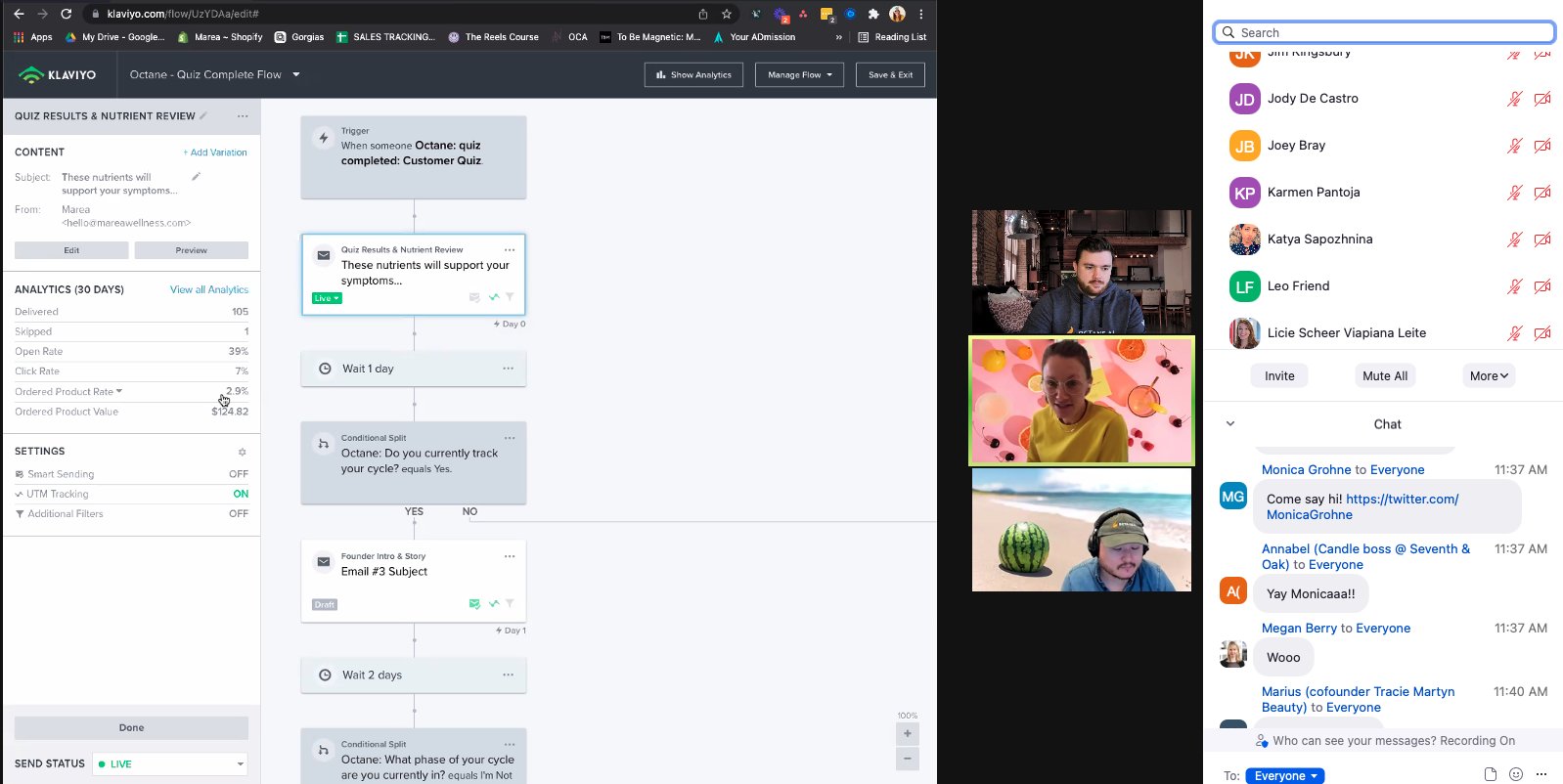 Join the Octane AI community
Join 10,000+ ecommerce operators who receive weekly tips on quizzes, zero-party data marketing, and increasing revenue with personalization.