Four-and-a-half months ago, Octane AI launched its partner program for ecommerce agencies and tech vendors. Today, our program has 60+ agencies, 10+ integrations, and represents over 60% of Octane AI's revenue in the Shopify ecosystem.
The result for Octane AI has been rapid 20-40% month-over-month revenue growth.
Last week, I spoke at the Shopify Partners meetup at the Shopify Plus Toronto office, invited by our newest tech integration partner, Smile.io. I shared some of the lessons the Octane AI team has gained from building and growing a partner program in the Shopify ecosystem. Many of the attendees asked me if I would send them my slides.
Instead, I've decided to publish the slides from my talk at Shopify, in the hopes that this knowledge will help other SaaS companies -- as well as agencies -- build successful partner programs in their ecosystems. Scroll down and you will find the slides.
"Good technology partnerships are built off first and foremost on meaningful integrations that drive value for merchants. From there, having a great team to collaborate with on marketing and business development is crucial. Octane AI has both and we have seen a lot of value from our partnership."

~ Stewart Wesley, Technology Partnerships, Yotpo
How Octane AI's Partner Program Works in a Nutshell
Octane AI's Partner Program allows ecommerce agencies and technology providers to work with our team to provide exponential value to our shared end customers: merchants and retailers.
The main way agencies and tech providers join our program is by applying for our Partner Program on our website. Within a few days or less, somebody reaches out to schedule a time to chat about their agency or company. This is an important opportunity for a potential partner to learn about the value of our product, how to use our product, and learn about how our partner program works.
Once an agency or technology provider has a call with us, we send them an on-boarding email, along with invites to our partner directory, our partner program portal, and a shared Slack channel. Immediately after, we work together on our first a joint case study and co-marketing while providing constant support, feedback, and advice.
"Our partnership with Octane AI is immensely valuable to MuteSix's clients, and to our organization as a whole. Not only do we stay at the forefront of Messenger marketing with the training, support and product updates provided by Octane AI -- we've also grown our business through co-marketing opportunities and thought leadership in the space."

~ Rachel Tyers, VP Strategic Partnerships, Mutesix
Key Lessons
Partners can dramatically amplify your marketing and sales. But you have to provide value in return -- both to your partners and to their clients/customers.
Organization and automation is essential to scaling a partner program.
Nothing beats a face-to-face interaction. We make a special effort to see our partners when we attend conference and visit their cities .
Customers care about integrations -- they are a HUGE differentiator and selling point. The #1 reason ecommerce brands choose us is because of our integrations with Shopify, Klaviyo, Yotpo, Smile.io, ReCharge, Gorgias, Privy, JustUno, Yext, and Dashbot. Many of these companies do not integrate with any other Messenger marketing company, which makes the sales call simple: "Do you want the product that integrates with all of your apps?"
There is no better piece of content than a joint case study
Provide an exclusive status symbol for your partners. Having an adorable mascot helps.
Always make your partners look good.
"As an agency focused on helping our clients grow their e-commerce businesses, we're always on the hunt for new technologies and interesting strategies. Octane AI is clearly emerging as a leader in the messaging and conversational commerce space, something that's of great appeal to merchants looking to expand their marketing automation beyond email. Since joining their partner program, they've provided fantastic support and resources to our clients."

~ Ross Beyeler, Founder, Growth Spark
Deck: 7 Steps to Building and Growing an Incredible Partner Program
Additional Insight
Our team has been shocked by the rapid growth and success of our partner program. It's been a major differentiator for us against the competition, and now we are working to beef it up and work out the kinks to make it an even more efficient process.
Our next step is to professionalize our partner program further by providing more avenues for our partners to introduce themselves to our audience (e.g. guest blogging program), work with partners on hosting in-person events, and hiring talented individuals to help scale our partner program.
"Ben, Matt and the whole Octane AI team are innovating in aspect of their business; from the marketing they produce down to the product they deliver - including the first of it's kind integration with Smile. They're a ton of fun to work with and extremely knowledgeable, we couldn't be more thrilled to call them a partner."

~ Stuart Arsenault, Partnerships, Smile.io
Join Octane AI's Partner Program!
If you're an ecommerce agency or SaaS company providing software for retailers and ecommerce merchants, we'd love to chat! You can apply for our Partner Program on the Octane AI website or email business@octaneai.com to get started.
"We love that Octane asked what we wanted in a partnership program, listened to the answers, and implemented the solutions. The resulting partnership program, along with their best-in-class technology, is why Hawke Media's Lifecycle Marketing team chose Octane AI as our go-to FB Messenger marketing solution. We move fast and stay on the bleeding edge to make sure our clients have the best solutions available to grow quickly and beat the competition, so having a partner like Octane is a perfect pairing!"

~ Greg Portnoy, VP of Strategic Partnerships & Alliances - Hawke Media
Thank Yous
A sincere thank you to Smile.io, which hosted me in Toronto and Kitchener and inspired me to create this deck. A special thank you to Stuart Arsenault and Steve Decker for hosting me. :)
Thank you to Shopify Plus, which gave me a super generous welcome to Toronto with a tour of their offices and introductions to the Toronto ecommerce ecosystem. (Shoutout to Annie Xiong!)
Thank you to our integration partners: Shopify, Klaviyo, Yotpo, Smile.io, Gorgias, JustUno, Privy, ReCharge, Yext, and Dashbot.
Thank you to our tech partners: Clearbanc, Skubana, Trustpilot, Shipbob, Carthook, Shoelace, Gatsby, Stamped.io, and Swell.
Thank you to all of our agency partners: Mutesix, Hawke Media, BVAccel, Retention Commerce, Right Hook Digital, Verbal + Visual, Metric Digital, Blue Metric, AdQuadrant, Lucid, Elite SEM, &Bam, Chronos Agency, Conversmart, Blackotter, Diff, Redstage, P3 Media, Zago AB, Roswell Studios, Inspire Brands Group, Seamonster Studios, Milkbottle, The Working Party, Kinga Dow, Growth Spark, Mammoth Factory, Fuel Made, Andzen, Email Experts, Chief Digital Advisors, TheCurrent, WPromote, Yeah Mando, Stay N Alive, Bemeir, Steadfast Growth, Brave One, Creatively Disruptive, Digital Stream, E2 Agency, Fifty & Five, Brain Art, BuildRX, Robles Interactive Media, Jeero Agency, Impakt Media, Noticed, Jumpstart Commerce, Half Helix, Group 8A, Swanky Agency, Good Web Design, Growthsutra, Smart eStrategy, Dijy and This is Our Town.
We likely missed partners from this list. If we forgot you, email us!

Ben Parr (President of Octane AI)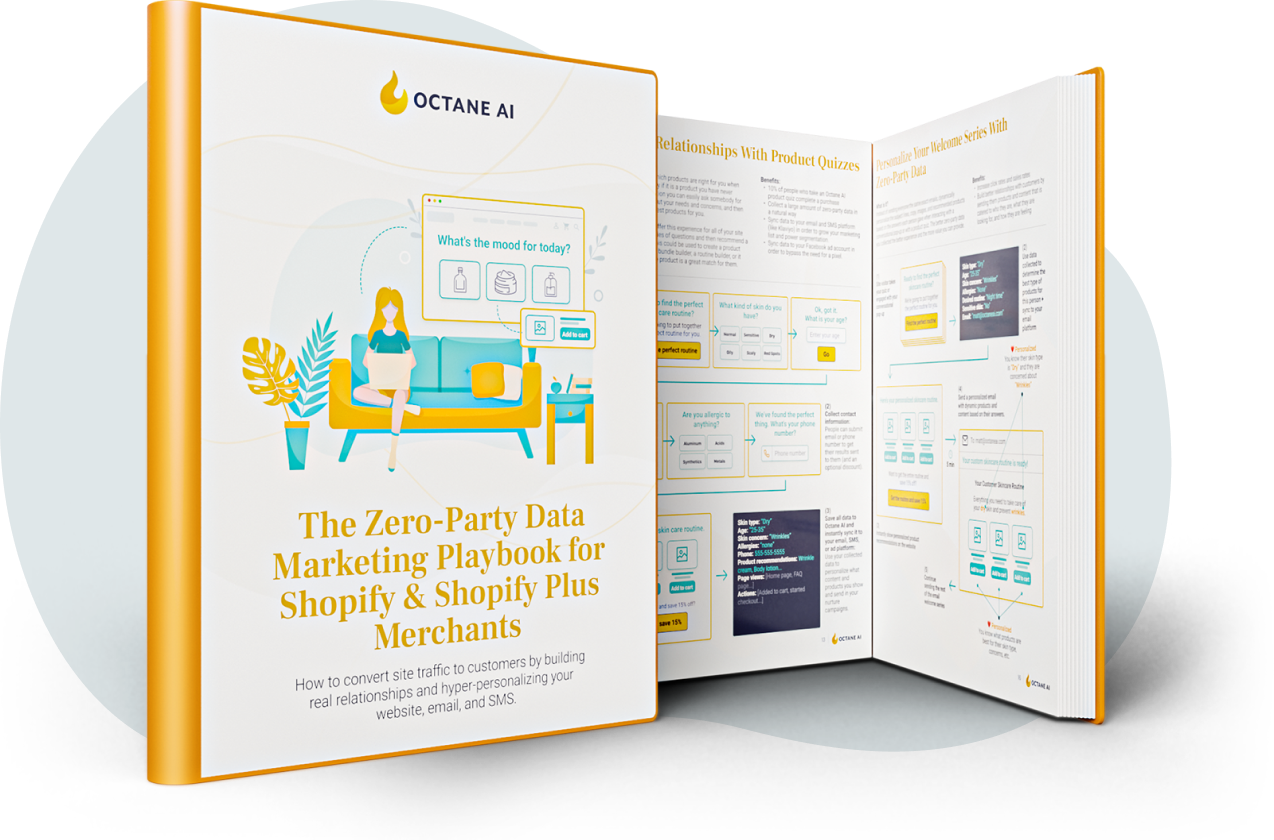 How Much Revenue Are You Missing Out On Because Your Marketing Isn't Personalized?
Fast-growing DTC brands implementing this playbook, and personalizing the customer journey with zero-party data, have connected with 16x more customers on email and SMS, seen 6x sales conversions, and increased revenue by over 50%.