Paid social advertising is an extremely important part of marketing a brand these days. But because social media is in a constant state of flux, there are always new ways to go about it.
Learning how to improve your approach is a continuous effort.
To get the scoop on what's going on, I spoke with several brilliant people who are well-versed in all things having to do with paid social and search:
One topic that kept coming up in conversation was UGC (user-generated content)—like in the image below with the couple sharing where they purchased what they're wearing for their wedding (Spotted, Suit Shop).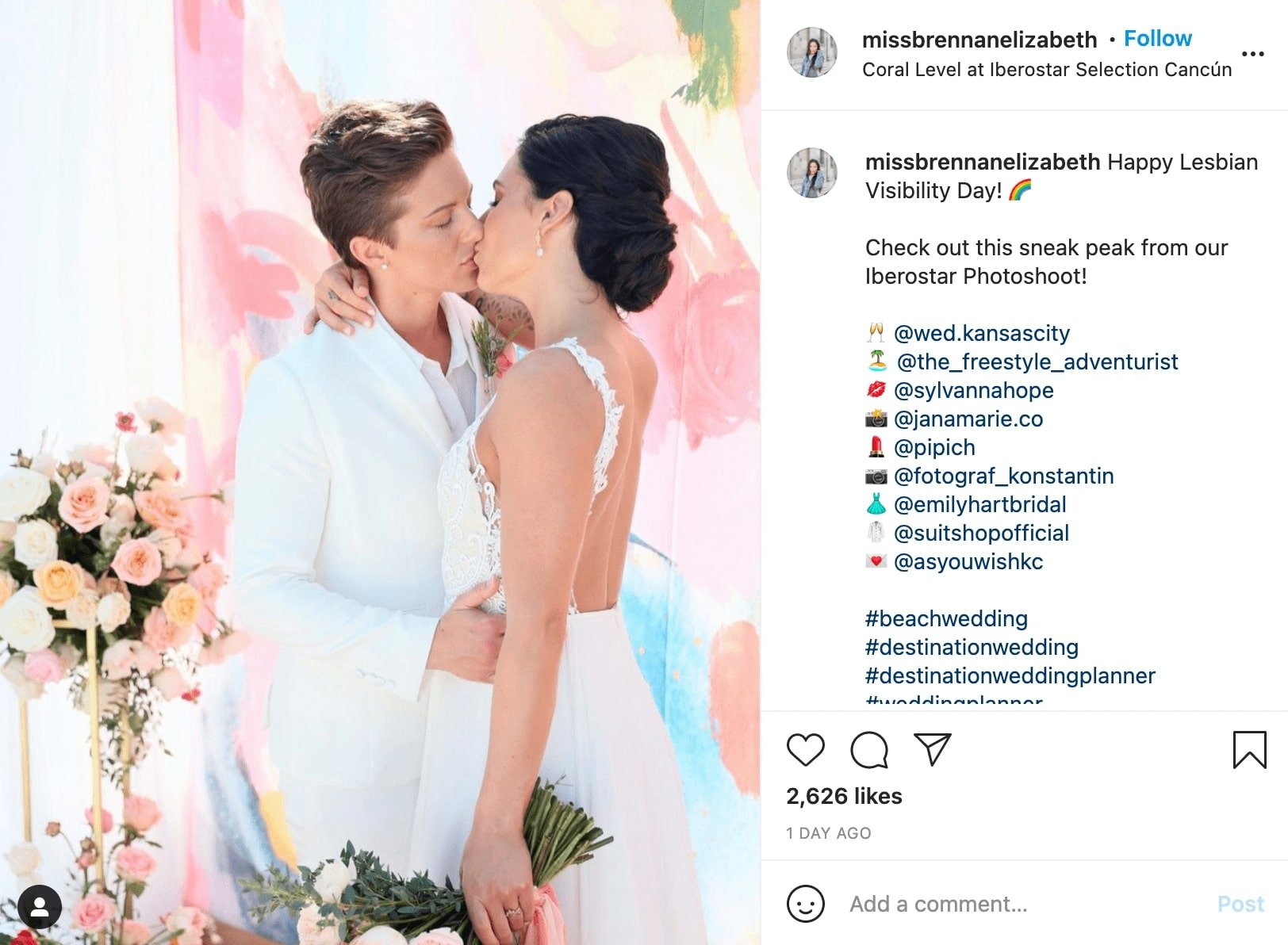 Source: @missbrennanelizabeth
So how can you collect and leverage more UGC for your brand? Where does TikTok fit in? How do you measure success? Let's talk about all this.
1. User-generated content: it's all the rage
In general, people don't like to watch ads, and UGC provides a way to disguise them as organic content.
When you want someone to pay attention to your content, every second counts.
"People are bombarded so much on socials that they're going to swipe past it if they recognize it as an ad."
– Savannah Sanchez
Sometimes more expensive brands think they have to produce content that looks expensive and polished. That's not the case, Savannah told me, citing a high-end couch brand she works with that has seen great results from putting paid money behind simple customer photo reviews.
And there isn't a better time to start using UGC like now. Because of COVID, it's difficult for brands to get into a studio for polished images—UGC has been the perfect way to combat this. The ironic thing is, home-shot content is working very well. "I think it works because it's natural and doesn't look like an ad. People resonate with real people talking about products," Savannah said.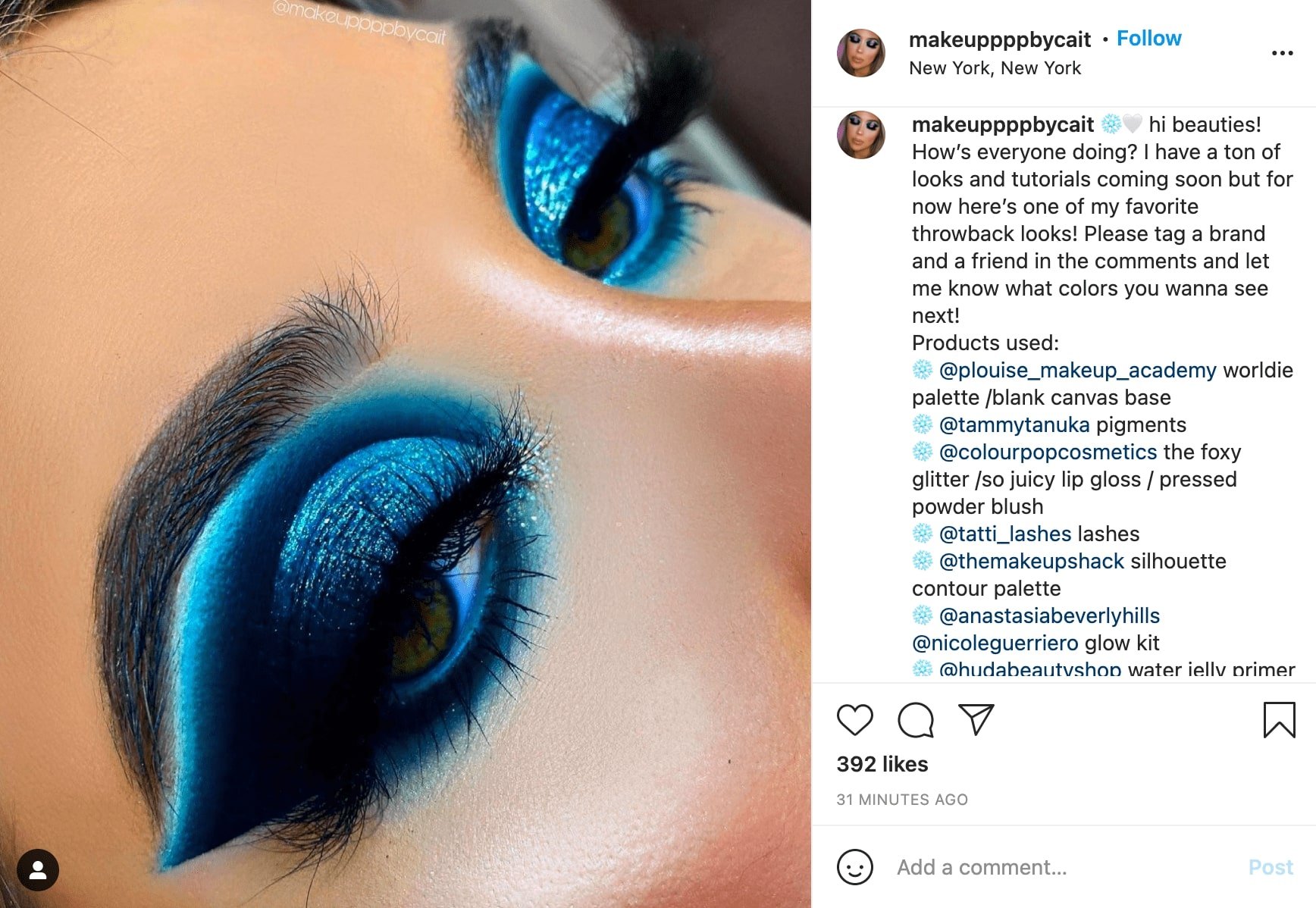 Source: @makeuppppbycait
2. Collecting UGC (and four ways to do it)
There are many ways to put UGC out there as paid ads, but you need to collect it first. Here are the four ways to do that:
Make it yourself. "I would encourage any brand owner or person who works with brands to not be afraid of picking up the camera and filming something yourself. That kind of content is going to resonate with your audience, so it's 100% worth trying," Savannah said.

Reach out to your top customers and see if they're interested in making content in exchange for free products. Kristen mentioned that if you have a cheap enough product to be able to afford to send it out to customers with just the suggestion of posting, you might be surprised at how much organic content you get back.
"The thing about working with your actual customers for content is that your customers aren't always marketers and might not understand what makes a great ad. So make sure you're giving them enough direction so you get the kind of content that's good for ads."
– Savannah Sanchez
Reach out to influencers or micro-influencers to ask for filmed content in exchange for free product or a small amount of cash. "People don't always realize that influencers don't necessarily have to post the content they're asked to create themselves. Some influencers are careful about what they post on their feeds but they have no problem creating great content for you to post. Oftentimes the cost for that content is lower," Jessica said.

Cast an actor to create the ad content you need. Especially now with Covid restricting many entertainment jobs, there are lots of actors looking for work, so hiring them to film ad content on their phones is a good option.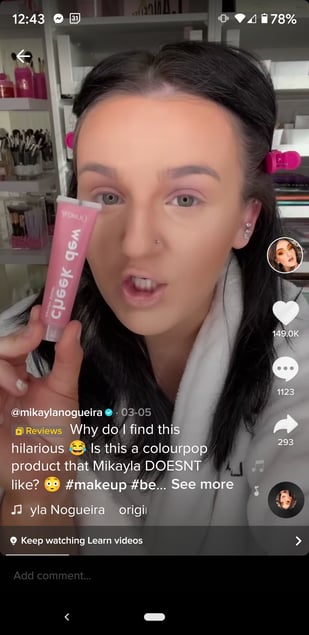 Source: Mikayla Nogueira
3. TikTok needs TikTok content
TikTok is a delicate platform, one that has the potential to be lucrative only if you know how to use it.
The number one mistake our experts see brands make with it is to try to transfer content from other social media accounts. But posting the same video you did well with on your Instagram Story is not going to fly on TikTok.
It has its own culture, and it needs its own content.
"If you as a brand haven't built the audience and you don't have the content, then you shouldn't be on TikTok. You need to build that first and you need to make sure you're investing properly in it."
­– Jessica Grossman
Make TikToks, not ads, TikTok itself says. And think like a marketer, act like a creator. This means it's imperative to know what's currently trending on TikTok in order to make compelling content for it. "Content has to be the first pillar of any TikTok ad strategy," Savannah said.
She also added that it's wise for brands to build their organic TikTok profiles before working on their TikTok ads. By doing so, they can get used to the content on the app, see what videos of theirs get the most views from users and then eventually use those for their ads.
"If something is doing really well organically, chances are if you put paid spend behind it it's also going to do really well. Not always, but often," Kristen said.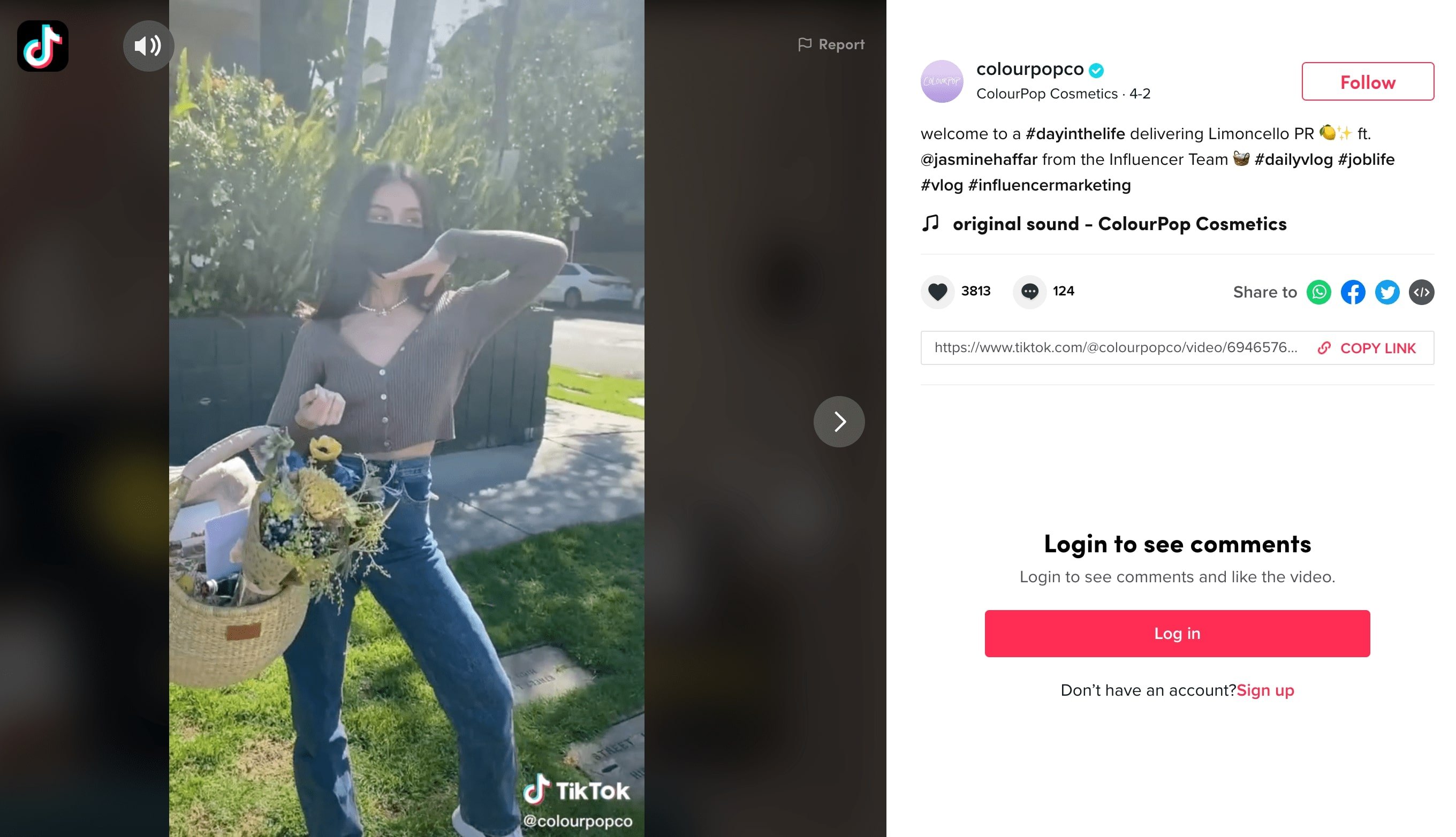 Source: @ColourPopCo
4. Data isn't everything
Rather than getting hung up on needing to know every single corresponding data point for each part of your operation, Kirk suggests taking a step back.
To an extent, Kirk believes marketers have leaned too far into trusting the data and thinking we can know exactly what's going on under the hood. "It's tempting to say, hey I want to see my direct ROI and once I know it's profitable then we can grow...but I think marketing is more complex than that," he said.
Being a paid search connoisseur himself, he should know.
"As tools get smarter and better, we've seen that they know less than we think they do about what's going on. We can look at the data and assign some sort of value to it, but it's important not to avoid checking out a bigger marketing strategy because we're so focused on direct response."
– Kirk Williams
The solution Savannah uses for keeping track of profitability and incremental growth is MER (Marketing Efficiency Ratio), which takes a brand's daily revenue and divides it by total ad spend on all channels.
"Instead of relying on every platform's individual attribution model, which is almost always inaccurate, and trying to figure out the best model on each platform, the source of truth is: how much are we spending on marketing per day, how much revenue is coming in and is that ratio profitable for us?" She said.
With the brands she works with, she sets a daily, weekly and monthly MER target. While not a very technical solution, it's an accurate marker of the ratio a brand is profitable at and how much they can spend on advertising—while still making money.
Kirk agreed in this being the best way to measure growth and profitability. "There's more connectivity between these channels than we can track," he said.
Key takeaways for brands looking to optimize their paid social reach
By now we know authentic content is the way to go when it comes to your paid ad strategy.
Here are four key takeaways from our experts on how to optimize your brand's paid social advertising, particularly by way of UGC and TikTok:
Organic content, specifically UGC, tends to perform exceptionally well. If you haven't started using it to market your brand yet, now is a good time.
Collect UGC in one of 4 ways: reach out to your customers, make it yourself, ask an influencer or hire an actor.
You have to understand TikTok in order for it to be a lucrative space for your brand. If you don't have the right content, it's not going to work.
Don't get too hung up on the data, it doesn't tell the whole story. Using a much broader, less technical way to measure profitability and incremental lift, like MER, might be more beneficial in the long run.
About the show
Hosted by Katie Krische and Edward Gaug, this paid social and search-focused show was on Commerce Club, founded by Matt Schlicht and Ben Parr, also co-founders of Octane AI.
Commerce Club is one of the fastest-growing clubs in ecommerce on Clubhouse, hosting conversations with founders, investors and experts on DTC, retail and commerce. This show featured Kirk Williams, Kristen Jones, Jessica Grossman, Savannah Sanchez and Sarah Vlietstra.
Check out Commerce Club to sign up for the newsletter and access show notes, articles, and show schedules.