With online sales heating up for the holiday season, many Ecommerce merchants are looking for new ways to drive more revenue from their existing site traffic.
On a recent webinar of Ecommerce experts, strategies for using on-site quiz data to increase sales during the holidays were outlined in great detail and transparency.
The expert panelists brought together a strategy for capturing customer preferences and zero party data through quizzes, connecting that data to email marketing and on-site personalization, and ultimately driving higher conversion rates and revenue.
This is the playbook for increasing revenue without increasing spend to get more traffic.
The session featured a lineup of seasoned presenters along with a case study example from Tom Brady's health and wellness brand TB12.
Speakers included Ashland Stansbury, Founder and CEO of Because, Aoife Teague, Accounts & Partnerships Lead at Octane AI, Ian Mahanes from Klaviyo's Tech Partnerships team, Ryan Ellul from retention marketing agency Roswell, and Dennis Botzenhardt, Ecommerce Manager at TB12.
In this recap, we'll explore the key lessons covered to help you optimize your holiday sales.
You can see the whole recap here:
Leveraging Site Traffic During the Holidays
The core goal of the webinar was to outline strategies for capitalizing on increased website traffic during the holiday shopping season.
While many merchants focus on driving new traffic, the experts emphasized the opportunity to better convert existing site visitors into buyers. This is the foundation for a highly successful strategy -- to do more with less, and convert existing visitors more effectively through a better customer experience.
Specifically, the webinar focused on two key elements:
1. Capturing Zero Party Data
The first priority is gathering data about customer interests and preferences through quizzes. As site visitors browse a product catalog or website, they can be prompted to take a short quiz. Their responses provide valuable data about what types of products they're interested in, and thus what products should be recommended.
2. Personalizing Recommendations
The second priority is using quiz data to provide personalized recommendations. By connecting quiz data to platforms like Klaviyo and on-site personalization tools like Because, merchants can tailor recommendations to each customer's preferences. This level of personalization helps convert site visitors into buyers.
Proven Examples & Results
Using the approaches recommended by the panelists, TB12 implemented quizzes to gather zero party data and used this data to personalize emails, and the on-site experience.
The results were impressive: TB12 saw a 5.22% conversion rate from quiz takers along with a 13% increase in on-site conversion rate from personalized recommendations. This provided concrete evidence of the impact personalized data can have!
Building Data-Collecting Quizze

s

The first step in leveraging on-site data is setting up a quiz to gather customer preferences. Octane AI makes it easy to build interactive quizzes and embed them on your website.
Quiz Creation
With Octane AI, quizzes can be created in just minutes using a simple drag-and-drop interface. You can customize questions and answers while Octane AI handles all the behind-the-scenes technical work.
The platform also provides beautifully designed quiz templates for specific niches to speed up the quiz build out and ensure that key questions and data points are captured.
Quiz Placement
Once built, Octane AI's quizzes can be embedded anywhere on your site, including key pages like:
Homepage
Category/Collection pages
Product pages
Blog posts
Popups
For TB12's website, the quiz is the main Call to Action, placed in the hero section next to the legendary Tom Brady.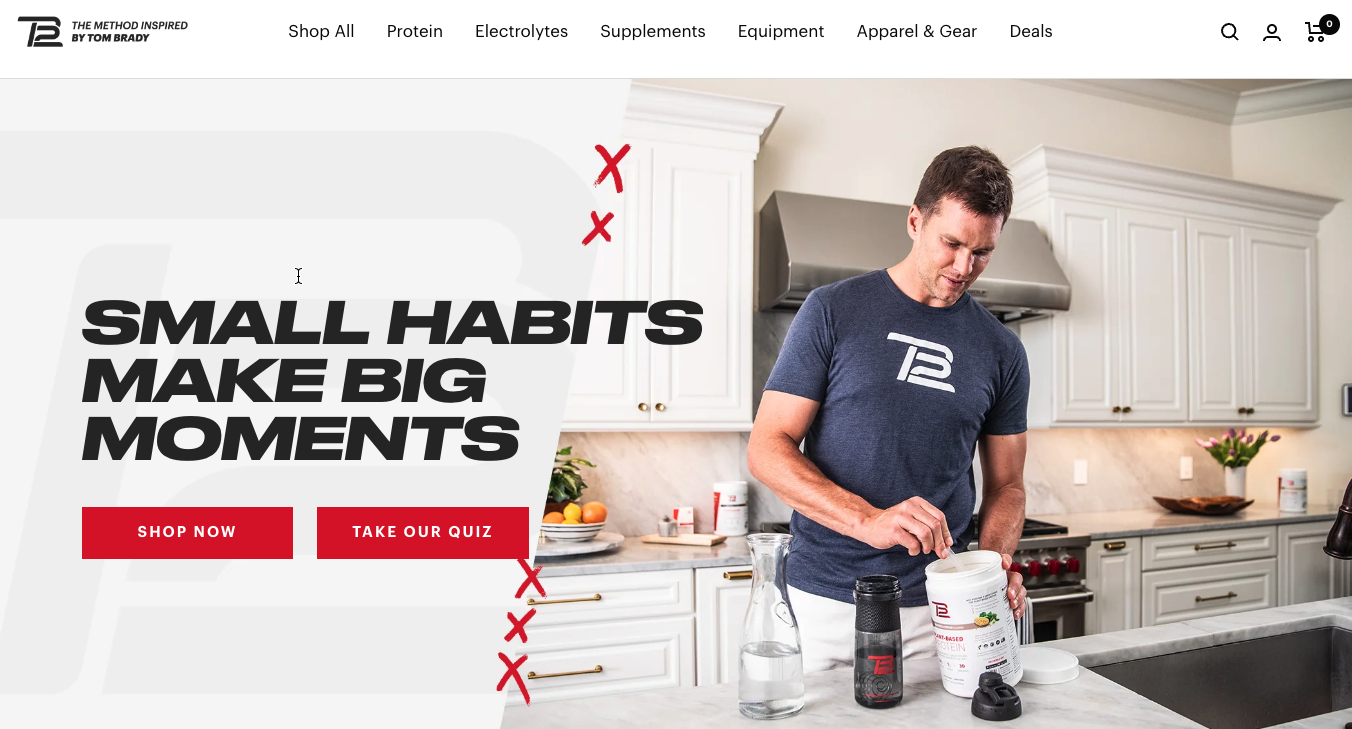 Customer Data Collection
As customers take the quiz, Octane AI captures their responses and selections.
This data can include the customer's goals: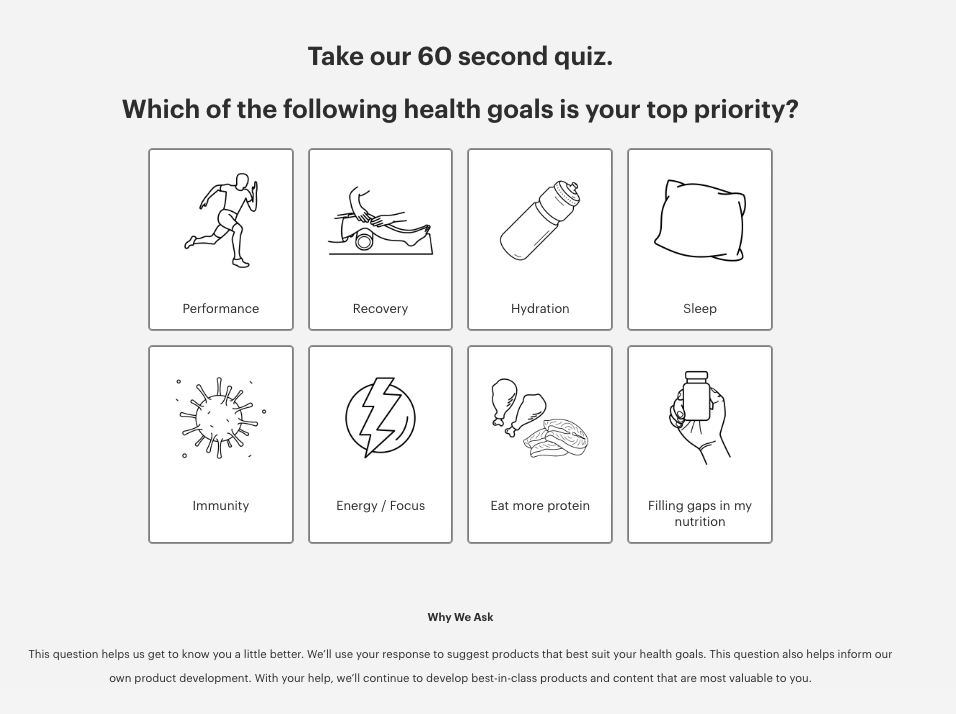 The customer's challenges: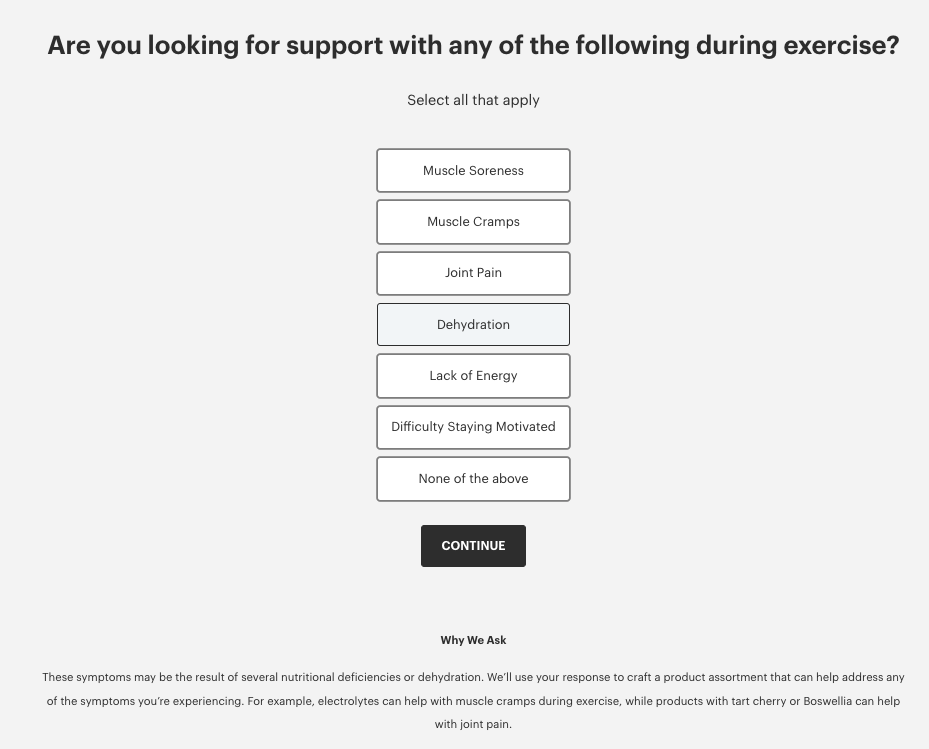 Their diet: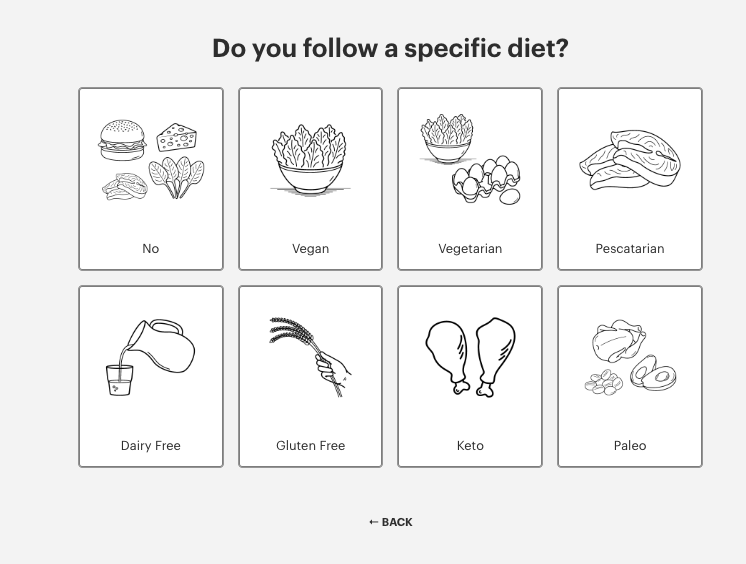 Age: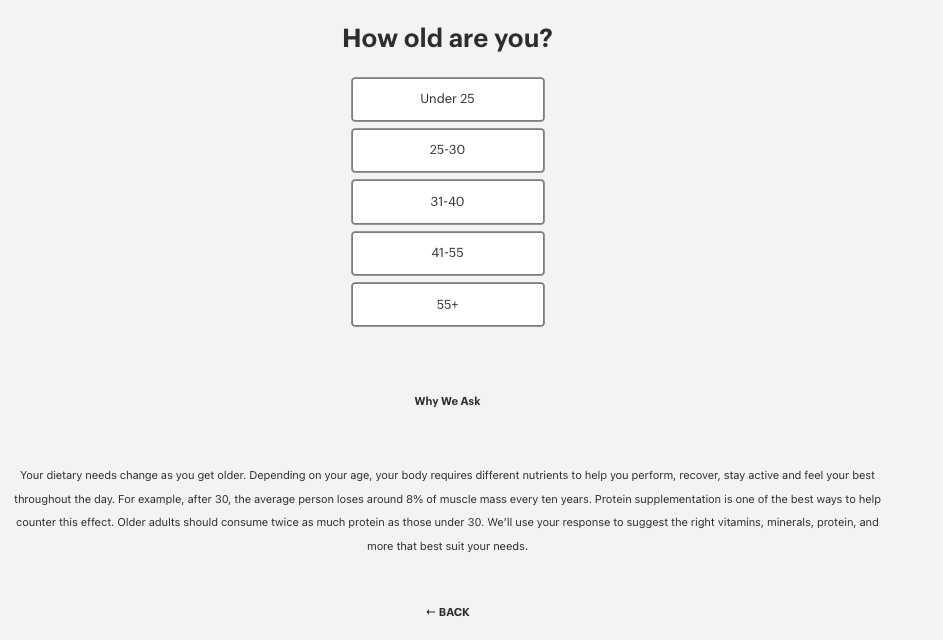 And much more. All of this rich preference data is then automatically passed to email platforms like Klaviyo for use with email campaigns.
Immediately after taking the quiz, shoppers are taken to a recommendation page that recommends TB12 products based on their needs and goals.
The recommendations page also allows for subscription purchases, to increase Customer Life Time Value: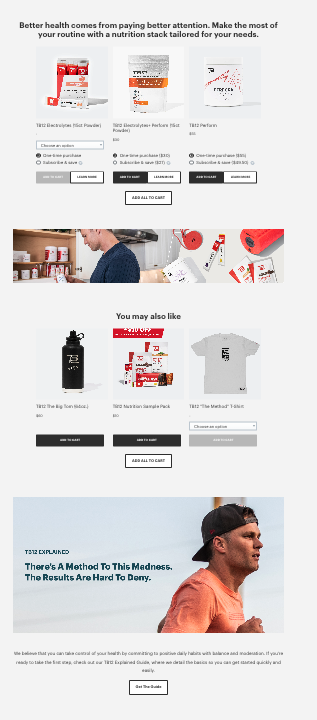 Optimizing for Customer Experience with
The increase in Key Performance Indicators for brands that use a quiz is significant, as noted in the metrics and verticals above.
When designing quizzes, it helps to keep the quiz experience as short as possible while delivering value to the shopper. Shorter quizzes with visual appeal tend to convert better.
Octane AI also provides detailed analytics on quiz performance, drop-off rates, and most popular responses. This allows merchants to iteratively improve their quizzes over time.
You can see the performance of the T12 quiz for October, 2023 below. Note the 80% completion rate and 40% email opt in rate: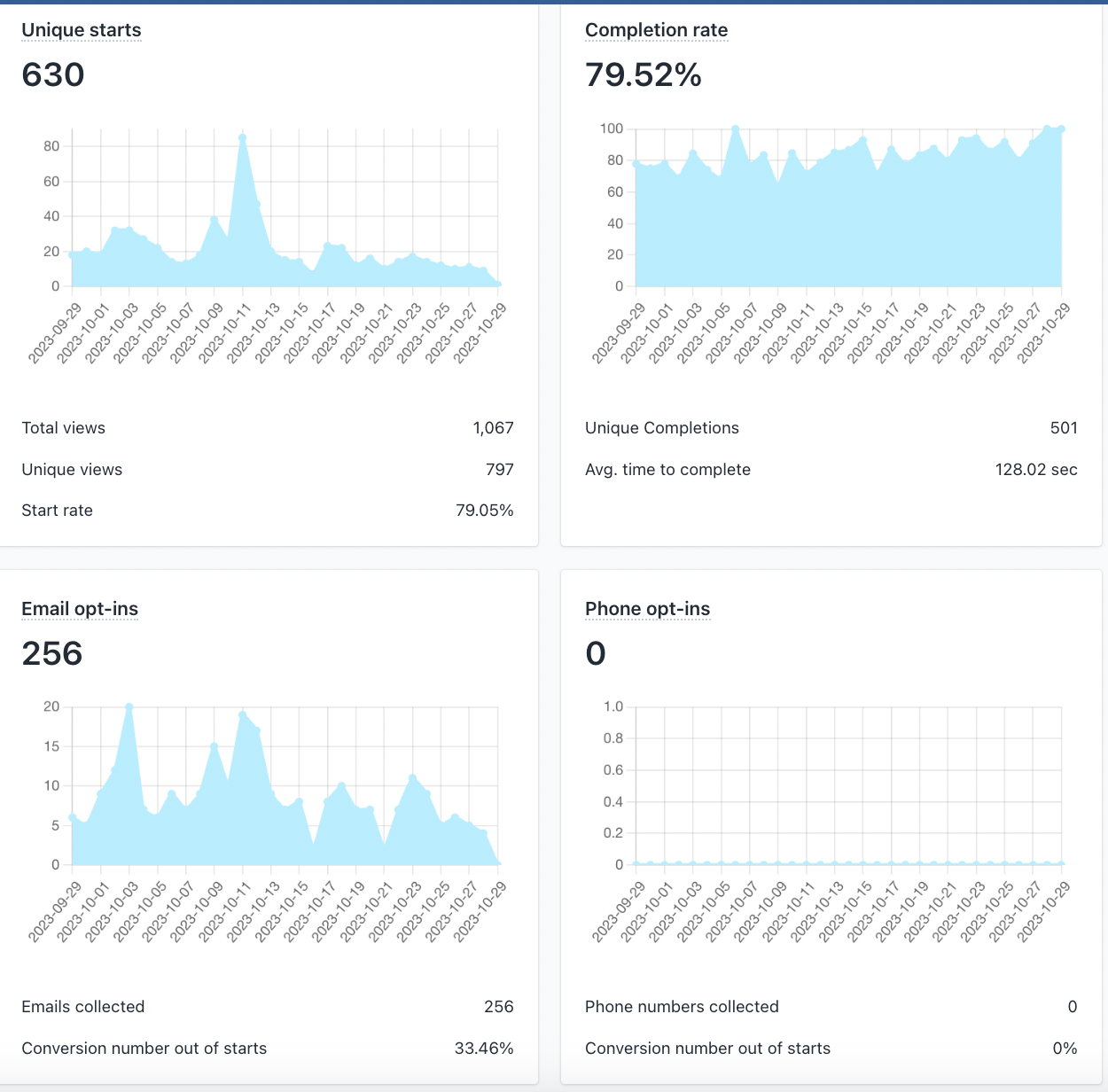 And where the rubber meets the road, the revenue and conversion rate of purchases driven by the quiz: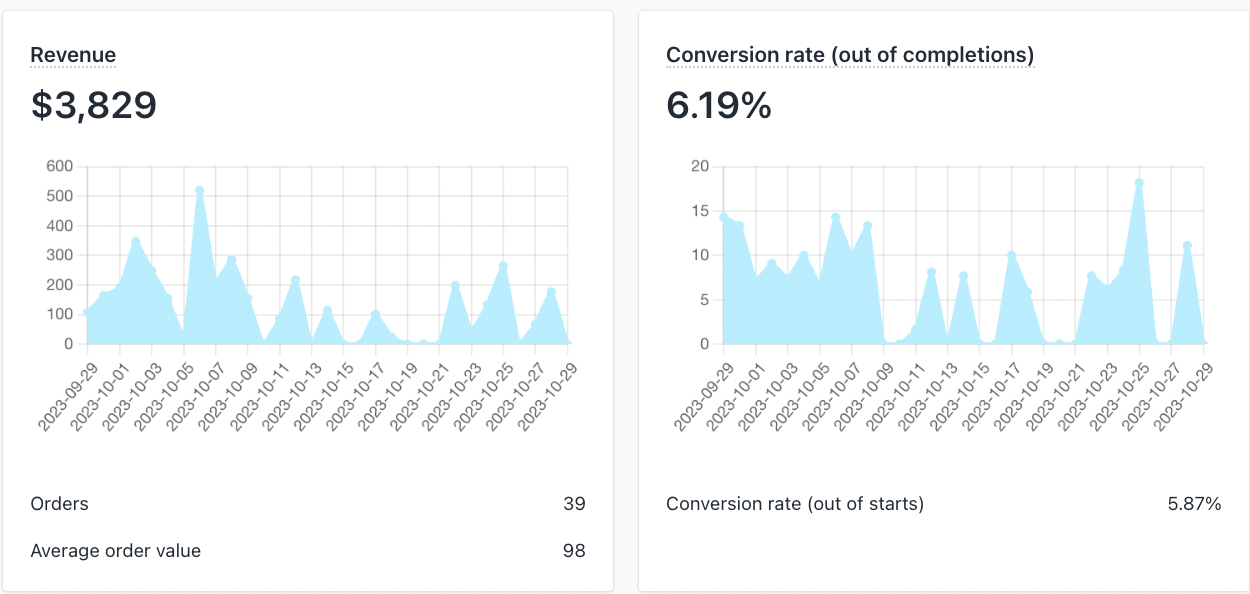 Syncing Customer Data into Email
Once customer data is captured through Octane AI's quizzes, the next step is leverage the data in email platforms like Klaviyo.
Building Personalized Profiles
A core strength of Klaviyo is its ability to build unified customer profiles that incorporate data from multiple sources. As customers take on-site quizzes, their responses can be synced to their profile in Klaviyo instantly once an email contact is created.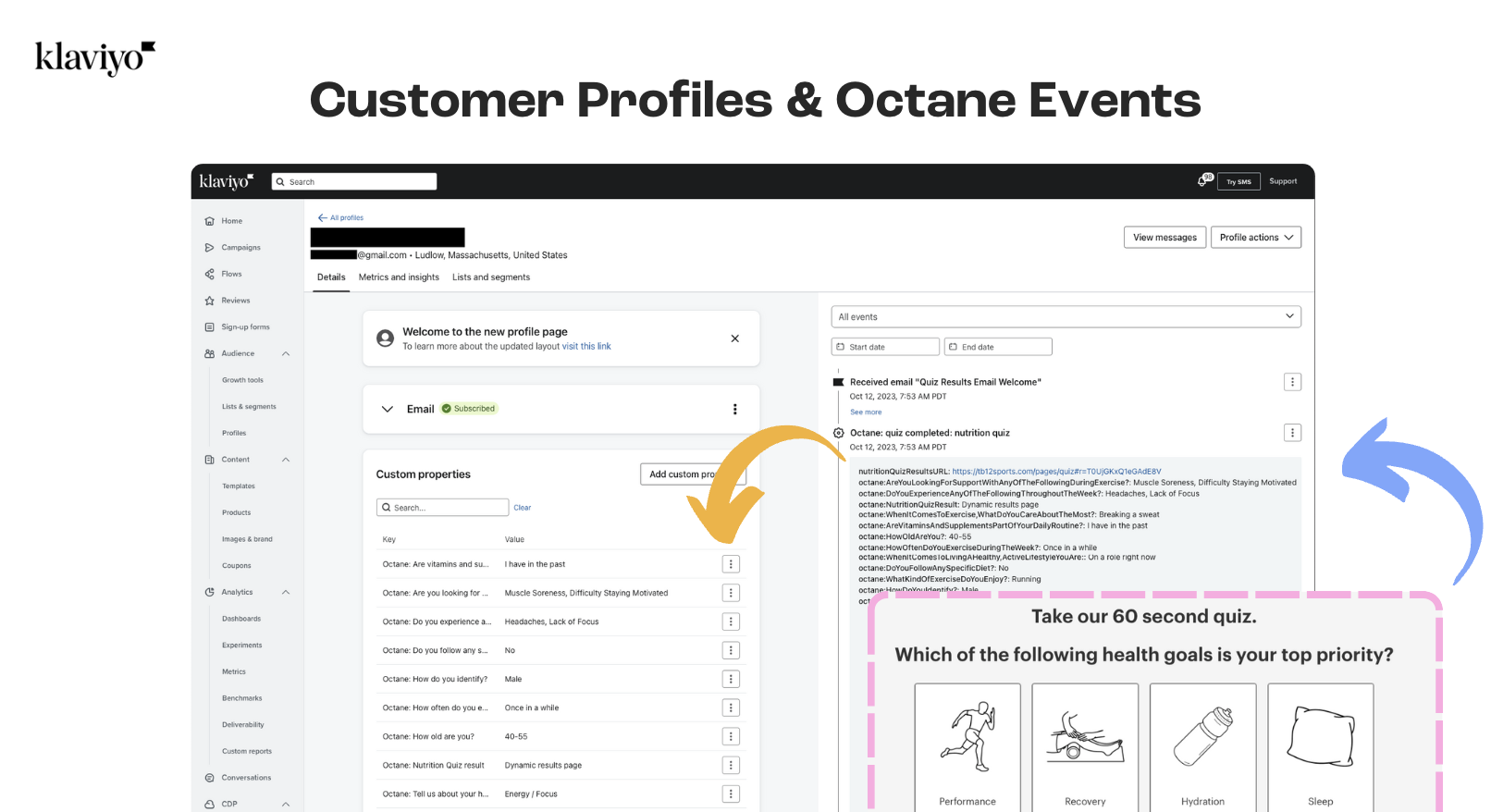 This results in profiles with rich, real-time data on customer interests that can be leveraged for segmentation and personalization.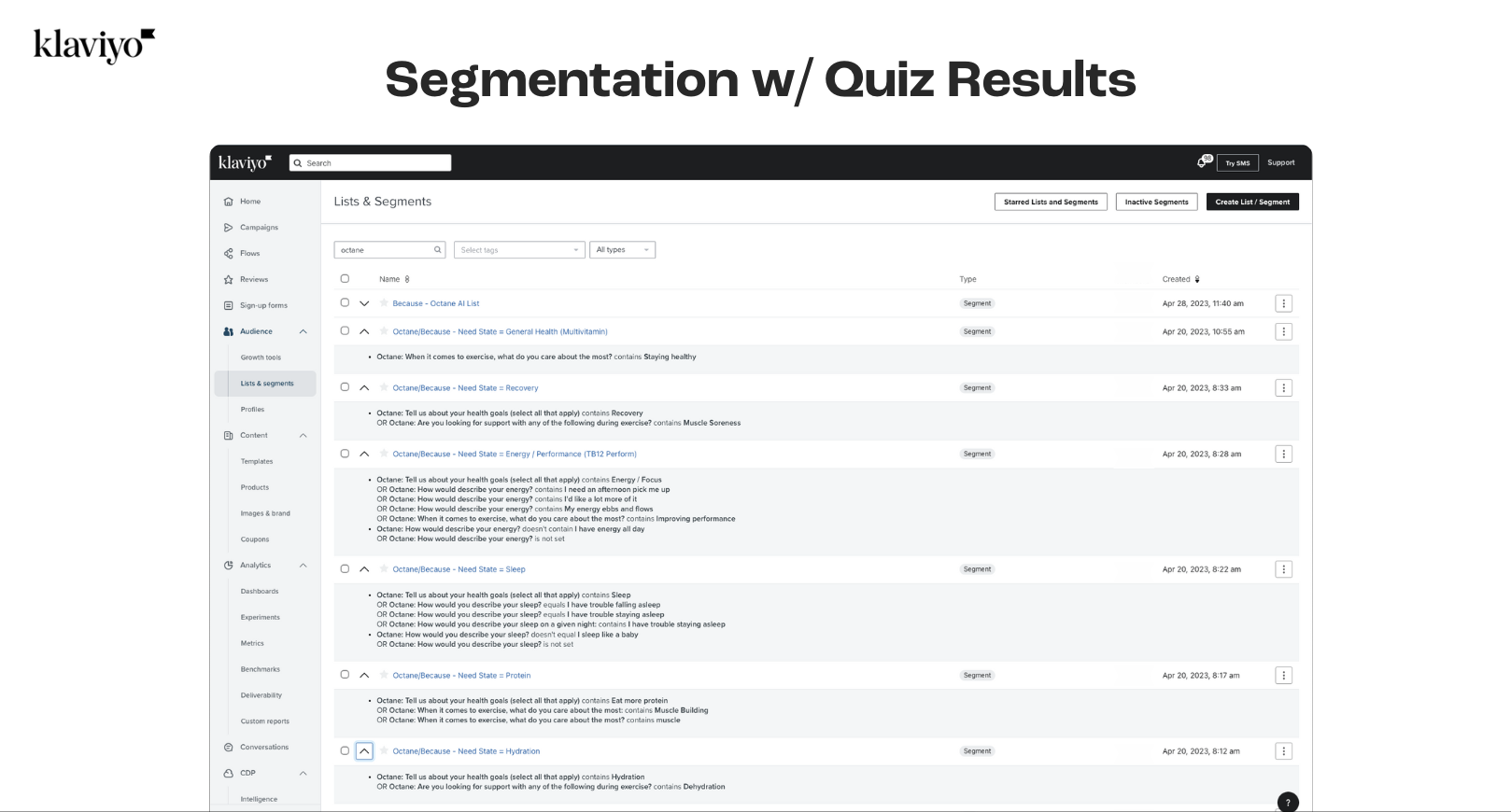 Automated Post-Quiz Emails

With integrated quiz data, Klaviyo's platform can then trigger automated email flows based on quiz responses.

For example, TB12 set up post-quiz result emails that included:

- Personalized product recommendations based on quiz answers
- Discount code incentives
- Links back to full quiz results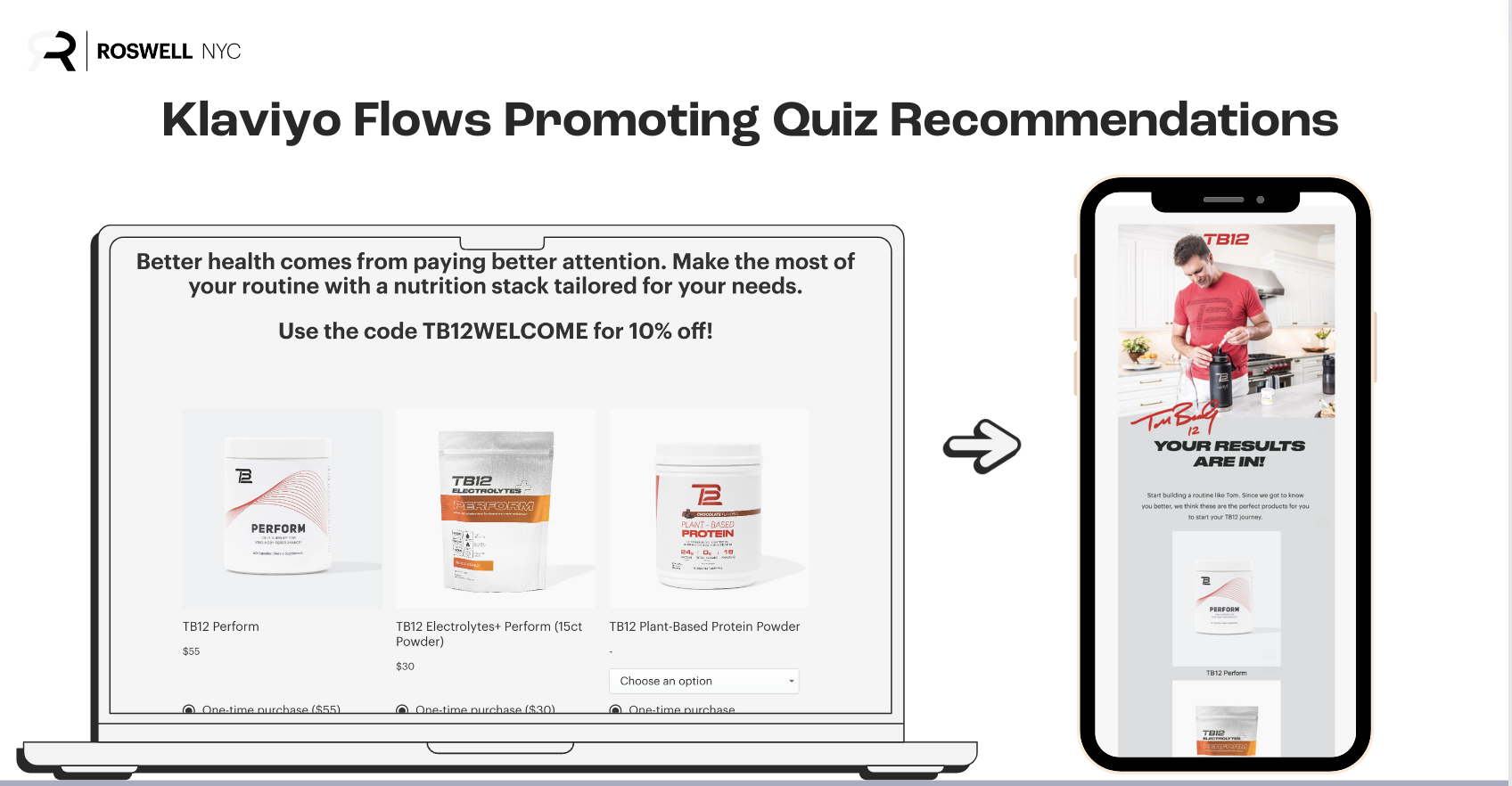 Ongoing Nurturing
Quiz data in Klaviyo also enables ongoing personalized nurturing. Customers can be automatically added to email segments based on their stated interests.
These segmented audiences can then receive tailored product recommendations, content offers, and promotions matched to their preferences over time.
A Unified Customer View
With fully integrated customer data, Klaviyo gives merchants a complete view of each customer and their interactions across email, on-site, and other channels. This unified profile is invaluable for personalization.
Together with Octane AI's quizzes, Klaviyo provides the ability to capture customer data on-site and activate it across the entire customer journey.
Personalizing the Website Experience
In addition to email, quiz data can be used to personalize a customer's experience as they browse the website. The Because platform specializes in leveraging data for real-time on-site personalization.
Connecting Data for Targeting
Because integrates directly with data platforms like Klaviyo to access customer profiles and segmentation data. This allows merchants to target website content based on the zero party data gathered in the quiz.
For example, Because could show certain messaging or product recommendations only to customers who expressed interest in "protein" based on quiz results.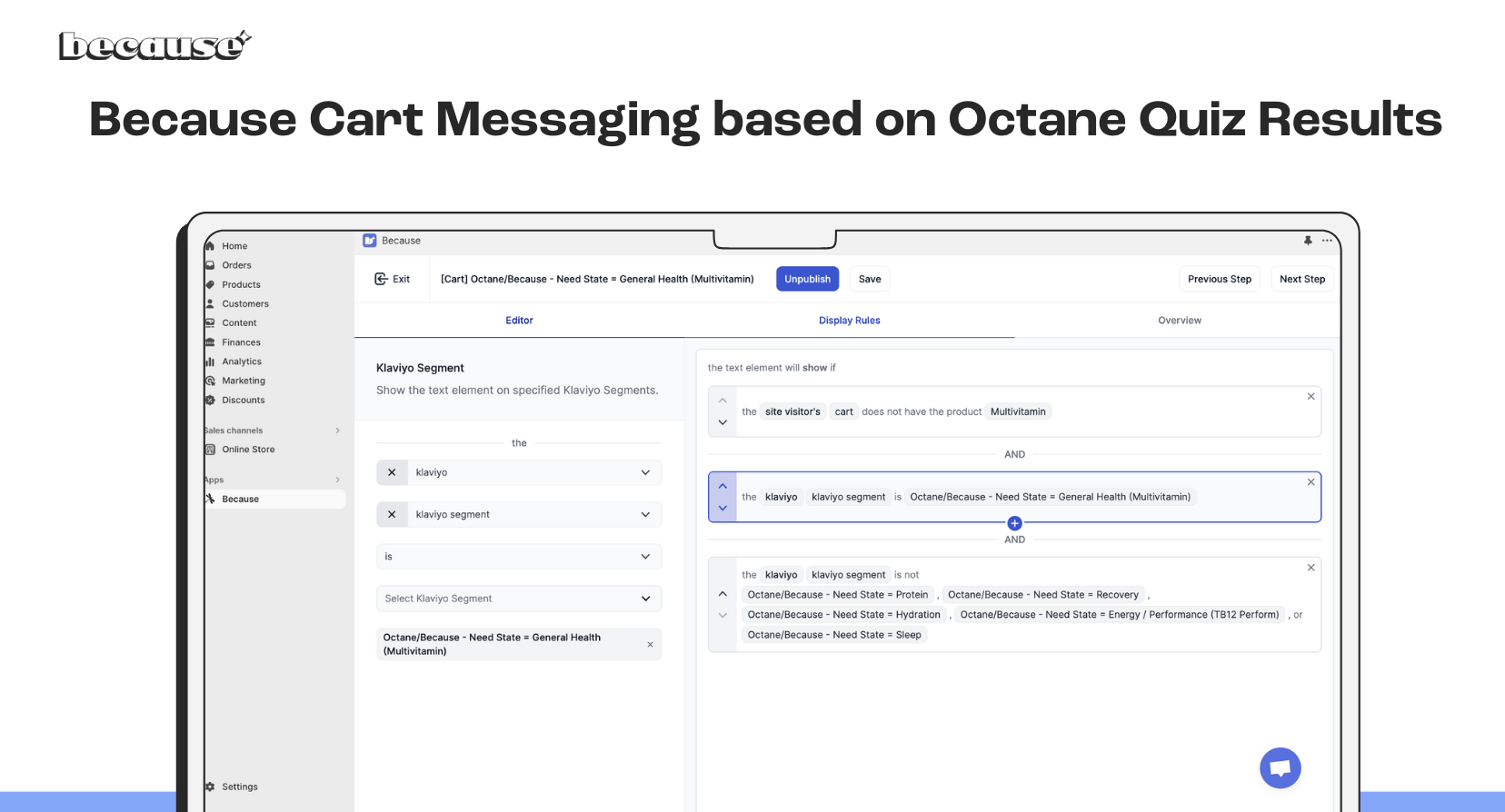 Customizing Content with Data
Because gives merchants tools to easily customize a range of on-site content.
Once the customer has identified their preferences via the Octane AI quiz, they will see personalized tags for products that are recommended for them specifically based on their quiz results: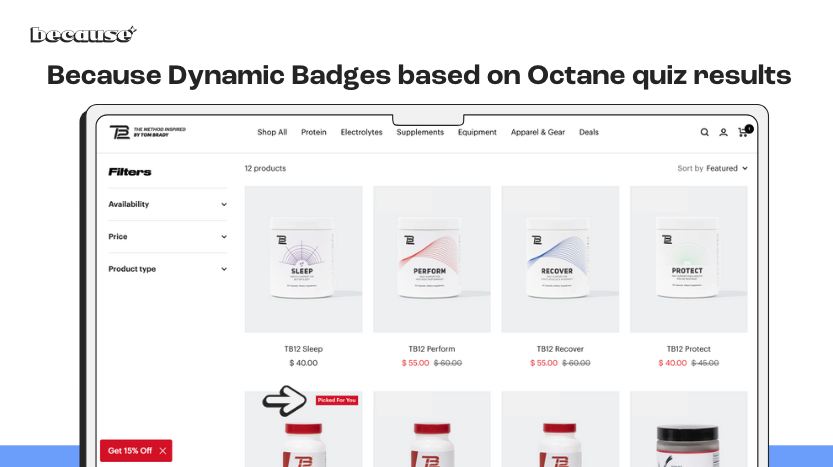 And the personalized messages carry through to the cart messaging as well: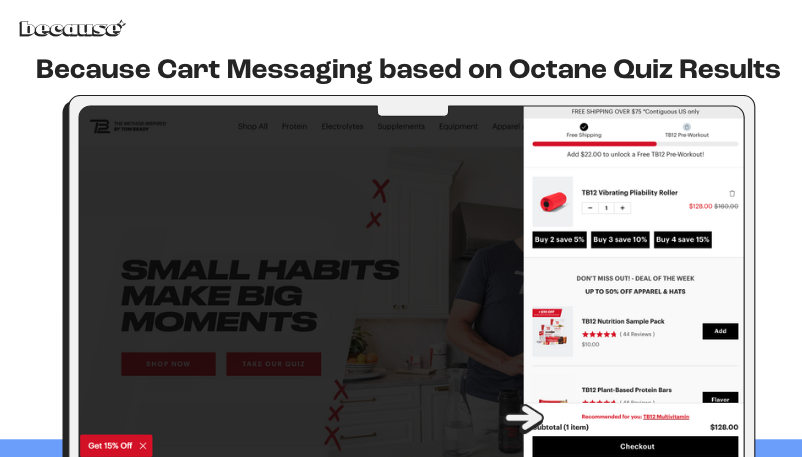 Some additional ways that the shopping experience can be personalized once the zero party data is captured:
- Text: Personalize text blocks across the site
- Images: Serve different images to different segments
- Badges: Flag relevant products based on interests
- Banners: Show targeted offers or messages
- Cart: Provide personalized suggestions in cart
Optimization Through Testing
Because also allows all personalized content to be A/B tested to optimize performance. Merchants can validate which types of custom messaging best resonate with each segment.
Consistent Experience Across Channels
Together, Because and Klaviyo allow merchants to extend personalized experiences beyond just email and create consistent messaging across channels.
Results: Higher Conversions
The results from TB12's implementation show the revenue potential of on-site personalization. With Because, they saw:
13% increase in on-site Conversion Rates
3% increase in Add-to-Cart Rate
This proves that activating quiz data through platforms like Because can significantly impact revenue during the holidays and beyond.
Increased Conversion & Revenue
Quiz & Email Results
With Octane's quizzes and integrated Klaviyo emails, TB12 saw:
5.22% conversion rate from quiz takers
32% email opt-in rate from the quiz


Revenue Impact Projections
Beyond just conversion rates, the revenue impact for merchants based on increased conversions scales revenue even if the traffic numbers stay the same.
You can see how this plays out with a 10% increase in conversion rate, which can deliver an extra $20,000 per month in revenue.
Expanded Data Builds Loyalty
Importantly, quizzes and personalization allow merchants to gather data and connect with customers earlier in the buyer's journey.
This expanded data and early relationship building helps:
- Drive more sales from new site visitors.
- Convert more one-time buyers into repeat customers.
- Build longer-term loyalty and higher lifetime value.
While the initial revenue gains are substantial, the long-term value of enriched customer data is even more significant.
Want to Replicate This Strategy? We've Got You Covered!
The key takeaway is that customer data is an underutilized asset for most Ecommerce merchants.
However, activating data through a combination of platforms like Octane AI, Klaviyo, and Because allows merchants to personalize experiences and maximize the conversion and revenue potential of existing traffic. And an expert implementation agency like Roswell can help bring it all together.
In short, the strategy is replicated in the following way:
Gather data through an Octane AI quiz
Connect data across channels and personalize communication with Klaviyo
Build personalized experiences with Because
Increase conversions across email and on site traffic
With Black Friday Cyber Monday rapidly approaching, you have a special opportunity to implement this strategy on your own site.
To make implementation easy, you can now access these limited time exclusive offers:
Octane AI is offering 30% off quiz plans. Book a call with Aoife of Octane AI here to learn more.
Because is offering 30% off its on site personalization software. Book a consultation with Ashland of Because here.
Roswell: 20% off services for managing data connections and personalization strategies. Book a consultation call with Roswell
For merchants looking to step up their data capabilities and boost holiday sales, these limited-time offers make it easy to get started. Sign up by the end of the year to take advantage.