When it comes to venture capital, to raise or not to raise is the question most founders face at some point in their journey.
For those unable to bootstrap their companies, raising capital is a necessity. But how do you get started? How do you find the right investor for your brand? And what do you need to do to be attractive to potential investors?
I spoke with Sam Blumenthal, investing partner at CircleUp Growth Partners, to find out.
"In a perfect world, you'd build your company without raising capital. But that's difficult to do because you can't be cash-flow positive from day one, so you need to burn through cash and lose money. A way to do that is by taking on equity investments to build up that cash and balance sheet to get to a point of profitability or a point of exit."
– Sam Blumenthal
Sam emphasized the data-driven approach CircleUp takes in choosing what companies to invest in. Of the hundreds of calls he has with founders over the course of a year, only a hundred of them make it down their investment funnel.
To summarize CircleUp's investment approach, they invest in companies during their series A stage. This means the brands they partner with have already found their niche in the market (AKA they are post-product-market-fit) and are doing at least a million in revenue a year. CircleUp pays special attention to product differentiation, omnichannel representation and strong growth and velocity representation.
Knowing this, we're going to focus on four tips Sam suggests keeping in mind when approaching potential investors. We'll go over what those investors are likely looking for from the brands they're considering adding to their portfolio.
Let's get started.
1. Know your numbers
One of the biggest and most important things to know when asking an investor for money are your numbers. They're going to want to know your YOY (year over year) growth, your CAC (customer acquisition cost) and your AOV (average order value).
Before you approach an investor, make sure you know your vision, your goals and the specific ways you will use the money you're asking for to grow your business further.
"It's important as a founder to know your metrics, your business and your vision down cold."
– Sam Blumenthal
Essentially, know what's important to you and your business before you go into a meeting with someone like Sam. Have concrete data to show him so that he can make an informed decision about investing with you.
---
Related read: 24 Tips On DTC Fundraising from 6 Ecommerce Investors
---
2. Know your customers
Along with knowing your numbers, knowing your customers through and through is crucial.
Investors want to know that the business they're investing in is poised to grow, and the only way they'll know that is if you can show them that consumers are interested in your product.
CircleUp will analyze your customer reviews to get a sense of the value your customers are getting through your product and how important the pain point is that your product is solving. If you have a fairly low CAC, that's a good sign to investors that people want to purchase your product, and it's not that expensive to convince them. This means your product is resonating with consumers and it has strong potential to grow.
And the most telling and important variable when it comes to a brand's growth? According to Sam, it's retention.
"Go above and beyond in figuring out how to create those customer relationships and drive value to your customers to drive that retention."
– Sam Blumenthal
So if you aren't seeing many returning customers, it might not be time to raise capital just yet.
As Sam told me, anyone can pay to acquire customers, but it's eight times cheaper to retain a customer than to acquire one, so investors are going to be looking for your ability to retain them.
Knowing your customer beyond the data is vital. This includes who they are, what they want and what they like and don't like about your product.
Anything you can do to learn more about your customer to increase retention: do it. Whether that means getting on the phone or sending out surveys, always work on strengthening that relationship.
3. An investor is a partner: approach them openly
Another thing Sam suggested was to consider an investor as you would a business partner.
If you end up in a meeting with an investor, connect openly and authentically. Be humble, but don't be afraid to be confident and be proud of the company you've built. Investors want to invest in people who believe in what they're doing, so represent your vision enthusiastically and wholeheartedly.
"You should be the one leading the conversation, so don't think you don't have the power in that relationship dynamic, because you do. Be proud of yourself and don't get dejected if something isn't a fit or pass because you'll find that right investor who believes in you and ultimately that's what you want."
– Sam Blumenthal
You want an investor who is literally invested in your company, so be excited about your brand, be open with your numbers and treat the relationship as it should be: a two-way street.
4. No connections? No problem
Sometimes it feels like everything happens because of connections. But if you don't already have connections in the investment world, how do you get into it?
Sam's answer is simple: start building out your social profile.
First, connect with founders. Get to know the people you're working amongst. Then, when you're at the stage where you're looking to raise capital, see if there are any investors you have connections to through the founders you've gotten to know.
"I try to walk away from each call being helpful in some way even if I can't invest."
– Sam Blumenthal
If you don't have any connections with investors, and you're ready to raise funds now, that's also fine. It's pretty easy to find emails for investors online, and cold-emailing is A-Okay for the majority.
As a data-driven investment company, CircleUp is especially open to cold-emailing. They're looking for strong numbers, not a strong lineage.
However, if you are going to cold-email, Sam suggests keeping it short, sweet and informative. Do a little research about the person you're emailing beforehand, know why you're interested in that particular investor and have some hard data about your brand to offer them.
Key takeaways for founders looking to raise venture capital for their brands
There's a lot to consider when thinking about raising capital for your brand; it can be overwhelming to imagine stepping into the venture capital space if you have no prior experience with it.
To ease that process, Sam provided us with four key tips to keep in mind when approaching investors.
Know your numbers, your overall vision and what you want from an investor.
CircleUp bases their investment decisions on data, so knowing yours through and through is crucial. When discussing your business with them you should be able to tell them about your YOY (year over year) growth, your long-term vision for the brand and what you need to raise capital for to scale.
Know your customers and the pain points you're trying to solve with your product.
Most investors, CircleUp included, want to see the value in your company reflected by your customer's interest in your product. So understanding who your customers are, where they're coming from, where they shop, what they need and all the numbers associated with their purchases is vital. In particular, having data on hand like AOV (average order value) and CAC (customer acquisition cost) is very important for investors.
Working with an investor is a partnership.
It's a relationship that needs to be nurtured by both the investor and the founder. If you get on a call with a potential investor, be confident and open with them about the ins and outs of your business. Be personable in the way you share yourself and your interest in partnering with them.
Build a strong social profile to network and connect with people in the business world.
Get to know other founders and tune into who is connected to who. If you don't have any connections with investors, find their emails and send a message about your brand and why you want to partner with them– cold emailing is welcomed by most. Also, make sure you approach investors authentically. Set the tone for the potential partnership between the two of you.
Extra hot tip from Sam: don't raise capital in the form of equity to fill inventory purchase orders. Investors generally don't like that.
In the end, getting into debt often ends up being cheaper than using your equity to pay for growth. As Sam said, "With debt, you're paying with interest but with equity, you're paying with ownership of your company."

Katie Krische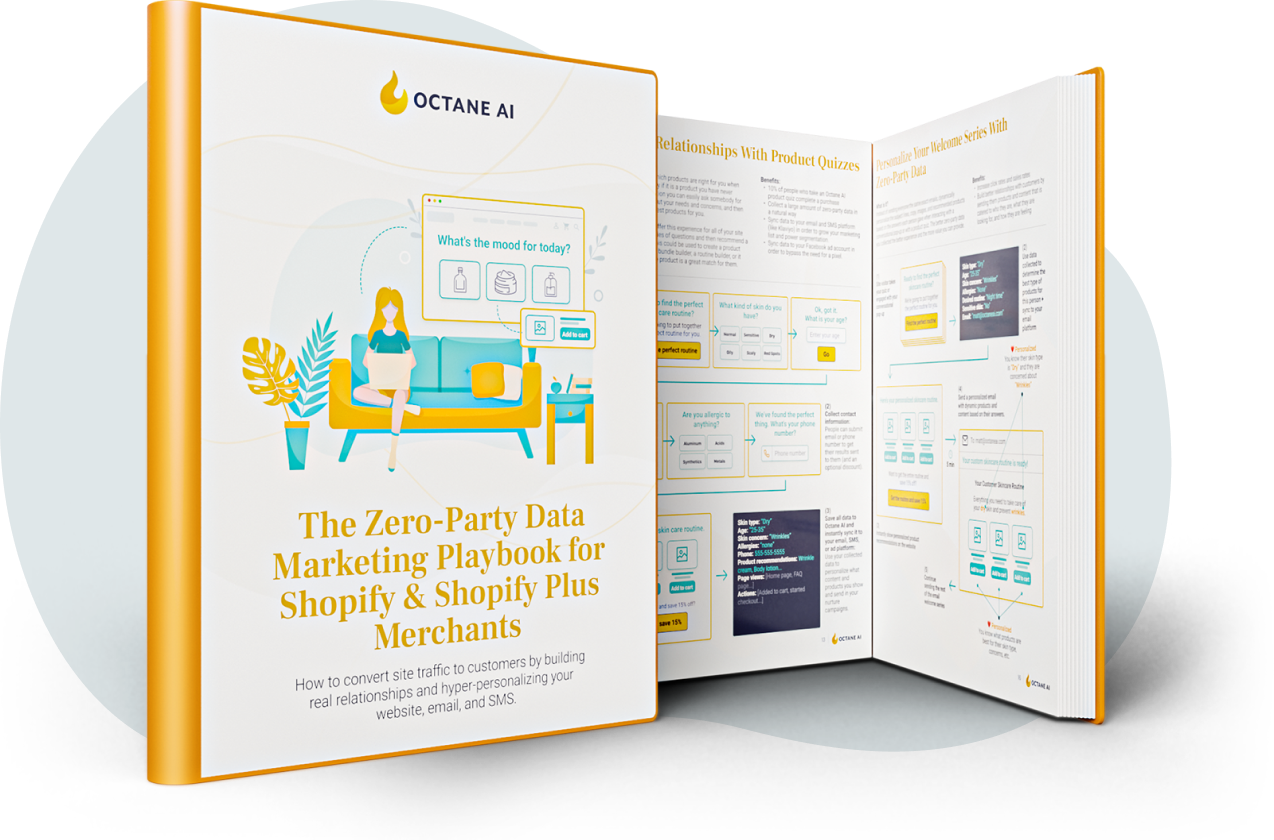 How Much Revenue Are You Missing Out On Because Your Marketing Isn't Personalized?
Fast-growing DTC brands implementing this playbook, and personalizing the customer journey with zero-party data, have connected with 16x more customers on email and SMS, seen 6x sales conversions, and increased revenue by over 50%.