When it comes to Facebook ads, things can get complicated easily. With so many targeting options and ad optimizations, how can you set up your ads to drive the most engagement for the best ad spend? A great place to start is with the Facebook pixel.
You may have used the Facebook pixel before on your website, but have you considered using it with interactive content like a quiz? If not, we need to explore this new opportunity for your ecommerce businesses.
Octane AI JUST added a new update to its quiz, so you can now collect data for your Facebook Pixel from every quiz question and results page.
I'll tell you more about the Facebook pixel, Octane AI's Shop Quiz, how to set up your pixel and everything you can do with your pixel event data from the quiz in this article.
What is Facebook Pixel?
The Facebook pixel is code placed on your website to collect key data from the people engaging with you online. Using cookies placed on your website and ads, the pixel will track conversions, build audiences and give you detailed insight about how your website visitors are interacting with you.
This information helps you optimize your ads for better targeting, build more targeted audiences for your future ad campaigns and retarget people who've engaged with you online in some manner. In your business manager account, you can create up to 100 pixels.
Why should you integrate the Facebook pixel with your ecommerce quiz?
If you want to better target your ad campaigns to increase engagement and revenue, the Facebook pixel is a must. By collecting data about the users interacting with your website, you can ensure your Facebook ad campaigns are being shown to people that are most likely to engage with them.
Essentially, the Facebook pixel helps take a lot of the guesswork out of your Facebook ads.
Whether you're using ads or not, having the Facebook pixel installed is beneficial to start collecting data. When you are ready to use ads, you'll already have so much information from the pixel to leverage. So, don't wait!
What is the Shop Quiz?
Octane AI's Shop Quiz is an interactive tool designed to ask customers a series of questions to learn more about their specific needs and wants. There are many use-cases for the quiz, including virtual consultations, customer onboarding, gift finders, size finders, personality matching and product recommenders.
Any ecommerce business, no matter the industry, can benefit from an online quiz. I've seen brands in beauty, luxury, apparel, home goods, fitness and health all benefit from the power of an interactive quiz to understand more about their audiences.
In fact, BeautyBio increased its AOV by 28% using the Shop Quiz. If you want to see similar results, you can download Octane AI in the Shopify app store for a 14-day free trial!
How to set up Facebook Pixel with Octane AI's Shop Quiz
To set up your Facebook pixel in Octane AI, you'll have to have a pixel created for your ad account first.
As long as your pixel has been added to your website, the pixel custom events you create in Octane AI will automatically trigger in your pixel. You won't even have to connect your Facebook page or ad account to Octane AI!
Here are Facebook's instructions for setting up your pixel:
Before you begin
Make sure you have access to a Business Manager account or

create one

.
Check that you're an admin on the Business Manager account you'd like to use.
Create a pixel in Business Manager
Go to

Business Settings

in Business Manager.
Select your business.
Click Data Sources.
Select Pixels.
Click the + Add button.
Type in a name for your pixel.
Optional: Enter your website URL.
Click Continue.
To install your pixel on your website, click Set up the Pixel Now. If you'd like to stay in Business Manager, click Continue Managing My Business.
Once you have your pixel set up, you'll want to make sure you understand what kind of custom event data you'll be collecting with the Shop Quiz. Let me tell you about custom events next.
What are custom events with the Shop Quiz?
With Octane AI's shop quiz Facebook pixel integration, you'll be able to track custom events for the following actions:
When someone starts your quiz.

When someone finishes your quiz.

When someone chooses an answer.

When someone lands on a results page.
Note that custom events for answers and results pages are not added by default. To collect this data, you'll have to manually add pixel events for each answer and results page you'd like to track with your pixel.
Adding a custom event to your quiz
When building your quiz, custom events can be added under the Actions tab found on any Answers or Results page.
While Klaviyo events are added by default, pixel custom events aren't added to your quiz by default. You'll have to add any events you'd like your quiz to track in your shop quiz.
Under the Actions tab, simply click "Add action" to add a pixel event to your quiz.
Custom events are added individually for each answer you'd like to attach a pixel event to. Once you've added an event, you can leave the name as its default, or you can customize the label. Any event you've added can be removed as well.
How to create a custom audience based on pixel events
Custom audiences can easily be created in Facebook Ads Manager. From within Ads Manager, navigate to the Audiences page.
Then, just use the "Create audience" drop-down menu to make a new audience for your ad account. When creating a new Facebook audience, select "Website."
This will allow you to choose your pixel's custom events as a source for your audience.
How to use your quiz custom event data for personalization
Facebook pixel custom events in your quiz offer a powerful remarketing advantage. Your pixel is able to track customer actions in your quiz even if they don't share their contact information. All of this data gets collected whether a customer completes your quiz or not, so you'll receive useful information even if a user drops off halfway through.
Here are some quick ideas on how a Facebook pixel integration can help you take your marketing and customer engagement to the next level!
Retarget customers who didn't finish your quiz
Any customers that select an answer that has a custom event attached to it can be targeted later in Facebook ads manager.
For example, if you find that a certain point in your quiz such as a mandatory opt-in has a high drop-off rate, you can include any remarketing questions before that point. This makes sure that you receive valuable, actionable marketing data even from customers that don't receive a recommendation.
Target customers who didn't purchase after completing your quiz
Using your pixel data, you can not only use custom events integrated into your quiz, but you can also include conditions based on whether a customer did or didn't make a purchase.
For example, you could create an audience of customers that received a specific recommendation from your quiz within the last 30 days, then exclude customers that made a purchase from your website within that time period. In this example, customers who have seen the order confirmation page have been excluded:
Create a lookalike audience for popular results pages
Octane AI's quiz analytics includes a variety of detailed information about each of your shop quiz's metrics. To access metrics for an individual quiz, just select the quiz name.
Here, you can see which of your results pages are performing the best - not just in the percentage of quiz takers that see the results page, but also how much revenue each results page earns for your store.
Using a custom pixel event in a results page, you can create a lookalike audience in Facebook to advertise to users similar to the ones that purchased products after receiving a recommendation, letting you market to potentially new customers similar to your most lucrative audience.
Simply select "Lookalike audience" when creating a new audience in Facebook Ads Manager, rather than a custom audience. You'll then be able to use pixel events to setup the conditions of the audience.
Use a Shop Quiz and Facebook Pixel to create targeted, personalized ad campaigns
With the Facebook pixel and Shop Quiz integration, ecommerce merchants can gather more data for Facebook Advertising than ever before! Remember, here's how to quickly get it set up:
👉 Step 1. Create an interactive on-site Shop Quiz with Octane AI.
👉 Step 2. Place your Facebook Pixel on every answer and results page.
👉 Step 3. Collect data on every question answered or results page reached for retargeting or prospecting.

I can't wait to see what you do with all this new, epic data. To get started, you can try Octane AI for free today, or learn more by chatting with our team directly!

Tina Donati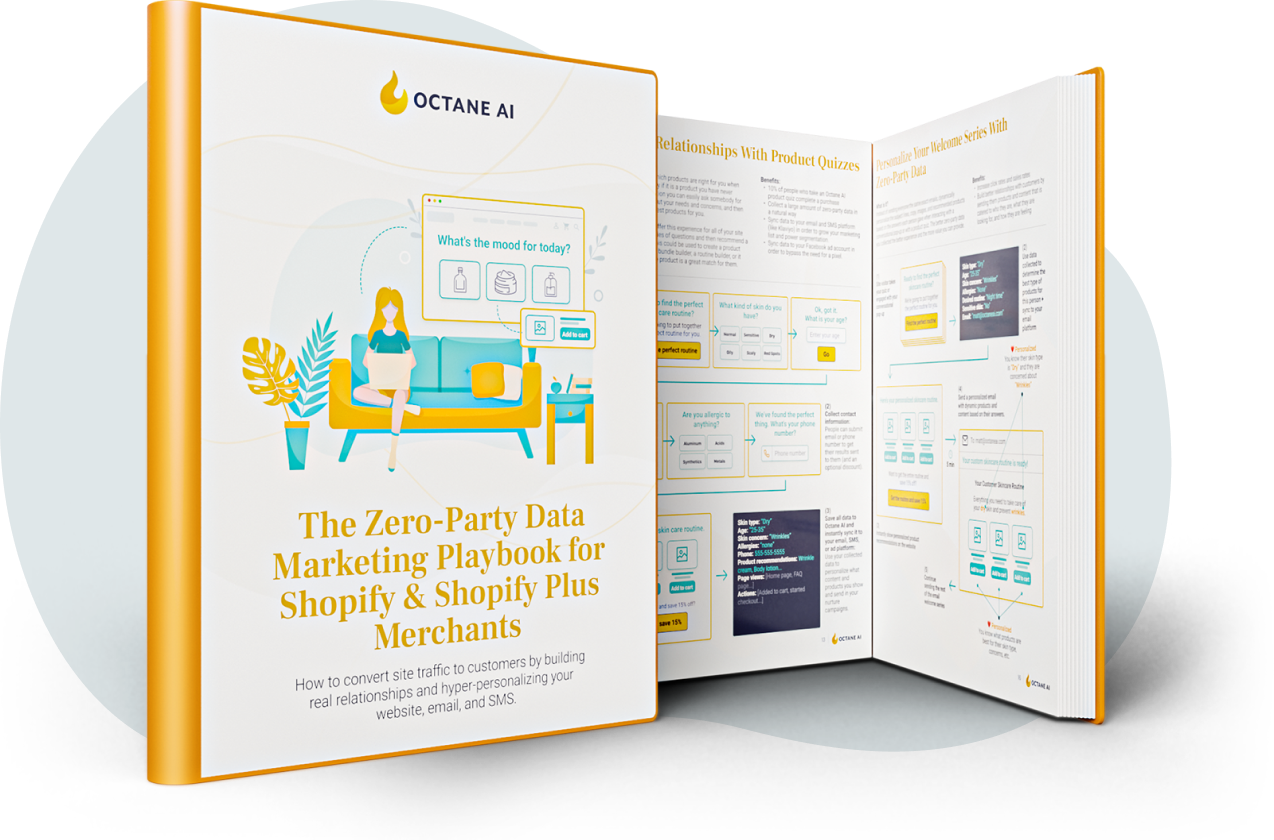 How Much Revenue Are You Missing Out On Because Your Marketing Isn't Personalized?
Fast-growing DTC brands implementing this playbook, and personalizing the customer journey with zero-party data, have connected with 16x more customers on email and SMS, seen 6x sales conversions, and increased revenue by over 50%.