When Lillie Sun envisions her future home, she sees a space filled with items she's proud of: a dining room table, refurbished by a local artisan passionate about reusable furniture; a spice rack, overflowing with flavors from a women-owned company started in a small kitchen; a shoe rack stocked with boots made of sustainable materials. Every item will have a story.
As the marketer who leads DTC and growth at the vegan and cruelty-free skincare startup Three Ships Beauty, Lillie knows first-hand that she isn't the only Gen Z'er who cares deeply about the story behind the product.
Rachel Cantor, the writer of Sidekick, a popular internet and product recommendation newsletter that's part of Morning Brew, is also within the Gen Z category—and she feels the same way.
As both DTC marketing and Gen-Z experts, what lessons can ecommerce brands learn from Rachel and Lillie? How can they take a humanized approach to storytelling? What channels should they use to build community? Why should they avoid "blanding?"
Here's what they had to say.
Rachel and Lillie joined as a guest on Gen-Z DTC (hosted by Commerce Club on Clubhouse), and shared their answers to these questions.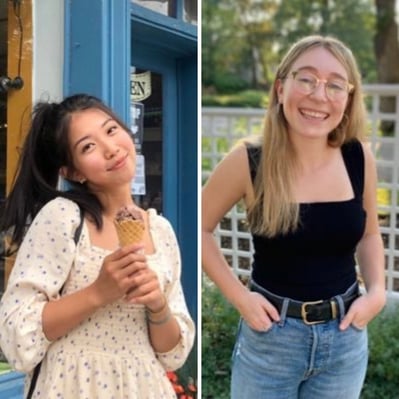 Source: Lillie Sun & Rachel Cantor
1. Use an open-door policy to your brand storytelling
According to Rachel and Lillie, there's a collective craving for information among their generation. This demographic wants to know as much as a brand will share—and probably more.
Without story-based connection, both agree people their age are likely to move on to other brands that make them feel seen and part of a larger community.
One example both Rachel and Lillie thought of was House of Wise, founded by Amanda Goetz. Right on the about page of the website is a personal message from Amanda herself on why she built House of Wise for other women.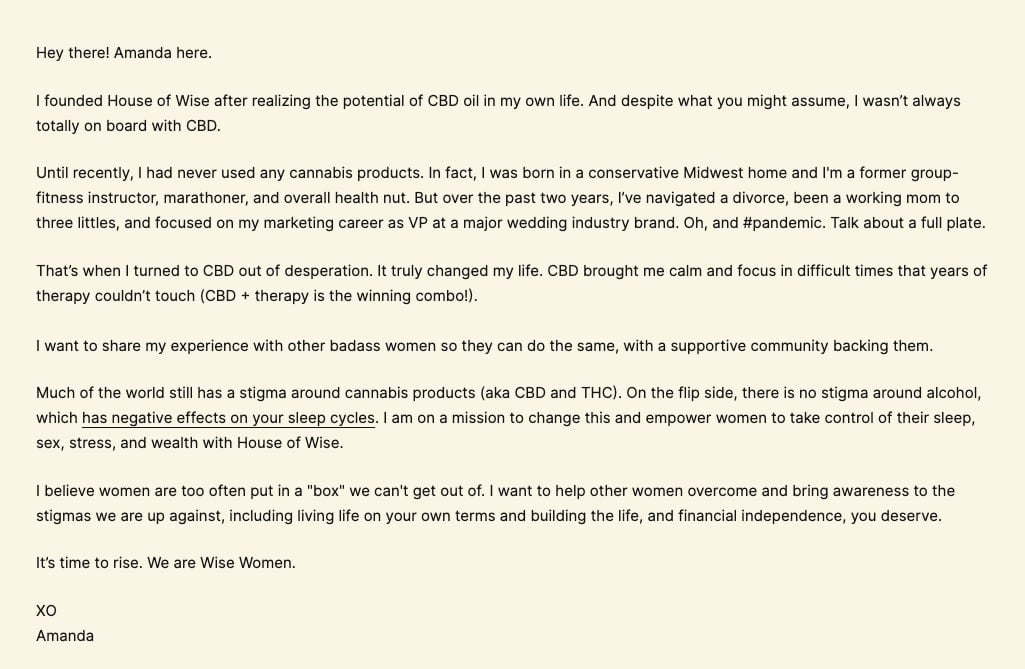 Source: House of Wise
According to Lillie, the more information she has, the better she'll feel about her buying decisions. She's drawn to companies that are open about everything from their mission to how their products are sourced (and everything in between.) She also thinks brands should utilize in-house talent to tell these unique stories.
"As Gen Z'ers, we have more questions than you think. Give us the information and we'll dive into it. At the end of the day, it's going to help us make a better buying decision."
– Lillie Sun, Growth and DTC at Three Ships Beauty
This type of people-centric storytelling—showcasing founders, team members and consumers—can come to life in a variety of forms, including video, social media, newsletters and more.
Three Ships does this all of the time on their Instagram page. A recent example is when they shared a montage video of women talking about the advice they wish they could give their younger self for International Women's Day.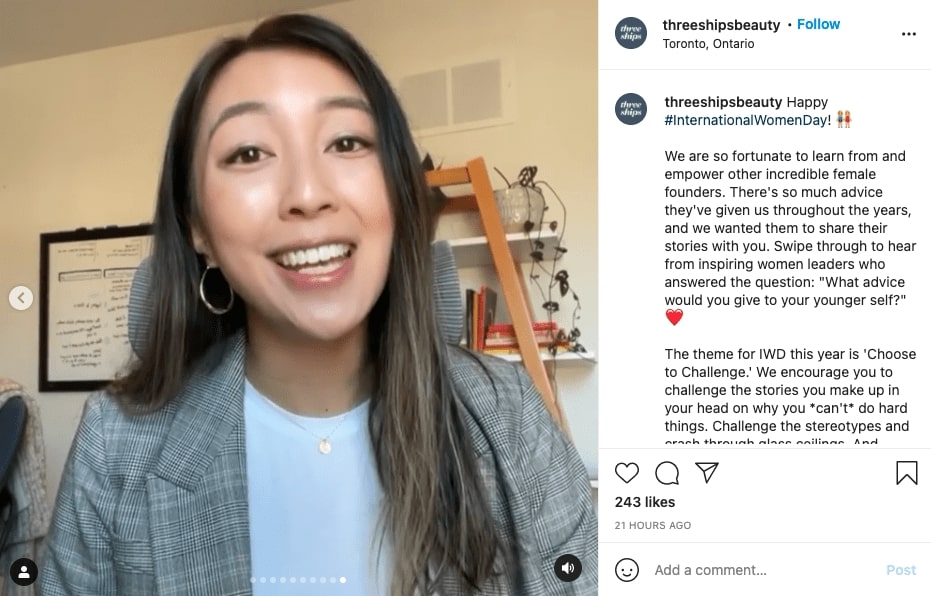 Source: Three Ships Beauty
2. Hone in on the channels that work to reach Gen-Z
For Lillie, employee number three of four at a fast-growing startup, time and resources are limited. It's all about trying various DTC strategies, figuring out what works best and then honing in on that.
At Three Ships Beauty, high-touch communication is made possible thanks to SMS. They've found it works well as it allows them to engage in direct Q&As around their products. She feels SMS is under-utilized, especially considering the amount of time Gen Z'ers spend on their phones for connection and information. It's a direct line between the company and the community it's building.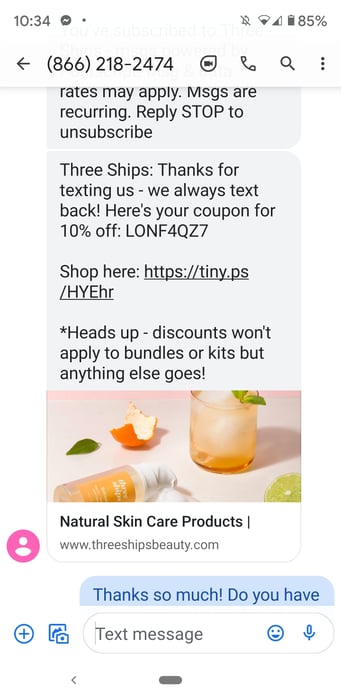 In Lillie's opinion, SMS is essential: "A lot of people are thinking about text message marketing as a "nice-to-have," but it's so powerful, especially since we (Three Ships) work in skincare, we have so much influence for the customer right before they purchase a product. And right after they purchase the product, text message marketing is the best way to be there for them," She said.
SMS is currently an untapped channel, but the brands using it are seeing massively high open rates and engagement rates. In fact, Omnisend discovered last year that online stores sent 400% more SMS messages than in 2019. So while it's a channel not every brand is currently using, more brands are starting to pick up on the impact of SMS to communicate with consumers.
Interested in learning what other trends the fastest-growing brands are using this year? Check out our 2021's Most Impactful Trends here.
3. Build your community with authenticity
Gen Z'ers can't be painted with a broad brush. Their interests, concerns, passions and priorities range as far and wide as the various social worlds they inhabit. But many of them think in terms of community, according to Rachel.
"When you think about community, the most important thing is that it's not just about being passionate about a brand, it's about being passionate about each other in terms of the actual user-base."

– Rachel Cantor, Writer for Morning Brew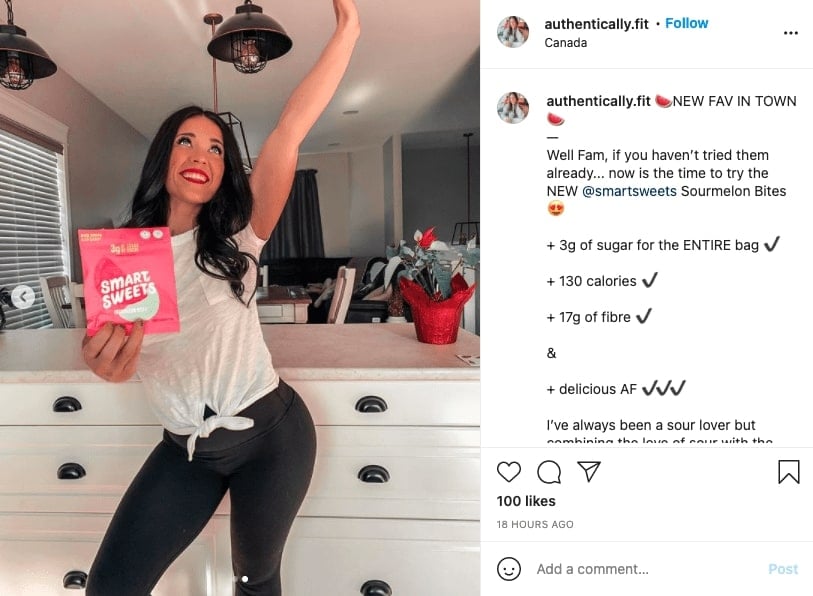 Source: @authentically.fit
Both Rachel and Lillie agree that when it comes to branding, the community needs to be personalized to the brand, aligned with company values and the desires of the consumer. Lillie said, "I think it's such a vague term and there are so many different ways of building a strong community. You just have to pick the right one that's for you and your brand — not do things that are trying to appeal to everyone."
Community can work differently from one brand to another, Lillie said, highlighting some of her favorites, like SmartSweets, which leans on micro-influencers to expand its community, as well as Topicals, a skincare brand building a Twitter community around debunking TikTok-driven skin care myths.
Source: Topicals
There are many different ways to build a strong community, but you have to pick the right approach for you and your brand. Both Rachel and Lillie said that if you try to please everyone, you'll fall short of connecting with your true audience.
4. Avoid "blanding" and be unique
If your brand presents as, well, bland, Gen Z'ers might label you as just that. "Blands" tend to reflect uniformity rather than uniqueness, and young audiences are increasingly uninterested.
"Blands" comes from the idea of many brands adopting the same pastel colors, San Serif font, clean lines and overall follow similar designs and stories. The truth is, Gen-Z is a generation that rejects perfectionism, so the key is to make the product your own by owning a unique brand voice, according to Rachel.
Lillie considers "blands" too generic, trying too hard to appeal to an aspirational persona that doesn't reflect Gen Z's interest in diverse stories and unique paths.
Gen Z'ers are ready for something new, exciting and original.
"We want brands to be really authentic and real. And what I've been seeing is a rise in these brands that are not afraid to be loud and unapologetic. I think the key is to really make the product your own and really own your voice."
– Rachel Cantor, Writer for Morning Brew

With story, truth and authenticity at the center, Gen Z'ers are more likely to connect with your brand.
A brand that came up often with Rachel was Brightland, an authentic olive oil company with very bright, creative branding and a unique story — one of Rachel's favorite DTC companies.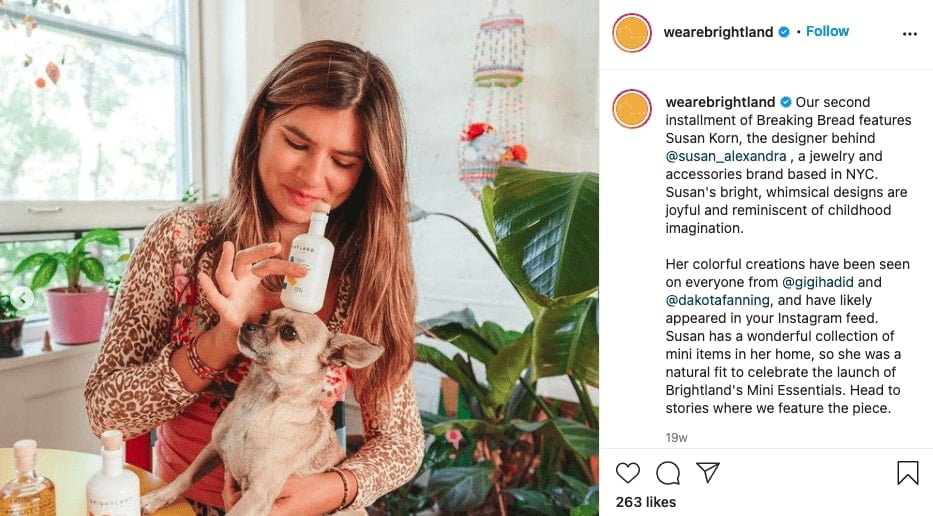 Source: Brightland
Solid storytelling, on the platforms you find most effective through trial and error, will help you avoid pitfalls as you build a marketing plan to include and center young people excited to be part of your growing community.
Key takeaways for brands marketing to Gen-Z
There are a variety of channels brands can leverage when marketing to Gen-Z, but it's important to understand that the entirety of the generation cannot be classified as one category.
Rachel explained this well when she said, "Every Gen-Z is different and there are certain patterns. We can definitely categorize them in one place, but I don't think that creating a persona for one is the best way to do that."
So what are the key takeaways for brands trying to market to more Gen-Z consumers?
Be people-centric, sharing stories through the voices of founders, teams and audience.
Tap into new channels that work well to reach Gen-Z consumers, and then double-down on one or two.
Build authentic community by personalizing your community to one target customer base, instead of trying to appeal to everyone.
Avoid becoming a "bland" by celebrating what makes your brand unique.
To get more insight and advice, subscribe to Commerce Club's weekly newsletter, where we share transcripts, articles, show recaps and more.
About this podcast
Hosted by Tina Donati and Katie Krische, Gen-Z DTC is hosted every Friday at 1pm PST / 4pm EST on Clubhouse within the Commerce Club. We have super casual, low-key convos about marketing or DTC with the operators, agencies and managers. We talk about content, newsletters, community, social media and more, providing tips from the ground-level on how to market a brand and how to reach your Gen-Z audience.

Katie Krische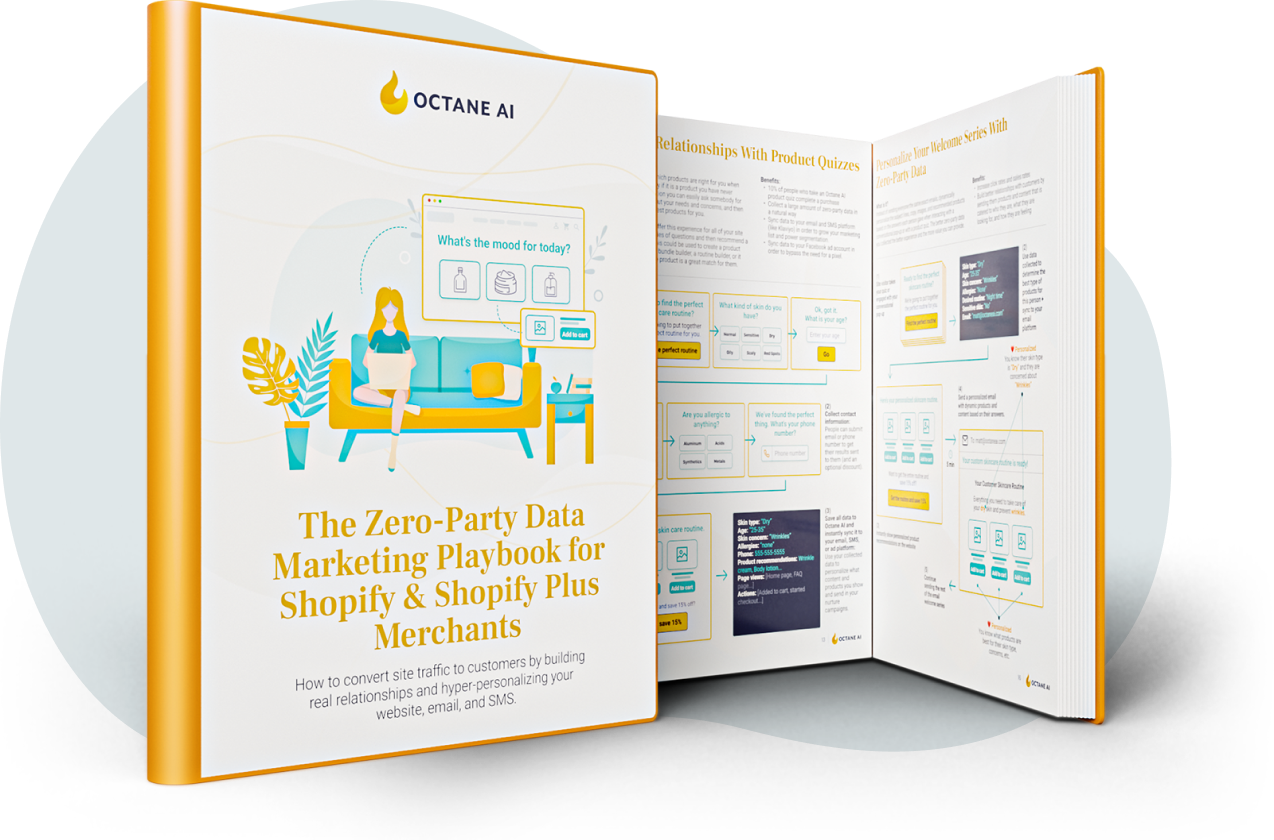 How Much Revenue Are You Missing Out On Because Your Marketing Isn't Personalized?
Fast-growing DTC brands implementing this playbook, and personalizing the customer journey with zero-party data, have connected with 16x more customers on email and SMS, seen 6x sales conversions, and increased revenue by over 50%.