Wicked Edge, a Shopify Plus merchant based out of New Mexico, is an industry leading seller of top-of-the-line knife sharpeners and sharpener accessories. Their products are beloved worldwide by everyone from home chefs to law enforcement.
When they began their working relationship with Tako Agency, a top Octane AI partner, there were a few things on the agenda with the topmost being a new website that was faster, more visually pleasing, and easier for customers to navigate.
Tako delivered a theme that was twice as fast as Wicked Edge's old templated site, complete with a custom homepage and product page that features sharp angles and an eye-catching color palette.
Thanks to Tako, Wicked Edge's website was faster, looked better and started to drive more conversions. But there was still a challenge ahead...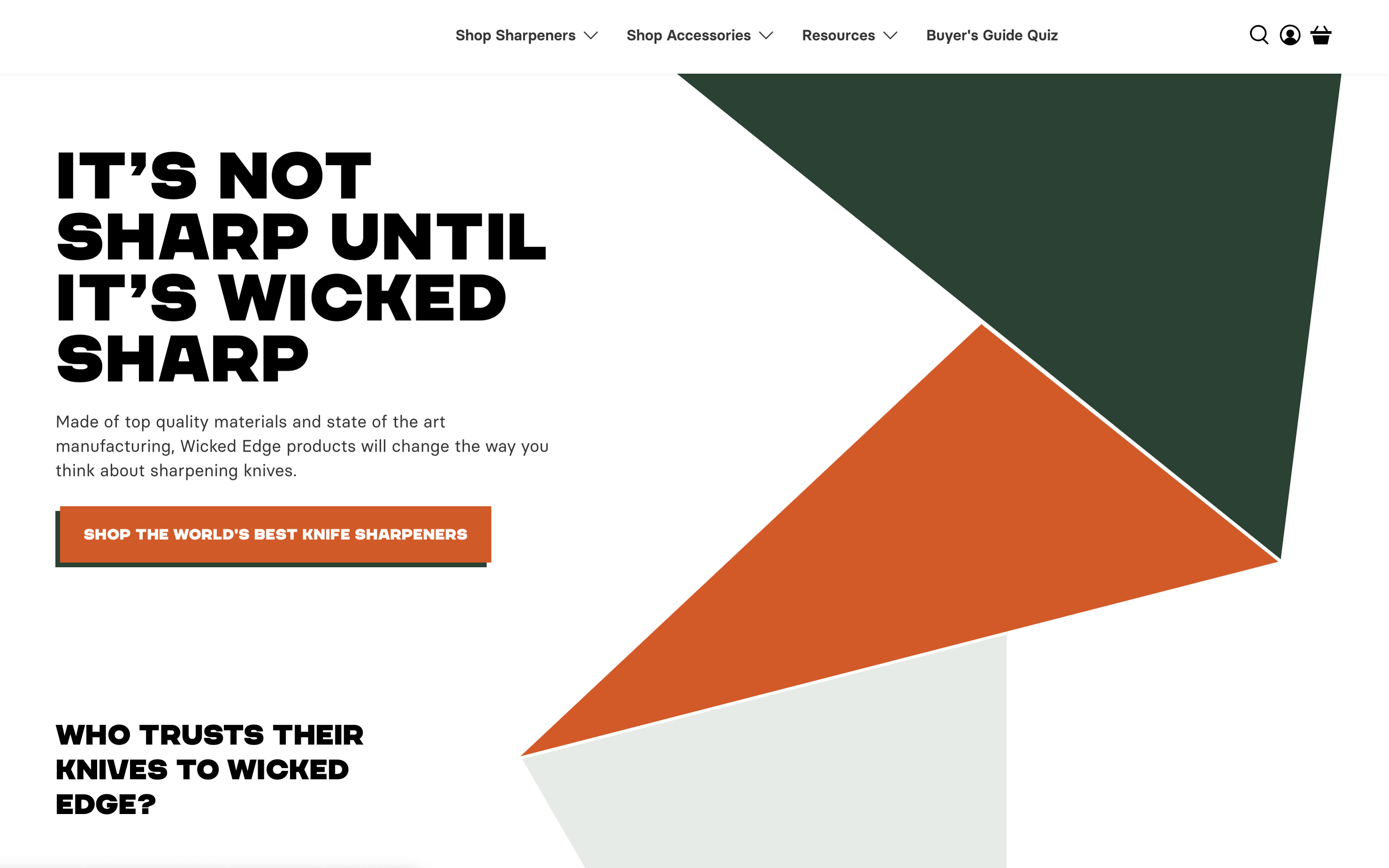 Their Challenge: Shorten Customers' Product Learning Curve
Wicked Edge knife sharpeners don't look like anything else in the market, so even for the most experienced shoppers the product required a learning curve.
To shorten the curve and educate customers during their shopping journey, Tako Agency recommended the implementation of a product recommendation quiz powered by Octane AI.
"While we were working closely in the Wicked Edge team early on, getting to know their business and their customers on a deeper level, we discussed the challenge of their product and the customer learning curve that goes along with it. Their knife sharpeners don't look like others on the market, so in addition to being unfamiliar they may also be harder to understand – at first glance, new customers may not know exactly what they're looking at or how it works.

Whenever there's a learning curve, there's a barrier to purchase. Even once users understood what they were looking at, it was difficult to know which model (and accessories) were best suited to their unique needs and goals. These issues were undoubtedly affecting Wicked Edge's conversion rate. An Octane quiz was a no-brainer solution."

-

Zlatko Bijelic

, Tako Agency Founder

The Solution: A Product Recommendation Quiz
The Tako team and Wicked Edge worked closely together to formulate the quiz questions, using Miro to create a flowchart that visually depicted the customer journey along each branch. The primary focus of the quiz was assessing the customer's needs and suggesting the right product to meet those needs, although there were two questions dedicated to collecting zero-party data only.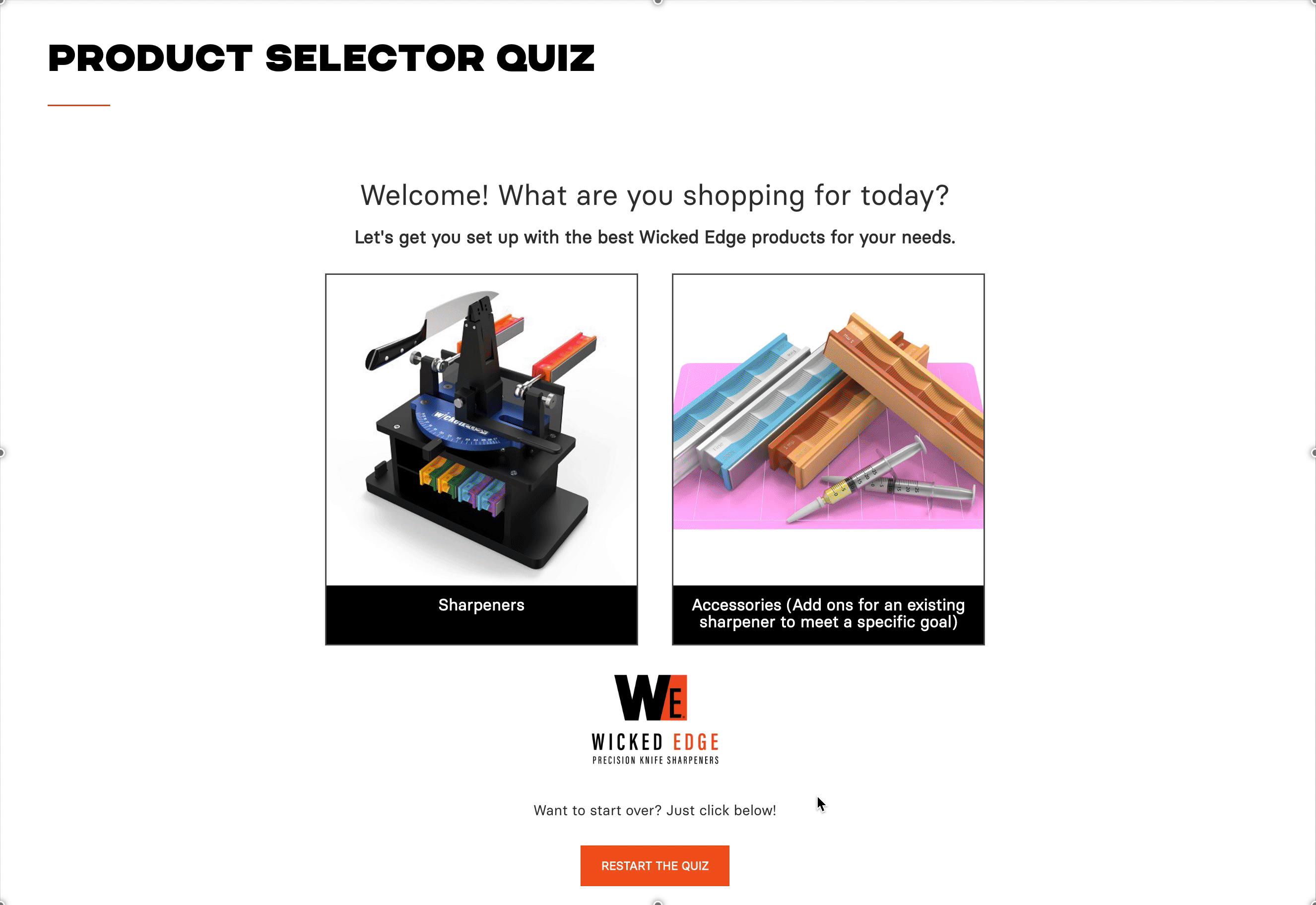 When it came time to recommend products, Tako and Wicked Edge were delighted to learn about Octane's handy "Add All to Cart" button.
"I love this feature. It allows merchants to create pseudo-bundles that pass through to the cart page as individual line items, eliminating the need for a bundling app or any SKU changes to their inventory management system."

-

Zlatko Bijelic

, Tako Agency Founder
The efficacy of this feature is made clear in the average order value of each quiz taker ($727.30) versus the store as a whole ($450.14) – an impressive 61% increase.
That's right, purchases made from customers who took the quiz had an average order value 61% higher than those who didn't.
Conversion rate also saw a boost, with 3.6% of quiz takers converting compared to 1.5% for the store as a whole. This is no doubt due to the reduction of consumer confusion during the buyer journey – eager customers no longer have to guess if the WE130 or the Generation 3 Pro is right, whether they're a knife collector, hunter, home cook, or DIYer. The quiz lays it all out for them, complete with custom illustrations by Tako to communicate some questions visually.
All of these factors came together and impacted revenue in a significant way: within the first 6 months, WickedEdge saw a 28% lift in revenue attributed solely to the Octane AI quiz.
"We spent a couple of years making educated assumptions about what types of knives our customers were sharpening and for what end purpose. Octane AI offers a level of detail that allows us to see how users are interacting with the quiz, collect meaningful data without being intrusive, and understand how our customers are thinking about using our products," says Wicked Edge Operations Manager, Elizabeth Berkowitz.

"The resulting data has helped us confirm assumptions about who our customers are and what they're looking for. In the dashboard we can clearly see customers using this tool to confidently make a purchase. It feels great to know we're able to offer this experience to our customers without requiring them to spend their valuable time reaching out to us for help with their purchasing decision."

- Elizabeth Berkowitz, Wicked Edge Operations Manager
Lastly, with assistance from their Octane AI Success Manager, Tako completed the integration with Klaviyo that allows each quiz answer to pass through as an individual data point, creating highly segmented user groups. This allows Wicked Edge to pursue nuanced email marketing with messaging and imagery that resonates with each customer persona.
Results
Octane AI's quiz helps Wicked Edge achieve their main goal: getting best-in-class products into the hands of knife-wielding consumers everywhere. Rather than being a pushy sales tool, the quiz – like the team at Wicked Edge – comes from a genuine place of "How can we help you?"...and it shows:
- 28% lift in revenue attributed solely to the quiz.
- 61% increase in average order value for quiz takers.
- 3.6% of quiz takers convert (compared to 1.5% for the store as a whole).
If you are ready to sharpen your marketing like Wicked Edge did, come chat with our team. 👇