Founded by childhood friends Fred and Jeremy after a challenging backpacking trip in 2009, Tortuga was born out of the need for the perfect travel backpack.
The duo experienced firsthand the perils of traveling with ill-suited gear, inspiring them to craft a solution.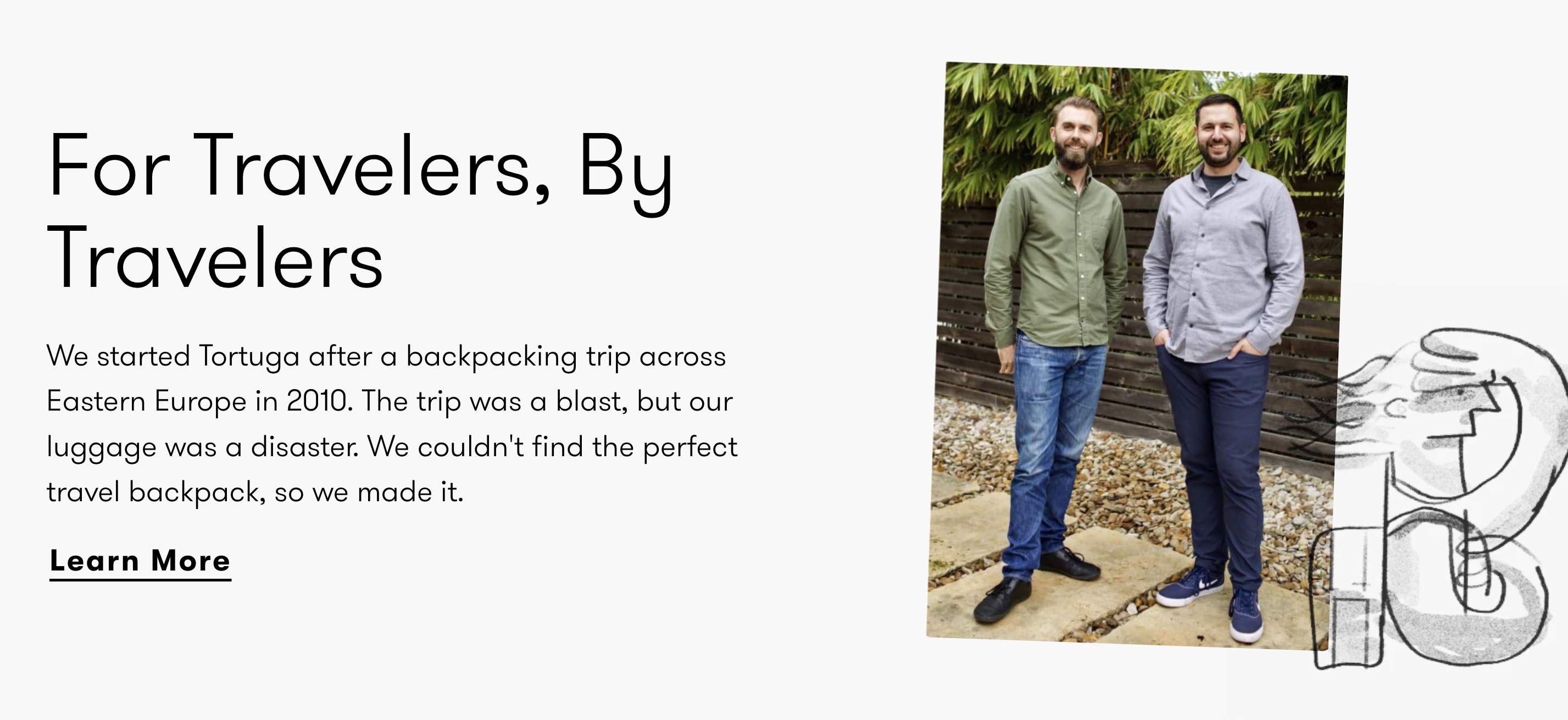 Today, Tortuga not only offers top-tier travel backpacks but also supports youth travel through scholarships and partnerships.
The brand is a pure DTC play, and does all of their sales via their online store.
The Challenge: How To Choose The Right Bag?
As a premium travel backpack brand in a crowded market, Tortuga struggled to help customers find the right bag for their needs amongst 20+ similar looking products.
Shoppers were overwhelmed and reluctant to purchase the pricier Tortuga bags without guidance.
Especially as an online shopping experience, it was hard for customers to understand the difference between the bags as they looked similar on a screen.
Tortuga realized the need to help guide shoppers through a product recommendation.
A quiz was the solution that they needed.
The quiz would ask travelers about their specific needs, and recommend the ideal Tortuga backpack based on the customer's needs.
"The quiz is extremely helpful to help them find what products best fit their travel style, their needs. And regulations, if they're flying international or more of like a budget carrier where they charge you for a carry on versus a personal item." - Ben Beck, Director of Marketing at Tortuga Backpacks
A Deep Dive Into The Tortuga Bag Quiz
The primary focus of Tortuga's quiz is three-fold:
Guide shoppers to the most appropriate product – and improve the shopping experience.

Capture emails to build direct relationships with customers

Gather zero party data about shoppers – their travel needs, demographics, and preferences
This information turns out to be invaluable in the email communication with leads and customers.
Having a quiz pop up on these types of blog posts helps Tortuga to identify potential customer's travel habits and pain points to personalize content to increase products purchased.
The Quiz Results: Better Engagement, More Leads, More Sales
The Bag Finder Quiz delivered the personalized guidance travelers needed while capturing zero-party data to fuel Tortuga's automated emails and product development.
Depending on the specific use case, customers would get different content.

For example, Tortuga could identify the different type of travel use case based on a question like this: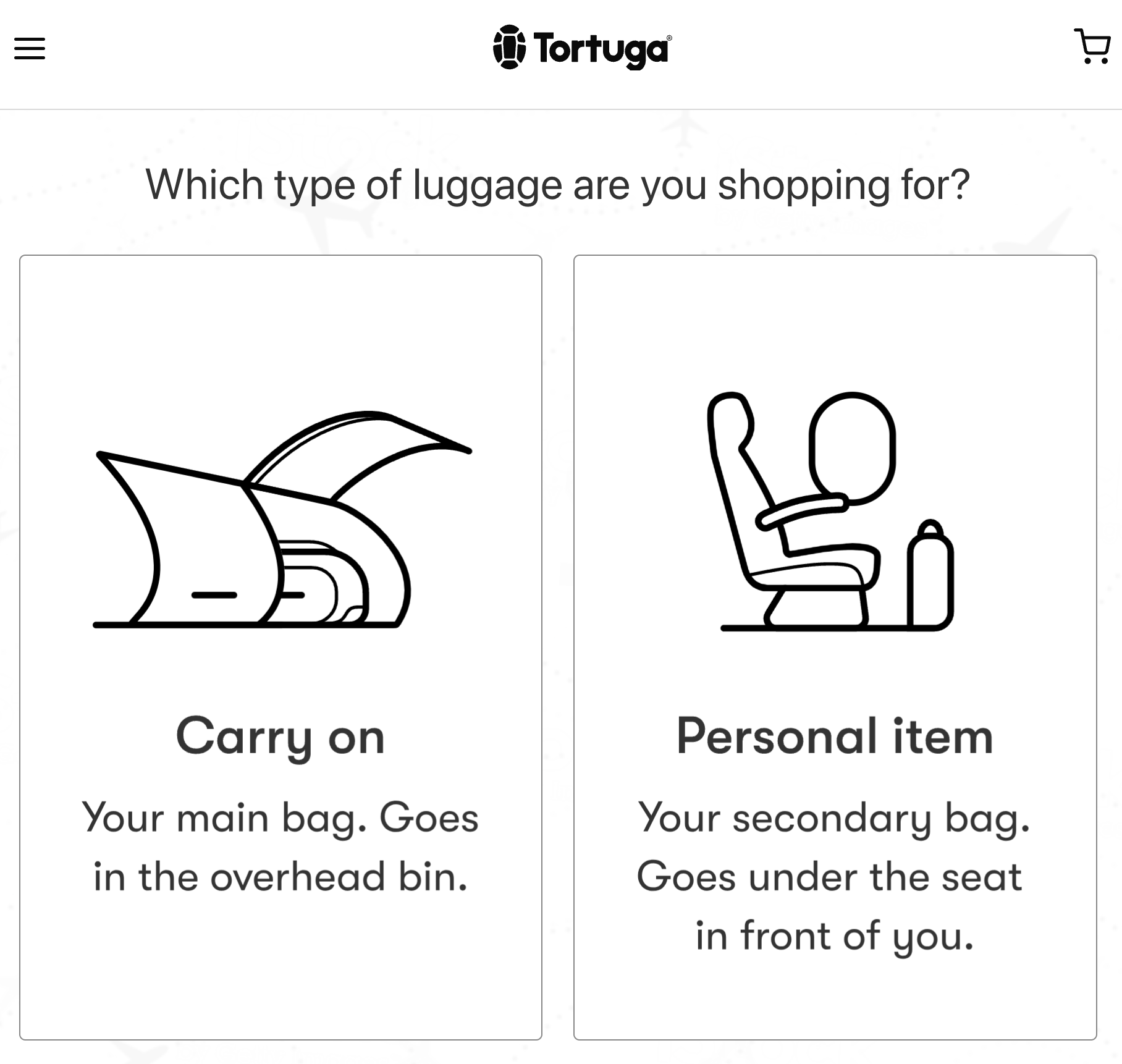 The interactive approach immediately solved both customer confusion and provided a boost across Tortuga's business.
By answering a few simple questions, customers were able to determine the right bag for their needs.
And the recommendation includes appropriate upsells, to increase Average Order Value: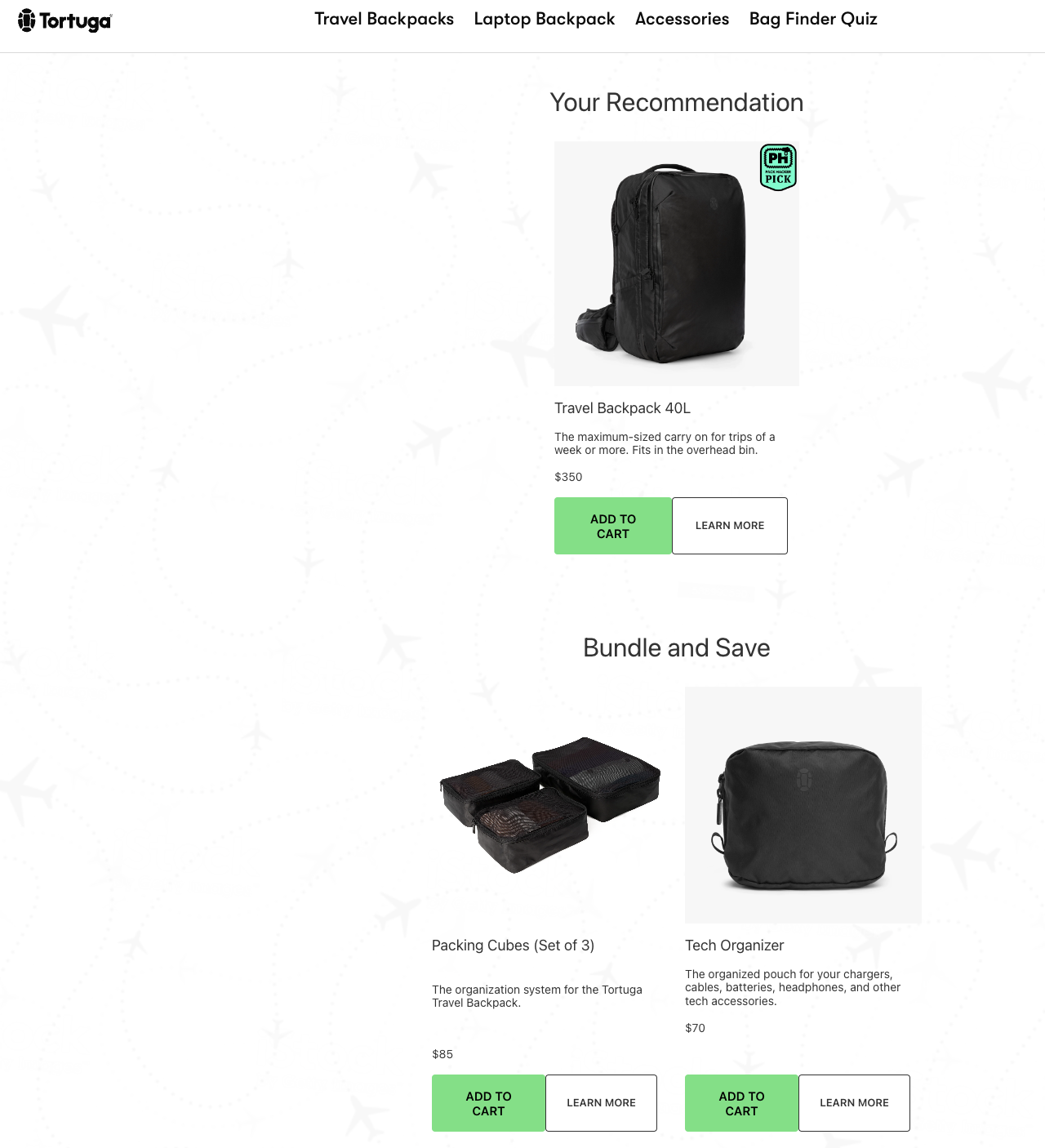 Here are some stats shared by Benjamin Beck, Director of Marketing at Tortuga:
👉 91% quiz completion rate showing high engagement
👉 20% email opt-in rate, even though email is optional
👉 3% purchase rate from those who complete the quiz, much higher than their normal rate


Quiz data allows for personalized marketing messages based on travel style.
"We have about a 20 opt in rate, which is better than any other lead magnet or any other offer that we've been testing even though it's not required to add an email. And about 91 percent of store visitors who start the quiz complete it." - Ben Beck, Director of Marketing, Tortuga Backpacks
Furthermore, the quiz results revealed opportunities where Tortuga's product offering was not meeting customer needs, allowing product improvements. This is the often unseen benefit of quizzes, is how it contributes to product insights and developments, shared directly by customers.
Additional Benefits of Zero Party Data: Product Research
The quiz collects zero-party data on customer travel preferences and needs. Tortuga uses this data to improve their marketing.
Specifically, segmenting their email list becomes far more precise with the data captured in the quiz, with nurture campaigns personalized based on traveler type.
This has a downstream impact on how Tortuga runs its marketing automations, and integrations with their Customer Relationship Management systems. And lastly, they have expanded their product line with data-driven insights from thousands of customers and potential customers.
"We've seen a really high correlation between quiz completions and purchases." - Ben Beck, Director of Marketing at Tortuga Backpacks
Here is a recap video where Ben explains how he has improved conversion rates and opt in rates with the Octane quiz: