Many ecommerce brands have been affected by the changes in data privacy and advertising. With the majority of users now opting out of data tracking altogether, marketers need new sources of data to power their campaigns. They also need to shift from the heavy reliance on third-party data they currently borrow from tracking cookies, which will go away in 2023.
While most brands were trying to figure out new strategies to deploy, Skinny Mixes thrived.
How?
Alex Tenney, VP of Ecommerce for Skinny Mixes, attributes the success to its zero-party data strategy.
And the payoff couldn't be more worth it: the beverage brand made over $500,000 in one month at the apex of the data doom in 2021.
Skinny Mixes started its journey with one single product, a skinny margarita. Fast-forward 13 years and Skinny Mixes is a major player in the healthy beverage industry, succeeding in both retail and ecommerce with coffee syrups and dozens of other product offerings. The multimillion dollar brand is a leader in community-driven marketing and great customer experience, so pay attention to what they are doing in the DTC space — starting right now 👇

Their Challenge: Understand Customers and Raise Engagement
Skinny Mixes always puts their customers front and center. To continue improving the customer experience, the brand wanted to learn more about what drives them.
That's why Skinny Mixes decided to deploy Octane AI in its Shopify store.
"At Skinny Mixes, our core value is listening to our customers. That's always been our main driver. We want to know our customers, we want to listen to our customers. All our greatest ideas come from our customers, so that's just really the core of it."

- Alex Tenney, VP of Ecommerce at Skinny Mixes

The Solution: Build a Recipe-Finder Quiz (Part 1)
With dozens of products and flavors, it can be overwhelming for new customers to discover everything. Skinny Mixes uses a quiz to collect customers' tastes and preferences, learn their flavor profile, and then recommends the perfect recipe (which includes their products).
On average, one in every five people who take Skinny Mixes' quiz ends up purchasing. That's a 20% quiz-to-purchase conversion rate! And what's more, this high converting quiz is the source of 25% of Skinny Mixes total monthly revenue.
"Zero-party data was super important to us from the get-go. We have over 85 flavors, so we really hone in on recipes and getting to know our customers more through the quiz… Just having that nice conversation feels a little warmer, and then we get all the information on things like if they like chocolate syrup, if they're drinking coffee versus tea. So yes, zero-party data is huge for us."

- Alex Tenney, VP of Ecommerce at Skinny Mixes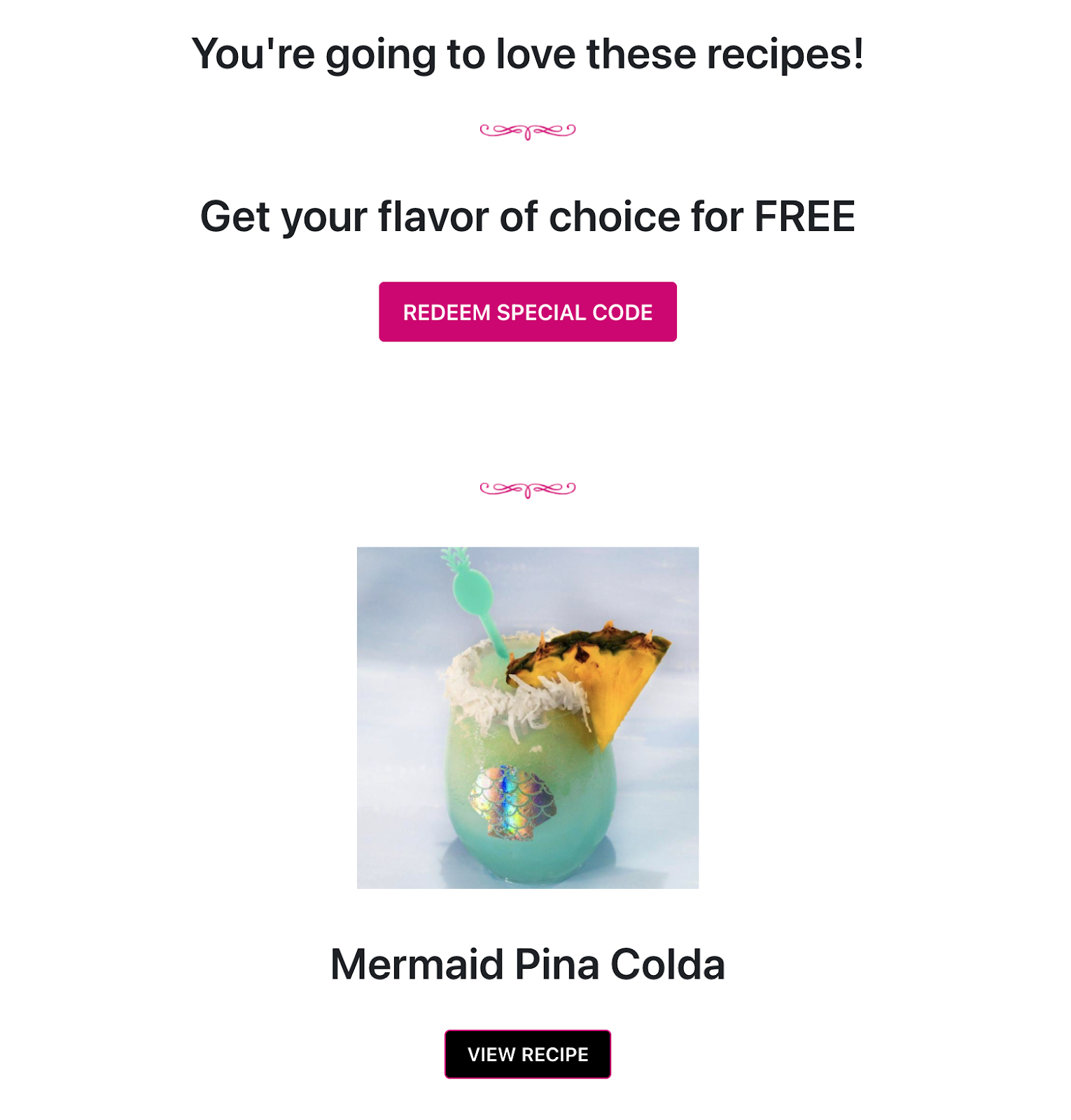 The Solution: Personalize Owned Channels (Part 2)
In one month, Skinny Mixes collected 107,000 zero-party data points and over 13,000 emails via its quiz and conversational pop-ups.
When customers share this personal information, they expect to be treated differently. That's where Skinny Mixes has the opportunity to shine: provide value through personalization!
In addition to sending recipe recommendations, launching new products, and fine-tuning social media content, Skinny Mixes uses its zero-party data to segment customers and personalize conversations in owned channels, like Facebook Messenger, SMS, and email.
"With this data, we put customers into three or four buckets. The two biggest buckets are cocktail mixes and coffee syrups, and we base all of our marketing efforts through our email, our text messaging, as well as our Facebook Messenger after that. So those people go into specific buckets, and then we just remarket to them from there."

- Alex Tenney, VP of Ecommerce at Skinny Mixes
How much more likely is it that a customer will engage with you after receiving a personalized email rather than a generic flow?
Results:
Over the course of 2 years, Skinny Mixes made $5.7 million using Octane AI. On November of 2021, the brand also achieved record-breaking results for one month:
- $500,000 in revenue attributed to Octane AI
- Collected 107,000 zero-party data points
- Collected 13,000 emails via its quiz
- Quiz performed at a 20% conversion rate
Zero-Party Data Insights Skinny Mixes Gained Help Inform the Product Roadmap
Using the syrups for coffee is the most common reason why customers purchase Skinny Mixes' products, but through the quiz they discovered a large group of customers were actually using the syrups to flavor their water.
At first, Alex and her team thought this was odd, but when "water" became one of the top picks for the quiz question "what are you in the mood for?", Alex and her team expanded recipes in that category to cater to customers' desires. Soon after, flavored water became one of the main uses for Skinny Mixes' syrups.
All of this from a single zero-party data point!
Think about the kind of insights you could gain about your business if you had more zero-party data on hand.
And with that in mind, if you want to learn more about Zero-Party Data Marketing, download our playbook.