Ellie and Mac is a digital sewing pattern company that strives to provide modern, trendy sewing patterns that are inclusive. Their sewing patterns and embroidery designs allow people to love the way they feel and look in the clothing they make.
As a sewing pattern company, Ellie and Mac's mission is all about helping customers customize and personalize their clothing.
And as in true "walk the walk, talk the talk" fashion, the brand decided it was time to personalize their customers' onsite experiences too.
Let's see how.
Their Challenge: Improve the Onsite Customer Experience
It doesn't take much for a new idea to start germinating: a Twitter thread, advice from a friend, a blog post you came across, or perhaps having Leonardo DiCaprio plant an idea in your mind — any Inception fans in the house? 🙋‍♀️
But for Lindsey Essary, Owner of Ellie & Mac, it only took one great experience as a customer, and she knew a quiz was something she wanted on her Shopify store too.
"I had recently been shopping for some skincare products and took quizzes to determine what products I should purchase. I loved how fun and interactive they were and wanted to offer my customers the same experience when shopping at Ellie and Mac."

- Lindsey Essary, Owner and Designer at Ellie & Mac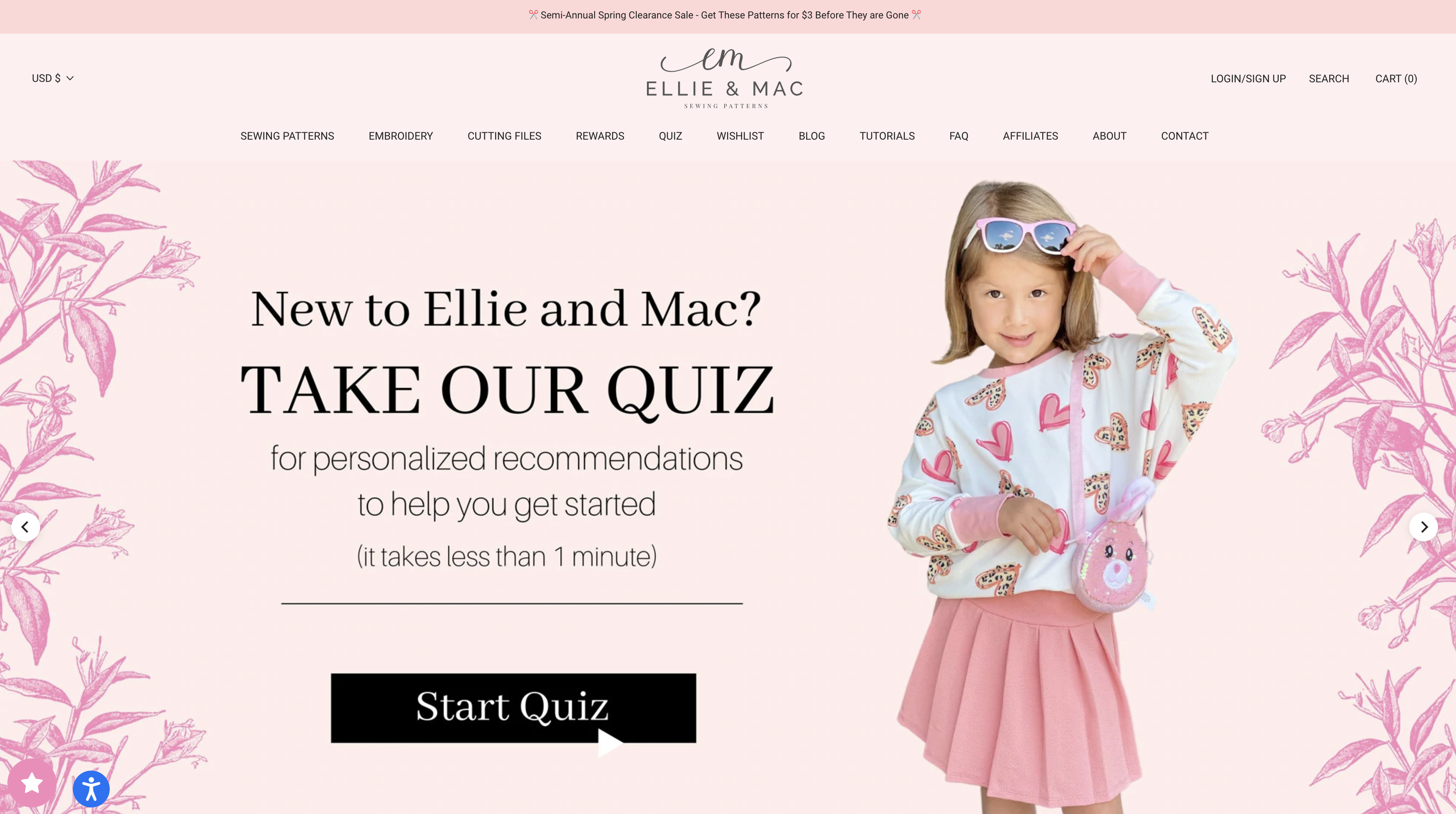 The Solution: It All Started with a Quiz...
Lindsey started her onsite personalization journey by deploying a product finder quiz that asks questions about shoppers' favorite fabrics, styles, sewing ability, and more.
Then, she captures an email opt-in to continue a conversation with potential and existing customers via the brands' owned channels.
Once customers finish taking the quiz, they are given the best sewing pattern recommendations according to their answers.
Wondering if this personalized onsite experience actually drives conversions?
Ellie & Mac's quiz has a 66% completion rate and an 18% conversion rate, meaning that every one in five site visitors converts to a customer.
And that's not all— since launching the quiz in September 2021, the AOV for customers that take the quiz is 47% higher than for those who don't. 🤯
Now's about the time when you should click the book a demo button.
Or keep reading and hit play to see Ellie & Mac's quiz in action:
The quiz is promoted in Ellie & Mac's navigation bar and homepage hero section.
Oh, and there is one more place: an exit-intent quiz pop-up!
As the name already suggests, this quiz pop-up is triggered once shoppers are about to leave the website. The pop-up embeds the main quiz experience and has brought an additional $28,000 in revenue for the brand.
Not bad for a single pop-up, right? Take a look for yourself:
And speaking of pop-ups, have you heard about a conversational pop-up?
Lindsey hadn't either.
But the welcome conversational pop-up she created helped Ellie & Mac capture over 60,000 emails, increase AOV by 26% and make $150,000 in additional revenue within 8 months.
A conversational pop-up asks a question to shoppers to learn about a key preference, provides an incentive in exchange for an opt-in, and then goes on to recommend products based on the shopper's initial answer— all of that in a single pop-up!
"I was surprised by how much interaction and conversions I got using the conversational pop-up. That was a fun, high-performing bonus since I initially didn't come to Octane AI for that item."

- Lindsey Essary, Owner and Designer at Ellie & Mac
Results
Lindsey's small business has made big strides in increasing monthly revenue and improving the customer experience since September 2021. Let's review:
- Over 323,000 zero-party data points were collected (each data point represents a customer preference)
- 65,000 emails captured
- 36.5% average increase in AOV across the quiz and pop-ups
- 18% quiz conversion rate, meaning one in every five shoppers taking the quiz completes a purchase
"Zero-party data is essential for the future of marketing. It is key to allow customers to share what they are looking for and send them relevant communication based on it. Customer-centered shopping experiences are the way that e-commerce is moving."

- Lindsey Essary, Owner and Designer at Ellie & Mac
Ready to grow your revenue with a quiz? We're here for you.
Did you know that brands who implement an ecommerce quiz drive 12-30% more revenue?
To try Octane AI for yourself, we offer a 14-day free trial in the Shopify App Store.
And if higher revenue and retention sounds like something that interests you, we're happy to help you get started with creating an ecommerce quiz that works well for your customers. Fill out the form below to schedule a call with our team and learn more. 👇