Kinvara Skincare is a leading skincare brand based out of Ireland, offering natural and organic skincare products.

With a passionate customer base and an over 80% returning customer rate, Kinvara had loyal and deeply engaged customer base.
However, they wanted to further grow their subscriber list and deepen their understanding of customers' specific skincare needs.
Their primary challenge was acquiring new qualified leads and collecting zero-party data to gain insights directly from consumers.
While Kinvara had an email marketing program in place, it was not optimized for lead generation or personalized engagement.
To help address these challenges, Kinvara brought in Lukas Brack and Ecom Mails, a specialized Ecommerce email marketing.
Ecom Mails proposed implementing a multi-branched, customized quiz funnel to capture zero-party data and recommend products tailored to each respondent.
This case study examines how the quiz funnel became an impactful subscriber acquisition and data collection channel for Kinvara Skincare.
By providing personalized quiz experiences, Kinvara was able to significantly grow their email list while better understanding their customers' profiles and needs.
Challenges: List Growth Had Stalled
Despite having an established customer base and brand, Kinvara struggled to grow its subscriber list and lacked deep insights into its customers' specific skincare needs and interests.
Relying solely on basic opt-in forms, Kinvara's email subscriber growth had plateaued.
Their opt-in rates remained low at around 8-10%, even when offering generous discounts.
Furthermore, Kinvara's current subscribers purchased frequently, but the brand desired to expand its audience and attract new customers.
Without a clear picture of customers' skincare concerns, Kinvara found it difficult to create targeted marketing campaigns.
They wanted better segmentation to engage subscribers with content and offers tailored to their profiles. However, generalized demographic data failed to provide actionable insights.
Additionally, Kinvara sought to better understand the pain points of potential customers during their research process.
With multiple products targeting different skincare issues, visitors often felt overwhelmed when exploring solutions on Kinvara's website.
Ultimately, Kinvara needed a way to capture zero-party data directly from consumers to identify their biggest skincare concerns, better segment their audience, and provide personalized recommendations to match people with the right products. Lacking these capabilities puts Kinvara at a disadvantage for subscriber growth and customer retention.
The Solution: An Engaging and Customized Quiz Experience
To help Kinvara capture zero-party data and drive subscriber growth, Ecom Mails built out an in-depth, multi-branching quiz funnel using the robust segmentation capabilities of OctaneAI.
The quiz was strategically placed in a highly visible place in the header navigation on each page.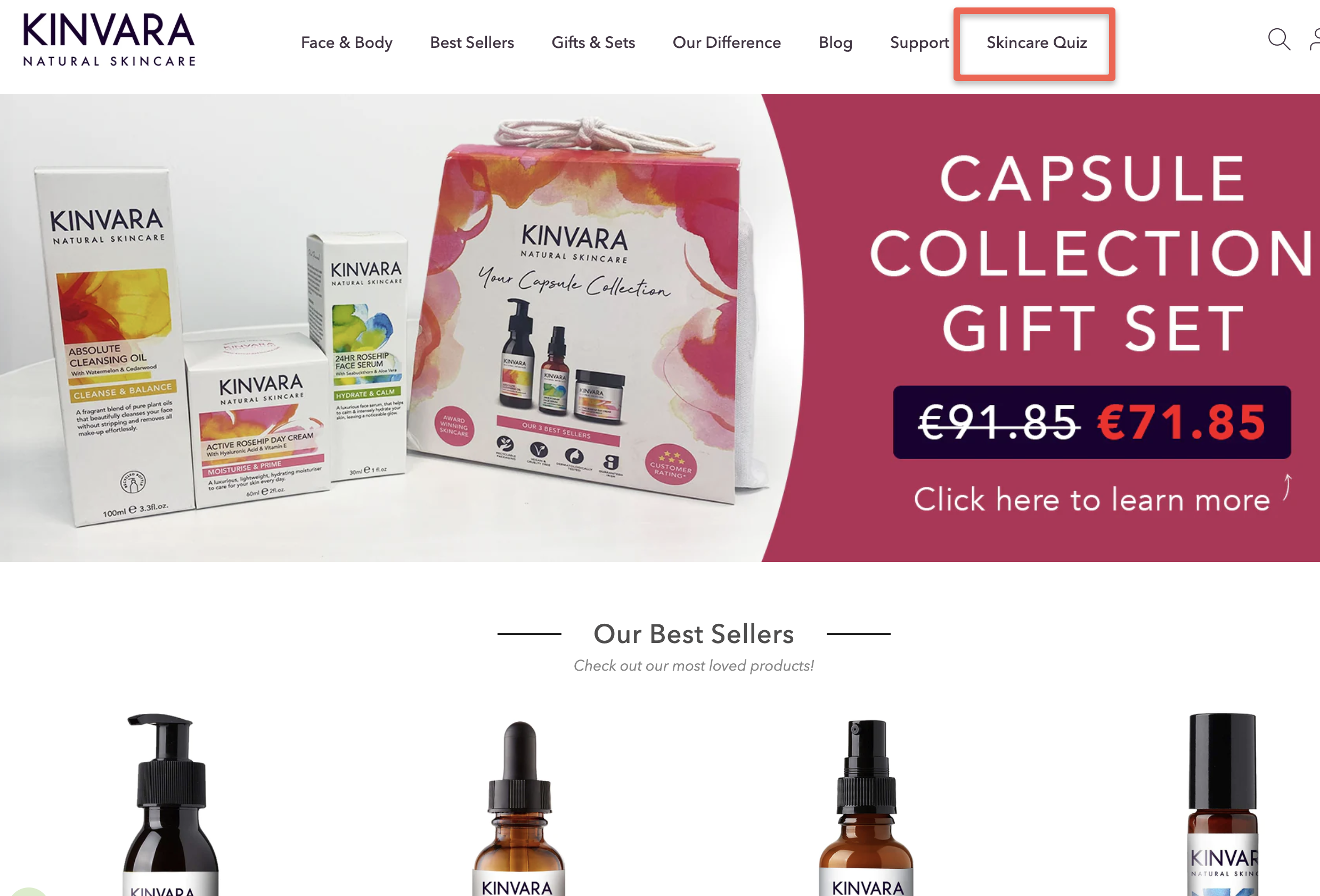 This helped engage visitors earlier in their journey to provide more personalized recommendations.
The quiz consisted of questions covering four key categories:
Demographic Questions: Captured customer attributes like age range, skin type, skin concerns, etc. This zero-party data was stored as a Custom Property in Klaviyo for ongoing personalization.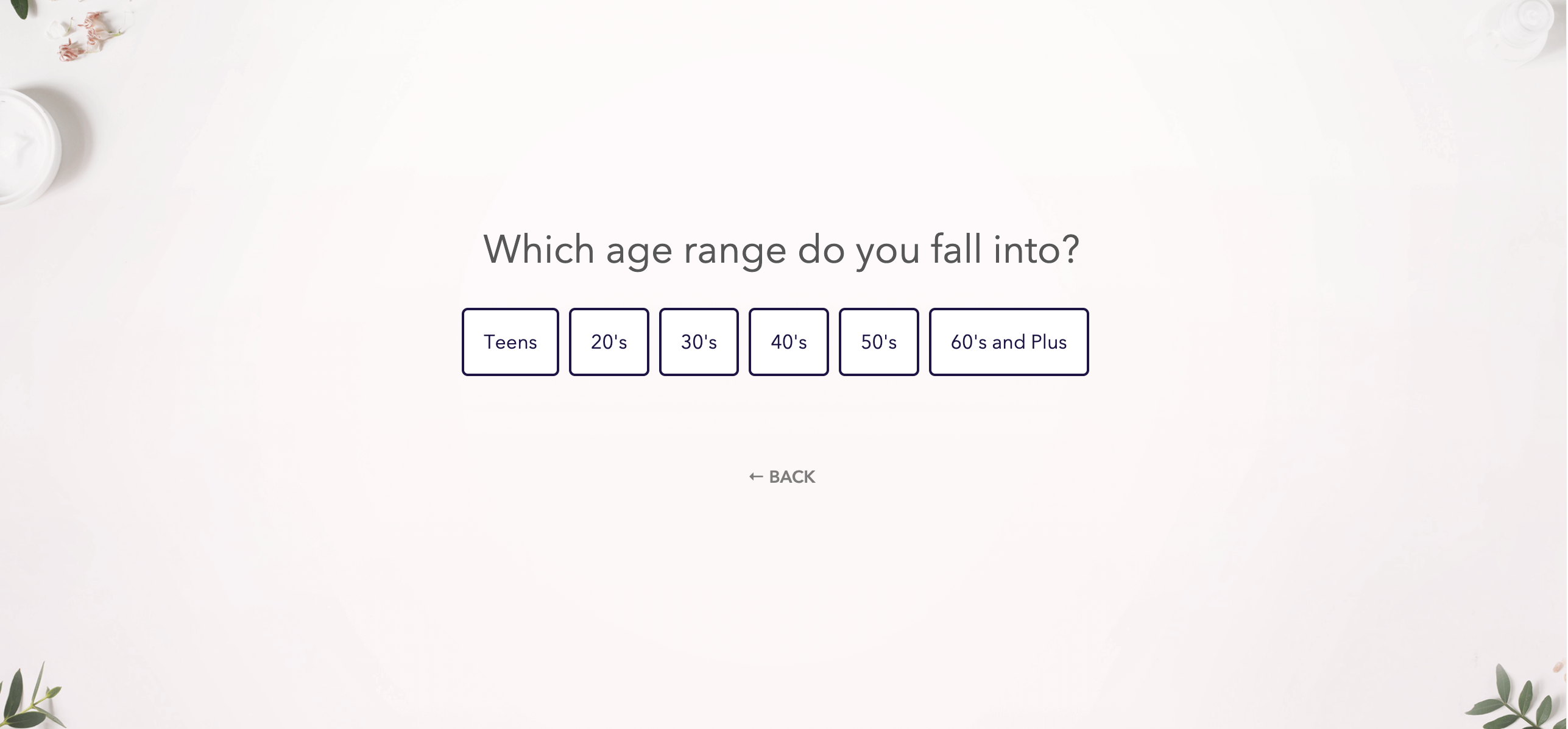 Lifestyle Questions: General questions about habits, climate, diet, and other factors that influence skin. This question is more for the customer to feel that they are getting a personalized experience, and ultimately less impactful on the final product recommendation. An example question is "What does an average day look like for you?"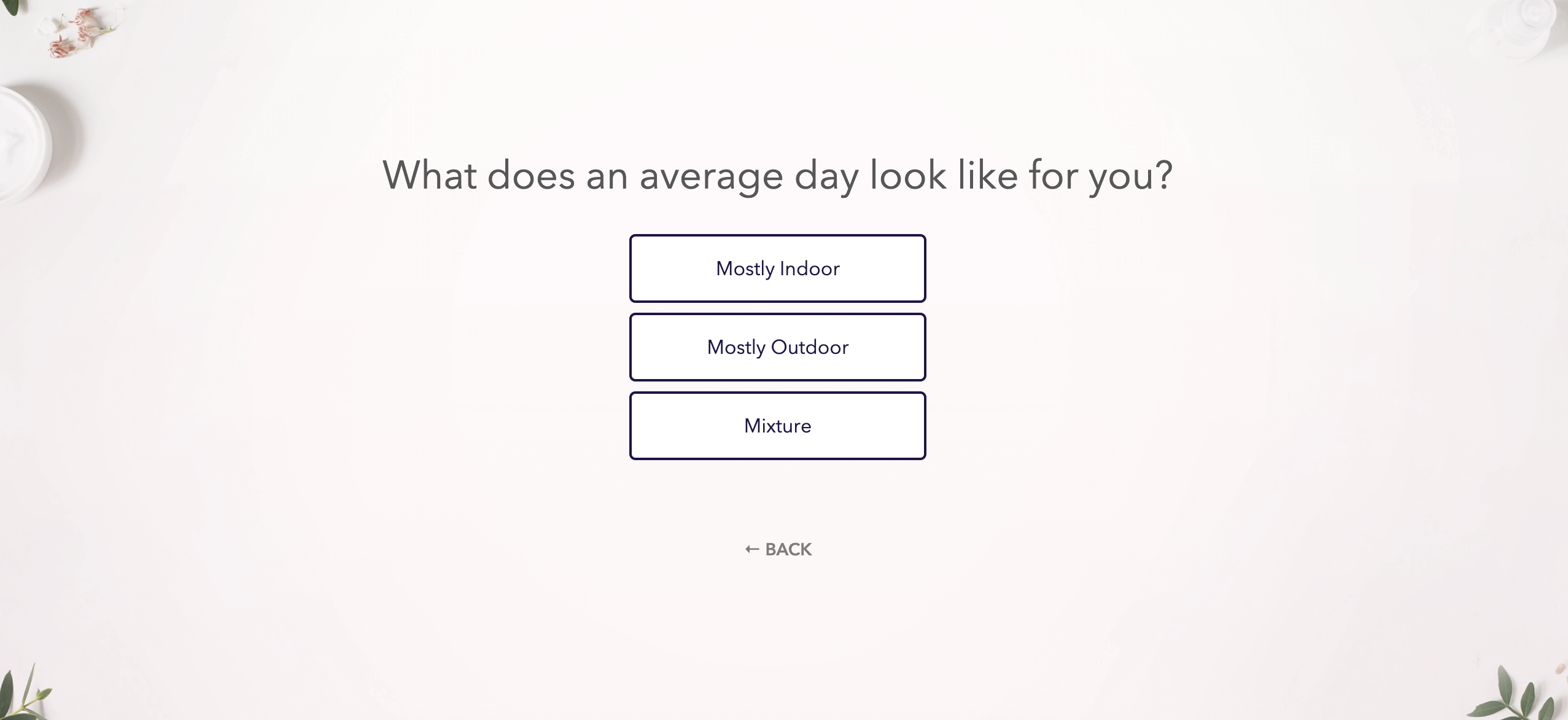 Key Pain Point Question: The most critical question asking visitors to select their top two skincare concerns. This response dictated the customized results page they would receive. Ultimately, this question serves as the guiding light for how Kinvara can contact and connect with customers, and speak specifically to their challenges.
Open-Ended Feedback: Allowed visitors to provide additional context about their needs and interests. Uncovered valuable insights for product development.
Based on the responses to the key pain point question, OctaneAI's logic funneled visitors to one of 37 unique results pages showcasing products tailored to their concerns.
Each results page provided a detailed overview of the visitor's selected skin concerns, explaining common reasons for the issues and ingredients that can help resolve them. This built credibility and established Kinvara as a trusted skincare adviser.
The results then suggested 2-3 ideal products from Kinvara's line to address the visitor's needs, along with customized testimonials for social proof. Call-to-actions encouraged visitors to purchase recommended items.
"We had a 76 completion rate. Which is not crazy high, but if you're getting 3 out of 4 people who start a quiz to complete a quiz and opt in, that's pretty good!" - Lukas Brack, Ecom Mails
Notably, the quiz integrated with Kinvara's email service provider, Klaviyo to capture contact information. This allowed Kinvara to import data as custom properties and create highly segmented email lists based on quiz responses.
Follow-up emails continued to engage subscribers with content and offers tailored to their profiles. This further personalized the experience while driving conversions.
Overall, the in-depth quiz funnel approach helped Kinvara gather comprehensive zero-party data, understand customers' needs, increase opt-ins, and boost conversions through a personalized journey.
Results/Benefits
The implementation of the customized quiz funnel provided significant benefits and ROI for Kinvara Skincare:
- 76% quiz completion rate, indicating high engagement
- 43% of visitors opted into Kinvara's email list through the quiz - a 5X increase from their previous opt-in rate
- In just 7 days, the quiz generated 2,789 new email subscribers
- 14% conversion rate from some customized quiz result pages
- Over $1,200 in revenue was generated directly from follow-up emails to quiz opt-ins


In addition to exponential subscriber growth, the zero-party data captured through the quiz allowed Kinvara to better understand its customers and identify their biggest skincare concerns.
Having this demographic and psychographic data enabled Kinvara to segment subscribers and serve them more relevant content and offers.
"I would suggest all brands test a quiz. You don't need to get aggressive from the start and build out 37 custom pages like I did. That's not necessary. But I think it's worth at least having a quiz set up and seeing the power and then further down the line, you can still do crazy stuff on that." - Lukas Brack, Ecom Mails
The highly personalized post-quiz emails also kept subscribers engaged, driving stronger retention and higher conversions compared to generalized email campaigns.
Overall, the customized quiz funnel became a valuable lead generation and data collection channel for Kinvara. It provided actionable insights while significantly increasing opt-in rates and boosting revenue through personalized recommendations matching customers with the right products.
Here is a video where Lukas Brack of Ecom Mails walks through the exact strategy and process of creating this success with the Octane AI quiz: