Every marketer is all about optimizing.
Behind every email flow, product page, pop-up, or even a footer, you can be sure there is a marketer who's tried out a number of different versions to achieve the best conversion rate.
And a product quiz is no different.
Once brands launch their first quiz version, they should stay attuned to areas of improvement.
So what key metrics will help you understand how the product quiz is performing and find areas to optimize? What are some of the benchmarks your quiz should be hitting? And how can you fix common mistakes and enhance your quiz?
We'll dive into all of that and more.
But first, let's do a quick review of 9 basic quiz-building best practices you need to know.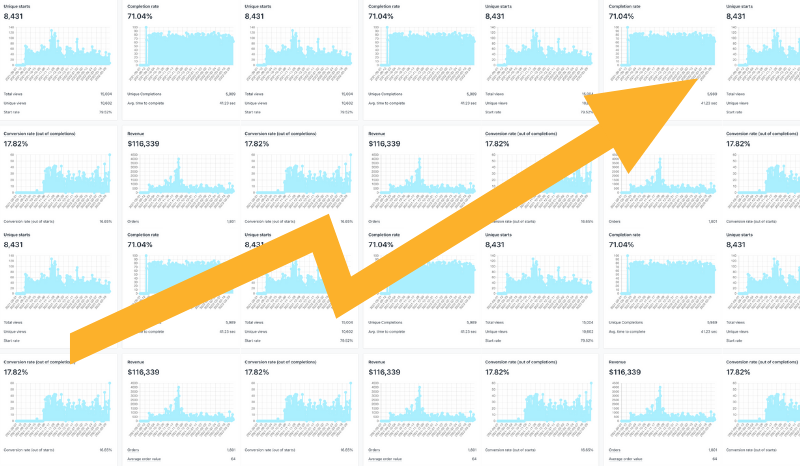 9 Best Practices to Follow When Building a Product Quiz
Don't ask too many or too few questions.
A product recommendation quiz that asks 25 questions will get a high drop-off rate, but users also won't trust a quiz that only asks one question, because it can't possibly give them an accurate recommendation with so little information. Keep it around 5 to 10 questions to hit the sweet spot.
Make your quizzes visual.
We've found that Octane AI quizzes that use GIFs and images tend to have a 20% better completion rate than those that rely solely on text. Use imagery to bring your quiz to life and make it more engaging.
Pay extra attention to the first question you ask.
The first question in a product quiz usually has the highest drop-off rate, so you'll want to keep testing it until you achieve optimized results.
Have the right balance of determining vs. lifestyle questions.
A well-performing quiz needs to have a good balance between product-focused questions and lifestyle questions. Too much one way or the other and the quiz taker will feel that the quiz is pointless or too difficult.
Use language that's easy to understand.
Make the questions as easy as possible for your customers to understand and flow through. Complicated questions increase drop-off rates.
Explain why some questions are necessary.
Some questions can be difficult to ask customers (think of a health quiz that asks you to disclose certain conditions). Adding a "why this is important" section when you ask the question will help ease your customers' minds and understand why giving that information is crucial to receive accurate recommendations.
Ask for contact information (email or phone number).
The conversion rate for quizzes is much higher than other methods of getting an opt-in because online shoppers get immediate value in return—a product recommendation and a discount code for instance. More importantly, you can't send personalized follow-up emails or text messages based on quiz data without customers' contact information.
For starters, shoppable quizzes are a great way to fuel list growth. But if you want to take your marketing game to the next level, nurturing customers with personalized flows based on quiz data is one of the best retention strategies for your business.
Make the wait exciting!
Once customers have answered all questions, use a transition or explainer screen to let them know "we're finding the right recommendations." This helps build trust with the customer in a fun and engaging way. We encourage the use of GIFs, videos, or relevant images to make these transition pages even more engaging.
Don't make your results page overwhelming.
Don't overwhelm quiz takers with the number of products you recommend. Too many products and shoppers will have to scroll to find the add buttons or feel like you are just trying to sell them everything. Stick with 2-4 product recommendations for better results.
Now that we've gotten the basics covered, get ready to learn why and when to audit your quiz along with the most common quiz mistakes and how to fix them.
Audit Your Product Recommendation Quiz by Reviewing These Statistics
There are three branches of product quiz stats you should keep an eye out for:
Overall Quiz Statistics: average order value, number of views, number of starts, completion rate, and average time to complete it.
Results Page Statistics: revenue and conversion rate.
Engagement Statistics: average time to answer question, drop off rate per question, opt-in page drop-off rate.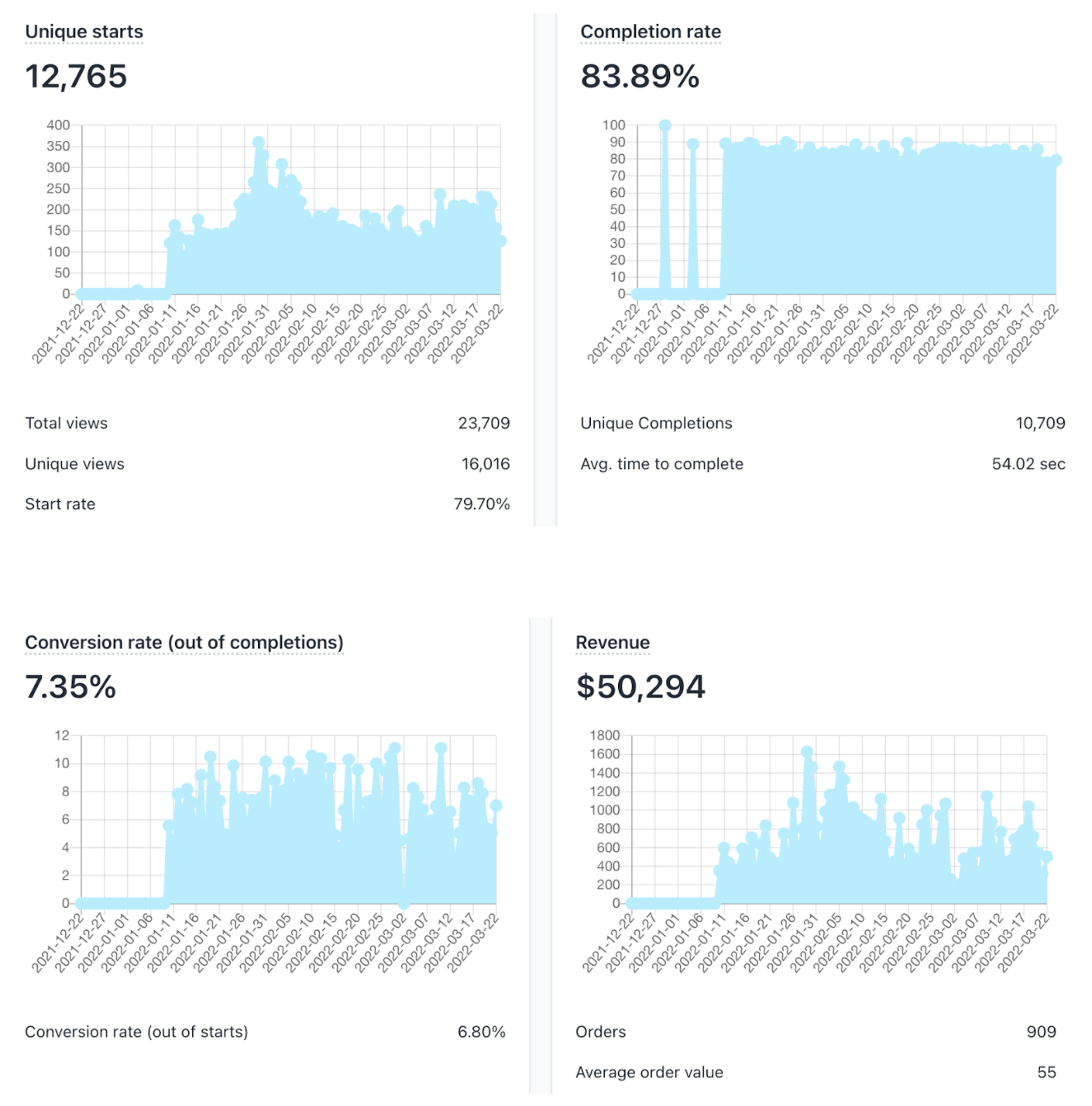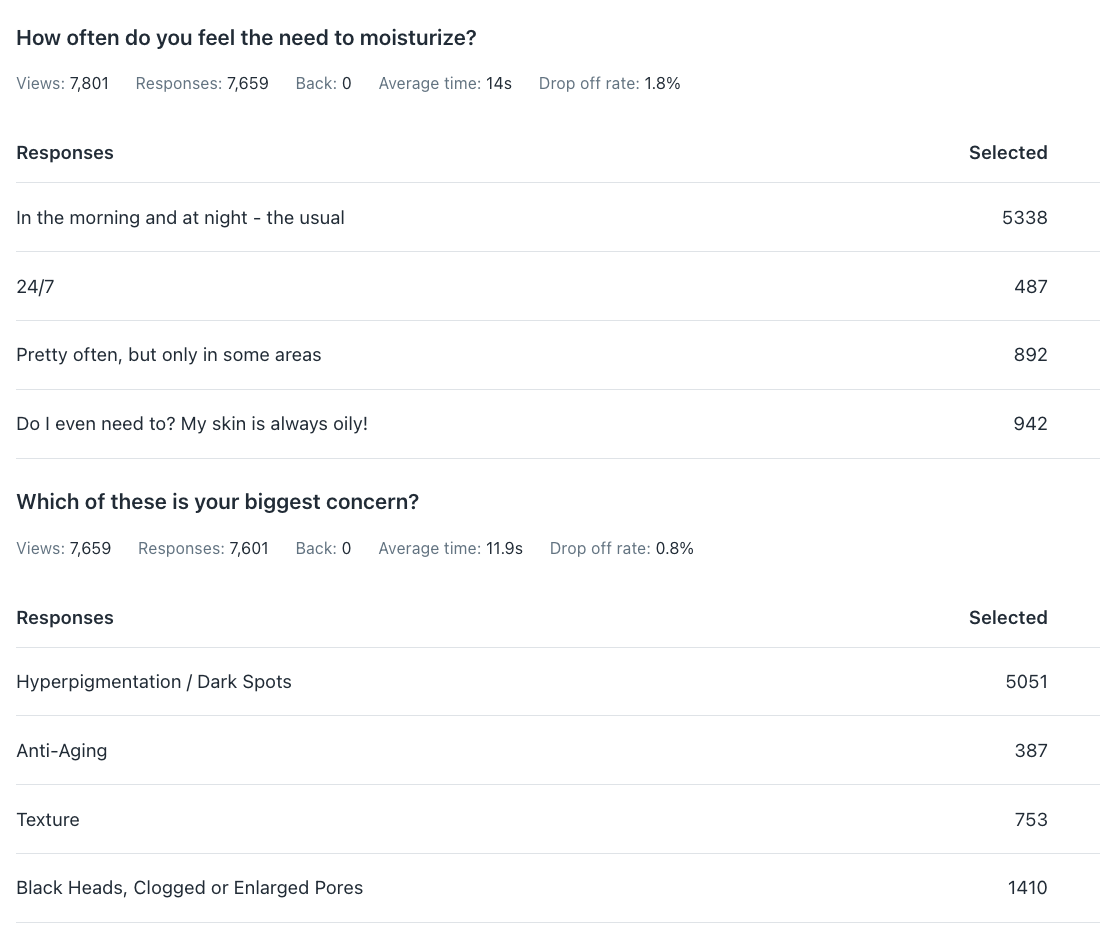 Each of these metrics reveals an important aspect of your quiz health and are crucial to identifying areas for optimization. Let's learn more about each of them below.
The Most Common Product Quiz Mistakes and How to Fix Them
Low Quiz Views
If your product recommendation quiz is not getting enough views, it's likely not being placed and promoted across your website and social channels accordingly. Quizzes have a considerably higher conversion rate than the average ecommerce website, so you should make sure to:
Place your quiz in visible places on your website. Brands usually use a combination of website placements, like the navigation bar, footer, homepage hero section, product page, and welcome or exit intent quiz pop-ups.
Push organic and paid social media quiz promotion campaigns. Brands like Doe and Jones Road Beauty have found that promoting their quizzes via TikTok and Facebook paid ads lowers CAC, increases ROAS and of course, drives tons of people to the quiz. In fact, Jones Road Beauty made over 7 figures combining a quiz with TikTok ads.
Promote the quiz to your email and SMS lists. Many of your subscribers may not be fully familiar with your Shopify store, so driving them to the quiz is a great guided and personalized experience that'll help turn them into customers.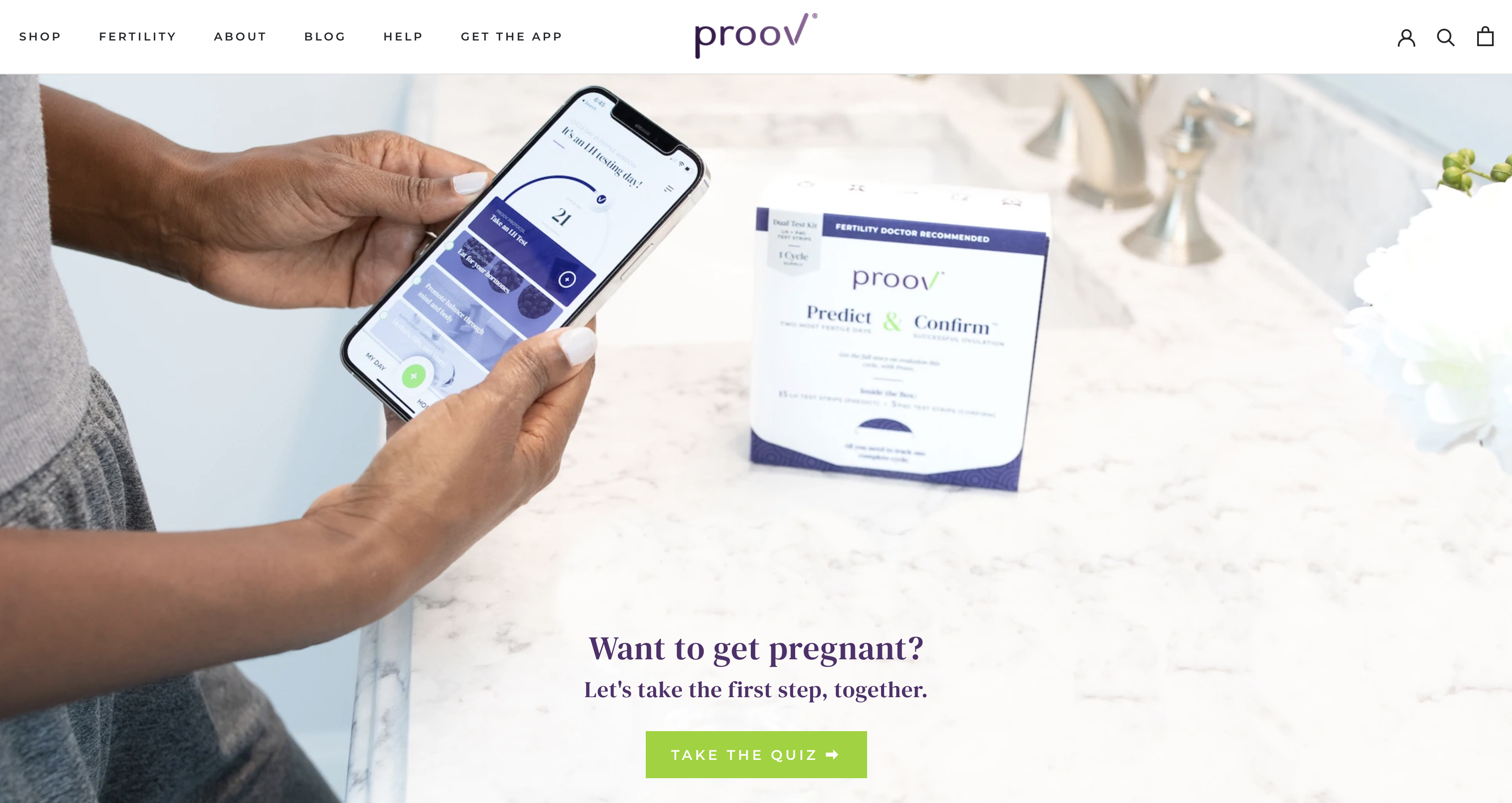 Hormone health brand, Proov, makes its quiz front-and-center in the website hero section helping drive views.
Low Average Order Value
Many ecommerce brands using Octane AI have increased their average order value (AOV) significantly, ranging from 10% to even 50% increases— Jones Road Beauty and Ellie & Mac have in fact hit the 50% increase milestone.
If one of the goals for your product finder quiz is to increase AOV, aim to:
Prioritize higher-priced items in the quiz results page recommendations.
Add an upsell section with similar products or products that complement the initial recommendation.
Add an "add all to cart" button to promote buying in a bundle.
Try recommending bundles with step-by-step usage education rather than a single product.
Include a quantity drop down for each recommended product.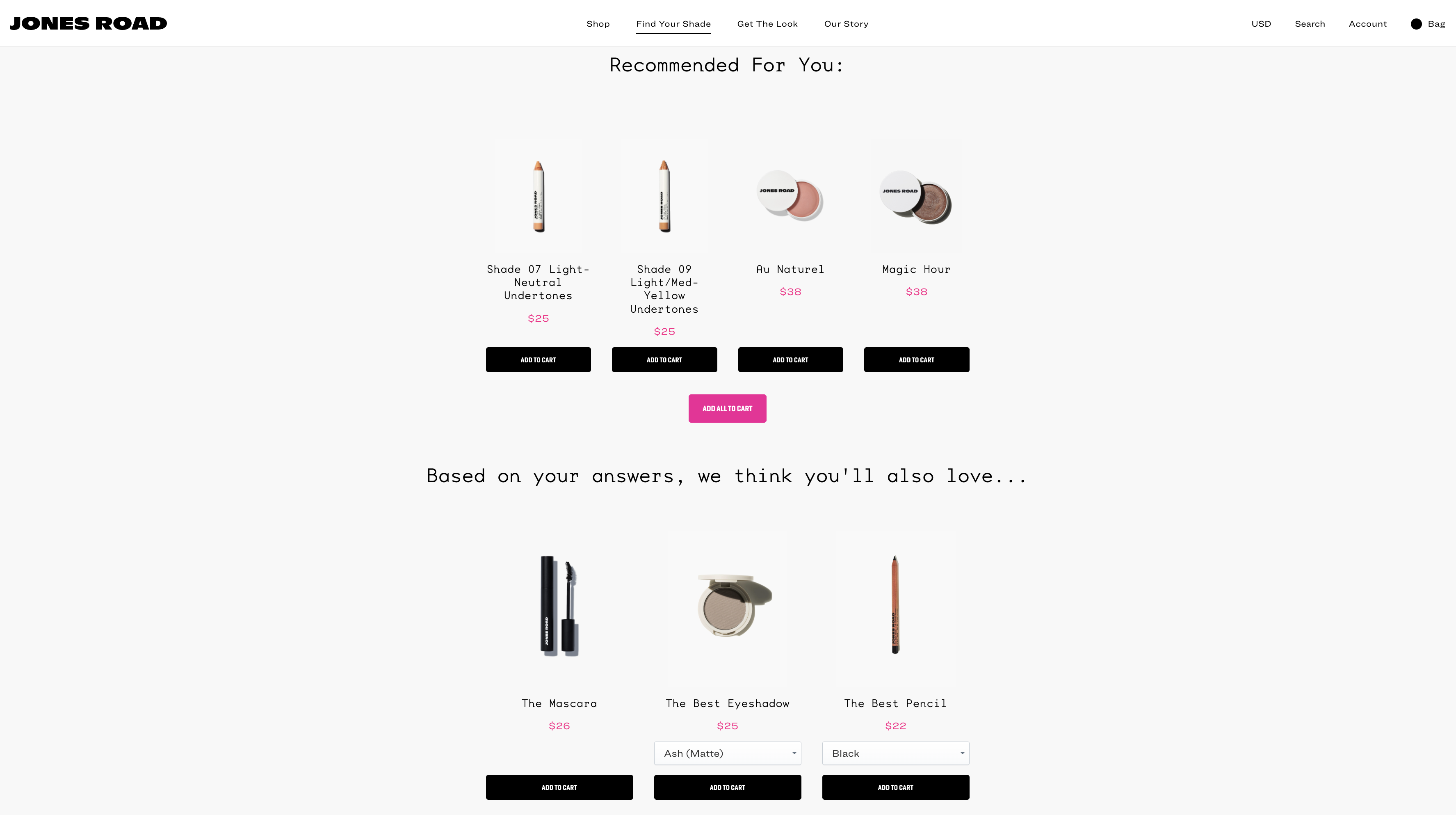 Adding an upsell section along with an add all to cart button helped Jones Road Beauty increase AOV by 50%.
Low Quiz Completion Rate
On average we find that 60-70% of site visitors complete an interactive quiz, with top-performing quizzes seeing completion rates right around 90%.
If your quiz completion rate is below 60%, it's time to audit and shake things up!
There are a few common denominators that prevent customers from completing a product finder quiz, including:
Too many questions. Remember that our standard recommendation is between 5 to 10 questions to reduce drop-offs.
Questions are too difficult to understand or answer. Consider simplifying wording, adding visual assets, and reducing the number or length of answers to help customers navigate through the quiz.
Too many write-in questions. Brands that have more than two questions where customers must type in their answers usually experience a higher drop-off. Try removing the question (if it's not absolutely necessary) or giving clickable answer options.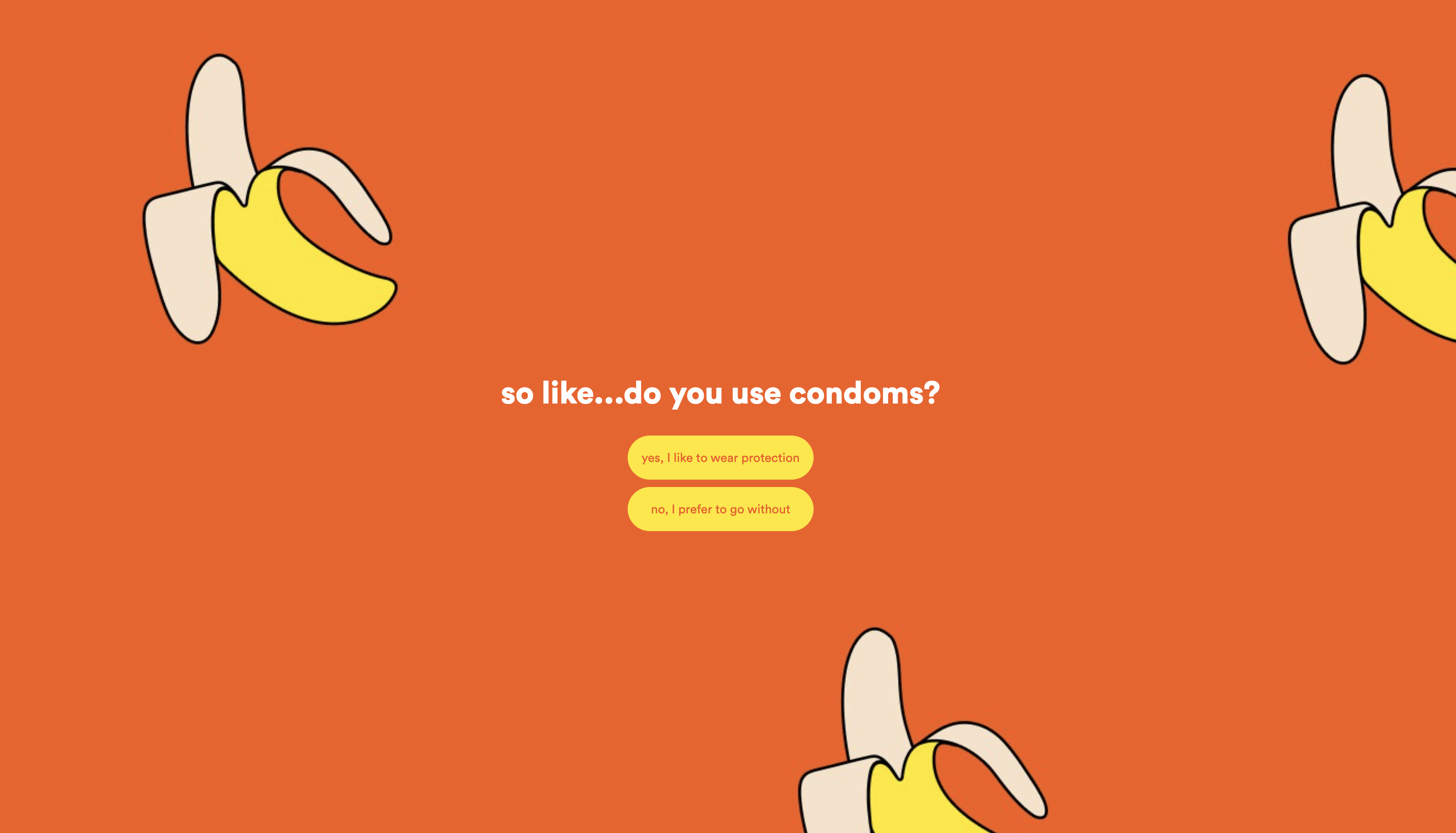 Sexual health brand, Cake, keeps quiz questions and answers short and sweet making it easier for customers to complete it.
High Quiz Views But Low Quiz Starts
Why do so many of my site visitors see the quiz but don't take it?
Sometimes the first part of the quiz (landing page or start screen) is not compelling enough to entice users to continue their experience. If that seems to be the case, take a look at our blog with 30 top-performing ecommerce quiz examples to get inspired by their start screens— and a whole lot more.
Also, try to follow these two tips:
Make sure you explain the experience they're about to take. Let them know the value they'll get in the end (a personalized recommendation and perhaps even a discount).
Give a sense of length or duration in the copy. Customers want to know this won't be a lengthy process, so include a duration element in the copy, for instance: "Answer 5 questions and we'll match you with..." or "Take our 1 minute quiz to..."
Lastly, if your quiz has high views but low starts, reflect if shoppers driven to the quiz page are qualified traffic. Do they know what to expect or are they getting to the quiz not ready to start the experience? Ensure the customer journey makes sense and the quiz is getting as much qualified traffic as possible with the right placement on the site, intro landing pages, and accurate verbiage explaining the experience.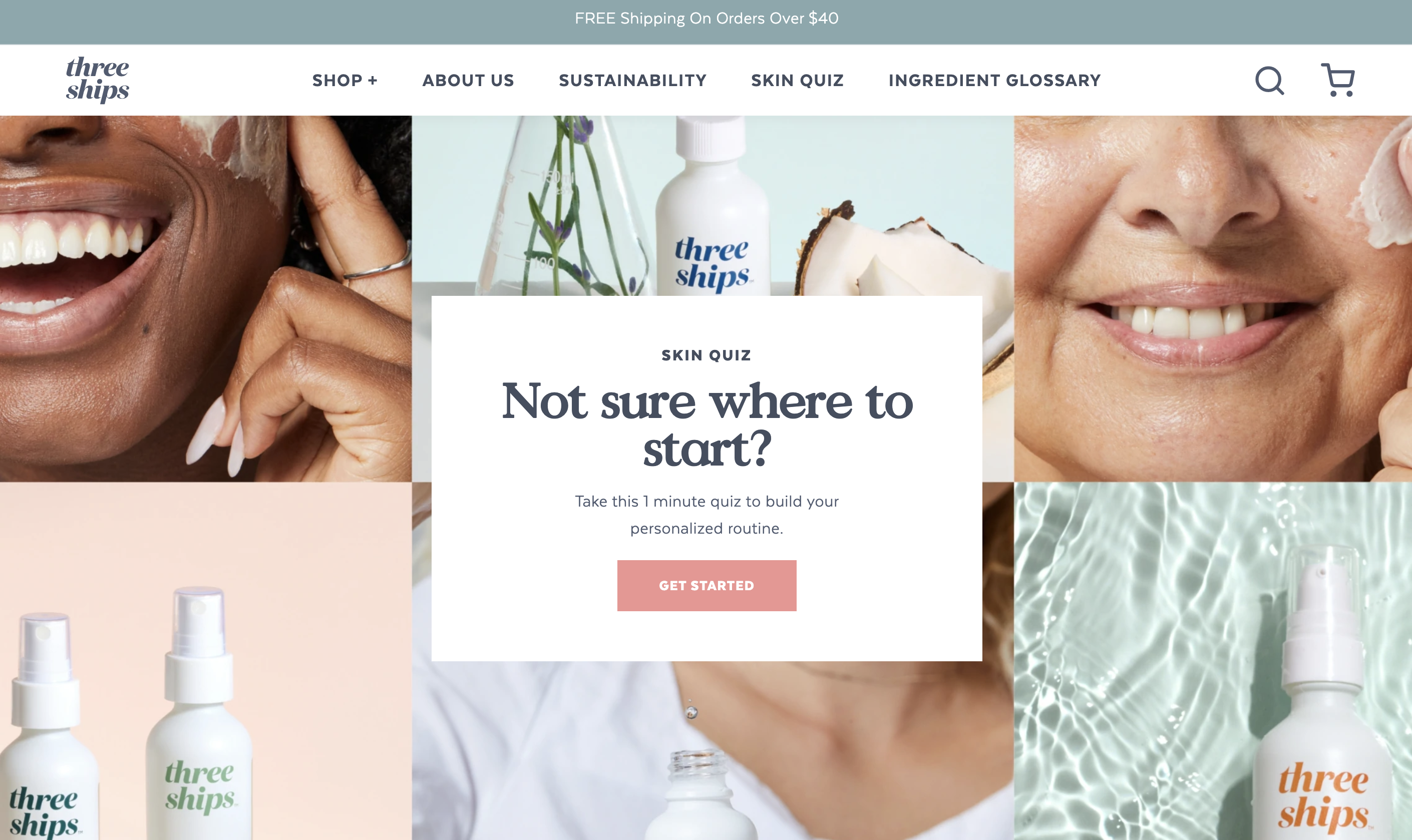 Three Ships Beauty explains the quiz experience and gives customers a sense of duration masterfully in two short sentences.
Low Revenue or Conversions
There are quite a few reasons a quiz might experience low revenue or conversions.
Remember that the revenue from the quiz is directly related to the way an ecommerce brand chooses to place and promote it, so it can vary drastically. As far as conversions, brands using Octane AI see on average 8% to 25% conversion rate from quiz takers— meaning your brand should aim to experience at least 1 in every 10 customers completing a purchase (10% CVR), and in a highly optimized quiz, 1 in every 4 (25% CVR).
Let's analyze why customers might not be purchasing after getting their product recommendation results and how you can optimize conversions. Buckle up!
The product recommendation is not what the customer was expecting. If this is the case, consider making the results feel more personalized and offer context if needed (i.e. "for your blonde hair and fair complexion we recommend." You can also try to offer product alternatives in a "you may also like" section or insert a "retake the quiz" button on the results page.
The quiz logic may be broken. Make sure all the logic paths are showing recommended products. If you have set up results pages but the "default" page is getting views, this shows the logic is broken and some customers aren't getting any results.
Few or too many products in the results. Remember to stick with 2-4 right product recommendations. You don't want to give shoppers too many options, otherwise, it defeats the purpose of answering questions to get a specific, personalized recommendation.
An extra step or more information is needed to help the customer finalize the purchase. Add a "Learn More" button that links to the product page to allow customers to get more information about their specific recommendations or add additional educational context to help customers understand why they have been recommended a product and its benefits.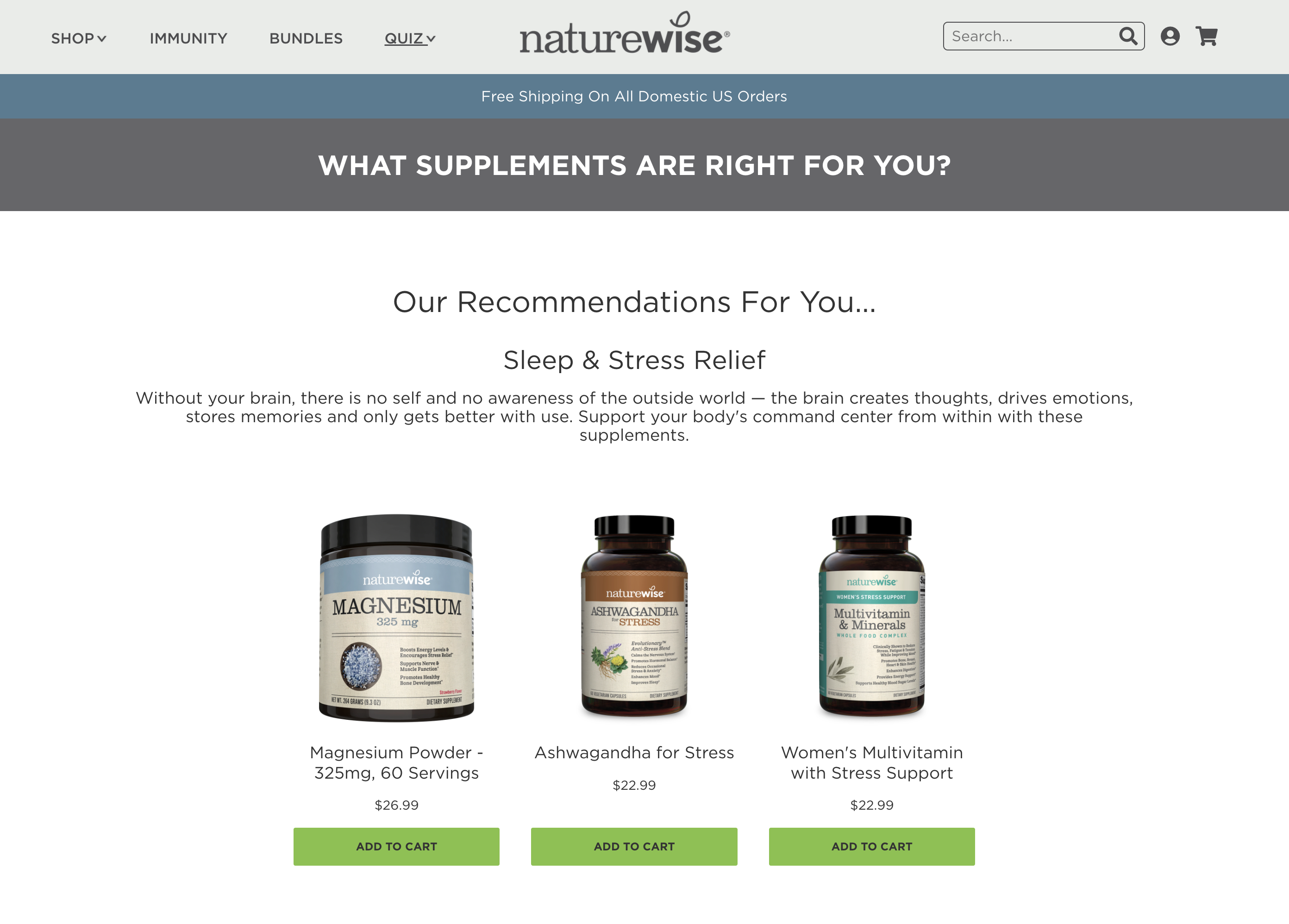 Supplements brand NatureWise recommends the right number of products and provides some context into why they matter for each customer, resulting in a 25% quiz conversion rate.
High Drop-off Rate On a Specific Question
We usually look at 8% to 10% drop-off rates in a question as something to flag, although this does change depending on the quiz type and vertical.
It is also important to recall that the first question in a product quiz usually has the highest drop-off rate, with a few brands experiencing a 40% churn in the first question.
So how do you gauge what's a high drop-off rate for your quiz?
Look at the drop-off rates compared to the other questions in the quiz. For example, a brand can have an average of 2% drop-off rate across most questions and a 7% drop-off on one question, which although isn't really that high, because the other ones are so low, it is worth looking into.
But as a general rule of thumb, if any of your quiz questions has a drop-off rate exceeding 8%, it's time to reevaluate it.
Review the flow, language, and creative used to understand why customers are leaving that question or taking a long time to reply and test new iterations. Some common causes include irrelevant questions (particularly at the start of the quiz), unclear phrasing, and no option that matches their answer.
Here are a few ways to consider optimizing a "not-so-good-quiz-question":
Give additional options when possible. "I am not sure" or "surprise me" can be your ally if a question has too many answer possibilities.
Provide visual help. Having a chart that explains measurements, visual answers instead of text-heavy buttons, and images to reflect color tone can prove to be essential elements in increasing follow-through.
Add more context. Make sure customers have the right information to pick an answer by enhancing the copy in the answers or providing more explanation in the question itself.
Pro tip: "What's your name?" is the question responsible for the highest quiz churn so really reflect upon if your usage of this information justifies the high drop-off rate.
Hunter & Gather gives more context to quiz questions to facilitate customers' comprehension and completion, reducing drop-off rates.
High Drop-off Rate On the Opt-In Capture Page
It's not unusual to see 10% to 20% drop-off rates for the opt-in question.
But if you are experiencing more than a 20% drop-off when asking customers for an email or SMS opt-in, consider using an incentive to entice them to share that information with you and make clear that the incentive will be shown on the next page along with the personalized product recommendation.
Another reason why brands experience a high drop-off rate when asking for an email is making that step mandatory. The solution?
Don't make email a mandatory step to unlock quiz results.
We've gotten this question quite a few times: why shouldn't we require customers to share their email before accessing quiz results?
While you can make email mandatory, we usually recommend brands make the email capture optional, giving customers the choice to provide their email if they want to. And if they don't, they'll still be able to see their quiz results.
By making it optional, you would be capturing high-intent emails. If you don't allow people to skip the email, they might churn from the quiz or put a fake email address as a hack to skip. And you'll get more bounces on your lists.
The ultimate goal is not to grab a customers' email or have them take the quiz, the goal is to have people purchase something and enjoy the experience.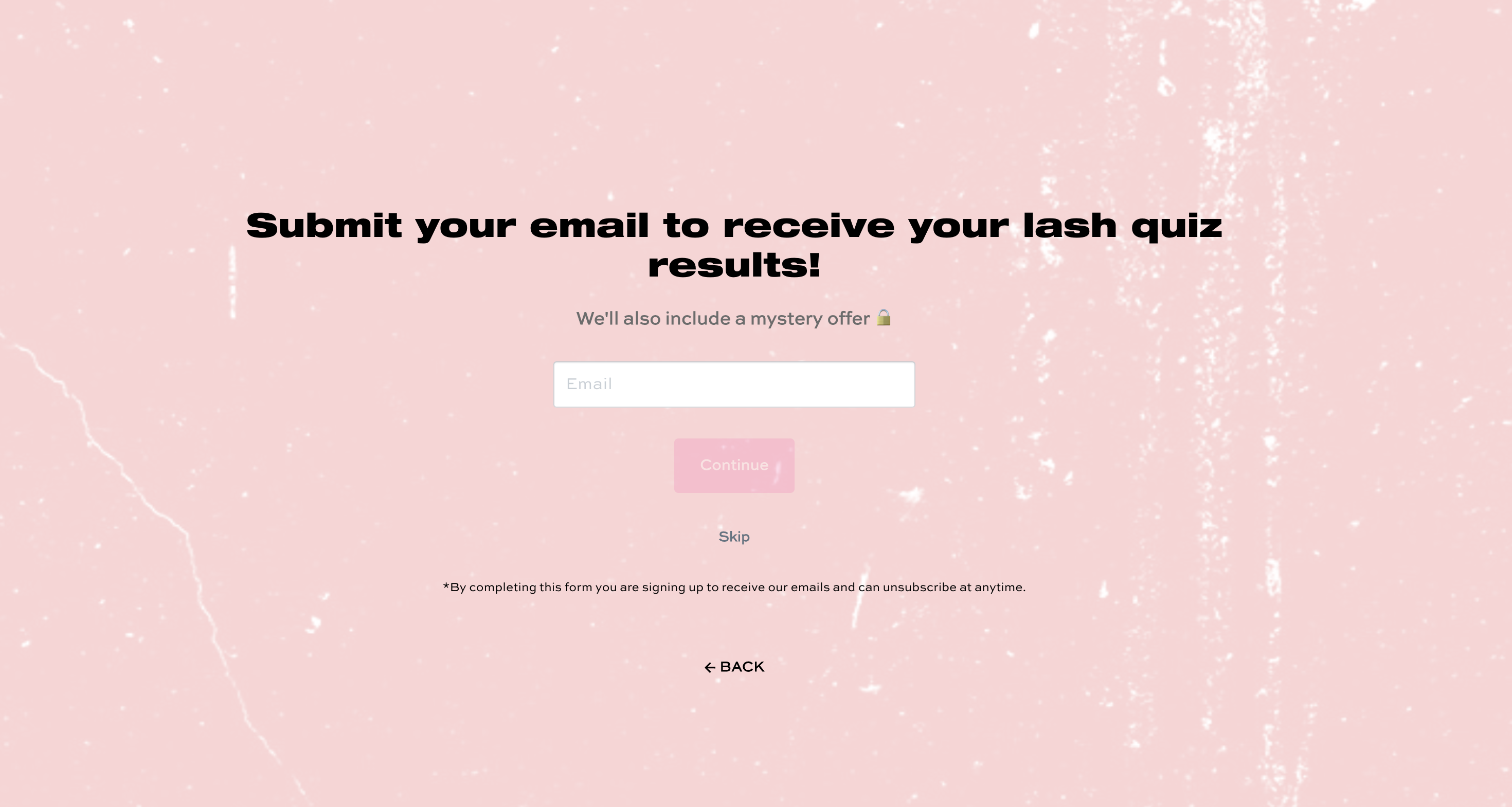 Glamnetic's quiz opt-in page contains an incentive for customers to share their email along with a skip option in case they don't. It's a great example of how to reduce drop-off on this page.
Now that you've learned the benchmarks your product quiz should hit, common pitfalls, and how to fix them, it's time to turn that knowledge into action. And if you happen to have any questions along the way, our team is always here to help 🙌.