Emily Miethner, the co-founder of seven-figure business Travel Cat, is as down-to-earth, witty and relatable as they come.
"Cat Backpack is not a backpack that your cat wears if anyone was thinking that. It's a backpack a human wears that they can carry their cat in," she joked.
Over the years, Travel Cat found incredible success with reaching consumers in a market that didn't exist before. Now, her business has grown into a 7-figure brand.
We spoke to Emily all about her wildly successful Travel Cat, known as the number one cat travel brand in the world.
"We sell cat harnesses, travel litter boxes and travel beds… Any type of gear you need to travel safely beyond the great indoors with your cat."
– Emily Miethner
Emily shared some golden tips that would benefit any business owners looking to grow their brands or new founders interested in tricks of the trade, including finding the marketplace gap, hiring, knowing your customers and UGC.
Let's dive into her tips!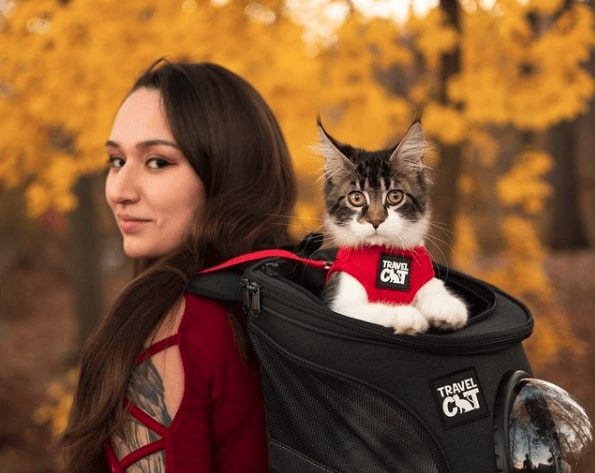 Source: Instagram
1. Find that marketplace gap
After unexpectedly becoming first-time cat parents to a kitten found in a relative's yard, Emily and her husband Ian became cat people practically overnight. Soon after, they noticed that much of the pet product world was oriented towards dogs. Cat products were often an afterthought, and this was a problem for them.
"We're about normalizing and helping people understand the benefits of taking your cats outside safely."
– Emily Miethner
As it was, Travel Cat was born from Emily and Ian's desire to build a brand entirely dedicated to cats and their humans. And in 2017, they did. "Pretty quickly we filled the gap and the need," Emily said.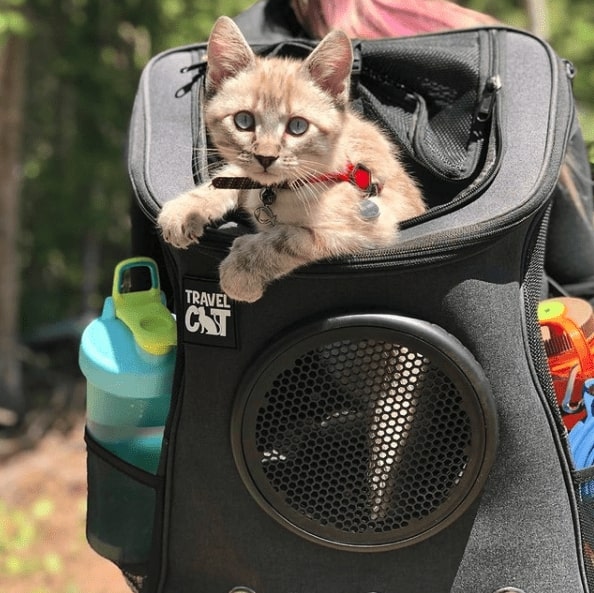 Source: Instagram
2. Hire non-traditionally
Travel Cat has seen huge growth from its practice of hiring freelance experts to fill specific needs rather than going the traditional route of hiring people for full-time positions.
Fairly early on they hired a Facebook expert to help with Facebook ads, and most recently, they hired an email manager to build out email flows.
"We hired someone from Upwork to build out our flows and in the last thirty days, we went from 0% of our revenue from flows to 14% of revenue from flows. In the last seven days, we've gone up to 19% of our revenue from flows. So that's a great example of doing it once and watching it build."
– Emily Miethner
3. Talk to your customers
"We've always spent a lot of time talking to our 'catstomers'," Emily said, emphasizing the importance of continuing to develop relationships with her customers, and mentioning a virtual user feedback session she hosted the other weekend.
"Everyone loved hanging out and talking about their cats and sharing their experiences. I thought...this could be an event series," she explained.
In fact, most of the products Travel Cat is getting ready to launch have been sourced from the community, whether they're new products based on customer feedback or new colors for existing products based on community input, they're a result of Emily and Ian's dedication to communicating with their customers.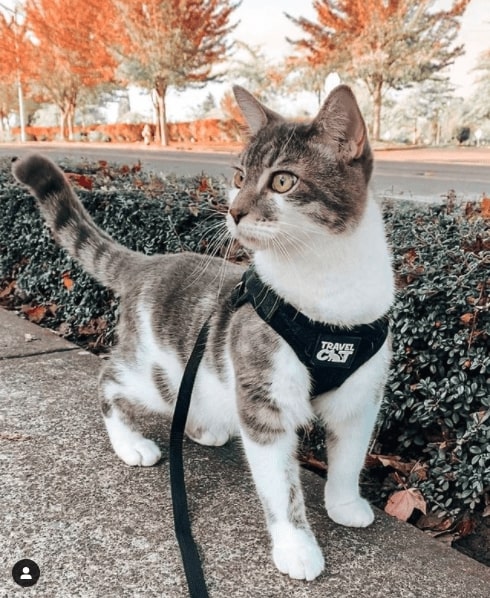 Source: Instagram
"Paying attention to what people want has been a huge focus of ours. The backpack we launched last year is called The Navigator and every feature of that backpack is built from customer feedback."
– Emily Miethner
4. Encourage UGC
UGC started simply and organically for Travel Cat: customers tagged the brand in photos of their cats using their products on Instagram alongside their hashtag #yourcatbackpack.
Then the community took matters into their own hands and starting tagging Travel Cat with #fatcatbackpack, which is the name of their best-selling backpack (it can hold up to twenty-five pounds of cat, so it's the real deal).
"We've benefited from the fact that the internet loves cats. And our customers love taking photos and videos so we've capitalized on using UGC from our 'catstomers' themselves to market our products."
– Emily Miethner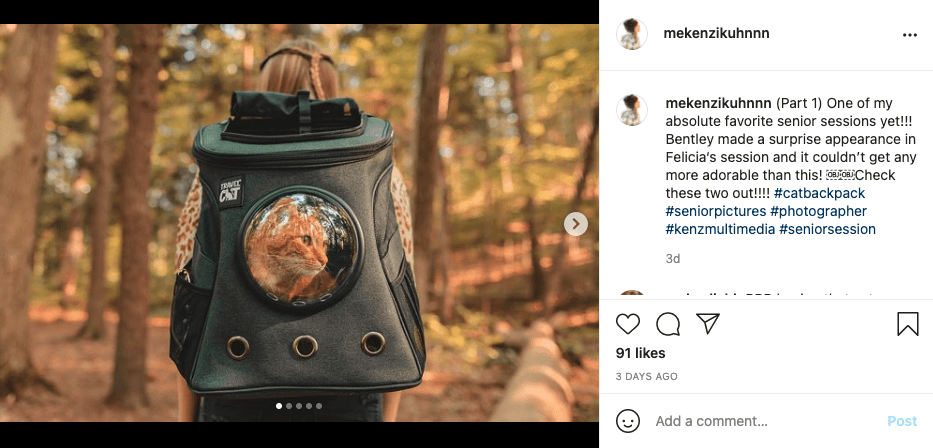 Source: Instagram
As time went on, Emily would commonly ask customers for permission to repost their content if she thought it was great. Eventually, she formalized the process by creating a portal for people to submit their content to—one that included a simple agreement allowing Travel Cat to use the submitted content for paid ads and social content for free.
"When we first started the company, if you searched #catbackpack on Instagram there were under 10,000 results. I haven't checked in a while, but I believe now it's over 50,000 results, so even that shows how it's becoming more of a thing in terms of taking your cat outside."
– Emily Miethner
Rather than focusing on influencers in the cat space, which has never proved very lucrative for Travel Cat, they focus on their day-to-day customers and those who are actively buying their products already.
Sometimes this means asking customers if they're willing to submit posted content through the portal, sometimes it means sending out free products in exchange for a post and sometimes it means hosting Instagram giveaways with a few other brands to encourage further engagement.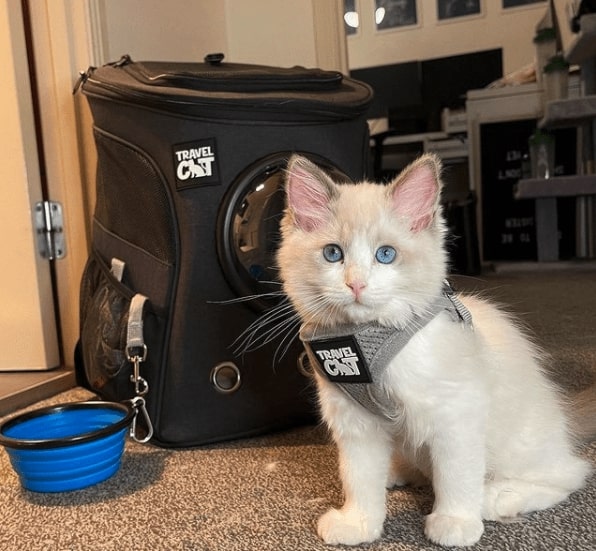 Source: Instagram
---
Ready to harness the power of UGC? We have a bundle with 6 videos, 8 guides, checklists and more featuring advice from 15 ecommerce experts, including tips on leveraging UGC. Get the full bundle for free.
---
5. Invest in new growth
Since 2017, Travel Cat has seen consistent growth, more than doubling its revenue each year.
"For the first six-to-12 months, we focused on Google ads before we started doing Facebook ads and cold traffic. So our first sales came from people who were already searching for the product," Emily said.
According to her, their growth as a whole has been based on a buildup of the customer base creating UGC, creating in-house content, and benefitting from search engine optimization.
"The strategy we've had with team-building and growth is if we do something ourselves and it works pretty well, we try to push it to the point where we can't handle it anymore. Then we hire an expert to take it to the next level."
– Emily Miethner
By focusing on several big strategic launches of new initiatives each year, Emily keeps the momentum of the company going. For her, this has been in the form of platform expansion like email marketing, SMS marketing, or hiring a partner to take over Facebook ads, Google ads or Amazon fulfillment.
"It's easy to get lost in the little day-to-day things, but taking time to launch programs that have the potential to make more of an impact is important."
– Emily Miethner
Key takeaways on how to consistently grow your business
Throughout the years, Emily and Ian have learned a lot about scaling a brand profitably. So what are the key takeaways you should apply to your own business? Here are five:
Here is a tried and true piece of advice for those starting their own businesses: find a gap in the market that your product can fill.
Along with having done just this and identified a gap in the marketplace when it came to dedicated cat products, Travel Cat was also something Emily and her husband wanted that they couldn't find anywhere.
Instead of defaulting to full-time hires, consider going for nontraditional hires to focus on the parts of the business you need help with.
Freelancers are not usually cheap, but paying an expert for one specifically designated role is often less expensive in the long run than hiring for a full-time position that will need to span multiple roles. Intentionally keeping Travel Cat's core team small, Emily has used Upwork to find freelancers when they needed help with Facebook ads or email marketing.
Connect with your customers to develop community and inform new product updates and releases.
Emily's two main goals this year are to continue building the Travel Cat community and to release new products. And in that vein, most of the products they have lined up for this next year have been inspired by the needs and wishes of their customer base.
Figure out how to utilize user-generated content for your ads and socials.
The brilliant thing about user-generated content is that it fulfills multiple purposes. Not only does it create community and engagement just through the act of sharing the content, but it's an inexpensive and effective way to show how real customers interact with your products and your brand.
Each year, focus on one or two new big initiatives to encourage overall brand growth.
Getting lost in the details is a real thing. But whatever it may be, each year try to invest in an aspect of your business you think could be improved or expanded.
Want more tips from brands?
We have super casual, low-key convos about marketing or DTC with the operators, agencies and managers to learn the top tips on how to market a brand. Sign up for our newsletter to get more tips and tricks from real brands in your inbox every other week!