Kristen Jones was browsing TikTok one night and looking for opportunities for The Groomsmen Suit, where she's the Director of Marketing. One video in particular crossed her feed and got her attention: a man posted about wanting to get married on TikTok. Immediately, Kristen knew she had an opportunity — and she acted on it.
The man was a budding influencer with a sizable following on TikTok and Instagram, so she messaged him to see if he'd like a free tux for his upcoming nuptials. He accepted, and in a twist of fate, it turned out that he was a freelance videographer, willing to highlight the product in a beautifully-shot video of his wedding. Even better: Kristen was able to use the video in paid ad spots that drove engagement, and the video only cost her a few hundred dollars worth of product.
This is one example of content marketing and how it's always evolving, changing and shaping the way we interact with brands, products and consumers.
We talked about all this and more with Kristen Jones, Director of Marketing at The Groomsman Suit, and Shawn Paarmann, the Video Production Manager at Monster Energy. We got into content marketing for Gen-Z consumers, the importance of authenticity, how to choose the right channels for your brand and how creating engaging content doesn't need to be contingent on the size of your marketing team.
We're sharing everything we learned below.
1. Make it story-first and authentic, no matter the content
When it comes to content marketing, the possibilities can feel...endless. But no matter the type of content you try or what you decide is right for your brand, story-first authenticity is what will allow you to connect with your consumer, according to Shawn.
He sees content marketing as less about the physical product and more about the message you're trying to convey. In his role at Monster Energy, the videos he and his team create aren't necessarily about an energy drink — they're a vehicle to tell stories about the experiences consumers will be able to have alongside the product.
Shawn's videos connect the consumer to the story and to the feeling they'll get in the future when they open a can of Monster.
Kristen agrees that a high level of authenticity is essential, especially when thinking about Gen-Z consumers. Gen-Z'ers can detect inauthenticity easily, so your content marketing can't come across as fake, or it simply won't appeal. It's important to nail down your company's values and beliefs before diving too deeply into creating content that won't resonate.
"People really don't want to see content marketing as marketing; they want to see it as brands sharing stories about products and authenticity. And Gen-Z knows what's authentic."

- Shawn Paarmann, Video Production Manager at Monster Energy
2. Test high and low production values, new types of content and new channels
Once your values are established, Kristen says that it's useful to try out different content marketing approaches to see what clicks and connects with your audience.
At The Groomsman Suit, her team is small but agile and creative. She's constantly looking for new ways to engage contributors or consumers themselves in the content creation process. If there's someone she finds who's a talented creator online, or somebody who might want to be a guest writer on the company blog, she's "opportunistic," as she puts it, about getting them involved.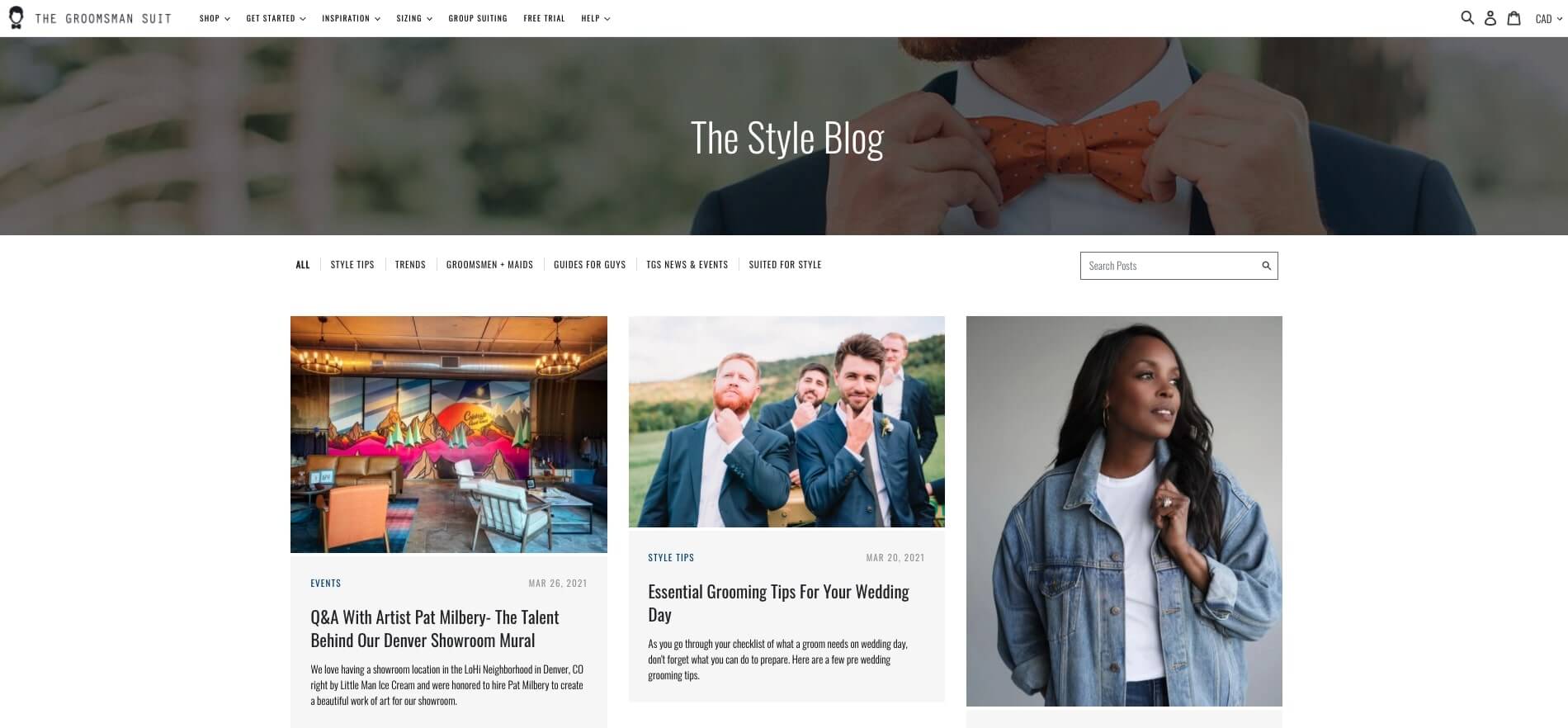 Source: The Groomsman Suit
While she often finds herself more focused on the user-generated content side of things, often engaging with more social media influencers, The Groomsman Suit also invests in other forms of content like blog content and highly-produced images.
"Right now, it's a balancing act of having enough high production value balanced with user-generated content, which demonstrates the authenticity behind the community."
- Kristen Jones, Director of Marketing at The Groomsman Suit
At Monster Energy, Shawn works for a much larger enterprise, though his team is still "small but mighty," as he describes it. They're routinely creating highly produced videos, operating like an internal video production agency.
For each project, they're careful to understand the tone and goals before moving forward with more planning. Each campaign needs to have fresh messaging and must speak authentically to the audience, including Gen-Z'ers.
With that in mind, the Monster video team's motto is to be bold and to continually innovate to meet the consumers where they are with content they'll be surprised and delighted by.
3. How to master content creation with a small team
Both Kristen and Shawn work within small teams, even though their companies are different sizes. And with content marketing as their focus, they have to think about how to use what they have at their disposal for maximum impact.
Kristen likes the phrase: "Make the content work for you," and uses that when she's thinking about how to approach achieving her goals. For example, a 750-word blog post full of keywords, working its magic to provide organic traffic, can also be used as a reason to send out another email newsletter. A video can be cut and turned into GIFs, or a TikTok video can be used to create stills for Instagram.
No matter the size of your team, Shawn advises using some of your budget to focus on video. Video is leading everything, he says, so if there's a way to capture what your brand is or is doing through video, it's going to see high engagement.
Additionally, for small teams, Shawn notes the importance of knowing when something is working and when it's not. He encourages small teams to consider those instances of failure or falling short as opportunities to learn how to speak to their audiences more effectively.
"I view content marketing as a driving force between company and consumer, or brand and consumer. What's going to drive intentional action with the audience?"

- Shawn Paarmann, Video Production Manager at Monster Energy
Content Marketing is the number one way to engage with consumers
Even as content marketing shifts and changes, the tenets remain the same. Content, in whatever form you see fit for your brand, is a surefire way to authentically engage with your consumers, to tell genuine stories, to share information and to communicate your brand values to the world.
While they come from different experiences, these ideas are something both Kristen and Shawn agree on. They shared tons of insights with us, so here's the tl;dr for you:
Good content is story-first, authentic and relatable.
There are opportunities for brands to use a mix of high-production and low-production content types in their marketing. The importance lies in being consistent and figuring out what resonates best with your audience.
Even as a small team, there are ways to get the most out of your content. You can repurpose every type of content in a variety of ways, including emails, GIFs and still shot images.
About the show
Hosted by Tina Donati and Katie Krische, Gen-Z DTC is hosted every week on Clubhouse within Commerce Club. We have super casual, low-key convos about marketing or DTC with operators, agencies and managers. We talk about content, newsletters, community, social media and more, providing tips from the ground-level on how to market a brand.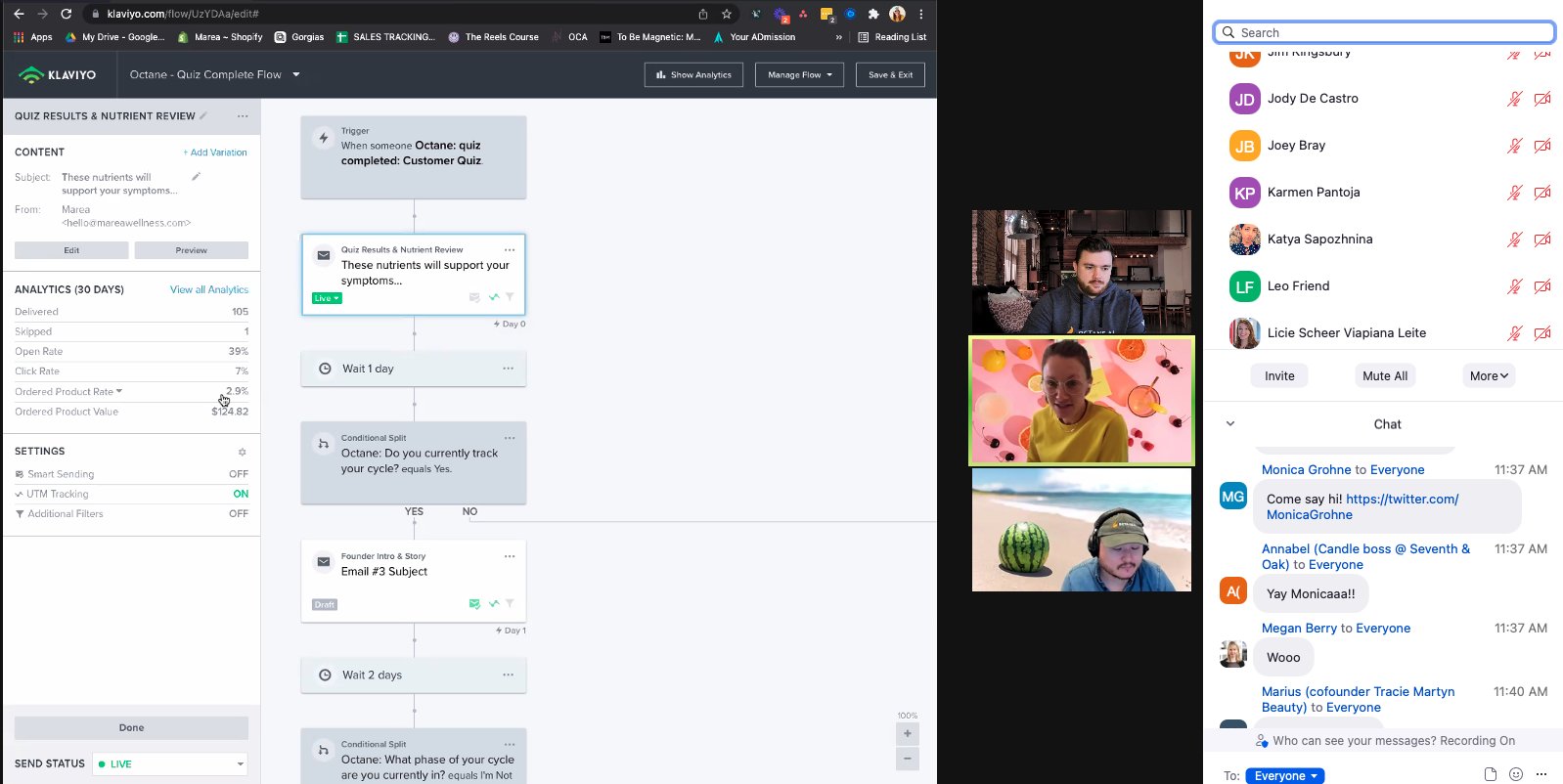 Join the Octane AI community
Join 10,000+ ecommerce operators who receive weekly tips on quizzes, zero-party data marketing, and increasing revenue with personalization.