Content marketing is constantly changing, leaving ecommerce brands asking two questions:
"What channels should I prioritize?" and "What type of content should I create?"
We were curious to learn more about DTC content marketing from experts themselves, so we spoke with Shawn Paarmann from Monster Energy and Kristen Jones from the Groomsman Suit to understand the do's and don't's of DTC content marketing.
This was during a live Commerce Club event on Clubhouse. We want to share all of these awesome content marketing tips with you, so here are 20 key takeaways from our chat.
Event Title: Content with Monster Energy and The Groomsmen Suit
Featured guests from the show:
Both Shawn and Kristen have tons of experience with creating a variety of content. From video, social media to long-form content, we talked about it all. Here are their tips:
What is modern content marketing?
Modern content marketing is so wide and varied. There are many different approaches, channels and types that brands can test.
Content marketing is the driving force between a brand and its consumers.
Consider what's going to capture your customers' attention and what's going to drive intentional action. Content is less about the physical product and more about what your products are saying.
Content marketing is meant to drive organic conversation and conversion through authentic storytelling. It's about the message being said or implied in the material you're publishing.
The content pendulum swings back and forth often — at this point, people don't want content marketing to feel like marketing. They want to see people sharing stories, products and authentic communication.
Brands should take a balancing approach when creating content between high-production and leaning on the type of content that feels more user-generated.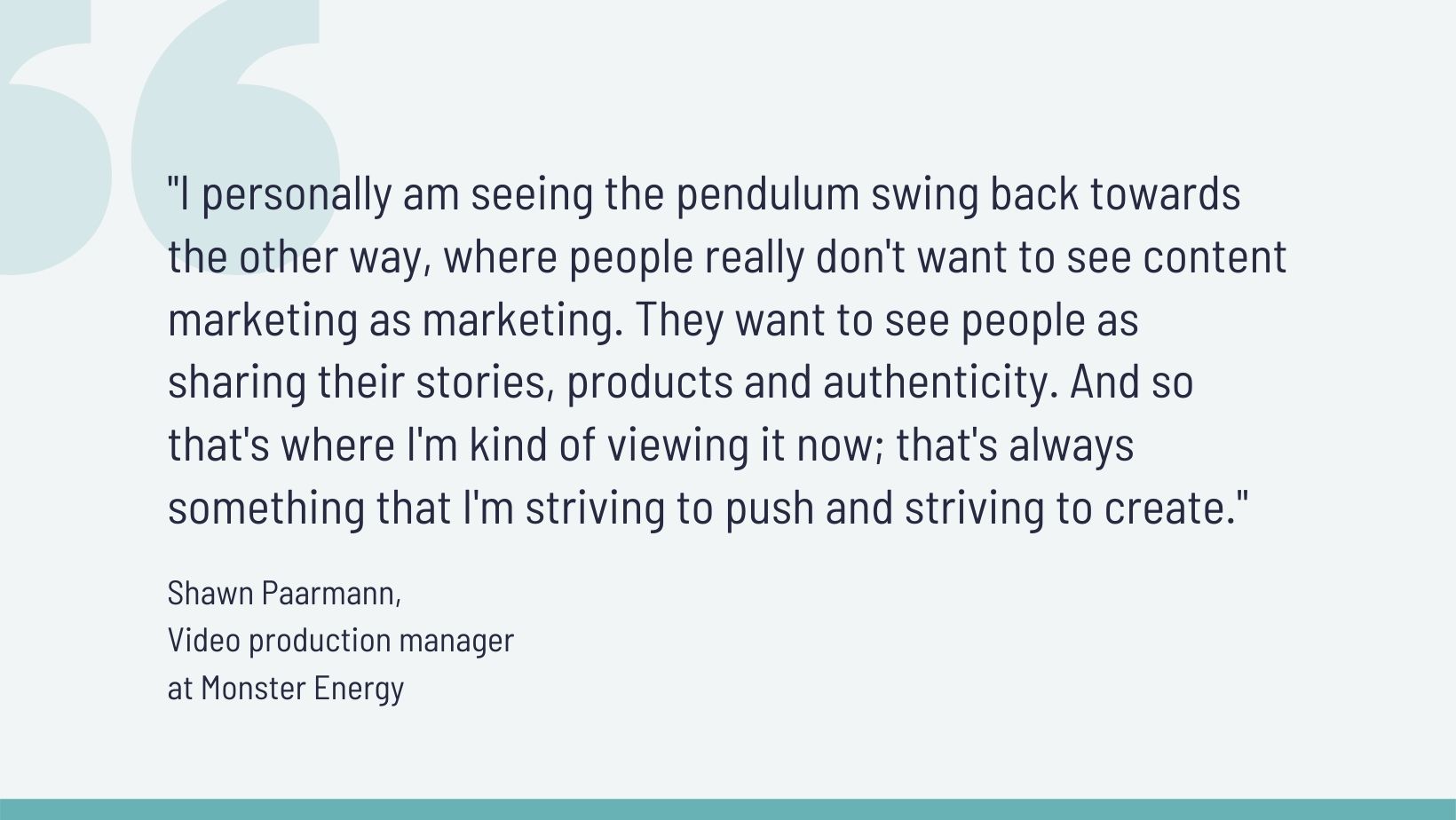 The importance of testing and re-testing content ideas
Even if you tried something in the past and it didn't work out, that doesn't mean there isn't an opportunity to try it again with a different approach. Content is ever-changing, so it's important to continue testing and trying new things.
As one example, Groomsmen Suit once suited a Netflix actor's groomsmen. On his wedding day, he tagged Groomsmen Suite in a bunch of photos. These photos drove hundreds of new followers for the brand. Kristen believes it's important to try content in non-traditional ways — whether it's giving away a new suite in exchange for a video or photo or something riskier — it's important to try these things because you can discover new opportunities for content that works.
What are the absolute "musts" for DTC Content marketing?
The channels you use should be true to your brand; they have to make sense for you.
A lot of people will try to tap into too many channels to post content, and that can make everything become shallow. Own one, two or maybe three different channels where you are more likely to stand out and thrive.
Video content is leading everything; it has the highest engagement. If there's a way to capture who and what your brand is through video, you should absolutely do it and share it.
It's important to be able to adapt and evolve. For example, Facebook used to be a completely different place 10 years ago, and the strategies from 10 years ago won't work anymore in the present day. As people innovate, you must adapt with them.
Repurpose your current content for a variety of channels. Write an article, use pieces of that article to make an email, a social media post, an infographic, a video or other forms to share on other channels.
If there's a way that you can use the same piece of content in multiple areas and make it look a little different without exercising too much of your time then you will continue to have things to share with less of an effort than it takes to keep creating new content every time.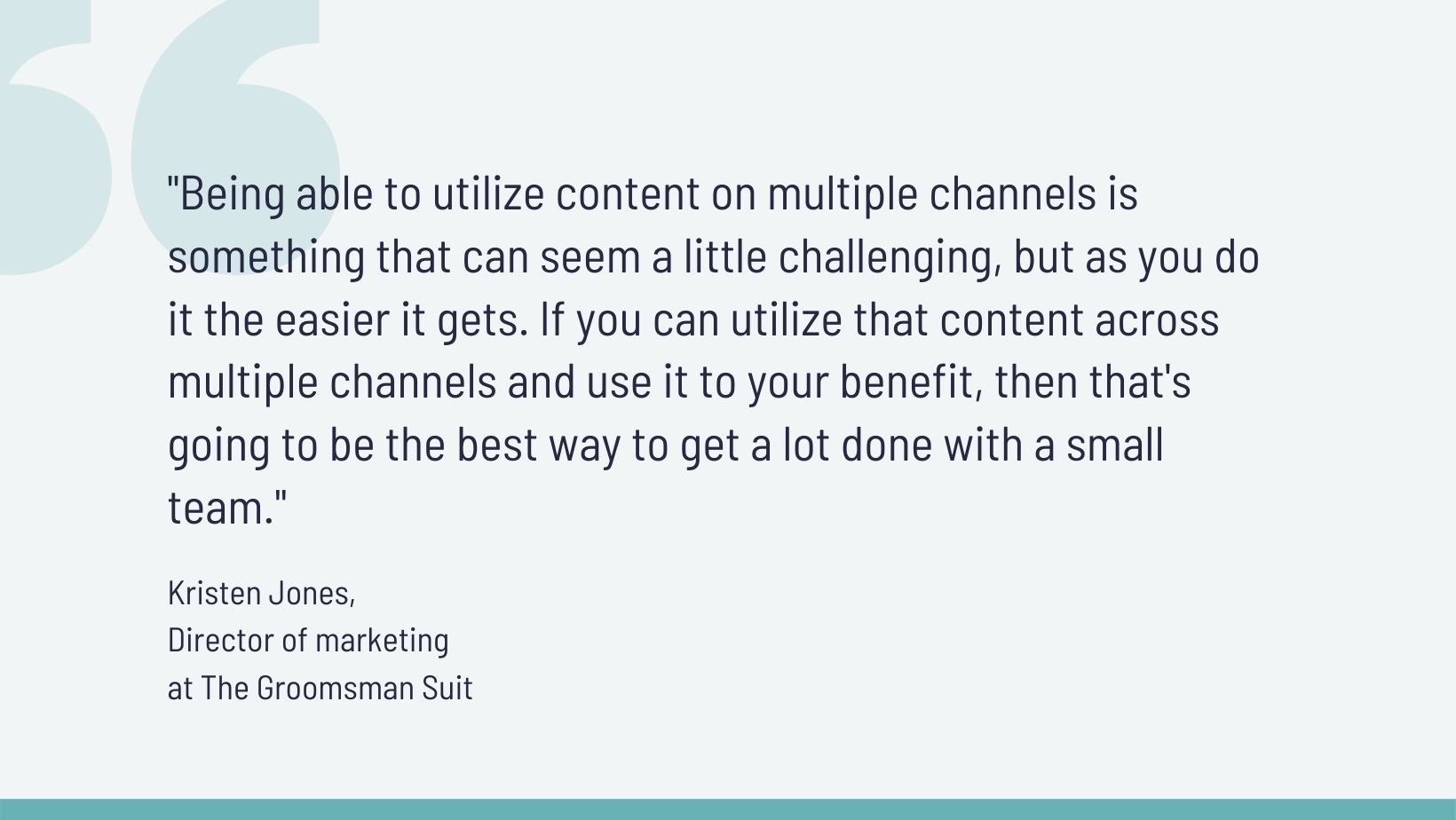 How to ensure you're pivoting for your audience
For brands with large audiences, when launching new products the content around it should be both relatable and match the aesthetic for your particular market. For example, if you're new product is geared more towards a younger audience, then the type of content you'd create for an older audience might not work the same for the younger market.
Always be conscious of who's going to be using your product. Think about how you can keep the content fresh and relevant to that audience. Even if you're geared towards one type of lifestyle, those things are always changing and you should be adapting with new trends.
Don't hold your content too close to your chest. Be conscious of the need to change as your audience changes.
Content as a community-building tool
Product is really what gets you into the sense of community. For people that like your product, the community is a space for like-minded people to share that product experience.
Sometimes brands try to appeal to too many groups or they don't have a good understanding of their group, so they innovate too far beyond it and fall flat with their products. Use the community to keep your products on brand and relevant to the experience your most loyal customers are interested in.
Consider how you can best tap into emerging markets. You may not be the first to do something, but you can leverage ideas by doing them better to attract new audiences and keep your existing audience satisfied. However, the trend has to work for your brand and what it stands for — you don't want your customers to think you're just jumping on the next trend or bandwagon. Keep pushing authenticity behind your products and the lifestyle that's part of your brand.
About Commerce Club:
Commerce Club was co-founded by Matt Schlicht and Ben Parr. Both Matt and Ben are also the co-founders of Octane AI, a company that gives Shopify brands the ability to offer conversational commerce to customers on their sites; an experience replicating an in-store consultation and leading to curated product recommendations.
Commerce Club shows are hosted on Clubhouse. There are a variety of weekly shows that dive into successful brands, ecommerce strategies and more. If you're interested in learning about upcoming shows and getting show notes, articles and transcripts. Head to joincommerceclub.com to sign up for the newsletter.