Facebook Messenger Marketing is Here to Stay
Facebook Messenger marketing is going to be huge for Shopify (and other) ecommerce merchants in 2019. We recently hosted a webinar with Justuno and Diff to show the benefits of Messenger marketing.
In this webinar, we covered a variety of topics to help you drive traffic to your site, get opt-ins and nurture your customers pre-sale and post-sale.
Request the webinar slides here: https://join.octaneai.com/slides
Watch the webinar below:



Why is Facebook Messenger a big opportunity for ecommerce merchants?


It has 1.3 billion active users. The number is growing every day
You can automatically message your customers throughout their journey
You can send targeted campaigns over Facebook Messenger


With Facebook Messenger and chatbots, brands and merchants can handle marketing, retargeting, and automated customer care all in one place.
Basically, everything you can do with email can be done with Messenger, but with much higher open rates and click-through rates. When is the last time your emails averaged an 80% open rate?
Don't just take our word for it. Here's what FEAT Socks (a 7-figure Shopify merchant) has to say about Messenger marketing, powered by Octane AI: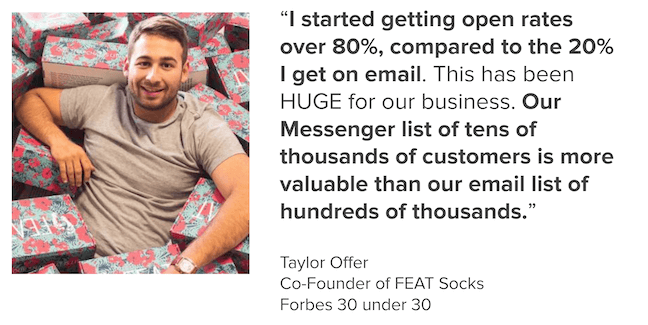 With Messenger marketing, merchants should focus on what we call The 3 Pillars of Facebook Messenger Marketing:
Grow: Reach new customers and build an audience on Messenger using our on-site and off-site customer acquisition tools
Engage: Use automation to automatically target and message customers throughout the customer journey
Support: Automatically answer common customer questions and improve the customer experience.
Driving Traffic to your Site
Optimize Your Shopify Store for Search Engine Traffic: SEO is huge for any business. Having customers find your brand without having to invest in ads is the goal for many ecommerce merchants. Who can say no to free traffic? Especially when you rank for keywords that signal buying intent.

Attract Customers with Content Marketing: Content marketing is worth the time investment for many ecommerce businesses. Blog posts, videos, guides and more can bring in traffic to your site and help with SEO.

Embrace Influencer Marketing: Influencer marketing is a powerhouse for ecommerce brands (just look at Fashion Nova). Influencers are a great way to generate attention for your brand and to bring in traffic.

Integrate Social Media: Try to maintain 1:1 messaging between your social media and other marketing channels. If your social media posts say you have a 20% discount, but your website only shows a 10% discount, your customers will be confused and unhappy.

Start a Referral Program: Customers trust their friends and family. Referrals are a great and easy way to generate more traffic to your site.

Email Marketing: Even with the rise of Messenger marketing, email is still a staple for many ecommerce businesses. Email campaigns can still bring a lot of traffic to your site (especially when promoting offers and discounts).

Run Targeted Ads: Ads are another great channel for ecommerce businesses. With custom audiences, lookalike audiences and retargeting, you can ensure your ads are seen by the people who are most likely to buy your products.
Use Pop-ups to Collect Email and Messenger Opt-ins
Once you generate traffic to your site, you'll now need to collect a customer's information so you can continue to market to them. This is where email collection with pop-ups comes in handy. Just about every ecommerce merchant collects
Justuno analyzed their data for January 2019 and found that merchants using a pop-up Facebook Messenger integration see an 34% average opt-in rate to Messenger. So for every email address collected, 34% of users will also opt-in to Messenger!
Even better, Octane AI integrates with Justuno so you can add the Facebook Messenger checkbox to your pop-ups!
How to Nurture Customers Pre-Sale with Messenger
Comment Capture: With Comment Capture, your bot will automatically message anyone who comments on your Facebook posts. If they engage with the bot, they became a subscriber. Here's one suggestion to get customers to engage: Meme contests (they seriously work).
Targeted Facebook Messenger Broadcast: Messenger Broadcasts are similar to email newsletters. You can definitely send a message to all of your subscribers, but we recommend using segmentation to target users so you have a higher chance of converting.
Holiday Message: Holidays are always a great time to generate traffic. President's Day, Independence Day, Black Friday, Labor Day and other notable holidays are a great time to message your customers to let them know about your upcoming sales.
Community Engagement: AKA User-Generated Content. Ask your users to send pictures, videos, quotes and more of them engaging with your brand. For post-sale engagement, this is the perfect opportunity to ask for reviews.
Cart Abandonment: Recover abandoned carts through Messenger instead of email. Octane AI's stats show 11% of abandoned cart messages convert to a sale (compared to 4% for abandoned cart emails).
Product Finders: It's possible to help customers find a product they want to buy with product finder quizzes. Think of it as a bot concierge for your customers.
Automated Customer Support: Customers will most likely have questions during the shopping process. They can interact with your bot and receive immediate replies to their questions.
How to Nurture Customers Post-sale with Messenger
Wishlists are a Remarketing Gold-mine: Check out apps like Gift Reggie to help your customers create wishlists and gift registries.
Back in Stock Notifications: Notify customers with a message when products are back in stock.
Targeted Sales & Promotions: Now that you know what customers purchased, you can retarget them with sales and offers that apply to products they're likely to purchase again.
Order Confirmation Page: If customers don't opt-in to Messenger through the Add to Cart checkbox or your pop-ups, they have the option to opt-in on the order confirmation screen.
Order Confirmation Message: Once an order is placed, customers receive order details in Messenger.
Shipping Confirmation Message: Customers receive shipping notifications for their order in Messenger.
Referral And Rewards: Offer customers a chance to be incentivized for repeat purchases or referring your company to their friends and family. Customers can share their unique referral link on Messenger or share it to their Facebook News Feed.

That's it! In this post, you just learned how to generate traffic to your site and nurture your customers with Facebook Messenger. Special thanks again to our friends at Justuno and Diff for co-hosting this webinar with us!
For a more in-depth summary of how to use Messenger marketing, check out the Ecommerce Messenger Playbook below.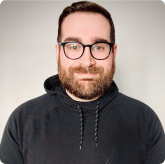 Hey there! Do you have a product quiz on your store?
You could be increasing your average order value by 15% to 45%.