Shopify + Facebook Messenger Marketing = Even More Sales
"What is 'Messenger Marketing?'"
"Is it just a fad or should I actually adopt it into my marketing plan?"
"Will it just add more work or am I going to see a meaningful ROI?"
These are the questions I'm going to answer for you today. Ready? Let's go!
In this post, I'm going to share with you 5 ways for you to increase sales in your Shopify store using this incredible tool.
As a Shopify business owner, you are always looking for ways to increase your bottom line, but did you know an opportunity exists that MOST of your competitors have yet to figure out?
It's called Messenger Marketing, defined as using Facebook Messenger to generate more revenue and talk directly with your customers. Software known as a "chatbot" or "bot" turns your store's Facebook Messenger into an opportunity for scaleable, 1:1 conversations with your growing community.
Another benefit of a Facebook Messenger Marketing chatbot is that it doesn't take a huge amount of time to manage. Over 50% of your revenue generating activities can be automated. (Revenue generating activities that can be automated to happen while you sleep? I believe they call that passive income my friends!
The opportunity to do high impact, automated Messenger Marketing is at a critical time. Many tops brands like GoPro, Kiehls, Pure Cycles, and Fashion Nova are embracing the power of Messenger Marketing and seeing very high returns because of it.
Before getting into this post any further, you should know that Messenger Marketing earns much better conversion rates than the email or social marketing you're currently doing. To clarify, doing this for your Shopify store is not a replacement for the email or social efforts you have in place, but it is a wonderful complement to your current strategy.
Strategy #1 - Create A Product Finder To Help Customers Find Their Perfect Purchase
The first Messenger Marketing strategy I'm going to share with you is best suited for Shopify stores who want to help their customers find the right product for their needs. Kiehls does this very well with their "How is winter treating your skin?" skincare routine finder.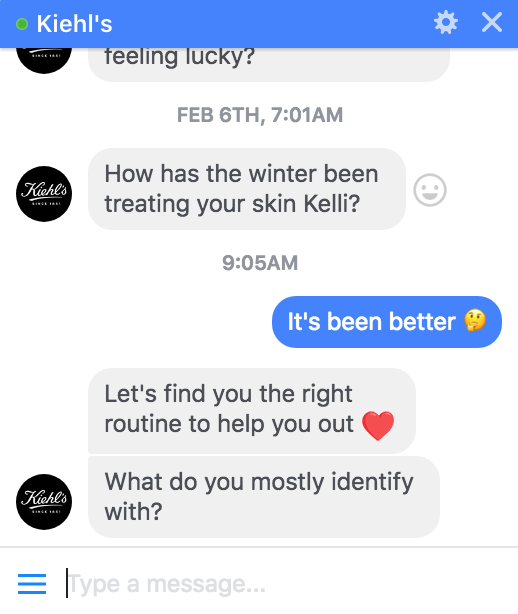 This is a perfect example of how create an interactive, relational, and fun experience can not only delight your customers but automate the process of helping them find their best products AND recreate a particularly special in-store experience. For instance, Kiehls offers popular 5 minute in-store skin consultations, and they use their Facebook messenger bot to offer this experience to their online customers as well.
Some other use cases for this would be a clothing boutique that helps their shoppers find right pieces for a specific occasion, season, or color and style preferences. A bicycle shop might use a product finder to help customers understand the differences between a road bike, mountain bike, and a fixed gear bike and ask them questions to help guide them through the process of finding the right bike for their needs.
How would you use this feature? Could a product finder help your customers have a more delightful mobile experience?
Strategy #2 - Broadcast To Build Relationships
The second way to use a Messenger bot to generate more revenue for your Shopify store is to build your bot's following and then engage your followers using broadcasts. Broadcasts are exactly what they sounds like: messages to your followers that engage them on some level by asking a question, sharing an offer, or simply saying, "Hope you're having a good day today!"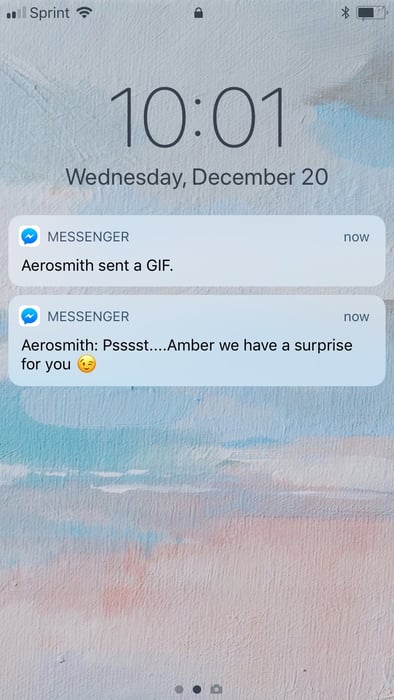 Though a broadcast may sound similar to sending an email to your email list or a post to your Facebook following, a broadcast is infinitely more powerful because 1. It vibrates your customer's phone in their pocket and 2. It's sent in a conversational, 1:1 kind of way. These two factors combined explain why many Shopify stores are seeing over 80% open rates on their Messenger bot broadcasts.
Strategy #3 - Drip Campaigns To Create Highly Targeted Lists
"Drip campaigns in Messenger?"
Welcome to your new favorite customer segmentation tool. Just like in email marketing, you can use Drip Campaigns to create highly targeted lists of your customers. Are you a pet store that sells cat toys, dog toys, and fish bowls? Perfect! You can actually use Messenger Marketing to create lists of your cat people, dog people, and fish people. The next time you are having a major sale on cat toys, send a drip campaign to your cat list, rather than bugging your dog and fish people with an offer that's not relevant to them. 💖
Another powerful ability of Messenger Drip Campaigns is to deliver the right information to your followers at the right time. Let's continue with our pet store example.
Maybe you are hosting a live event at your store that teaches fish owners the latest fish keeping tips. You can create a drip campaign in Messenger that reminds them of the right time to attend, a teaser of what they're going to learn, and other useful tidbits to keep them excited for your event.
Remember, every time they get a message from you their phones are beeping, vibrating or playing the latest Justin Timberlake song. Now that's fresh! 😃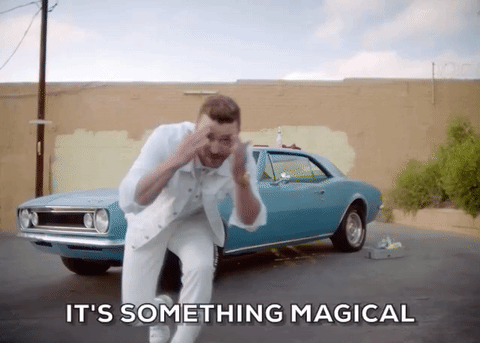 Strategy #4 - Abandoned Carts Reminders To Increase Sales
Before I tell you more about abandoned cart reminders, I need to warn you that you may pass out when I explain how much opportunity exists here. Let's break it down by the numbers.
Around 75% of online shopping carts are abandoned, and 70% of those who abandon carts never leave their email. This means shop owners can't send them a reminder via email. That is why Messenger marketing automation for abandoned carts is the perfect solution. We're talking 90%+ reach and 80%+ open rates by sending abandoned cart notifications via Facebook Messenger.
How It Works
When you install a Messenger marketing app on your Shopify store, turn on the abandoned carts tool. This will add a checkbox directly below your Add To Cart button.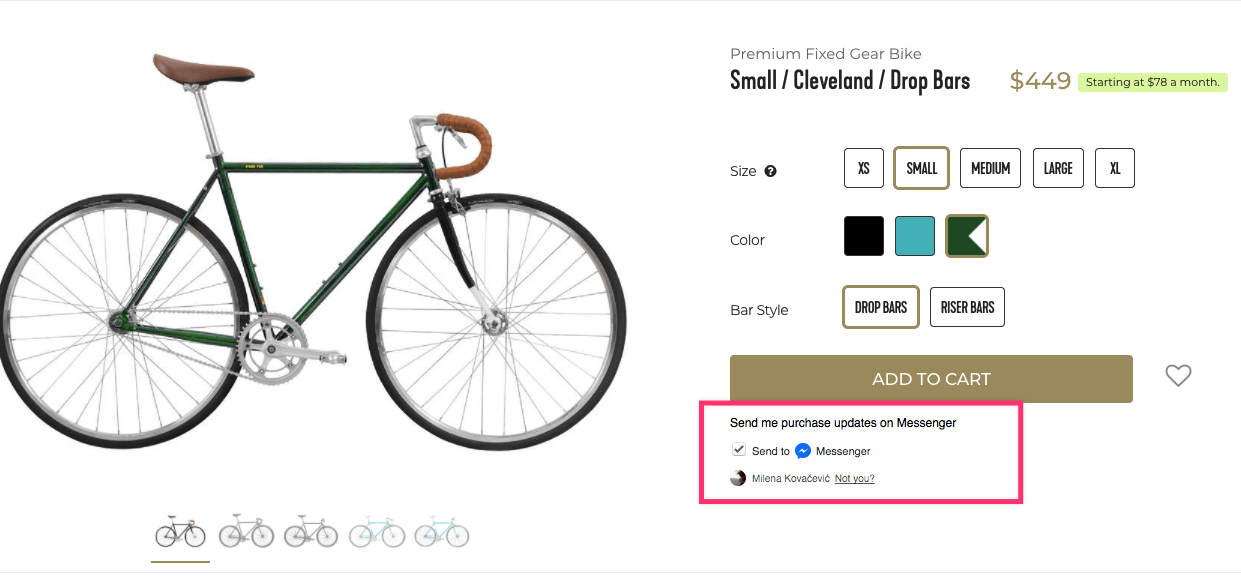 Next, when a shopper adds an item to their cart but does not complete their purchase, they receive a message 1-3 hours reminding them of the item that's waiting in their cart.
Once the Facebook Messenger marketing software is turned on, you can customize the message your customer receives. If that moment isn't right for them to purchase, they also have the option to get a reminder message the following day.
This means on-brand messages to your customers when they want them and a happier, healthier bottom line for you because of the additional abandon carts you're recovering.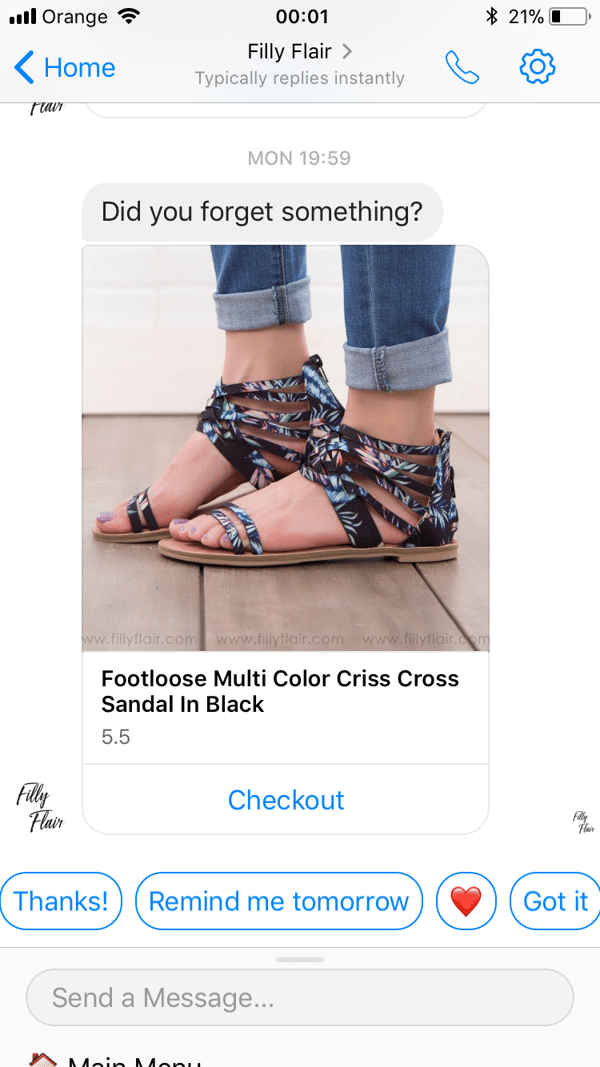 Strategy #5 - Comment Capture Campaigns To Grow Your Bot's Following
We've made it to our final strategy for putting more cash money in your bank account while also delighting your lovely customers. And this tip was well worth the wait. Enter Comment Capture.
"Comment capture? What is that?"
This Messenger marketing strategy combines the power of your existing Facebook following with the interactive goodness of a Messenger bot experience. We particularly love this tool as a way to grow your bot's following, similar to how you grow your email list.
You've probably heard "the money is in the list!" Well they (whoever "they" are) wasn't wrong, but the real money is in your Facebook Messenger list! The magic of comment capture is how quickly you can grow your bot following by using interactive questions, while simultaneously giving your followers a unique and fun experience on Facebook.
How Comment Capture Works
To give you the overview, I'm going to borrow a bit from this excellent article on how to deploy a successful Comment Capture campaign.
You submit your Comment Capture post through Octane AI, and it shows up on your Facebook page.
Your Facebook fans begin to comment on the post.
Those commenters receive a message from your bot, which you already wrote when you submitted your Comment Capture post. This message is the First Reply shown here:
Next (and here's the tricky part): your commenter must type something back to you at this point in Messenger in order to become a follower of your bot. This is why the default text for the First Reply encourages your fans to "type something."
After they type something, if this is the first time this person has interacted with your bot, it's at this point that you've just gained a new follower. Your Welcome Message will immediately display for this person.
The Main Menu will then display. (If this isn't the first time that a commenter has interacted with your bot, then they will just see the Main Menu after they type something, and not the Welcome Message first.)
Now that you know the standard operating procedure, it's time to get to work.
How This Boutique Grew Sales by 14% In Just a Few Weeks
There you have it! Five strategies to Increase your Shopify store sales using Facebook Messenger Marketing. If you're a numbers geek like me, you may want to drill down into the stats a bit more. Click the button below to access a case study on how Verclare Boutique used Messenger Marketing to grow their revenue by over 14%.