When engaging with your customers, what's your preferred channel? These days, it feels like customers are everywhere and anywhere, so you have to spend more time strategizing the different ways you can interact with them effectively.
Have you considered using Facebook Messenger to reach your target audience? The reason I ask is because over 1.3 billion people use Facebook Messenger every month, making it one of the biggest social networking platforms along with Facebook.
With Facebook Messenger marketing, you can reach out to your massive audience directly and in a personalized manner.
This is possible through Messenger AI, which helps you reach the inboxes of your audience with ease and with higher open rates. Facebook Messenger has over 300K chatbots, and this number is continuing to increase.
So, how can Facebook Messenger help you? Let's find out.
Reasons Why Facebook Messenger AI Helps Your Business Grow
Here's how Facebook Messenger marketing can help you grow your business both online and offline.
1. Better Customer Service
When you use a Facebook Messenger chatbot for your business, it helps you improve your customer service and experience. This is because consumers will instantly be able to get answers for their questions and solutions for their problems. Unlike customer service agents, chatbots are also available 24x7, meaning your customers can get round-the-clock customer service.
What's more, you ask? Chatbots are also designed to give answers quickly and won't keep your customers waiting. They are AI-powered to understand complex customer queries and give answers within seconds, which can substantially improve customer service and satisfaction.
2. Promote your brand
Apart from customer service-related operations, you can also use Facebook Messenger AI to promote your brand as part of your content marketing plan.
All you have to do is send out push notifications to the users who've chatted with you within the past 24 hours. You can send out details about your latest product or service, or share a helpful blog post that may interest a select group of customers.
Unlike PPC ads, the messages you send from Messenger are delivered directly to the inboxes of your users. Sending Sponsored Messages or click-to-Messenger ads are a great way to start engage with current customers and reach new ones. Facebook Messenger has incredibly high open rates and click-through rates--open rates reach past 80% and click-through-rates anywhere between 15%-60%. All you have to ensure is each message is engaging for your audience.
You can also leverage Facebook to build your email list. Whenever anyone begins the chat, you can set up your Messenger bot to ask for an email address. Once you've collected more emails from your Facebook audience, you can run drip email campaigns and automate the emails to move the audience smoothly through your funnel.
The fitness apparel brand DOYOUEVEN was able to use Facebook Messenger to drive an additional $155,000 in just 30 days. If you want to learn how, read the full case study here:
3. Help users manage their accounts
Simple Messenger marketing can answer common customer questions. However, if you put effort into making the AI component to your Facebook Messenger marketing strategy more complex, you can help your customers simply accomplish a lot of their tasks too.
A good Messenger bot can help your customers manage their account and make changes to it, such as helping customers update their personal details and billing information. You could also add in a lot more functionalities, such as post-purchase marketing messages like sharing order history, shipping updates and order confirmations.
But how does this help you grow your business?
When your customers are able to manage everything from an engaging conversation, their experiences and satisfaction will improve. This will make them more likely to stick with your brand because of the memorable and positive experience. This, in turn, can help your business grow and retain more customers.
You can also incorporate an option for the customers to choose if they want to speak with a human agent if they're not satisfied with the AI smart responses on Messenger. While this isn't ideal, it ensures that your customers will always get the support they need to stay satisfied.
4. Build a bond with your audience
All interactions between your brand's Facebook Messenger chat and customers don't necessarily need to be questions or problems--you can also develop a powerful bond with your audience. You can engage them with fun activities such as games, jokes, quizzes or even useful tips.
While this doesn't directly help you generate sales, it definitely improves your customer relationships and builds brand loyalty and trust.
For instance, Kala Brand Music helps customers find the right instrument for them with a simple product recommendation AI conversation right within Messenger.
If you're interested in interactive experiences with customers outside of Messenger, you can also create an ecommerce quiz to embed on your website. You can ask customers detailed questions about their likes, dislikes, preferences and needs, and leverage this data for retargeting email, Messenger, SMS and ad campaigns later.
Ready to Grow Your Business with a Facebook Messenger marketing?
Facebook Messenger AI can help you improve your overall customer experience by quickly responding to questions and helping customers with any inquiry. Apart from that, you can leverage Messenger to promote your brand and send out messages about your latest products and services.
These experiences feel extremely personalized because the customers feel as though they're engaging one-on-one with your business. If you're interested in enhancing your ecommerce personalization strategy, reach out to us at Octane AI today!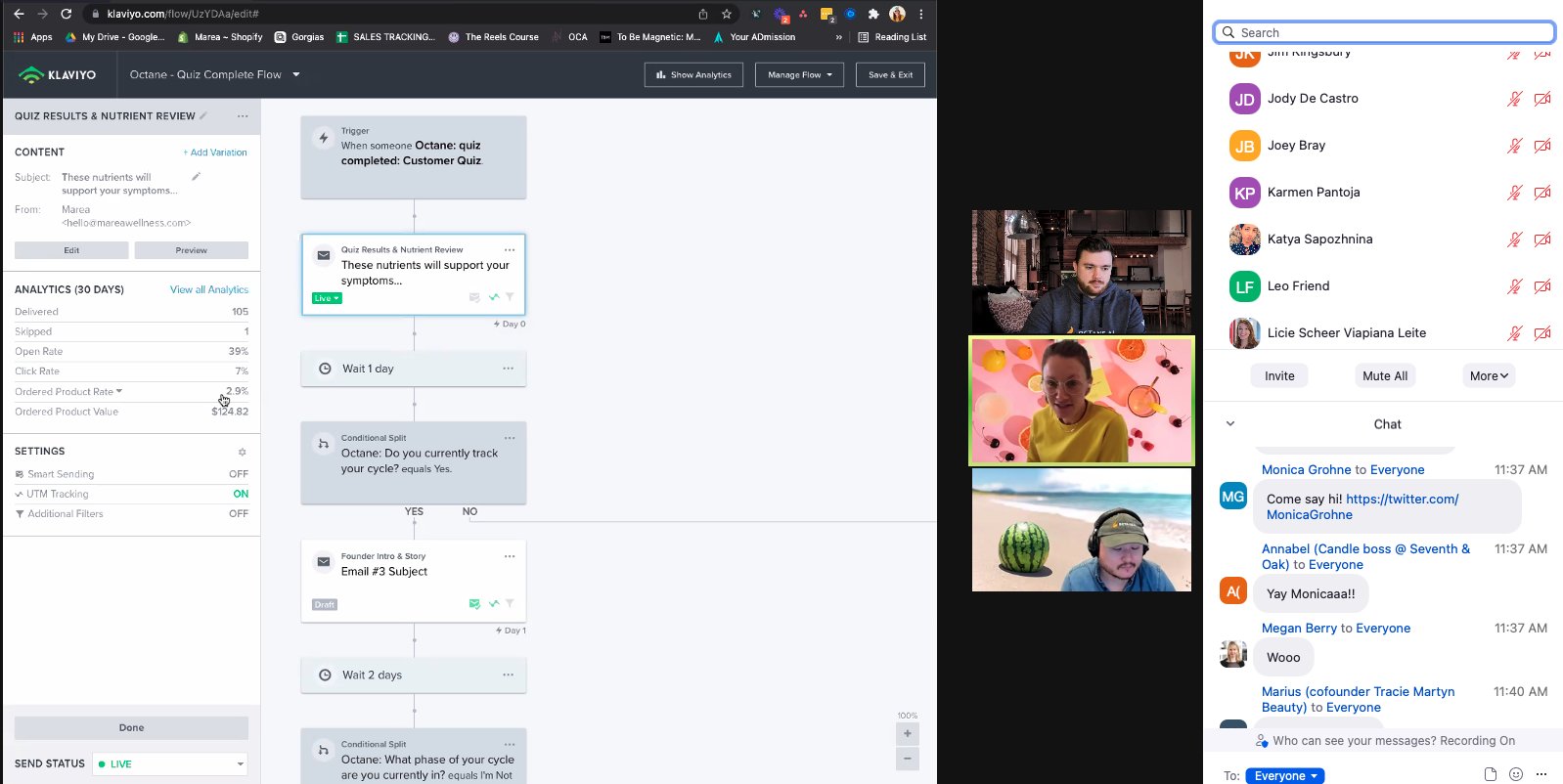 Join the Octane AI community
Join 10,000+ ecommerce operators who receive weekly tips on quizzes, zero-party data marketing, and increasing revenue with personalization.