What is a Facebook Messenger chatbot?
What can you do with it? How can it help your business or brand? These are the questions I'm going to answer right now. Ready? Let's jump in!
What Is A Chatbot?
A chatbot (aka a "bot") is a service, powered by rules and sometimes artificial intelligence, that you interact with via a chat interface. (If you haven't already, I highly recommend reading Octane AI CEO Matt Schlicht's Complete Beginner's Guide To Chatbots).
At Octane AI, we're focused specifically on building bots for Facebook Messenger. A Facebook Messenger Bot is an application that can automatically interact with people when they message your Facebook Page. Bots can automatically answer questions, send mass push notifications, sell products, tell stories, and much more.
A bot isn't only good for customer support, it is also extraordinarily exceptional when it comes to marketing and customer engagement. Why are we focusing on Messenger you ask? Because Facebook Messenger is larger than Twitter + Instagram + Snapchat (COMBINED).
As a brand manager, you can't afford to ignore these numbers.
7 Ways To Use An Octane AI Bot In Your Business
Here are seven real-life applications for using an Octane AI bot in your business.
(P.S. the best part is that they take less than 5 minutes to set up. Find out more at OctaneAI.com).
1. Educate Your Customers
Octane AI's Convos feature makes setting up an interactive, engaging knowledge base simple and fast. An excellent example of a knowledge base within an Octane AI bot is ABBI, a chatbot which helps users find the correct medical marijuana dosage.

Using Topics, Convos, and Tangents, it's easier than ever to provide in-depth knowledge to your followers in a conversational way, and the possibilities of this application of convos is limitless. We can't wait to see more knowledge bases delivered this way.
2. Design A Guided Experience
The Welzen meditation bot is a great example of designing a guided experience within an Octane AI bot. When you open the Welzen bot, you are offered the experience of being led in meditation. Choose from body scans, conscious breathing exercises, and a multitude of other stress-relieving experiences. Through this creative use of convos + audio, anyone can have access to professionally guided meditation.
What would you create with these tools? Guided workouts? Online classes? Let us know in the comments below!
3. Share Daily Advice To Keep Fans Engaged
If you've followed rapper Rick Ross on social media, you know Big R is all about "Living Rich Forever." He also has some of the most engaged fans in the music business.
How did he build this amazing connection with his followers? By sharing daily advice on things like achieving your personal best, choosing your friends, and finding a mentor. In Ross's Octane AI bot, this advice is delivered in the form of convos written with Ross's personal spin.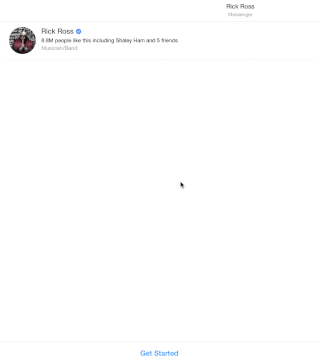 What we've learned by working with Maroon 5, Lindsay Lohan, Rick Ross, and others is that the bot's voice and tone must match the standard already established by the brand. If they don't match, the bot will flop.
Fans flock to Ross because he keeps it real and it sounds like he's actually typing on the other end. Our advice is to spend time digging into your voice, your style, and your tone in order to keep the communication consistent.
4. Tease A Launch
Use your Octane AI bot to prime your followers for an upcoming launch. For example, Jason Derulo released exclusive behind-the-scenes video and photos to build his bot following and direct views to his new video.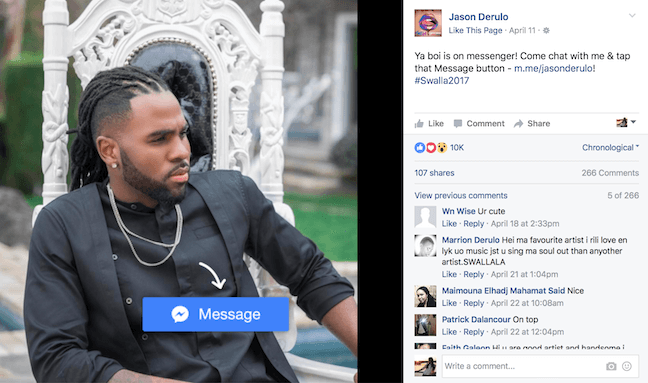 You can do the same for your followers by giving them bits and pieces of your content leading up to launch day.
5. Gather Emails
Take Lindsay Lohan's lead and use your bot to gather email leads for your CRM or email list.
Lindsay gathers emails in a fun and interactive way by asking her followers to "share their secrets with her." In the same way, you can use your Octane AI bot to gather new email address by offering a fun, valuable experience where followers feel safe to share their information.
6. Drive Traffic To A Piece Of Content
This spring, Maroon 5 used their Octane AI chatbot to amplify the launch of their latest song, Cold.
The results were impressive, with over 50% of their bot's followers clicking the link and sharing that convo, so you may want to take notice of this method too.
To test this strategy, write a convo that is focused on the piece of content you want your followers to view, like a video, song, podcast, etc. Give your followers a compelling reason to click the convo — like a chapter from your upcoming book or 10 seconds of an unreleased song (the Maroon 5 example). Then, share that convo's link on your other social platforms, to your email list, or send it out as an update to your bot's followers.
7. Connect the Digital With the Physical

Facebook's biggest event of the year, F8, yielded many exciting announcements, including the launch of the Parametric Messenger code, a unique code generated by Messenger to accompany conversations shared on the app. This feature enables Octane AI creators to pair a unique parametric code with each of their published convos. When the bot's followers scan that code, they are taken directly to that convo.
This feature powerfully connects the physical experience with the digital experience. Imagine you are walking down the street and you see a poster belonging to your favorite band. If that band were using Messenger codes, you would simply scan the code on the poster and be taken to a convo that tells you when they're playing in your area or when new music is due to be released.
Or maybe you have a Messenger code on display at your store, and customers can scan it for a chance at a discount. The benefit — you get them on a distribution list (and it's a lot easier than the traditional punch bowl full of business cards).
What experiences will you create with this feature?

Kelli Kissack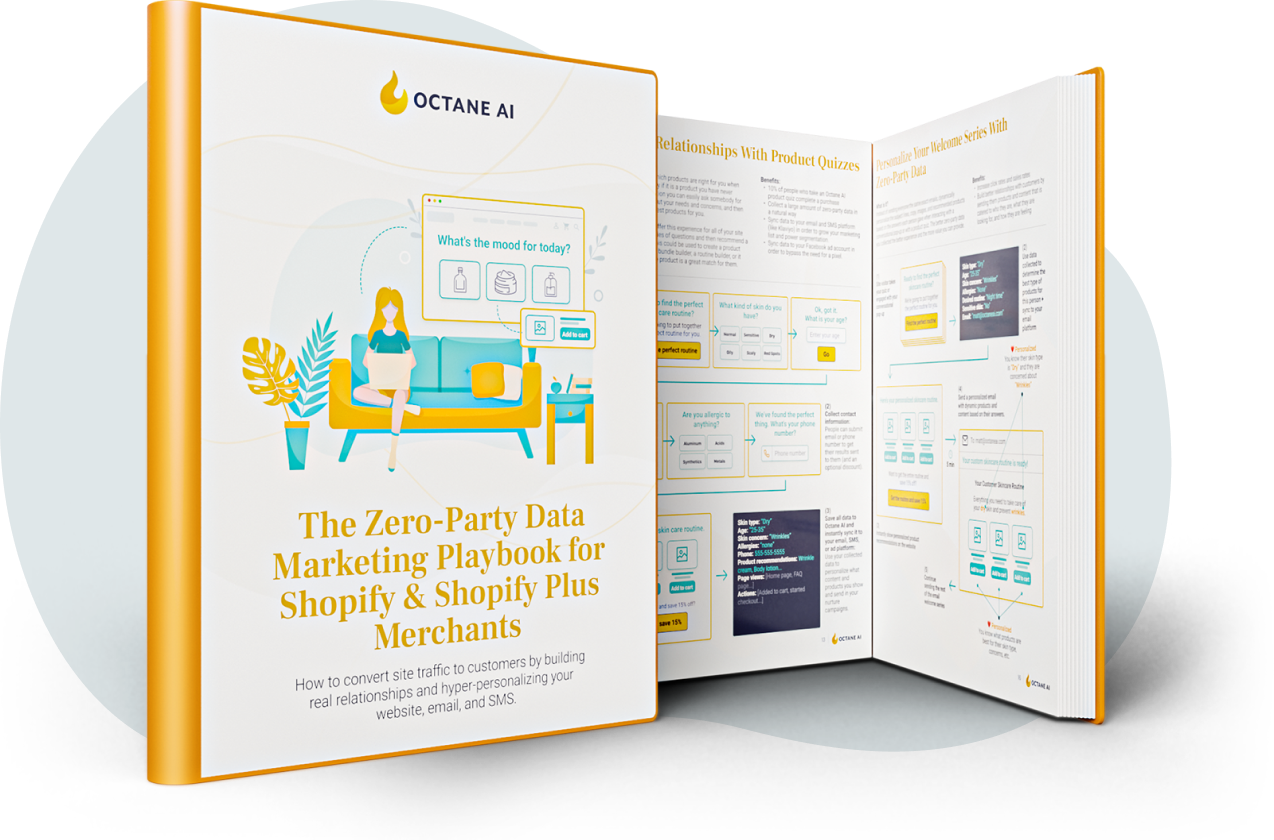 How Much Revenue Are You Missing Out On Because Your Marketing Isn't Personalized?
Fast-growing DTC brands implementing this playbook, and personalizing the customer journey with zero-party data, have connected with 16x more customers on email and SMS, seen 6x sales conversions, and increased revenue by over 50%.