Increase Sales With Shopify, Chatbots and Facebook Messenger Ads
With the rise of Facebook Messenger chatbots for Shopify (and ecommerce in general), it's imperative that merchants start using Messenger as a sales channel. Combined with Facebook Messenger ads, you can increase your sales with automated messaging to help make the shopping experience even easier for customers.
We are becoming more accustomed to having conversations to accomplish our tasks instead of using manual effort. These days we turn the lights on at our home with a simple voice command. We add things to our shopping list or schedule appointments just like we were dictating these things to our secretary.
We are becoming more accustomed to having conversations to accomplish our tasks instead of using manual effort. Google, Alexa, Siri and more have trained us to be more conversational about everything. It only stands to reason that these conversational habits would also start translating into how we purchase items and interact with ecommerce retailers.
It is now easier than ever to create your own online store through platforms like Shopify. The setup and configuration is so simple, that often you just need to plug in your product and shipping information, ensure that you have a way to handle fulfillment and you are up and running in no time at all.
Since it is so easy to use, many online retailers are choosing to use Shopify, especially those who do not have a full staff. These companies may even be running on a staff of one.
For ecommerce stores, customer service interactions are difficult to manage. Whether they are a large store or a simple mom and pop shop, it is difficult to predict the number of requests that will be generated.
Using a chatbot for your Shopify store is a great way to bridge the gap between simple questions and issues that require further research.
What are Chatbots for Facebook Messenger?
There are millions of people who already use Facebook Messenger daily to chat with family and friends. Being able to communicate with your customers on platforms they already use can help them have a stronger connection to your brand. Using Facebook Messenger gives them almost no barrier to engaging with your brand and makes the engagements more meaningful.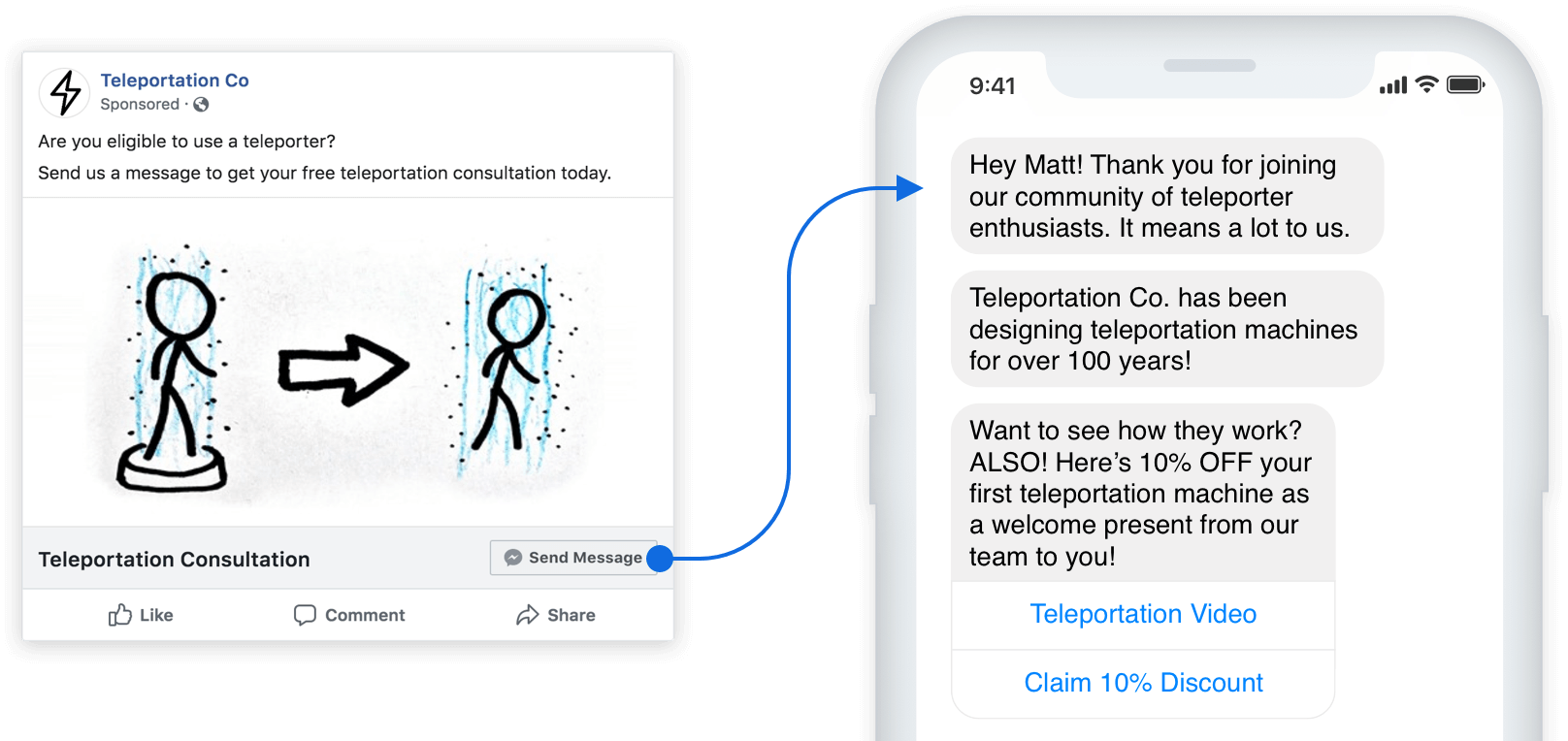 When a customer visits your webpage or your Facebook page, you can greet them with a message welcoming them to your store, and maybe ask them a question. When they respond or otherwise engage with your brand, you have now been granted permission to send them Facebook messages.
Using Facebook Messenger you can then send them updates about your store, offer them deals, or help them with a customer service request. Just as you are likely doing with your email newsletters.
A chatbot can take this one step further by automating that process for all of your customers. You will be able to send them ads that feel more personal than a typical ad.
What Are Messenger Ads?
It might be hard to think of Messenger as a sales channel, but it is quickly becoming one of the most popular ways to help customers discover your products. There are different kinds of Messenger ads.
The first type of messenger ads appears in a person's messenger app in a "Sponsored" section. These are ads that have been paid for by the brand to appear within the messenger app. Tapping on the ad itself will not open a chat window with that brand.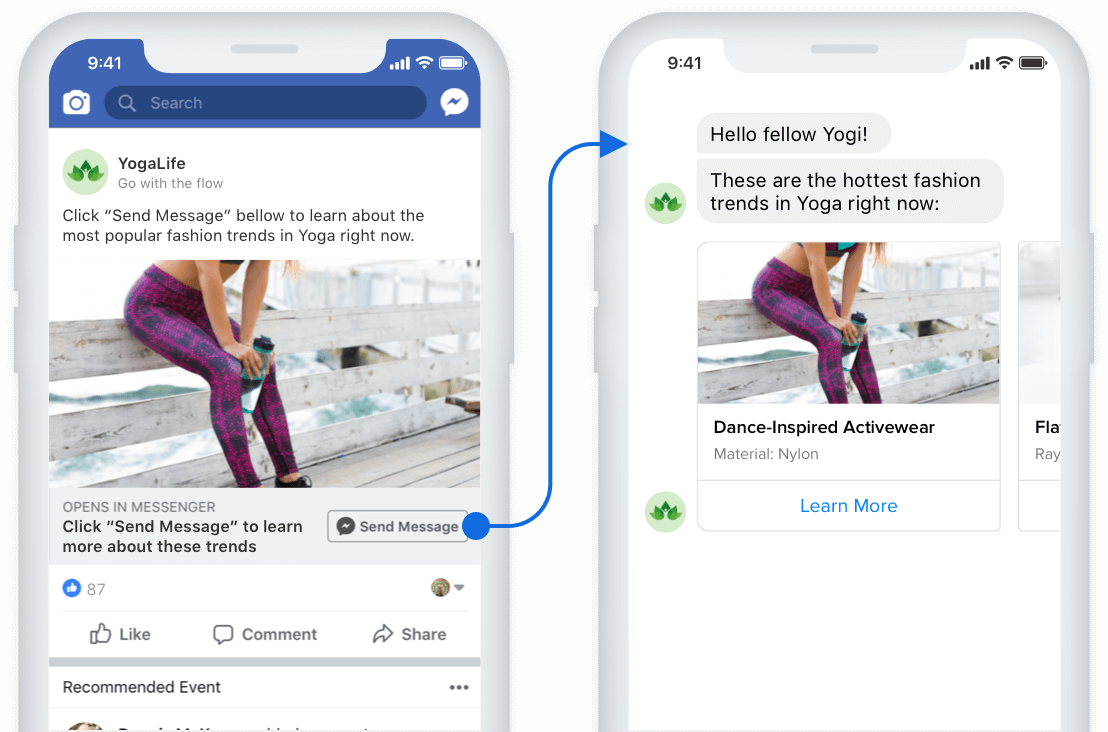 The other type of messenger ad is a broadcast message your brand can send to people who have interacted with your brand in the past. The messages will appear similar to any message the customer receives from a Facebook friend. These advertisements are typically opened at a significantly higher rate than any other type of ad.
These Messenger Ads can have a variety of call to actions, like viewing or even purchasing a particular product that is currently on sale, signing up for an email newsletter, or even encouraging further interaction with a chatbot.
Facebook Messenger Ads For Shopify
Utilizing data from your Shopify store, like abandoned carts, and customer browsing history, you can target ads in Facebook messenger and create a completely personalized approach to selling products to your potential customers.
Today, customers expect ads to be customized, interactive and offer to help solve problems. If they are able to purchase the product right in that minute as well, it may entice them to purchase now instead of waiting. Facebook Messenger provides a great platform for using the information from shopify to solve these customer's problems.
How Chatbots Help Shopify Retailers


1. Improves customer service

You can program your chatbot with various responses to simulate a live conversation. Artificial intelligence has improved tremendously over the years, and many people are having a hard time telling the difference now between chatting online with a human and chatting online with a robot. You can give your customers personalized attention without needing an endless supply of staff members.
Chatbots can also help answer simple questions including sizing and fit or shipping time frame. Sometimes the chatbot might even be able to predict what your customer is requesting better than an actual person.
2. Facilitate Product Discovery
Chatbots for Shopify can help customers discover new products and even guide them to exactly the right product without forcing them to scroll through hundreds of items they don't need or want. Through some pre-programmed questions, the chatbot can dig through your inventory to present your potential customers with a few possible choices, making it easier for them to come to a quick decision.
3. Simplifies Purchase Process
Some chatbots allow customers to complete the purchase right within the conversation, making it super easy for them to buy your products. Getting customers to cross the finish line can sometimes depend on how quick and easy it is for them to finalize the sale. Reducing the number of steps it takes to make a purchase can increase sales and decrease abandoned carts.
4. Helps Recover Abandoned Carts

As your customer navigates your site, they will often place items they may want to purchase in their cart. Once they get to the checkout process, they may have a change of heart, or they may just not be near their credit card and they don't feel like getting off the couch to get it. In either scenario, your customer came SO close to the finish line.
Through a chatbot you can present your customer with their abandoned cart to make it incredibly simple for them to complete their purchase.
It will be easily accessible if their issue was simply that they were not near their credit card, or you could offer them a quick discount if their issue was that the cart total was just a little too expensive. There are plenty of situations that chatbots can help your customers overcome with a little bit of strategic planning.
What's Next?
It is clear that Facebook Messenger ads are bringing customers and brands together in a completely new way. Shopify merchants need to start taking advantage of the sales opportunities available through Facebook Messenger. Check out how Octane AI can help you increase your revenue through Facebook Messenger today.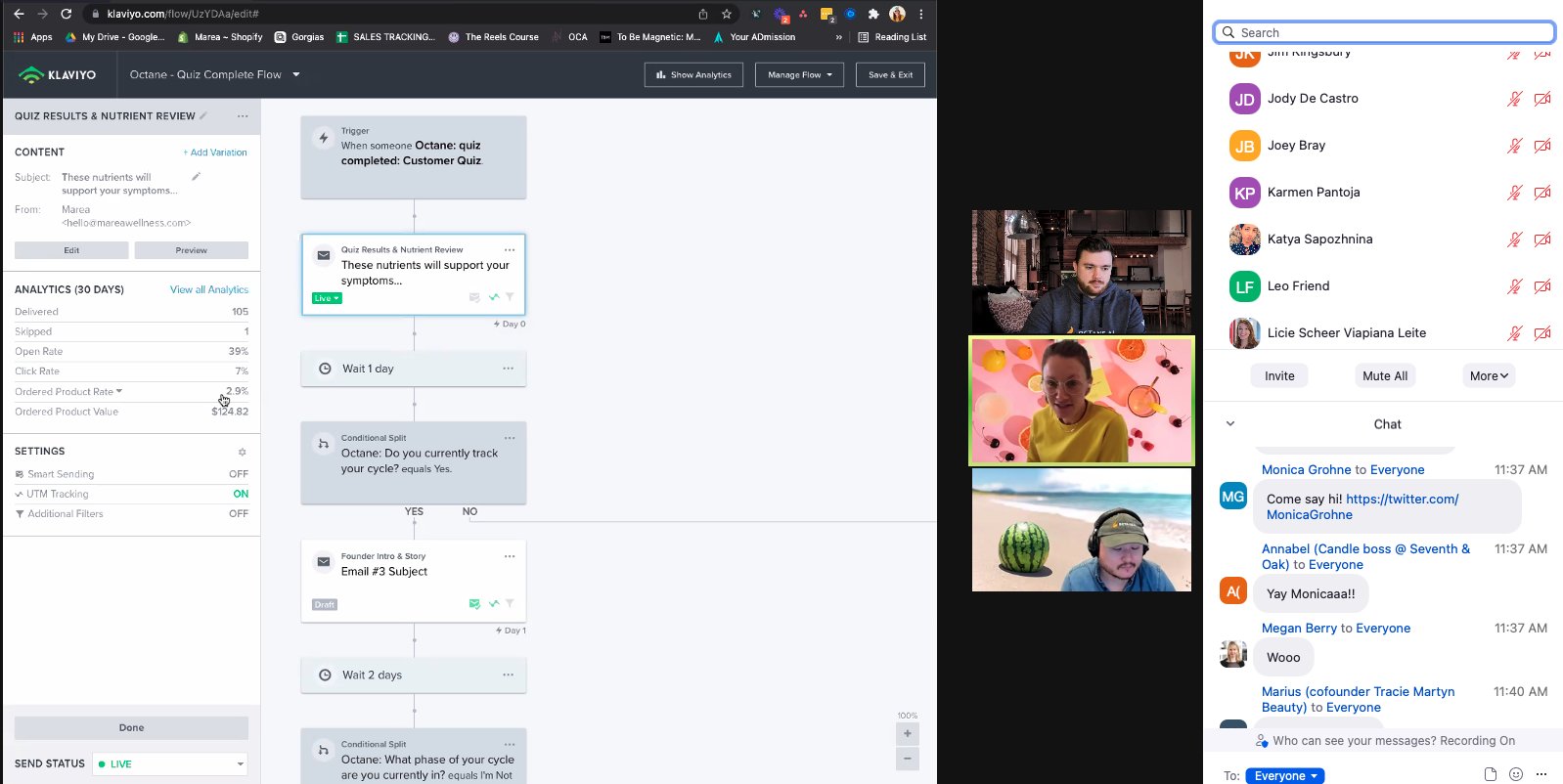 Join the Octane AI community
Join 10,000+ ecommerce operators who receive weekly tips on quizzes, zero-party data marketing, and increasing revenue with personalization.