What is Comment Capture?
Comment Capture is one of the most powerful tools available for increasing your audience growth on Messenger. By creating a Facebook post through Octane AI, you'll have the ability to usher anyone who comments on that post into becoming a new follower of your bot.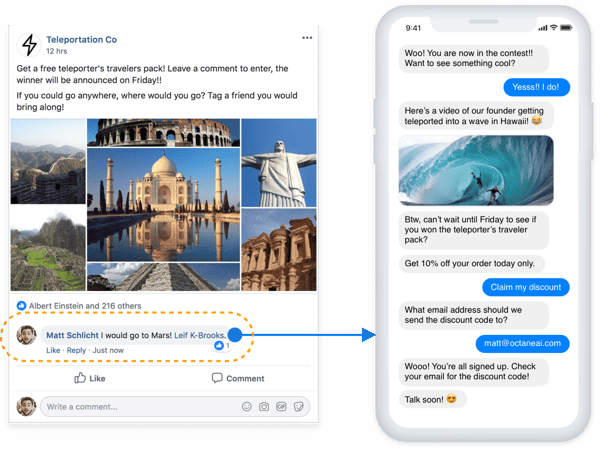 Curious how it works? Continue reading for expert tips on gaining new followers with Comment Capture.
Understand the flow
Comment Capture is a series of steps that begin when you submit your Facebook post through Octane AI's Comment Capture feature.
Everyone who comments on your Comment Capture post should receive a message from your bot. This is why, for a time, you'll see "Page responded privately" underneath each comment on your Facebook post:
BUT, Comment Capture doesn't end there. In fact, that message from your bot is only the first step in a chain of commands that convert your Facebook commenters into Messenger followers.
Here's the full Comment Capture flow for you to know:
You submit your Comment Capture post through Octane AI, and it shows up on your Facebook page
Your Facebook fans begin to comment on the post
Those commenters receive a message from your bot, which you already wrote when you submitted your Comment Capture post. This message is the First Reply shown here:
Next (and here's the tricky part): your commenter must type something back to you at this point in Messenger in order to become a follower of your bot. This is why the default text for the First Reply encourages your fans to "type something."
After they type something, if this is the first time this person has interacted with your bot, it's at this point that you've just gained a new follower. Your Welcome Message will immediately display for this person.
The Main Menu will then display. (If this isn't the first time that a commenter has interacted with your bot, then they will just see the Main Menu after they type something, and not the Welcome Message first.)
Now that you know the standard operating procedure, it's time to get to work.
Exploit the mechanics
It's valuable to understand the Comment Capture flow so that you can use the mechanics of each step within that flow to your advantage in growing your Messenger base.
Here are some tips to help you convert as many commenters as possible into bot followers:
Don't use emojis in your First Reply
Emojis will work a-okay in your Facebook post, but don't place them in your First Reply, or the Comment Capture won't go through.
Tell people to "type something" in your First Reply
You don't have to tell them to type "anything" or "something"--you can ask your fans to type a specific word, too. But you *do* want to encourage your fans to type in a message once they receive your First Reply, so that they then complete the flow and become a Messenger follower.
Update your Main Menu
Everyone who completes the Comment Capture flow will see your Main Menu at the end of the flow, so be sure to have your most important calls to action front and center in your menu before submitting your Comment Capture post.
Be bold in your approach
Finally, you have gone to all the trouble of learning how this Comment Capture gadget works, so don't be shy in using it!
Getting More Comments on Facebook Posts
Ask a question
One of the most straightforward and powerful ways of generating comments on your Facebook post is to ask your fans a question they're compelled to answer. You can make this a personal question that helps you get to know your fans better, a question that asks whether your fans want more information, or a question that prompts an opinion. Point is: ask for a comment, and you shall receive.
Request GIFs or emojis
Your Facebook fans will receive a message from your bot if they comment on your post with a GIF or emoji, too. These are sometimes faster and more fun for your fans to respond with, and may result in more comments if you request them in your post.
Tag a friend
Double the fun by encouraging your Facebook fans to tag a friend in their comment. This will widen your post's reach and maximize your chances for receiving engagement.
Boost the Post
Boosting your Facebook posts is a paid way to make sure more people see your posts. Target the right audience and watch your comment count increase even more.
You're all set now to win lots of new Messenger followers with your next Comment Capture post. Have fun!