In February, our team hosted 22 live Commerce Club events on Clubhouse, including The Fire Show, Gen-Z DTC, Commerce Convos and more. We spoke with founders from fast-growing brands, investors, marketers and operators to talk about community, advertising, content, modern brands, email, and other conversations related to DTC.
We learned so much from these conversations, and we wanted to share all those insights with you! Here's a list of 44 tips, insights and forecasts from our Commerce Club discussions.
Featured guests from our shows
Jason Wong, Founder of Doe Lashes
Anna Stearns, Director of Digital Product at LOLA
Taylor Sicard, Co-founder of Win Brands Group

Ezra Firestone, Co-founder and CEO of Boom! By Cindy Joseph

Kristen LaFrance, Senior Content Marketer at Shopify
Evelyn Rusli, Co-founder of Yumi
Jake Kassan, Co-founder of MVMT
Rachel Cantor, Writer at Morning Brew
Lillie Sun, Growth and DTC at Three Ships Beauty
Shawn Paarmann, Video Production Manager at Monster Energy
Kristen Jones, Director of Marketing at the Groomsman Suit
Jay Myers, Co-founder of Bold Commerce

Christopher George, Chairman and Co-founder of SUBTA

Robbie Baxter, Strategy and Consultant at Peninsula Strategies

Yelitsa Jean-Charles, Founder of Healthy Roots Dolls

Rhian Beutler, Co-founder and COO of Venntov

Aaron Orendorff, VP of Marketing at Common Thread Collective

Kelly Vaughn, Founder of the Taproom Agency

Carle Stenmark, Partner at VMG Partners

Michael Perry, Co-founder and CEO of Maple

Kat Cole, COO and President of Focus Brands

Arati Sharma, Director of Product Marketing at Shopify

Eric Bandholz, Assistant at Beardbrand

Patrick Coddou, Founder and CEO of Supply

Shai Fruchter, Director of LIVE at JUV Consulting

Reid Litman, Global Consultant and Ogilvy

Brian Peters, Strategic Partnerships at Shopify

Sara Du, Co-founder and CEO of Alloy

Deb Mecca, Founder of Causeway 305

Jessica Grossman, Founder and CEO of In Social

Katie Parkes, Head of Media and Creative Production at Shopify

Abby Whitmer, Director of Ecommerce at ReVive Skincare

Rob Allen III, Founder of TruckMountForums

Alli Burg, Strategic Partnerships at Shopify

David Hoos, Marketing Director at Conversmart

Eli Weiss, Director of Customer Experience at OliPop

Val Geisler, Customer Evagelist at Klaviyo

Taran Ghatrora, Co-founder and CEO of Blume

Nichole Powell, Founder and CEO of Kinfield

Andrew Youderian, Founder of Ecommerce Fuel

Nathan Buchman, Founder and CEO of Potomac Beads

Lindsey Chase, Account Supervisor at Elemental

Tom Worcester, Founder of Lunchbox

Jake Cohen, Head of product marketing at Klaviyo

Matt Bahr, Founder of Enquire Labs

Jacob Sappington, Manager of Retention at 4X400

Zach Niemiec, Director of Administrative Services at Bariatric Fusion




Kirk Williams, Owner of ZATO

Savannah Sanchez, Founder of the Social Savannah

Sarah Vlietstra, Paid Search Specialist at ZATO

Erin Falter, Founder at Pink Skies
Nathan Woods, COO at Run Gum

Paul Jarrett, Co-founder and CEO of Bulu

Danny Taing, Founder and CEO of Bokksu

Andrew Gluck, GP at

irrvrntVC

Kirstan Barnett, Member of Board Directors at the Groomsman Suit

David Wertheimer, Partner at DtoC Ventures

Chris Cantino, Partner at Color Capital



The ideal brand according to Gen-Z consumers
Brands that are innovative, authentic, empathetic and community-oriented stand out to Gen-Z consumers.
Gen-Z connects with brands that value connectedness, care about their consumers, spend time understanding their audience and make changes based on customer feedback.
Gen-Z is a generation that rejects perfectionism. Many brands adopt the same pastel colors, San Serif font, clean lines, etc, are considered "blands" to the Gen-Z consumer. The key is to make the product your own and own a unique brand voice.
For this generation, everything has a story. The story and value behind the brand and its products matters to Gen-Z consumers.
Gen-Z can smell bullshit a mile away — they know what's truly authentic. They know what you're trying to say. And if it's going to come across the right way or not, that's really going to make or break you as far as getting your product out there.
How to build a powerful community
Community is a vague term. It's important for brands to define what it means for them and pick the right way to create one that defines their brand.
An example of a great community is House of Wise by Amanda Goetz. This is a CBD oil-based company that enables women to take control of their sleep, sex and stress. The founder, Amanda, is open about her journey with CBD helping her navigate being a mom, going through a divorce and her marketing career. Amanda connected with other women and built a strong community where the

House of Wise

product helps them.
Every brand uses content to build a community in different ways, and many brands make the mistake of trying to appeal to too many groups. Understand who your community audience is and target that one specific group.
Pay attention to emerging marketing and how you can tap into them. Push the authenticity and lifestyle behind your products because that's what will continue to engage customers.
Humanize the brand and the people behind the movement; show behind the scenes.
Spend time chatting with customers and creating authentic connections.
Create a community around influencers: engage and create relationships with them.
Ask for and use real stories from real customers in your community, and make sure to represent the diversity that is important to you.
Creating relationships is about being authentic, about storytelling, but also about representation and listening and then showing what actions are you taking from that listening.
When you are smaller and budgets are tighter, you have to get creative and do things that stand out.
Tips for creating a social media strategy
Experiment with all of the channels — from Instagram, Twitter, TikTok, Pinterest, etc. Every week, do an experiment to see what kind of data you can get.
Look into your data to see what channels are working well for you, and then double-down on those one or two channels to maximize your return.
Omnichannel and retail marketing
Don't rush into other channels and spaces. It's better to make sure you have ground for negotiation, even if it means waiting.
It is more important to be successful with what you choose to do and the channels you interact with, versus something that feels like it will bring immediate results.
Make sure you have a deep understanding of the channel you are thinking of entering into. Know what it takes to be successful and to make your brand stand out and create those special moments and connections.
Constantly reevaluate your strategy and partners; the world is changing fast and if a relationship is no longer adding value to you, your customers or your brand, you may want to exit it.
How to leverage content to connect with customers
Consumers, specifically Gen-Z, are interested in long-form content. Attention spans last longer than we think, and there's an answer or good story to tell, people will engage with it.
Content marketing is a driving force between brand and consumer. You want to understand what's going to capture your consumer's attention and what's going to drive them to take action.
Content is less about the physical product and more about what your products say — it's the message being said with the material you're publishing.
Content is used for being authentic through storytelling, leading to organic conversation and conversion.
It's important for brands to balance professional, high-quality content with authentic user-genated content.
The channels you focus on have to be true to your brand: what's going to make sense for you and your customers? Many brands tap into too many channels and post content on everything, and it becomes shallow. Try to own one or two channels where you're thriving.
Make content that you can reuse and recycle, especially when working on a small team. Take a video and turn it into a GIF, a TikTok, an Instagram reel, etc. Being able to utilize one video on multiple channels can reduce your time and increase impact.
Best practices for subscription and membership models
DTC subscriptions are a great way for brands to build profitability, especially as consumer behavior shows more people moving towards DTC shopping.
While more brands are moving toward a subscription model, the ones that are doing well focus on personalization and the customer experience.
More brands are successfully emailing subscribers about subscription renewal, compared to five years ago when brands were scared to remind subscribers because they could cancel. However, giving customers that transparent information is a better customer experience, which actually increases lifetime value and decreases churn.
The key to a good subscription model is building an experience that customers are not going to be able to get on a retail-level.
Brands with subscription models have higher evaluations because they've got predictable income.
Three scenes of a subscription model: commerce, content and community. By layering all three, businesses can benefit from stepping back from the products themselves and define the goal of their community and how they can layer all three of these scenes.
Offering more payment options to customers signing up for a subscription offers a better customer experience, where customers can pay in the way they're most comfortable with.
Don't add a subscription model to your existing products and services. Focus on a key segment that you want to serve better. Find your fans and give them more of what they want from your brand.
Onboarding is an essential part of subscription programs. Many brands overlook the first few minutes after someone signs up. If you want to improve retention numbers, help customers understand the value you're promising them by engaging with them immediately after signing up.
Tips for DTC fundraising
the market is hot, big multiples, but many entrepreneurs may be better suited to preserve optionality; VC capital is not right for every business, even when it is available
most pure-play DTC brand exits happen around the $300-$600million mark.
Constraints on a business can be good. For example, not overspending on marketing early on.
Taking funding puts enormous pressure on founders to grow at a pace and scale you may not be ready for; it can be a double-edged sword, unlocking some opportunities but adding golden handcuffs in other ways.
How to know if raising is good for you now? (things VCs often look for):

Have strong retention and repeat purchasing
What is the payback period on your marketing spend and how will that scale
Do you have deep customer insight and can translate that to building a product that addresses real problems?
Is there a cohort of customers, even if small, that are in LOVE with your product
Do you have product-market fit, or are you just trying lots of things to find it; how well positioned are you for your target market
Find the right match in terms of person/VC that is passionate and knowledgeable about the area your business is in - if there is strong alignment and you've done your homework, even a cold outreach on social can create a first conversation and connection
Is your VC a customer and authentic fan and advocate for the product

Founder fit = person over product; it's not always about the deck or the numbers, sometimes about the founders/people running the business.
Some red flag on people:

Lack hustle
Don't have an authentic story around solving the problem
Lack of ambition — founder route is never easy but can have a big payoff if you are willing to put in the work
Lacks passion or cannot geek out about the industry/product
Defensive and cannot take critical feedback well
About Commerce Club:
Commerce Club was co-founded by Matt Schlicht and Ben Parr. Both Matt and Ben are also the co-founders of Octane AI, a company that gives Shopify brands the ability to offer conversational commerce to customers on their sites; an experience replicating an in-store consultation and leading to curated product recommendations.
Commerce Club shows are hosted on Clubhouse. There are a variety of weekly shows that dive into successful brands, ecommerce strategies and more. If you're interested in learning about upcoming shows and getting show notes, articles and transcripts. Head to joincommerceclub.com to sign up for the newsletter.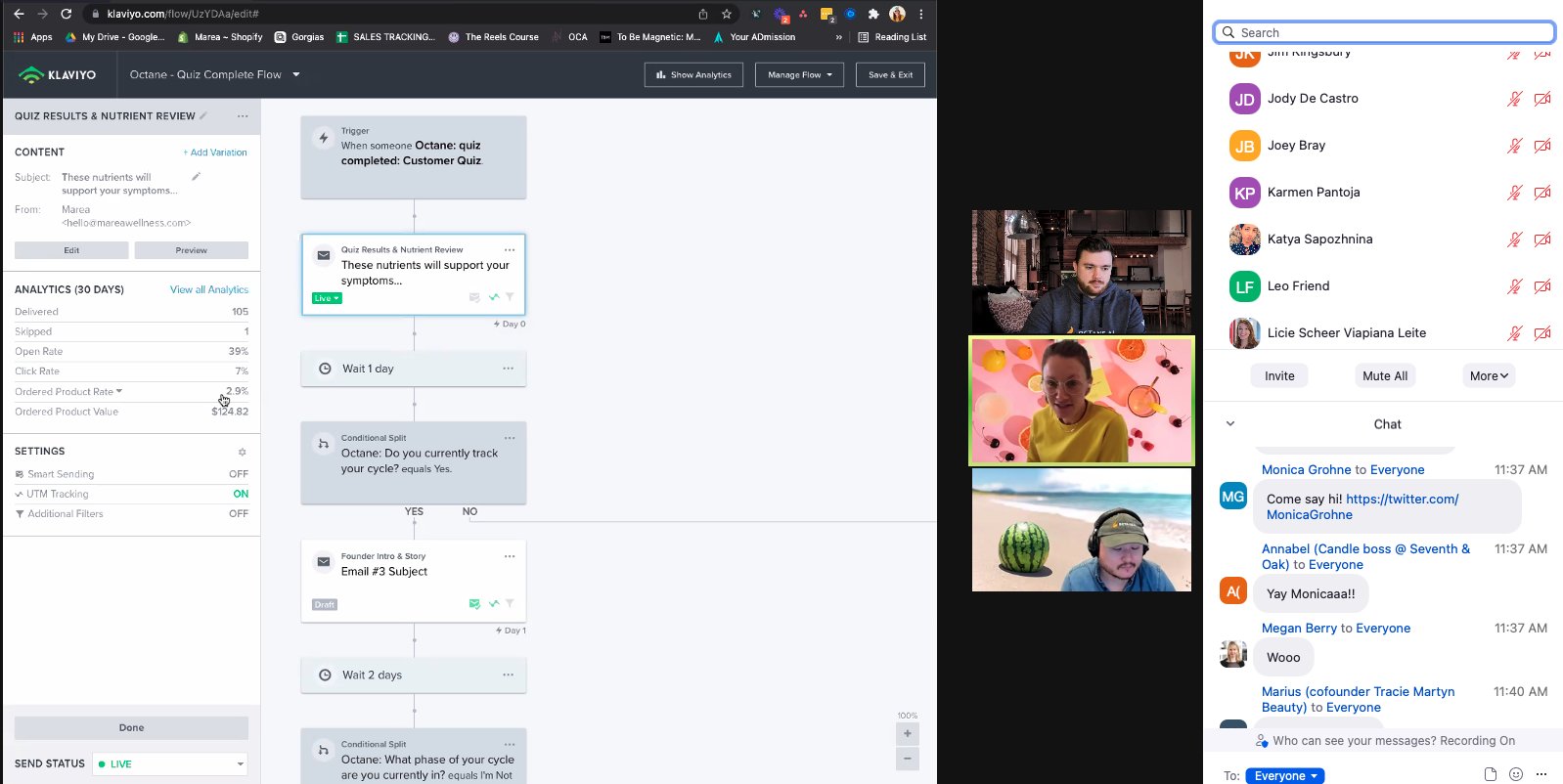 Join the Octane AI community
Join 10,000+ ecommerce operators who receive weekly tips on quizzes, zero-party data marketing, and increasing revenue with personalization.